It's always tough to break routines and change directions. For the past six years, this little blog has grown to be a part of me. And for those six years, it's been mostly focussed on sharing my experiences at restaurants. However, as time went on, I felt that my time devoted to this website was slowly trickling away. I actually contemplated shutting down this blog… I've seen other food bloggers do so. But it's hard to let go. It's not that I don't enjoy food blogging, but there's a huge investment of time and effort into producing a single blog post. Each post takes me around ~1 hour: writing the content, editing photos, uploading to WordPress, inputting the spoonback links and Google map shortcodes, setting up tags and SEO, etc… and then to share my content, I would have to post on multiple platforms like Instagram, Facebook and Twitter. It is a lot of work.
Moreover, I'm not sure if people even read blogs as much as they used to… In an age where quick bytes of information are favoured over long articles, I think it's about time that I "get with the times."
My new approach will be microblogging – quick bytes of food with the main focus on visuals. I'll also be transitioning to editing food photos on my phone. The post will be initially shared through Instagram; I've set up automated workflows to not only share my content through Facebook and Twitter (and whatever else comes along later), but also automatically upload to this website. My last post at Passion8 took me roughly 10 minutes total.
This way, I can HOPEFULLY be more consistent with food blogging, without having a huge backlog of restaurants to review. With more free time, I can focus more on general photography. I definitely like learning, and I think I can learn more when I photograph things other than food.
And with a new website, comes a new logo! It's inspired by a battery to signify reenergizing Foodobyte and myself.

It's been a good six years with the kiwi design… but it's time to say farewell.
And here's a throwback to my old website design!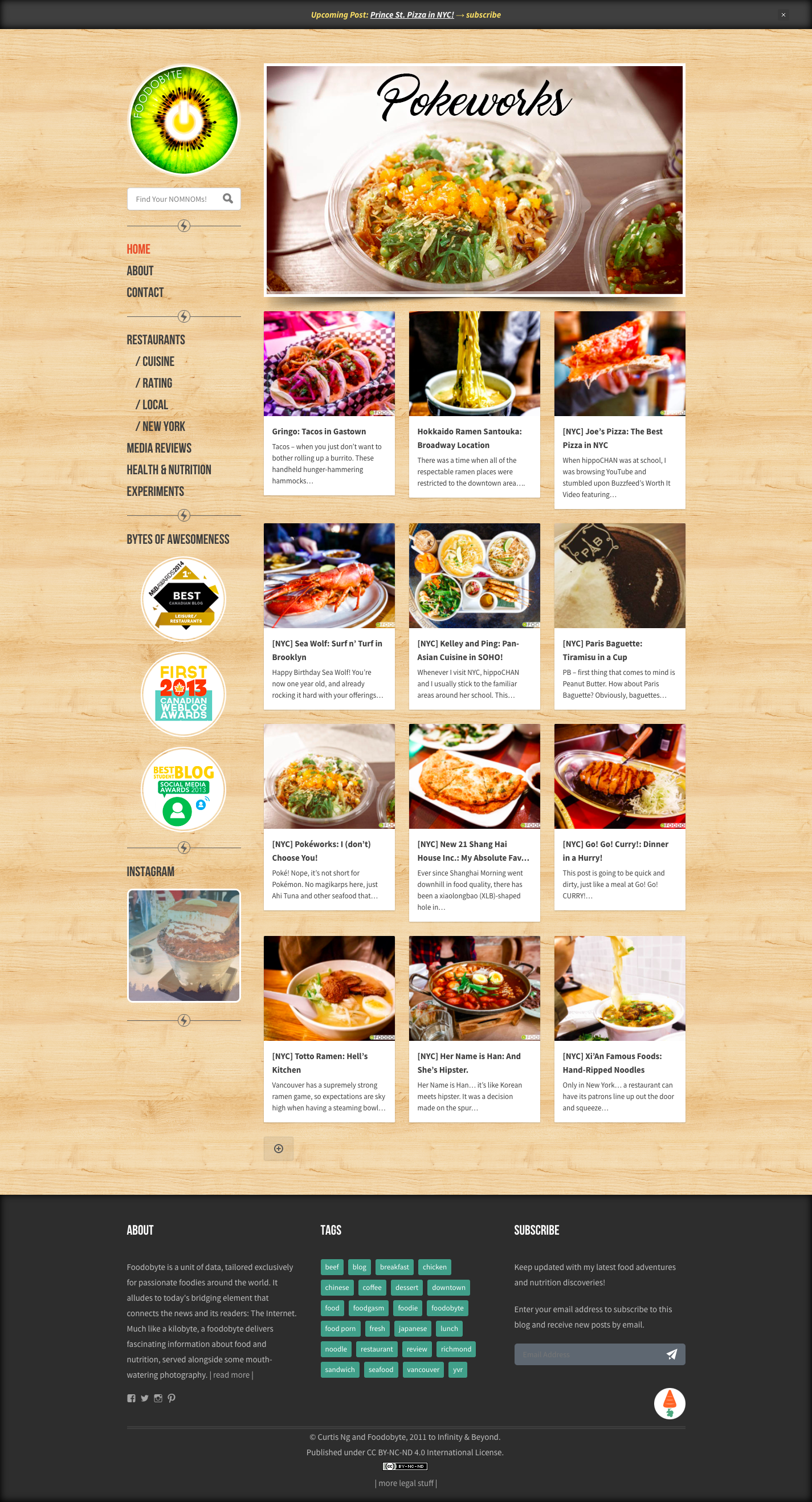 Thanks for reading!