"Turn on the RAJIO" is the name of VANEATS' latest dining package. Quite a clever title, I must say. It took me a while to get that Rajio meant radio in Japanese… much like how Suika meant watermelon. Anyway, the latest package costs $20 and consists of the following four dishes:
Kushikatsu, Rajio's House SPECIALTY! Chef's recommendation of 4 deep fried, panko breaded, bite sized skewers + dipping sauce
Bagna Cauda, fresh veggies with an incredible dipping sauce made from garlic, anchovy, olive oil and sweet Japanese white miso. A refreshing twist on an Italian classic and do not be fooled by the anchovies!
VANEATS Sashimi Salad, Chef's omakase sashimi with crisp romaine lettuce tossed in kalamata olive soya dressing topped with tobiko
Heavenly Ebi Ramen, BRAND NEW! Tender ramen in deep-golden shrimp broth, embellished with slices of cha-shu pork & shrimp infused garlic oil
Complementary cabbage with a savoury dressing, which comes standard with every meal.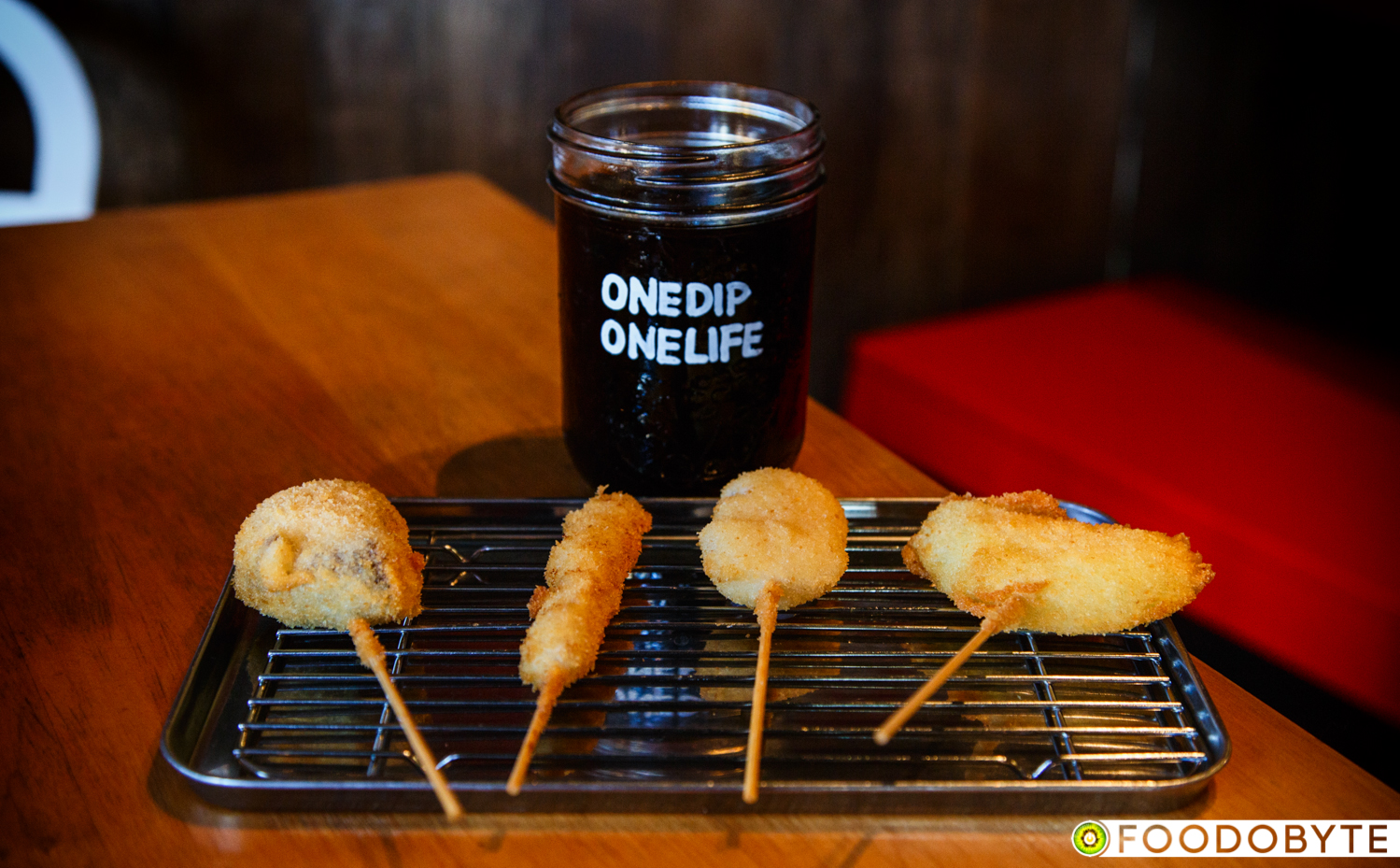 The selection of Kushikatsu for the night consisted of mushroom, pork, scallop & onion. What's interesting was the dipping sauce. Apparently, diners are supposed to dip ONLY ONCE – "ONE DIP, ONE LIFE"… I was kind of scared using it… because what if someone accidentally (or purposefully) double dipped?! The servers should probably let diners know; I only found out through other blogs.
Anyway, every one of the food-on-a-sticks tasted great. The mushroom and scallop were plump and juicy. The pork had a nice bounce to it. The onion was surprisingly good! I was worried about it having an overpowering raw onion flavour; instead, it was quite sweet and softened like an onion ring.
I wish I could've double dipped. My struggle was that if I dunked the entire stick into the sauce, it would taste too salty. But if I only dipped the top half, the bottom half was left undressed. #firstworldproblems
Oddly enough, the Bagna Cauda was my favourite dish of the night, even though it was mostly a Pyrex glass of raw veggies. Also, the dietitian-to-be in me was happy to know that I was eating more than a cup of veggies.
Straight up, the sauce skyrocketed my tastebuds to the moon and back. Even though the sauce base was olive oil and Japanese mayo, it tasted really buttery. Even better, the sauce was served warmmmmmmmmmm mmm… That sauce could easily convert veggie haters to veggie humpers – I mean lovers, with its smooth flavour.
The VANEATS Sashimi Salad had chunks of tuna, tako and yellowtail, as well as tomato and plenty of shaved onions (red and white, Oh Canada…). The dressing was very much like any other traditional Japanese dressing you'd typically find. However, I thought that there was just too much of it, because some leafy greens were absolutely drenched in the bottom. Perhaps asking for less dressing would be a good idea. Other that that, it was a pretty solid salad.
Ramen is a very competitive arena, especially with veterans like Kintaro and Santouka. Rajio's newest Heavenly Ebi Ramen was a good attempt, but the broth felt a bit empty even though there was a prominent shrimp flavour. It was missing something robust and bold.
On the other hand, the pork was done really well; it was tender and moist through and through. The noodles had a good chew to it, though it seemed slightly harder than other ramen joints.
Overall, I really enjoyed this dining package. Rajio's sauces and dressings were quite spot-on, especially the raw veggie dip!  "Turn on The Rajio" dining passes are available until November 12 at VANEATS. Reservations are highly recommended as seats do fill up quickly, and Rajio is only open from 5:30PM onward.
Disclaimer: my dining pass was complementary, but all views expressed are my own.
---