It may say Bubble House on the outside, but it's actually Mimibuloveme, home of the greatest parfaits that I've eaten thus far. This quaint dessert shop was the reason why I gave Chicco a zero kiwi rating… it skyrocketed my standards to Pluto!
Inarguably, Mimibuloveme's interior looked way better than the recycling depot called Chicco. Just look at that cute panda in the floating cocoon chair – its name is Pumpum Yoshio fyi! Also, empty cardboard boxes were nowhere to be found, thankfully. The number of seating was around the same as Chicco; however, there's no strict rule that forces each person to order something before having a seat. My only gripe was the collection of creepy paintings on the wall…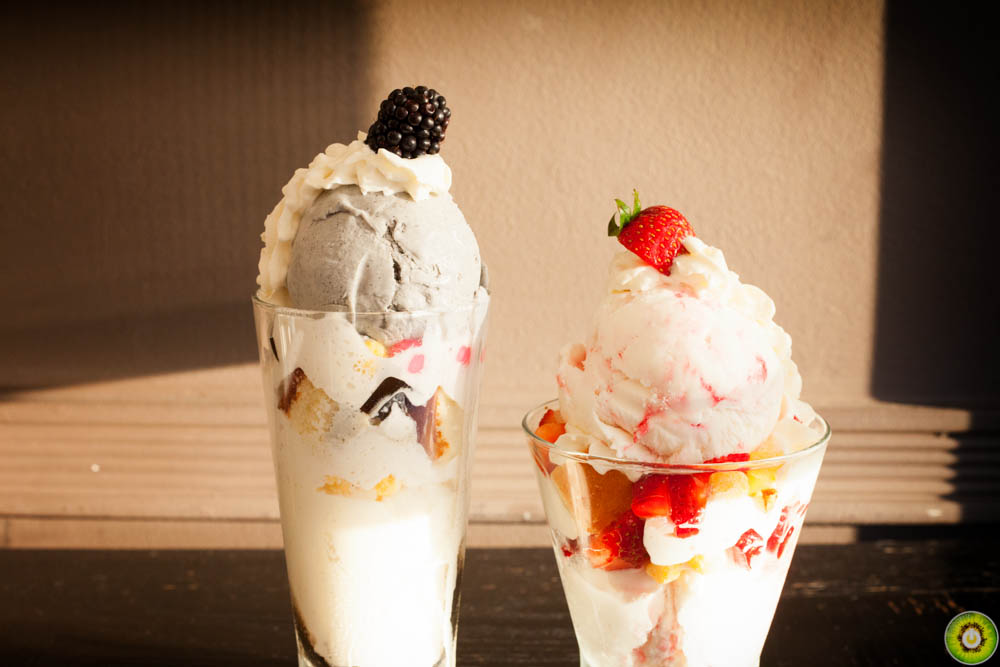 hippoCHAN and I each ordered a parfait: Black Sesame & Strawberry Cheesecake.
Topped with a single blackberry, the Black Sesame Parfait consisted of black sesame gelato, vanilla gelato, sponge cake, corn pops, fresh whipped cream, jelly and a black sesame paste on the bottom.
It tasted just as good as it looked! The generous scoop of black sesame gelato was smooth and indulgent. There was also another scoop of gelato near the bottom, so it balanced out the parfait more. Also, I loved how Mimibuloveme deviated from the norm and included corn pops, instead of corn flakes. They're much crunchier :) Nevertheless, the winner for me was the fresh whipped cream that was elevated with a subtle sweetness. It tied all of the components together into one delicious byte after another.
hippoCHAN's Strawberry Cheesecake Parfait had strawberry and vanilla gelato, strawberry, jelly, sponge, cake, corn pops, whipped cream… and of course, strawberry cheesecake. I found hers to be sweeter than mine, but still quite good since the refreshing strawberry flavour saved it from becoming sickly sweet.
Hands down, this is my absolute favourite spot for parfaits.
Final Bytes
Free 1 hour street parking (unlimited after 6)
Also serves unique Japanese pastas
Great place to bring dates :)
Foodobyte's Rating

---