After seeing Meat & Bread being featured on Drive-Ins, Diners & Dives, I just had to head down there for a bite!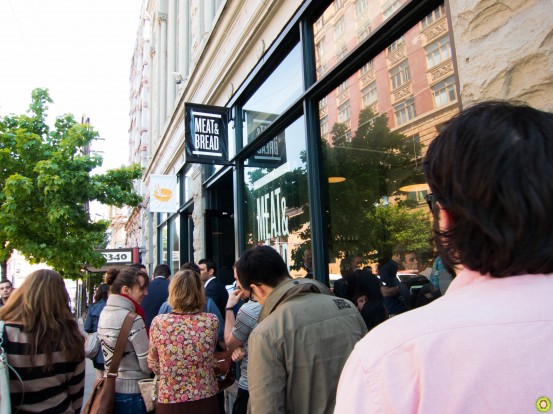 The shop opens up at 11am, and we arrived at 12pm. There was already a lineup gushing out of the front door and trailing down the sidewalk! So we had to wait 10 minutes or so…
The interior is really simple, but it all works: sandwiches are simple foods after all :) There's two long benches at the back that seat around 30 people with a few 2-person tables near the front window.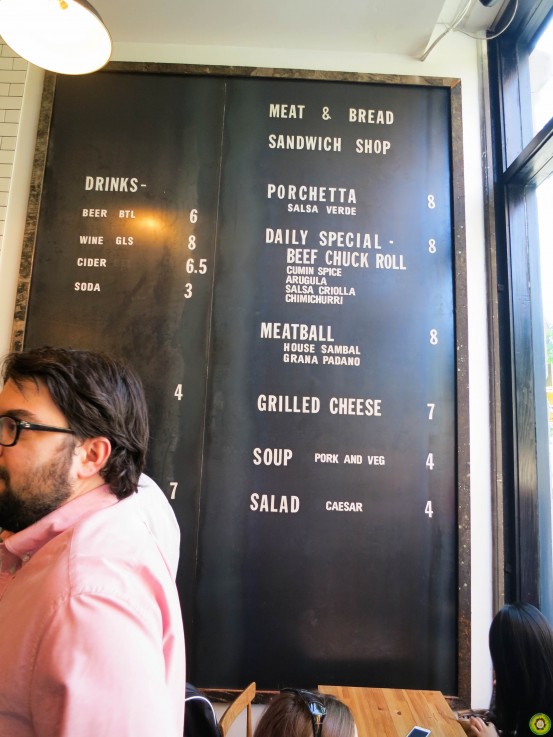 The menu features 4 sandwiches, one of them being a daily special. So you could come every day of the year and eat 365 different sandwiches! Today's was Beef Chuck Roll, and if you follow them on Twitter (@1meatandbread), you can find out the day's special each morning.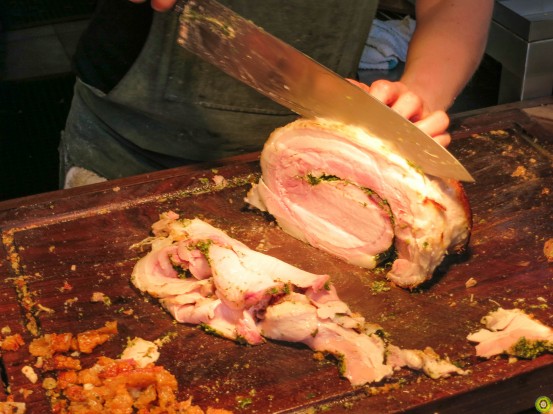 The porchetta is what they're best known for, a savoury and moist boneless pork roast. They stack the mouthwatering meat onto a freshly baked ciabatta bun.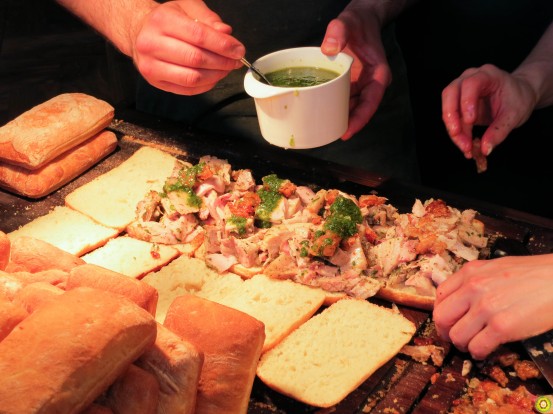 On top, they drizzle some house-made salsa verde. You can actually see how they make it in the video below!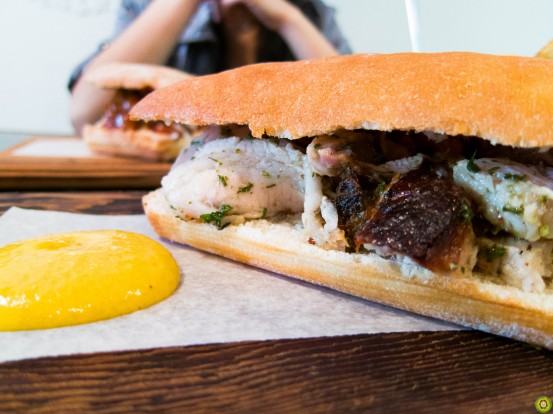 So Joanne ordered the porchetta sandwich ($8) with a caesar salad ($4). I really liked how they served the sandwich on a wooden board, gives a rustic feel :) There's also a mini jacuzzi of mustard for dipping.
OMG. I want this in my mouth, right now! The meat was everything it was supposed to be: super tender, super moist, and not too salty. I really liked the addition of the crackling, which gave a much needed crunch. The fresh herbs and salsa did an excellent job of keeping the sandwich light, yet full-flavoured.
The salad was simple and lightly dressed, though it was bit pricey for it's size. Still, it provides you with a break from all the rich flavours.
For some variety, I ordered the Meatball Sandwich ($8), served with Grano Padano cheese and Sambal chili sauce.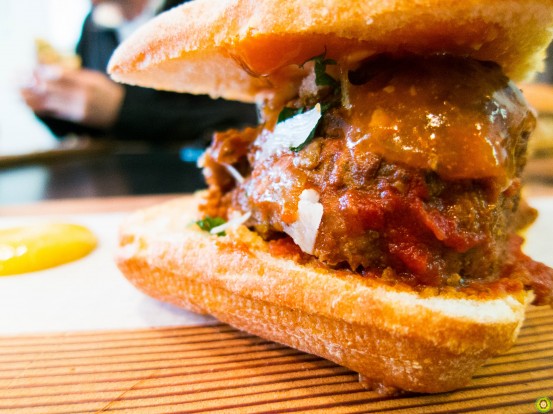 This was probably the most difficult sandwich to eat just because of its enormous meatballs. All the flavours blended really well together; I especially liked hint of spiciness thanks to the Sambal sauce. The only problem was that the meatballs were just a little on the dry side.
Overall, this is an awesome sandwich shop! Super friendly staff and affordable prices. Also, the owner himself comes out to chat with the customers waiting in line, and he also lets them know the daily specials :) This place is definitely worth checking out!
---
Preparing the Porchetta Sandwiches
[fve]http://www.youtube.com/watch?v=d57dcfDhWXE&list=HL1337321125&feature=mh_lolz[/fve]
---
Final Bytes
Try to go early, or not at peak hours to avoid huge lineups
Get a friend to save seats while you pay
A beer would be excellent for cleaning your palette so you can immerse yourself in rich flavours again
Foodobyte's Rating

---