Deer Garden Signatures has already made a tip-top name for itself in Richmond, renowned for its signature fish soup noodles! Recently, the noodle shop franchise decided to extend its reach into Vancouver, opening up shop on Fraser St. & 47th.
Since I was exhausted from studying late at UBC, I really didn't want to cook anything – not even Chunky Chicken Noodle Soup. So, my dad brought me (and convinced my mom!) to have dinner at the newly opened Deer Garden Signatures, which wasn't too far of a drive.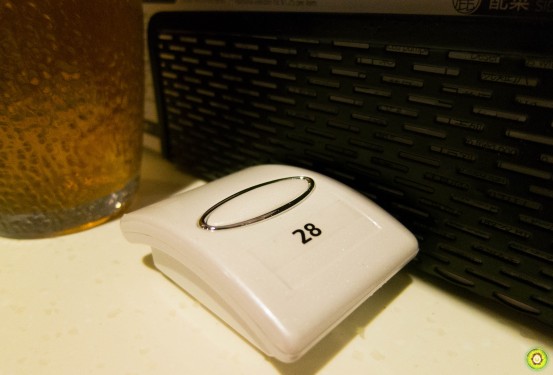 It's nice to know that you can never be ignored in this restaurant. Why? Because you have this little buzzer on the table that *dings* for service! I wasn't too sure what it was at first… so I curiously pushed the button… and soon verified its function, haha!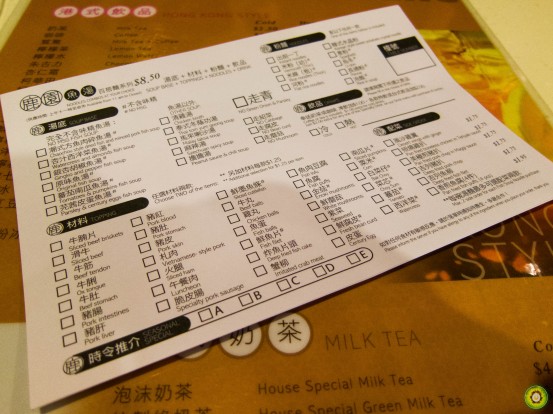 To order your noodles ($8.50), you get to tick off boxes for the:
Soup Base
Type of Noodles
2 Toppings (+1.25/extra)
Hot Drink (+$1 for cold; +$2 for "Specialty Drinks" like bubble tea)
Optional Side Orders ($1.75 – $1.95)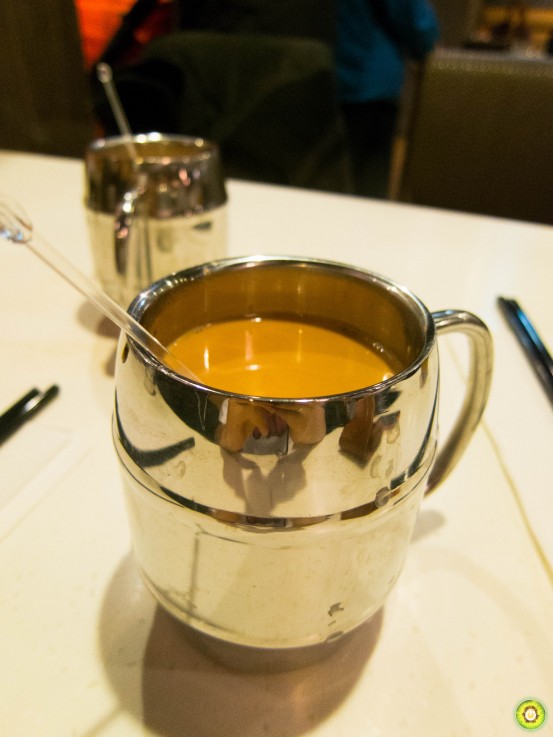 As part of my noodle combo, I got Hot Milk Tea, one of my favourites. It's like coffee, yet much milder in flavour due to the evaporated milk they pour into it.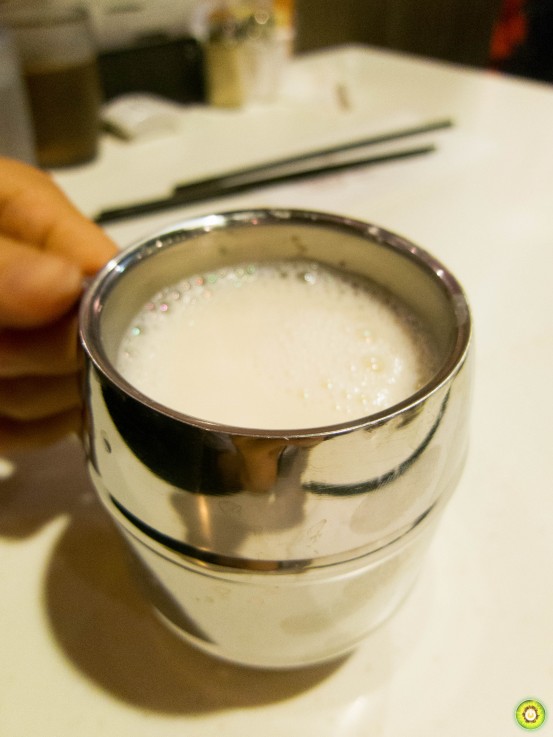 My mom ordered Hot Almond Milk, which I didn't know they served! Otherwise, I would've ordered that as well. Although it was a tad too sweet, it was still pretty good.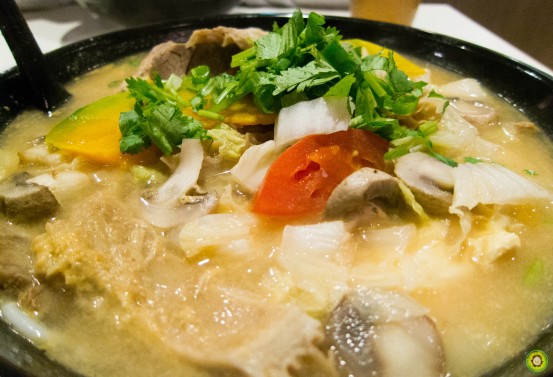 Shortly after, our bowls of noodles arrived. For my meal, I selected Tomato & Pumpkin Fish Soup w/ Rice Noodles + Sliced Beef Briskets + Beef Stomach. From a first glance, the bowl looked pretty impressive and abundant. However, I soon realized that was a shortage of noodles, which left me still kinda hungry after I finished.
Moreover, the soup base was slightly lacking in flavour. Don't get me wrong, though; it still taste okay… but it really made me wonder how it could be Deer Garden's "signature."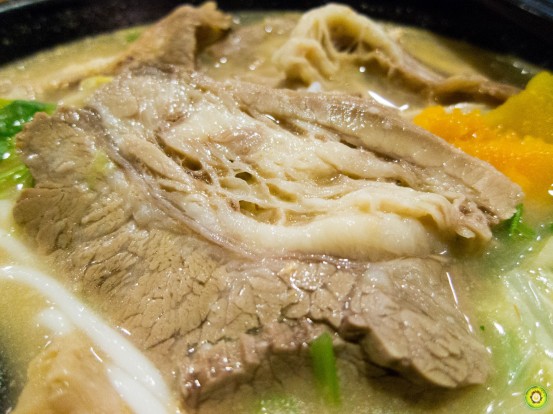 The sliced beef brisket was quite fatty since they didn't use finger meat, a leaner cut. Not much was to be expected of the beef's flavour: both the brisket and stomach were average. On the bright side, the pumpkin was really good :)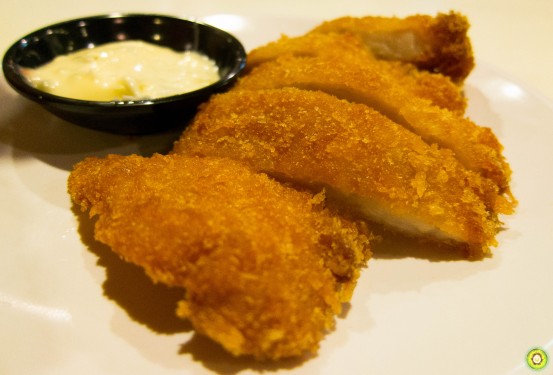 As a side order, I got the Deep Fried Pork Chop because I was seriously craving my pork chop from Copa Cafe! The chops were crunchily crisp, not grossly greasy and went well with the dipping sauce.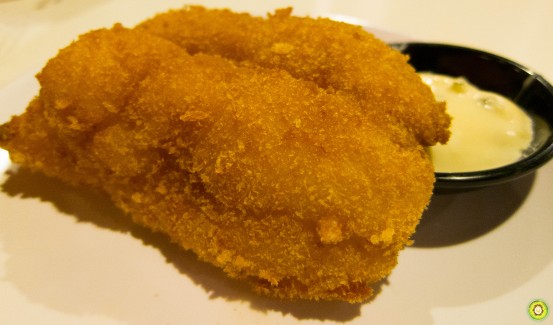 My dad ordered the Deep Fried Fish Filet as a side, which I liked better. Crunchy like the pork chop, it was also surprisingly moist and flaky on the inside. If you were to order something extra, I would recommend this!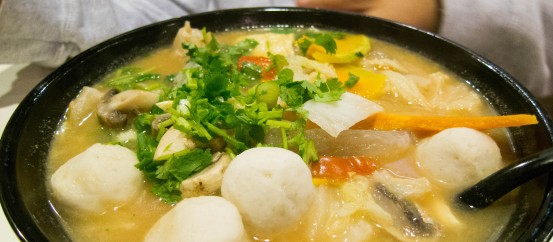 To sooth and satisfy his stomach, my dad ordered the same type of noodles and soup as me, but with different toppings: Fish Balls & Beef Tendon. The fish balls were toothsome and had a homemade texture, which I strongly prefer over the vacuum-packed pingpong balls sold at T&T and supermarkets alike.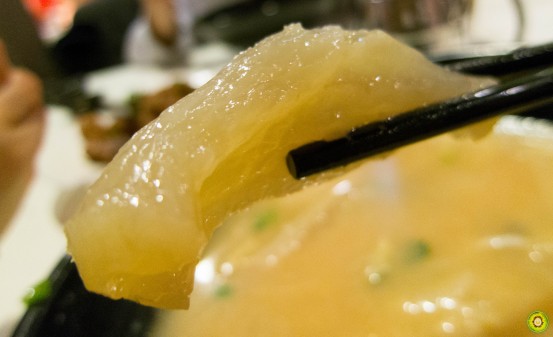 The tendon, however, fell short! The cooks did not slow cook them so that they would actually absorb flavour and become partially gelatinous. Thus, it was like chewing on rubber.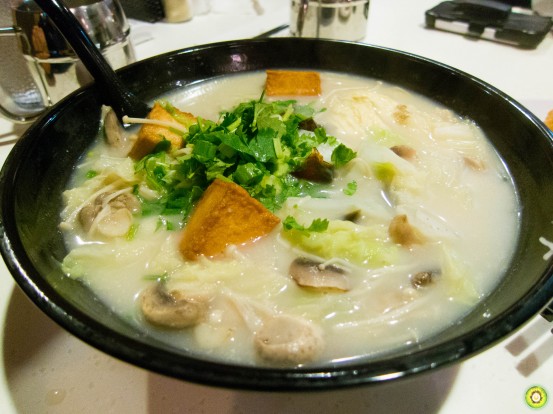 Finally, my mom ordered Korean Sweet Potato Crystal Noodles w/ Century Egg (Pay Dan) & Fish Tofu in the Regular Fish Soup. Oh man, I haven't eaten Pay Dan in so long… I miss having it in congee!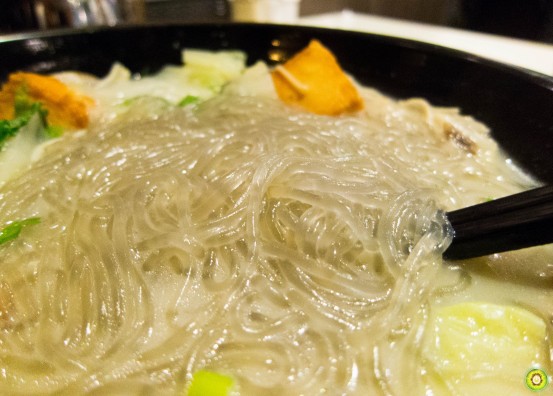 Because I've never heard of them, I found that the crystal noodles was the most interesting part of the dish. I thought it would be similar to the Chinese glass noodles, but it wasn't. Instead, it was slightly softer than the beef tendon, which was a little bit hard for me to eat.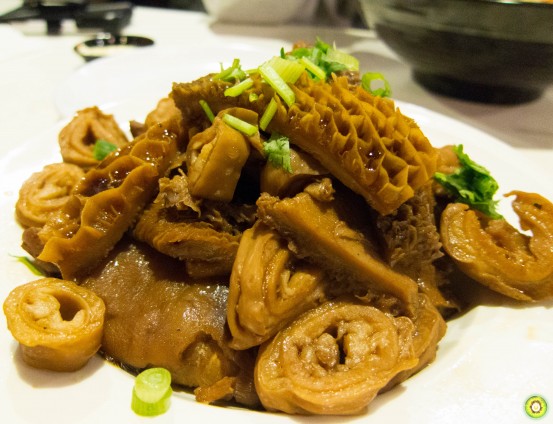 Oh yeah, we also order a trio of Marinated Beef Stomach & Pork Feet and Intestines ($8.75). The marinade was supposed to be similar to Corner 23's, but Deer Garden fell very short. It had a odd trace of sweetness, so we didn't finish the rest.
If you're looking for a casual dinner or just passing by, then this place would be alright. The food's reasonably price and tastes okay.
Final Bytes
Meals typically come with free hot drinks!
Fish balls are good :)
Parking lots are located across the street, behind the stores!
Foodobyte's Rating

---