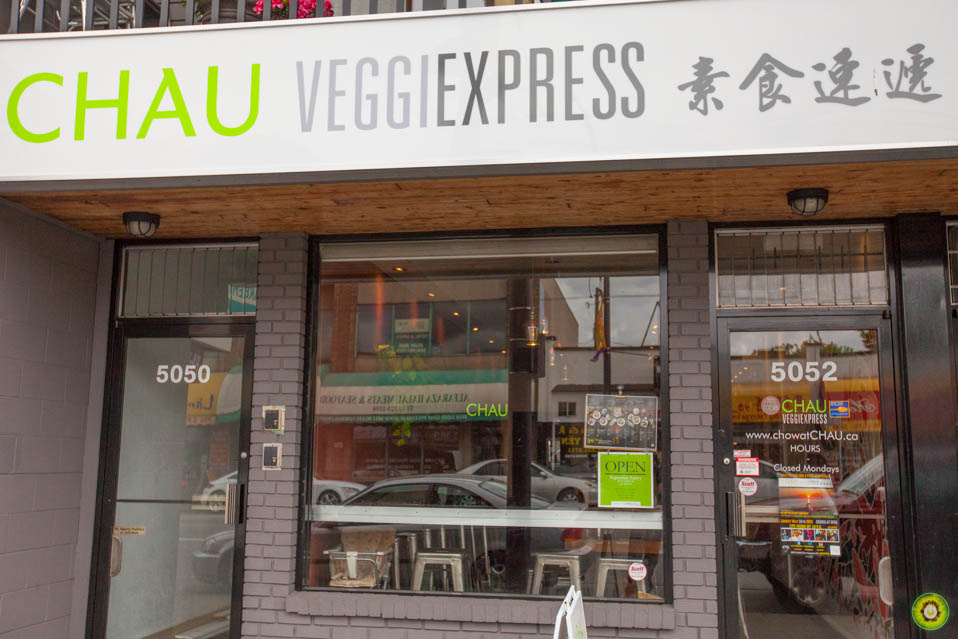 While ShortRound and I were prepping our Healthy Hydration presentation for a grade 5/6 class up in North Van, we spun off topic and started talking about great restaurants that we knew. One of the recommendations that she made was CHAU VeggiExpress. This restaurant definitely rang a bell because it's the place with the vegetarian pho that EatingWithKirby blogged about!
Pho isn't the only vegetarian item at CHAU though. In fact, the entire menu is either vegetarian or vegan with Vietnamese inspirations and modern twists! Since June 10th is Vancouver's OFFICIAL Meatless Monday, CHAU is a great place to enjoy a vacation from meat.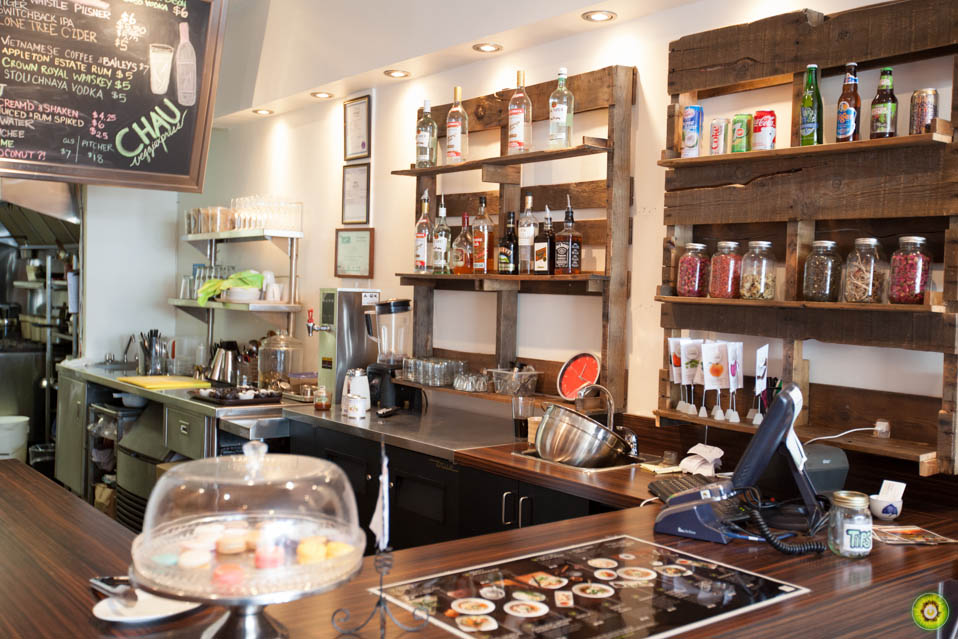 High as a kite and hungry as a hippo, hippoCHAN and I setup a lunch date at this veggie-focussed restaurant. It's beautifully furnished with wood everywhere that gave a home-y feel. This counter was also where we placed our order before seating ourselves.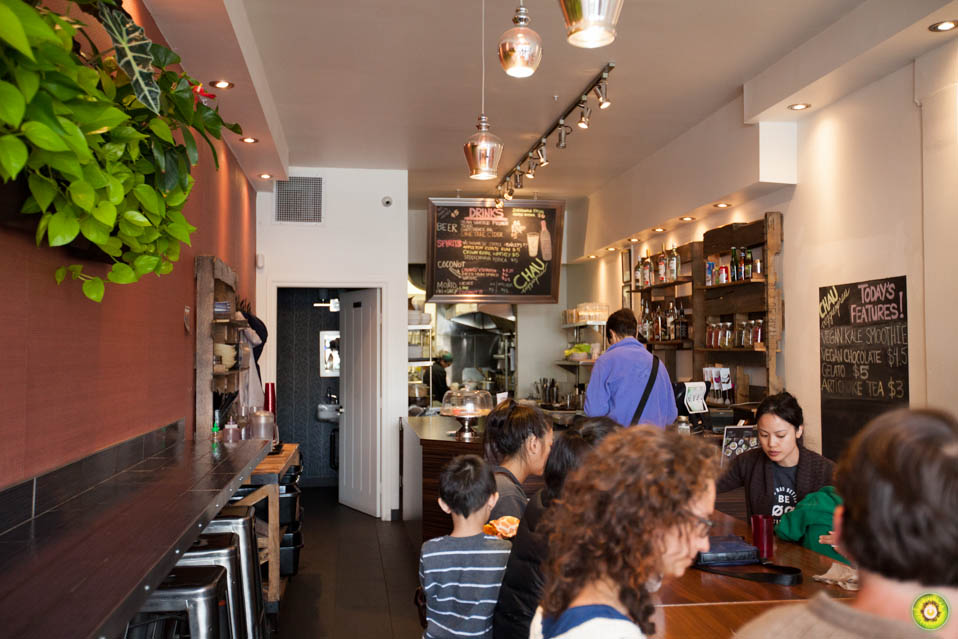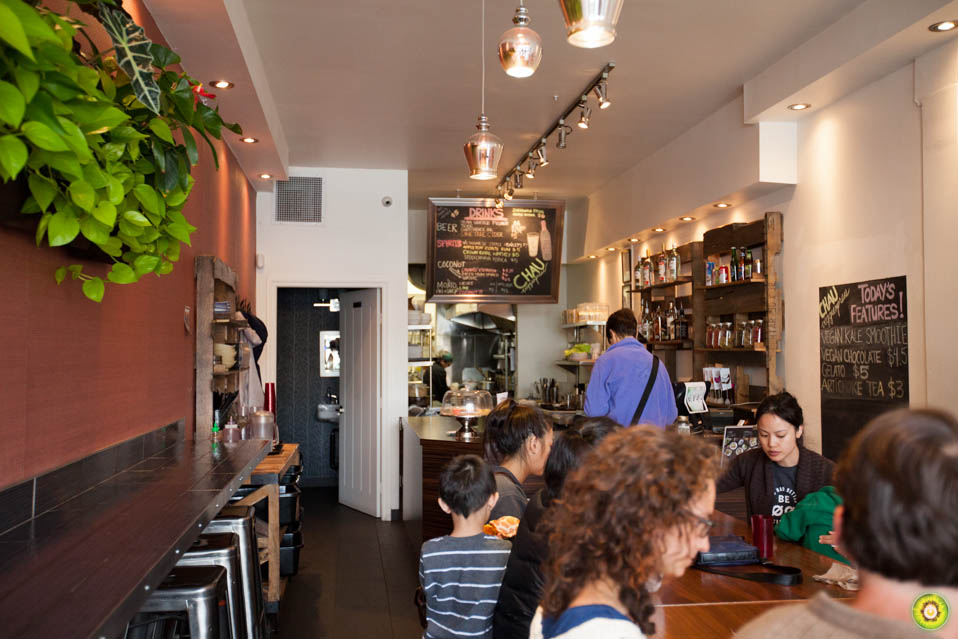 In the centre of the restaurant, there's a long communal table. Because I didn't want to wave around my DSLR camera in people's faces while they were eating, we seated ourselves by the window on bar stools.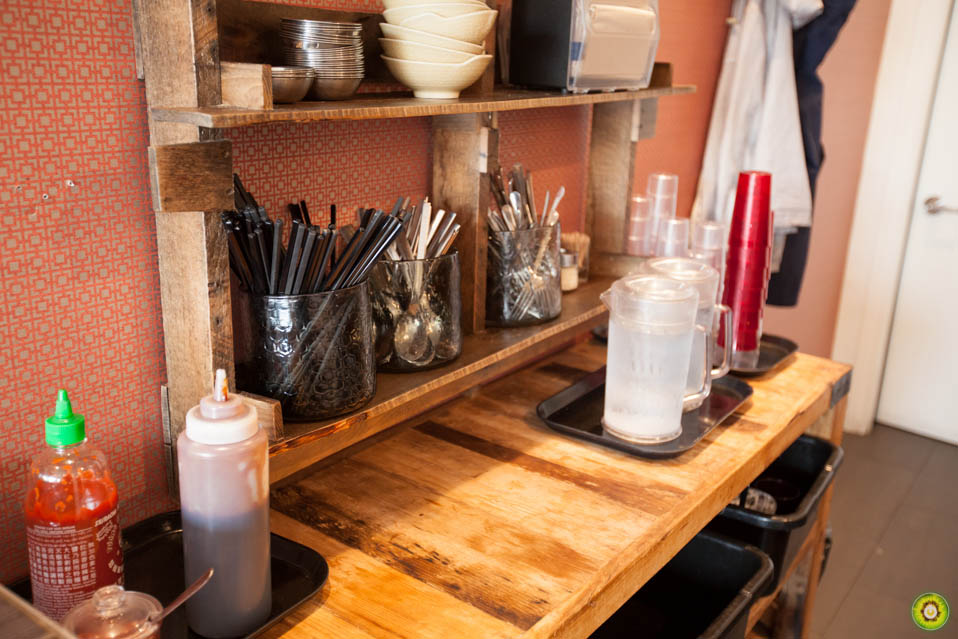 Like many other Vietnamese places, cutlery and sauces were self service. Unlike many other Vietnamese places, CHAU actually looked clean! We didn't feel the need to go full Asian and wash our utensils in hot tea.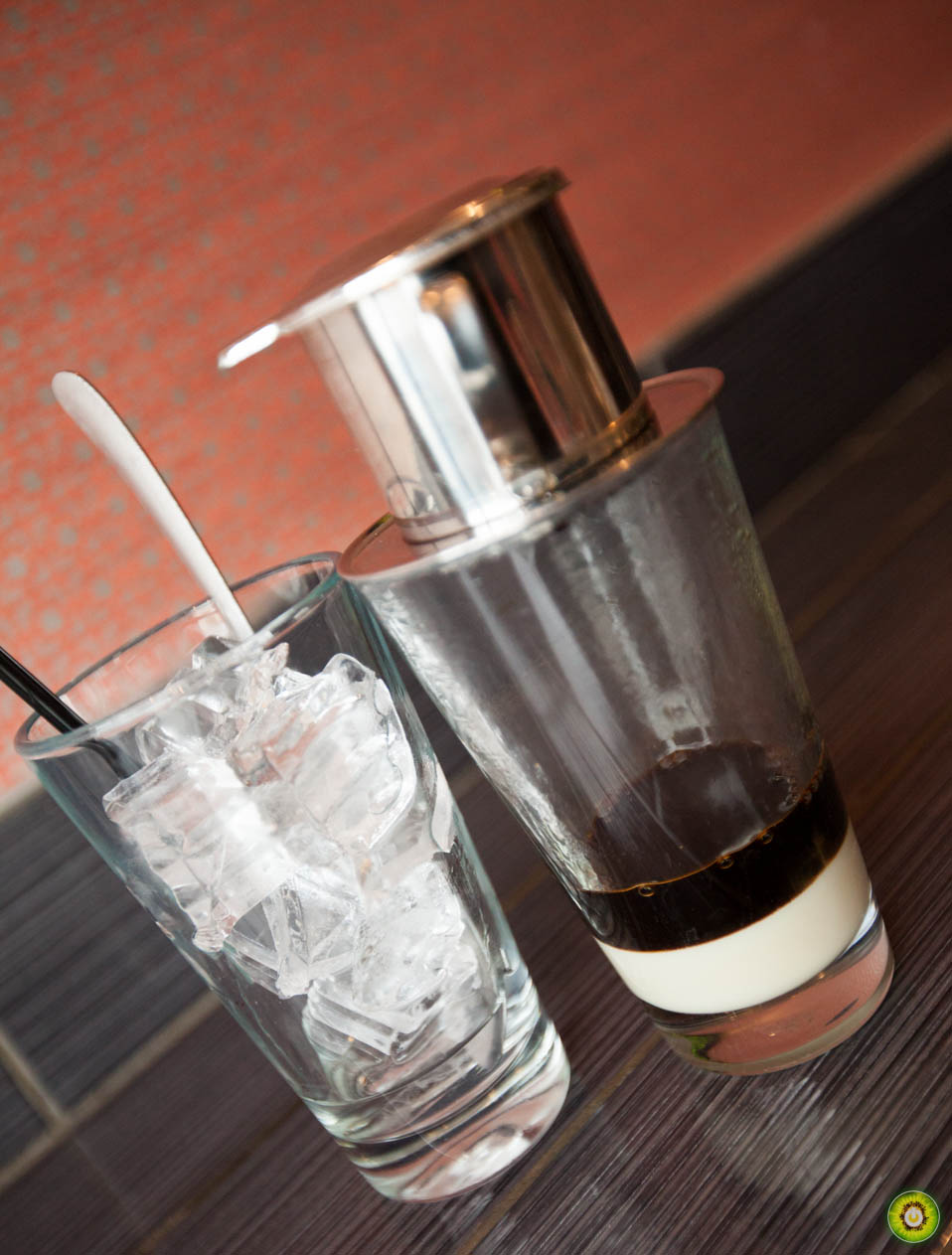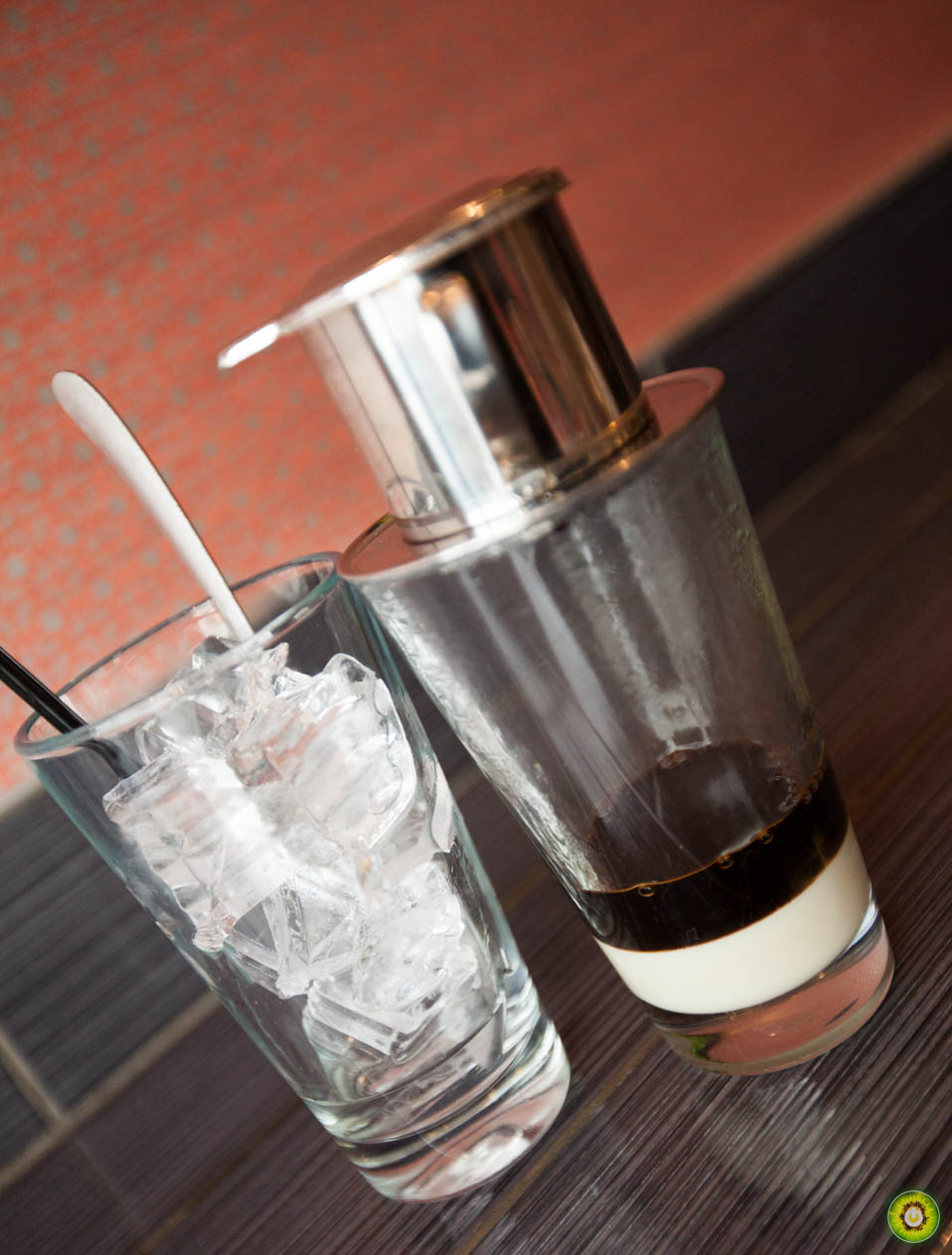 There's nothing like a classic Iced Vietnamese Coffee ($3.5) to wallop my noggin awake in the morning. With a generous layer of condensed milk on the bottom, the dark roast coffee slowly trickled from the small metal French drip filter.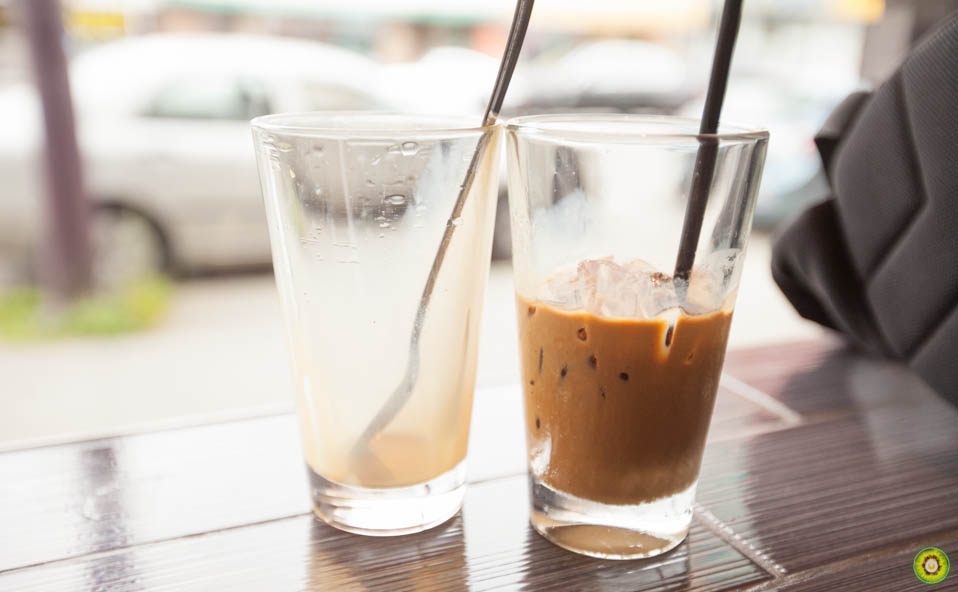 Perhaps CHAU was too generous with the condensed milk because it was very sweet. It wasn't as refreshing as I would've liked, and the coffee flavour was toned down. On the bright side, it was a smooth drink.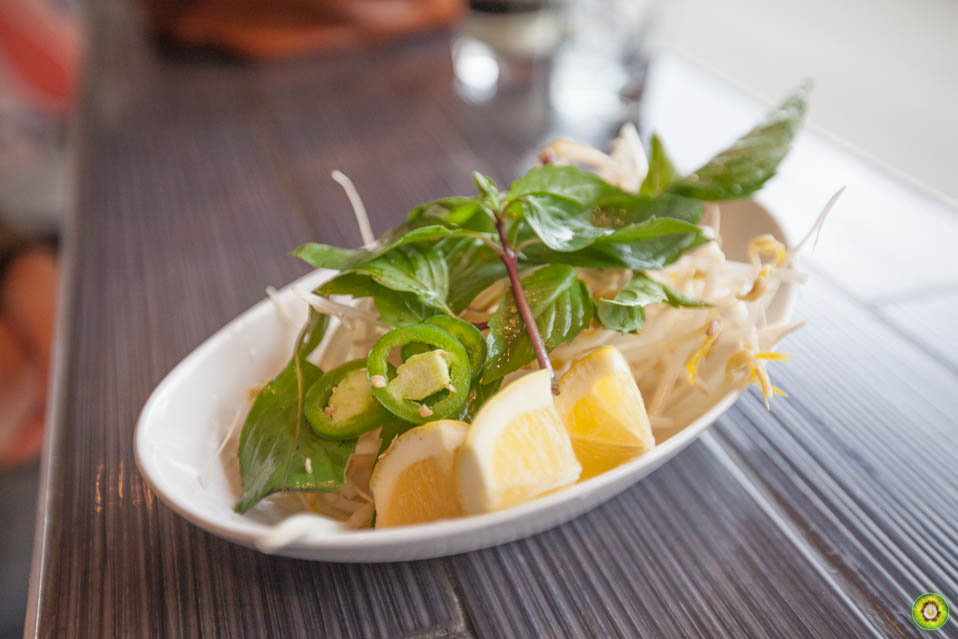 Some standard garnishes like basil, bean sprouts, jalapeños and lemon wedges.
I ordered the Sliding Down the Sand Dunes ($8.5), which was rice noodles served with a lemongrass and ginger broth. On top, there's pineapple, peanut sate, assorted tofu, mushrooms, lotus root and greens.
The broth was absolutely incredible! The lemongrass and ginger lent a spiciness that tickled my taste buds. There was also some chilli oil that gave a bit of heat.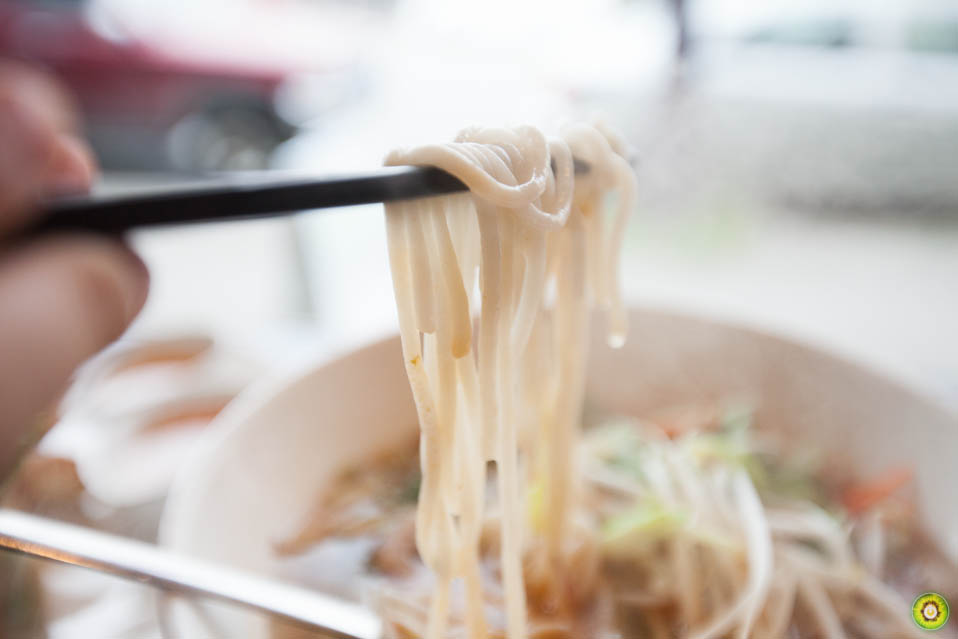 The rice noodles were cooked perfectly. However, I really wished that there was more of it. While there was plenty of vegetables, the portion size as a whole wasn't substantial enough.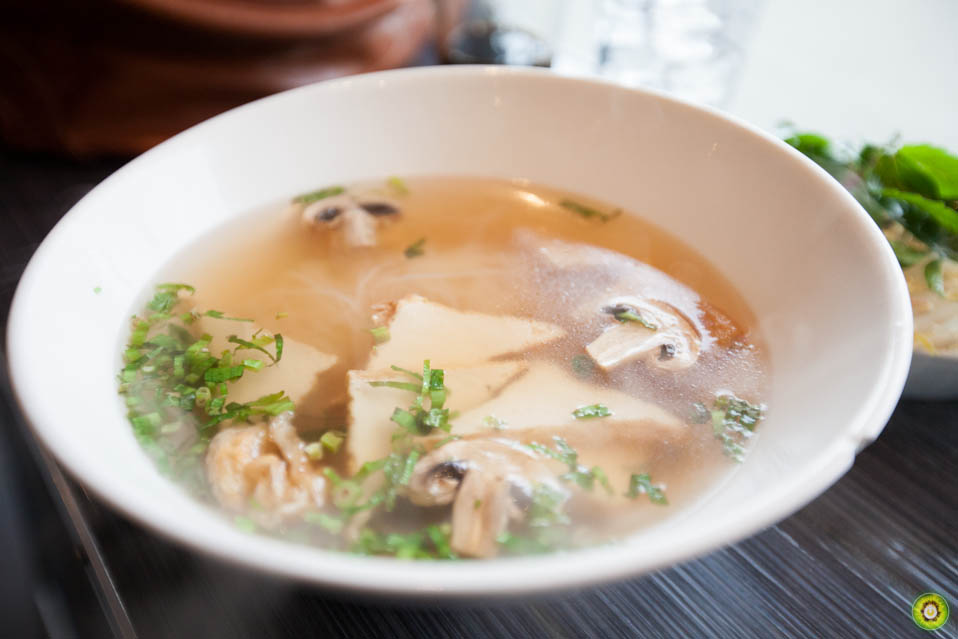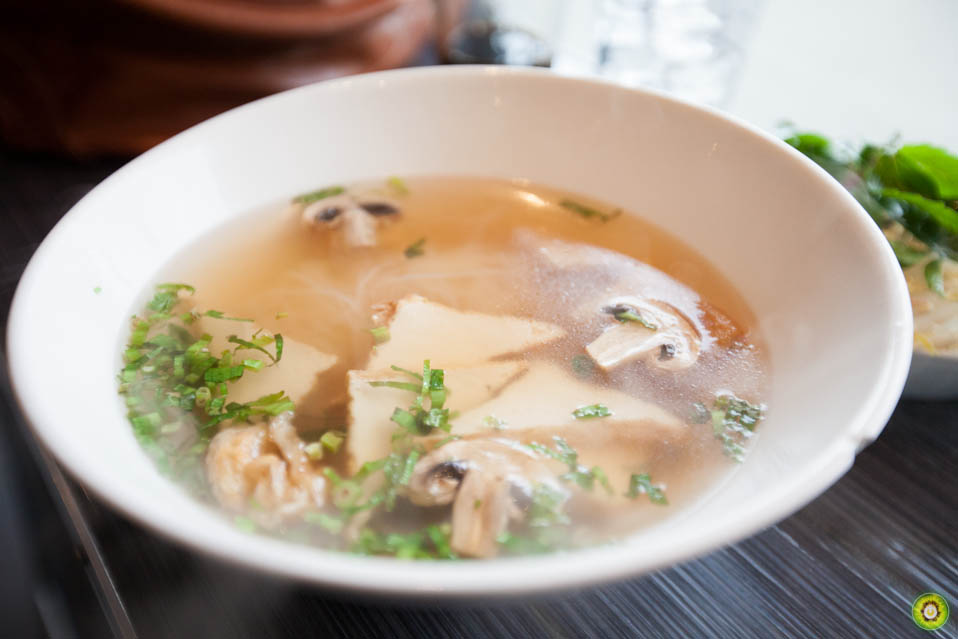 hippoCHAN ordered the Candlelit Lantern Down the River ($8.25), which was considered a vegetarian pho. Specifically, it was rice noodles in a five spice broth, topped with assorted tofu, mushrooms, lotus root and herbs.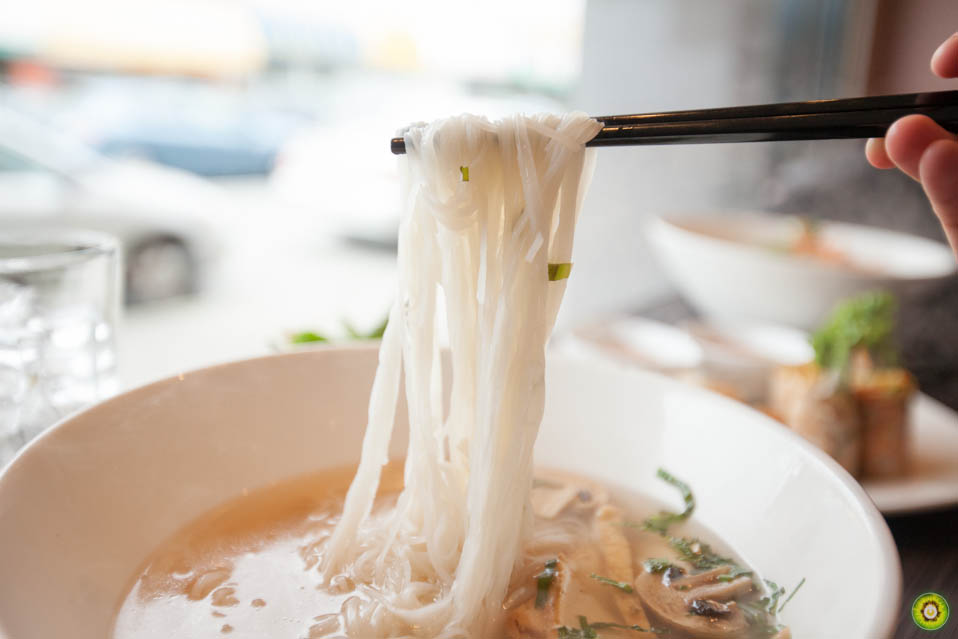 hippoCHAN was very disappointed with both the flavour and size of this dish. The problem with flavour was that there was none. hippoCHAN, a girl who is heat-sensitive, resorted to squirting Sriracha sauce into the broth to impart some flavour. Besides that, there just wasn't enough toppings or noodles.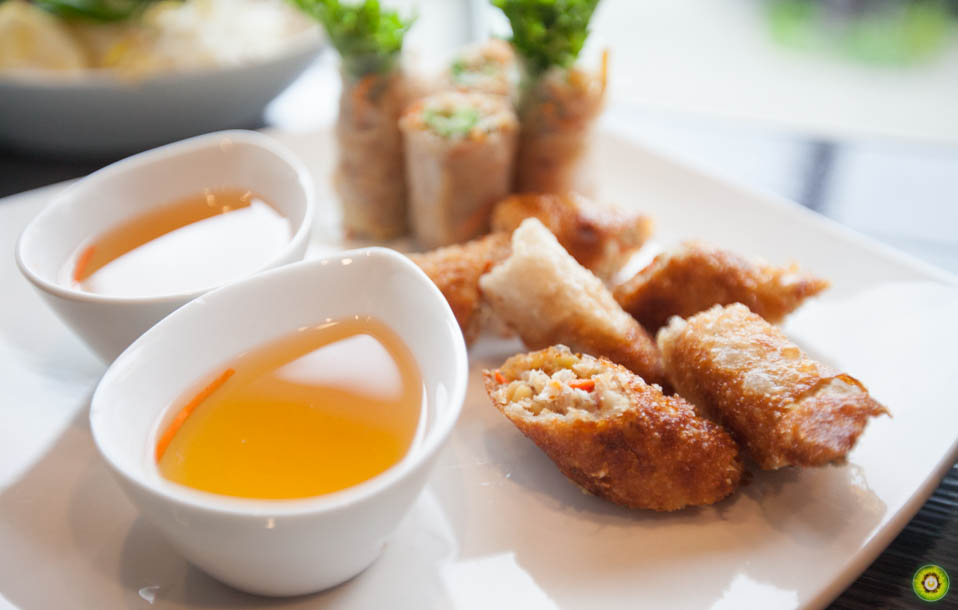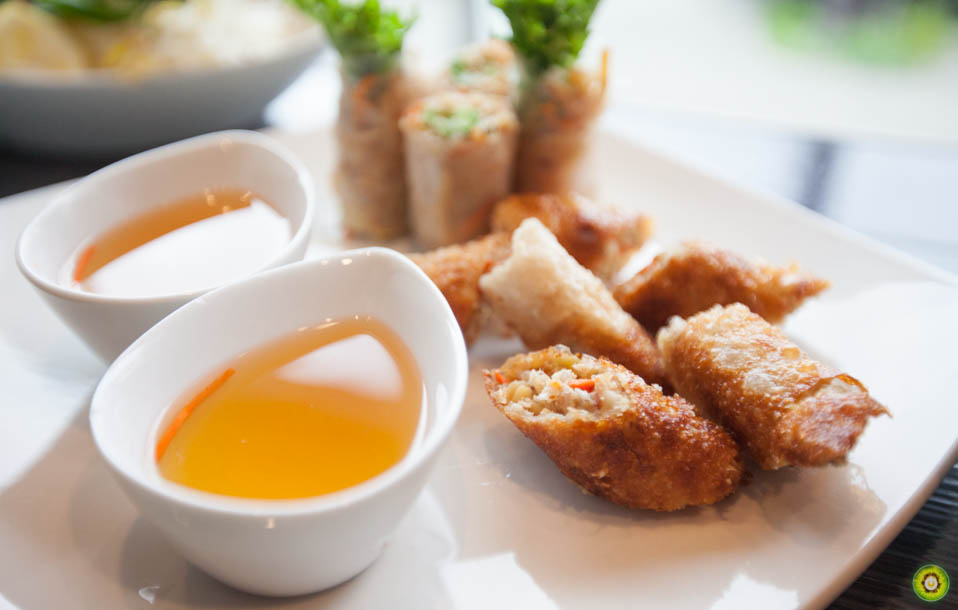 Fortunately, we also ordered some side dishes to curb our hunger. The Non La ($4) were crispy springs rolls made with egg, tofu, mung bean, taro, sesame and vegetable filling.
These. were. so. good! Ultra crispy and flavourful without any hint of greasiness. It should be noted that the accompanying "fish sauce" is not actually made of fish; it's simply seasoned to taste like it.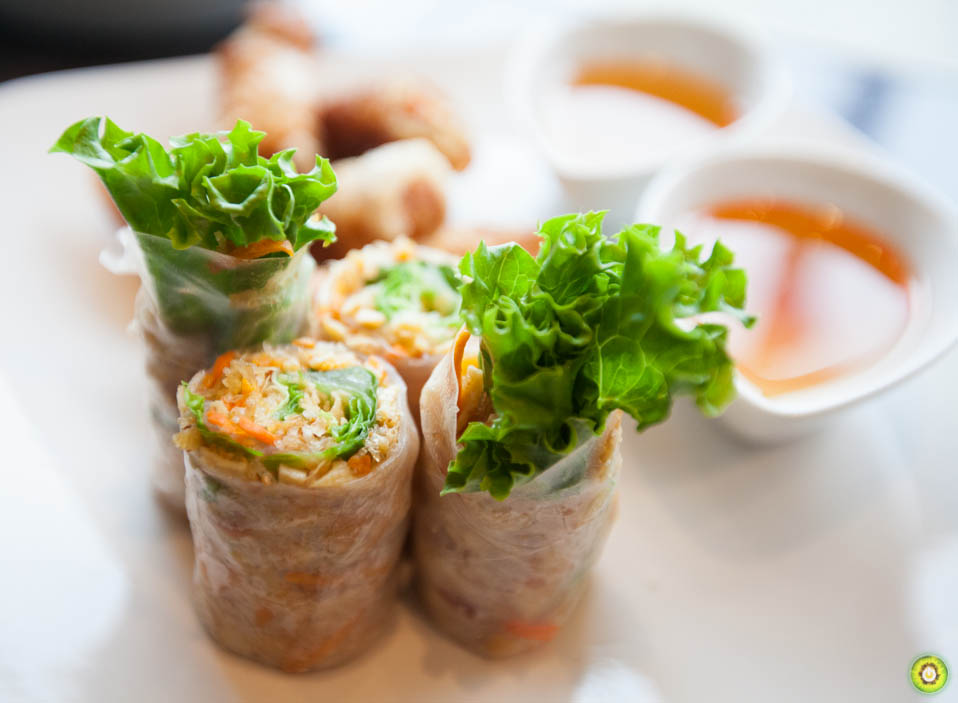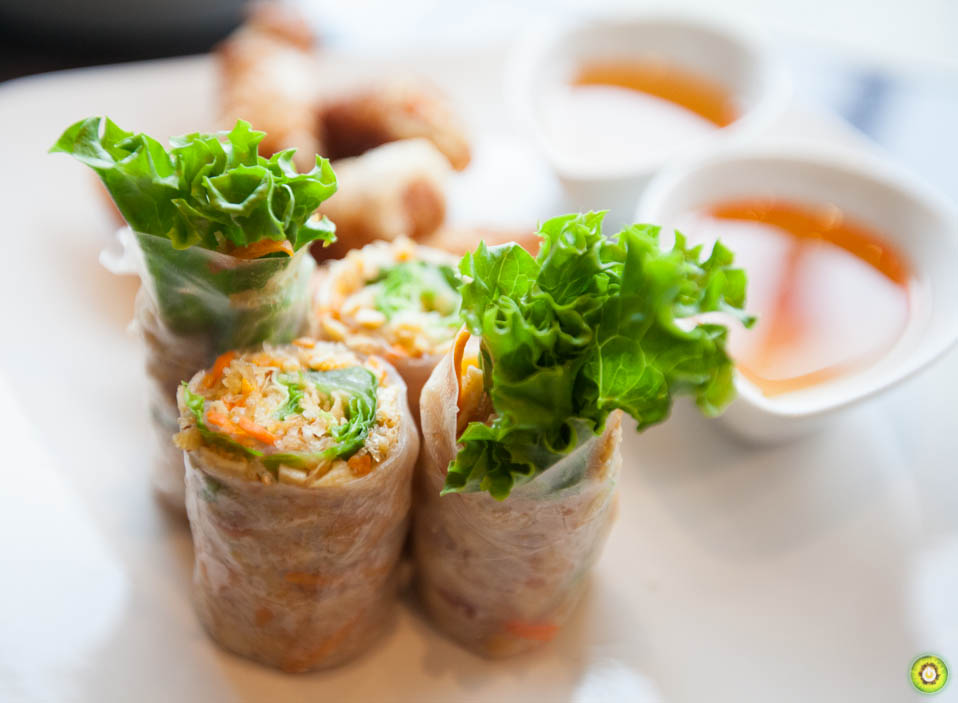 The other roll was the Namahata ($3.75): quinoa, shredded bean curd, yams, potato, green leaf lettuce, cucumber and crispy wheat centre.
The flavour of these were in stark contrast to the Non La's. They were vibrant and light. I really appreciated the great textures from all the ingredients, especially the crispy wheat centre that was reminiscent of deep-fried rice noodles.
Final Bytes
Awesome flavours, but portions are quite small
The owner was very friendly and explained the interestingly-named dishes
Squeeze the lemons in the water!
Foodobyte's Rating

---