* Images sourced from canadianweblogawards.com by Elan Morgan
When I started this blog two years ago, I never expected it to receive much attention beyond my circle of friends. Foodobyte served as a simple platform for me to share my experiences in restaurants and learnings in classrooms. Things really started to lift off when Foodobyte was nominated for Best Student Blog in the Social Media Awards back in February 2013. After weeks of voting and judging, Foodobyte finally took home the first place trophy, all thanks to the support that each and every one of you provided.
Today, I'm extremely happy to report that Foodobyte has received some more recognition, this time in Elan Morgan's Canadian Weblog Awards! It's a national juried competition; since the CWAs are focused on quality, not popularity, there is no public vote. Each weblog is judged based on a set of criteria, which include functionality, aesthetics, originality, transparency and more.
And the results are…
We – yes, all of us – won 1st in Health & Wellness and 3rd in Food & Drink. Awwwwwwwww yeah! :D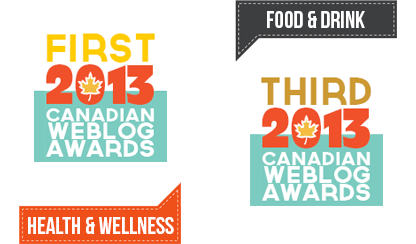 I proudly say that WE won because it is your unwavering support that fuels Foodobyte entirely. I seriously melt whenever someone takes the time to leave a comment, send an email or simply tell me that he/she reads my blog. Afterwards, I become even more motivated to write and write and write.
So, I'd like to thank you all for everything. This couldn't be possible without you, seriously.