After watching Triple D's, Joanne was hardcore craving some grab-with-your-hands-and-stuff-your-face food! So, we scavenged the Urbanspoon universe for burgers and alike. We ultimately decided on Jethro's Fine Grab, a breakfast/brunch joint that is notorious for its pulled pork! Too bad, it was closed when we arrived :( Then, it was back to Urbanspoon until we finally settled on Burgoo!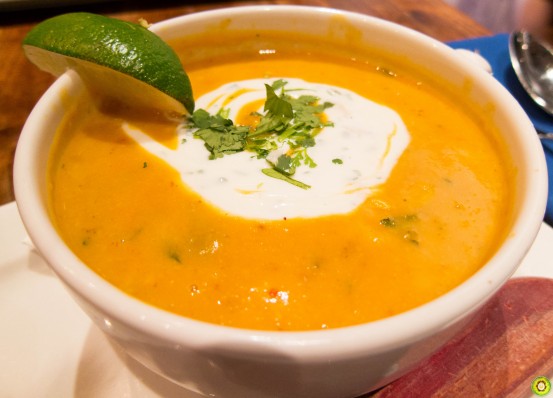 I ordered the Dos Diablos w/ Sunset Corn and Chicken Soup ($15)! I've already reviewed the heaty sandwich duo in a previous post, so I'll just talk about the soup! :)
The thick, full-bodied soup is home to corn, chicken and light cream spiked with Chipotle and cumin, finished with creme fresco and cilantro. Although I've only tried one other soup – the Crab Bisque – I believe that this soup will be my all-time favourite.
There were massive chunks of moist chicken, simmering in a hot tub of flavour: the sweetness of the corn paired perfectly with the chipotle and cumin spice. If you weren't absolutely starving, this bowl of soup alone could probably satisfy you. I would definitely recommend this!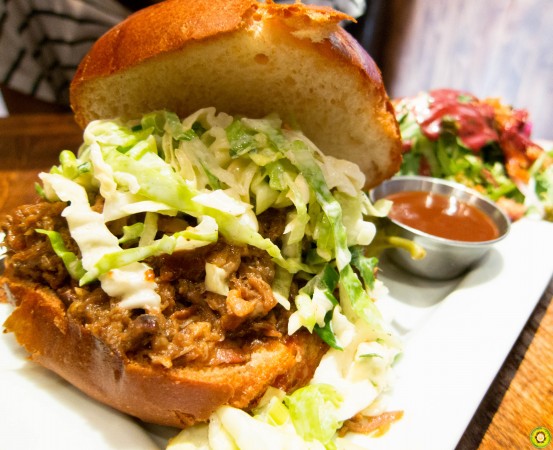 On the other side of the table, Joanne was feasting on BBQ Pulled Pork Sandwich w/ Summer Greens Salad ($12). The pork was very moist and flavourful, even without the side dish of sauce. Still, don't hesitate to drizzle all that BBQ sauce over that meat – we didn't :)
The brioche bun that the pork rested on was really soft and fluffy. This sort of posed a problem for me though, because I thought that the overall burger was too soft.  I really wished that they put more coleslaw for some crunchy texture. Also, toward the end, I found this sandwich sort of overwhelmingly rich, which could've been offset by more coleslaw. In short: Need More Coleslaw!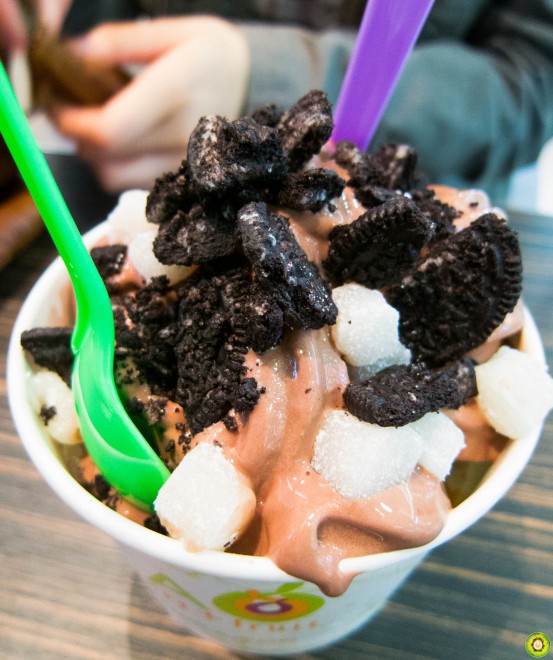 And of course, what's a date without QOOLA?! Our first layer was Very Berry Sorbet with loads of fruits, especially mango! On top was Chocolate froyo, mochi and Oreo chunks. YUM! :)
Final Bytes
Add a soup to your sandwich for just $3!
Summer beers will go nice with your BBQ sandwich!
The patio is great for summer! Get there early though, it's packs quick!
Foodobyte's Rating

---