So I was looking through my old photos in Adobe Lightroom, and I stumbled across some of my Dine Out Vancouver adventures in 2012! The odd thing was that I thought that I had already wrote about these places, yet there was no trace of them on my blog… spooky? Anyway, I thought I'd share just some of the things that I remember from dining at Whet Kitchen.Bar.Patio!
hippoCHAN and I kicked off the meal with two appies, one of which was the Sausage Plate. It was composed of sausage from Oyama Sausage Co. (conveniently located in the Granville Island Public Market), roasted peppers, dijon mustards and a balsamic apricot reduction. Apparently, this is still being featured in the 2013 Dine Out menu with slight variations.
The flavours were okay, but the texture wasn't what I expected. It had a chorizo-like mouthfeel.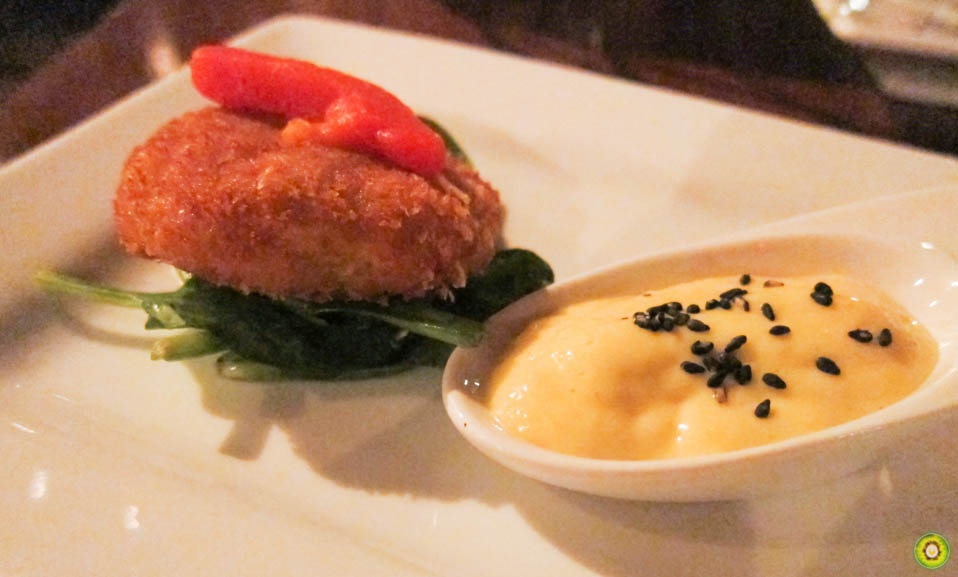 We also had the Crab Cakes, which were panko-breaded and paired with two sauces: mango aioli and avocado ranch. These were definitely memorable!
The light breading enveloped a bunch of fresh ingredients that weren't diluted by bread filling. I also really enjoyed the mango aioli, more so than the avocado ranch. Without a doubt, I would order this again!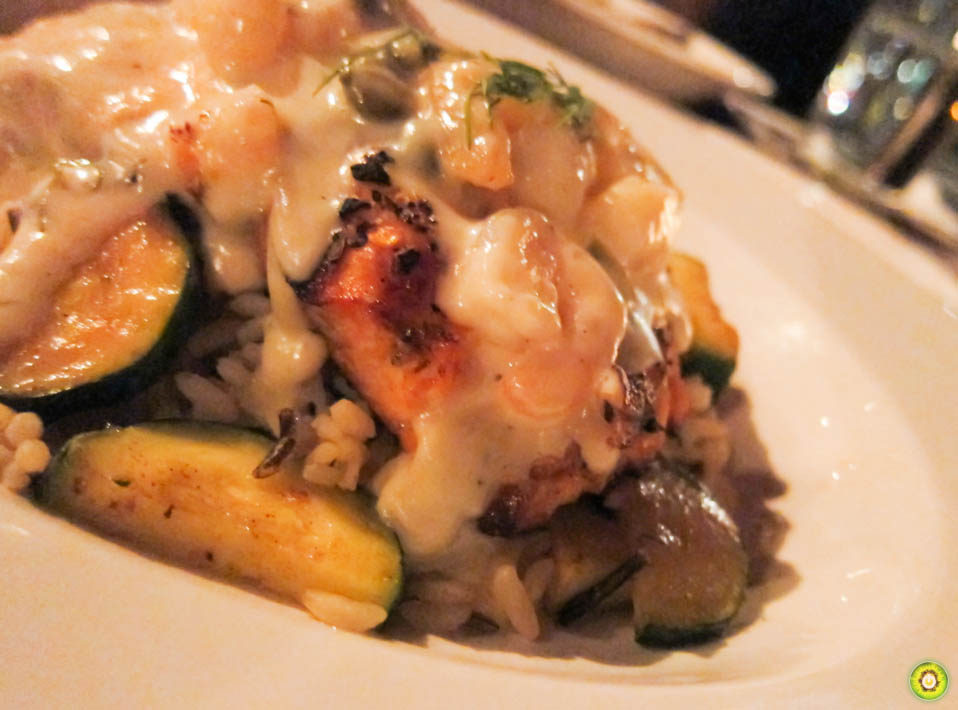 Onto the entrees! I ordered the Citrus Herb Salmon with Shrimp, served on a bed of wild rice and blanketed with a béchamel sauce. This was outrageously awesome! As with all the seafood joints on Granville Island, the salmon was fresh and cooked perfectly. The citrus was pronounced, but not overwhelming. As well, the sauce was creamy and hinted of dill.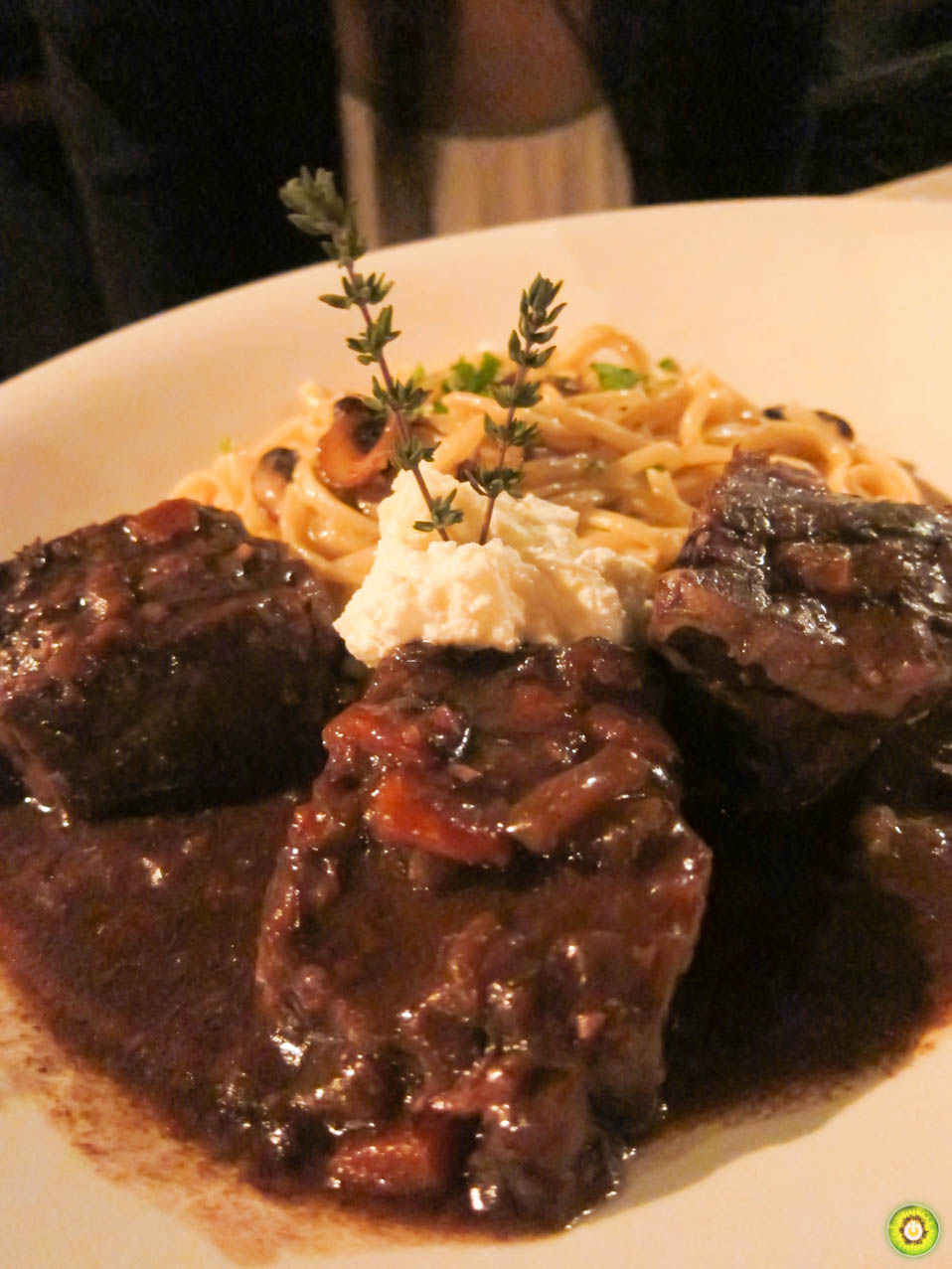 hippoCHAN ordered the Merlot Braised Short Ribs served with ricotta cheese and mushroom linguini. She recalls it as being tender and not too saucy. While this dish wasn't particularly memorable for me, I still remember that there was a lot of pasta :P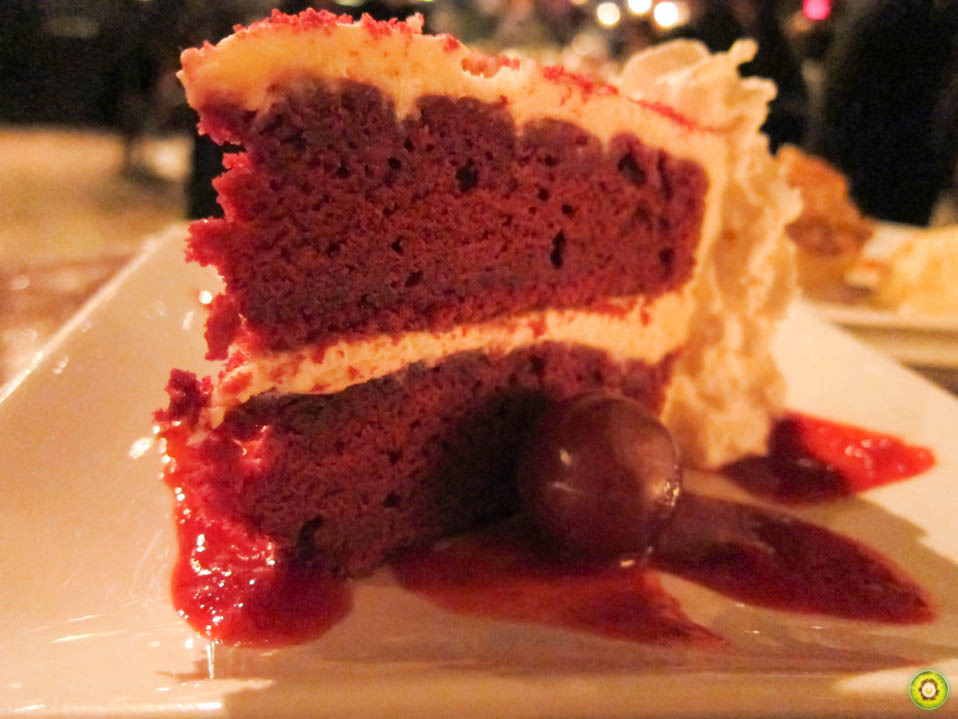 Who's ever wished that there would be TVs that could transmit flavours while watching the Food Network? It can't be just me! Anyway, I've been craving Red Velvet Cake ever since I saw it on the Food Network… it looked so elegant and tasty.
Too bad, I felt kinda let down when I took the first byte. It wasn't especially moist and flavourful as I thought it would be. It was like a not-so-decadent chocolate cake that was so embarrassed that it turned red. What bothered me more was the frosting, which was just so sweet.
Thankfully, the Apple Crisp was much better. It's made with a puff pastry and served with a scoop of vanilla ice cream. It had a really pleasant spectrum of textures: crispy, crunchy, flaky, mushy, soft :)
Final Bytes
Nice candle-lit tables. Date night, perhaps?
Seafood on Granville Island is always a winner!
Quite pricey.
Foodobyte's Rating

---