Doing "research" as a foodie merely means watching a bunch of Food Network shows, including You Gotta Eat Here! It's definitely a hard job; watching hours and hours of television. Anyway, while skimming through some YGEH episodes, I came across Via Tevere that serves up Neapolitan Pizza.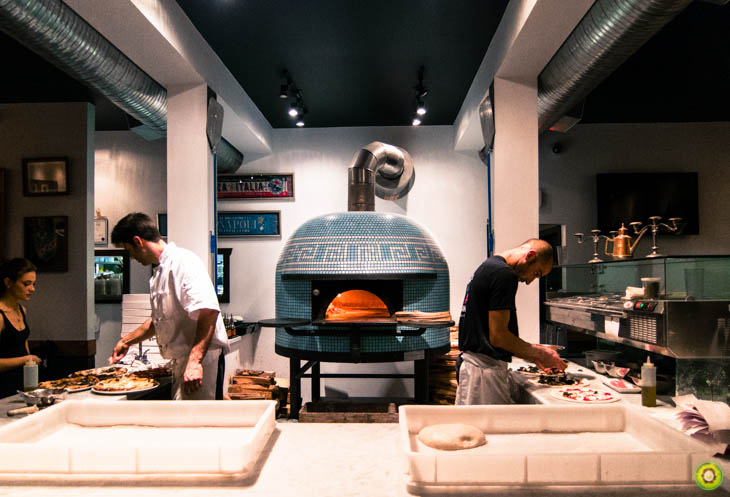 I heard that it can get quite busy here, but hippoCHAN and I were lucky to be seated immediately. Navigating through the dining room, I couldn't help but awe at the gorgeous oven. It's so hot that pizzas only stay in there for 90 seconds.
[fve]http://www.youtube.com/watch?v=GLIP8LIK9-c[/fve]
In order to qualify as a true Neapolitan pizza, all the pizzas must be stretched by hand. Also, the key ingredients to be used are double-zero flour (a very low gluten flour), San Marzano tomatoes, fior di latte mozzarella and extra virgin olive oil.
Our first pizza was the Salsiccia e Rapini ($16): fior de latte, Italian sausage and broccoli rabe. It comes in either "red or white," meaning with or without sauce respectively. Obviously, we got the red… what's a pizza without sauce :)
Wait a minute… wouldn't the "white" version conflict with the Neapolitan Pizza criteria, which is officially set by the AVPN, Italian government and European Union?! Yes, pizza is serious business. Imagine having a meeting… about pizza :P That would be AWESOME!
Right off the bat, this pizza was over-charred! Even the bottom was significantly charred, way more than our second pizza! Because of that, the pizza was quite bitter, which was further magnified by the bitter broccoli rabe.
On the bright side, the cheese and tomato sauce were awesome! Sausage was just okay.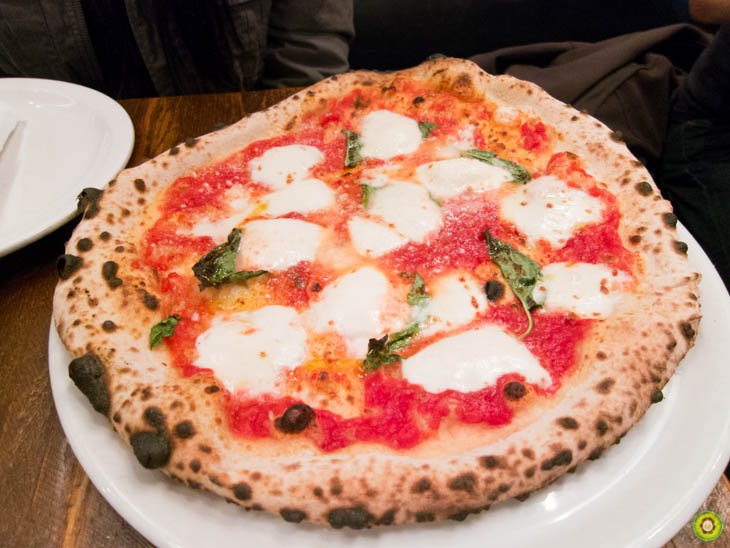 Our Margherita ($12) was definitely our favourite. It's very simple – just tomato, fior di latte and basil – but it's done RIGHT! The tomato sauce was ultra fresh and bright. Cheese was actually quite gooey and stretchy.
Like all Neapolitan pizzas, the pizza was soft and chewy. I could eat this all day long!
To boost the flavour of the crust (or even the whole pizza), there were a couple of bottles of flavoured extra virgin olive oil. One was basil while the other was red hot pepper.
Via Tevere has this cute little car stationed outside their restaurant. Imagine doing delivery in that tiny pizza mobile, haha!
Overall, our dining experience was just okay. Nothing really blew us away, and it was just too bad that they overcooked one of pizzas. To be honest, I'd much rather go to PazzaRella, which serves just as good food out of a food truck!
Final Bytes
Fold up that pizza – it tastes better!
Doesn't take reservations :(
Neapolitan pizza is supposed to be charred, but only SLIGHTLY. If it's too much, ask for it to be re-done.
Foodobyte's Rating

---