I hate All-You-Can-Eat Sushi. There, I said it! Not only is the food expensive, but also it's unbelievably substandard in quality. Yet, people still flock to those restaurants, under the impression that they're getting their money's worth. That's why I'll always opt for à la carte Japanese restaurants, and one of my favourites is Tokyo Thyme, located in Kerrisdale.
Tokyo Thyme is a quaint hubby & wifey restaurant that prides itself in serving unique and superior quality Japanese fare. From the outset of Spring to the end of Winter, they create special dishes that take full advantage of the seasonal foods. Unfortunately, I don't think that this post sufficiently highlights the amazing creativity brewing in the kitchen and sushi bar! But, you can check out their regular menu at www.tokyothyme.com (the specials menu can only be viewed in store).
Unlike my mom, my dad and I enjoy eating sashimi! I find that whenever I eat raw fish, I feel like Bear Grylls from Man vs. Wild! It's just so cool how he catches fish with a makeshift spear (but I digress)! Anyway, we decided to order the Assorted Sashimi, which included salmon (my fav!), tuna, ika, prawn, and two other ones that I can't remember the names. In a nut shell, every single piece was extremely fresh and at a perfect temperature. Although, I thought that the pieces were a tad too thick.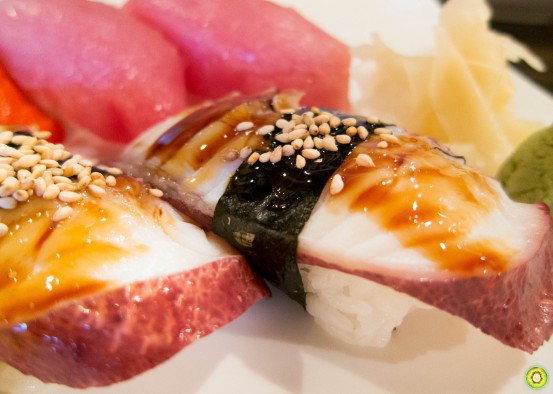 Then, we order sashimi's carbohydrate-stuffed relative: Nigiri! This is the Tako (octopus) variety. It has a slightly chewy texture with a light brush of soy sauce.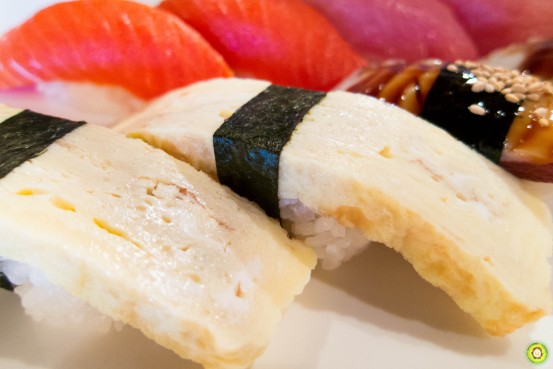 Typically, I don't like Tamago (egg) because most restaurants serve it from a package. However, Tokyo Thyme makes their tamago in-house! It has a hint of sweetness and a spongey-airy mouthfeel.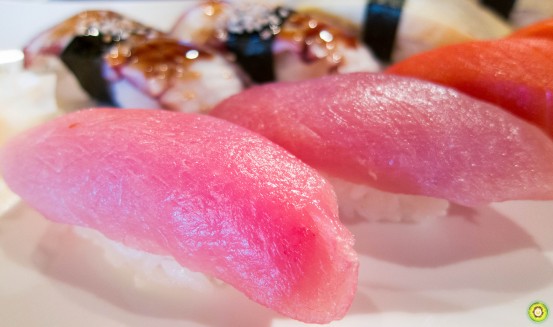 I'm 99.9% sure that this is a Tuna nigiri… It's been a while since I took these photos!
Finally, we got a couple of Wild Salmon nigiri! The flavour of Tokyo Thyme's wild salmon is quite similar to their farmed, the texture is much more robust (probably because they swim/workout more?).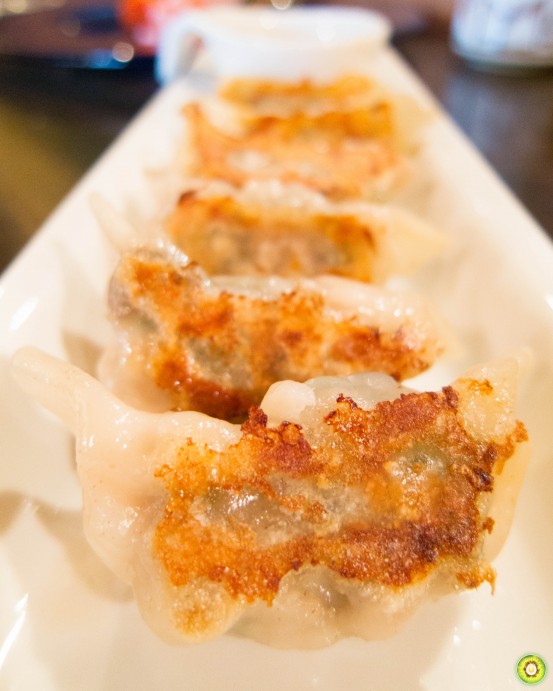 This is one of Tokyo Thyme's newest additions to their menu: Tofu & Mozzarella Gyoza. There are other fillings as well, but this one is my favourite. You might think that it would be bland because it's tofu. In fact, there's incredible flavour encased in that thin wrapping. Also, the mozzarella doesn't overpower the palette.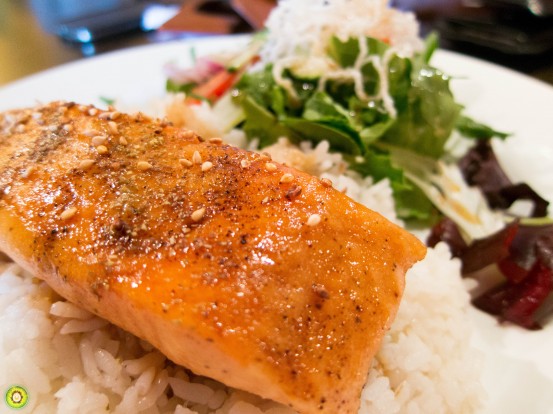 Obviously, sashimi and nigiri aren't nearly enough to satisfy my stomach. Thus, I ordered the Teriyaki Salmon Don! It's one of my mom's favourite dish, but I didn't try it until now. Holey Magikarp, I was totally missing out!
Quite literally, the salmon just falls apart in your mouth, on the cusp of dissolving. It's lightly seasoned to accentuate and complement the flavour of the salmon, unlike other places that just dump a bucket of salty teriyaki sauce on top.
Supporting the salmon was a bed of soft, warm sushi rice. It may be a small detail, but having perfectly cooked rice is awesome. Also, the salmon to rice ratio is nearly 1:1, so you're not left with a mountain of rice at the end of the meal.
The salad was superb as well. Tokyo Thyme makes their own salad dressing, which possesses a harmonious balance between acidity and savouriness. Also, on top of the fresh greens, there's some deep fried rice noodles that give a really nice crunch! Honestly, I could just order the salad and be happy :)
The salmon was so good that I went back the next day and ordered it again. Although there's a plethora of Japanese restaurants in Kerrisdale, Tokyo Thyme still shines with the luster of the Milky Way. Truth be told, Tokyo Thyme ruined me for many Japanese restaurants!
Final Bytes
Food service is sometimes sluggish, but staff is always very attentive and friendly!
$0.75/hr parking across the street!
Kakiage Udon has awesome vegetable tempura w/ clean & flavourful soup base!
Foodobyte's Rating

---