Chinatown is just booming with new places to stuff your face. It's cool how old places (and Chinatown is uber duber old) become the hip spots for hipsters alike. But in the midst of Matchstick Coffee and the Pie Shoppe, there's The Ramen Butcher that's anything but hipster. Apparently, the owners were trained under Yamagishi Kazuo, the "God of Ramen" who invented Tsukemen dipping noodles. So boss.
It's a gorgeous restaurant. I loved the hammered nails that spelled out RAMEN. The flock of paper cranes was a nice touch as well.
There are some long tables, but it would definitely be easier to grab seats as pairs.
Grape and I started off with some Okonomi Gyoza ($5.95). Or should I say, "okay! nom nom nom gyoza~" I love takoyaki, so that's why I really enjoyed the gyoza since they had similar sauces and toppings. The pork was moist, but I wished there was a better crust on the bottom.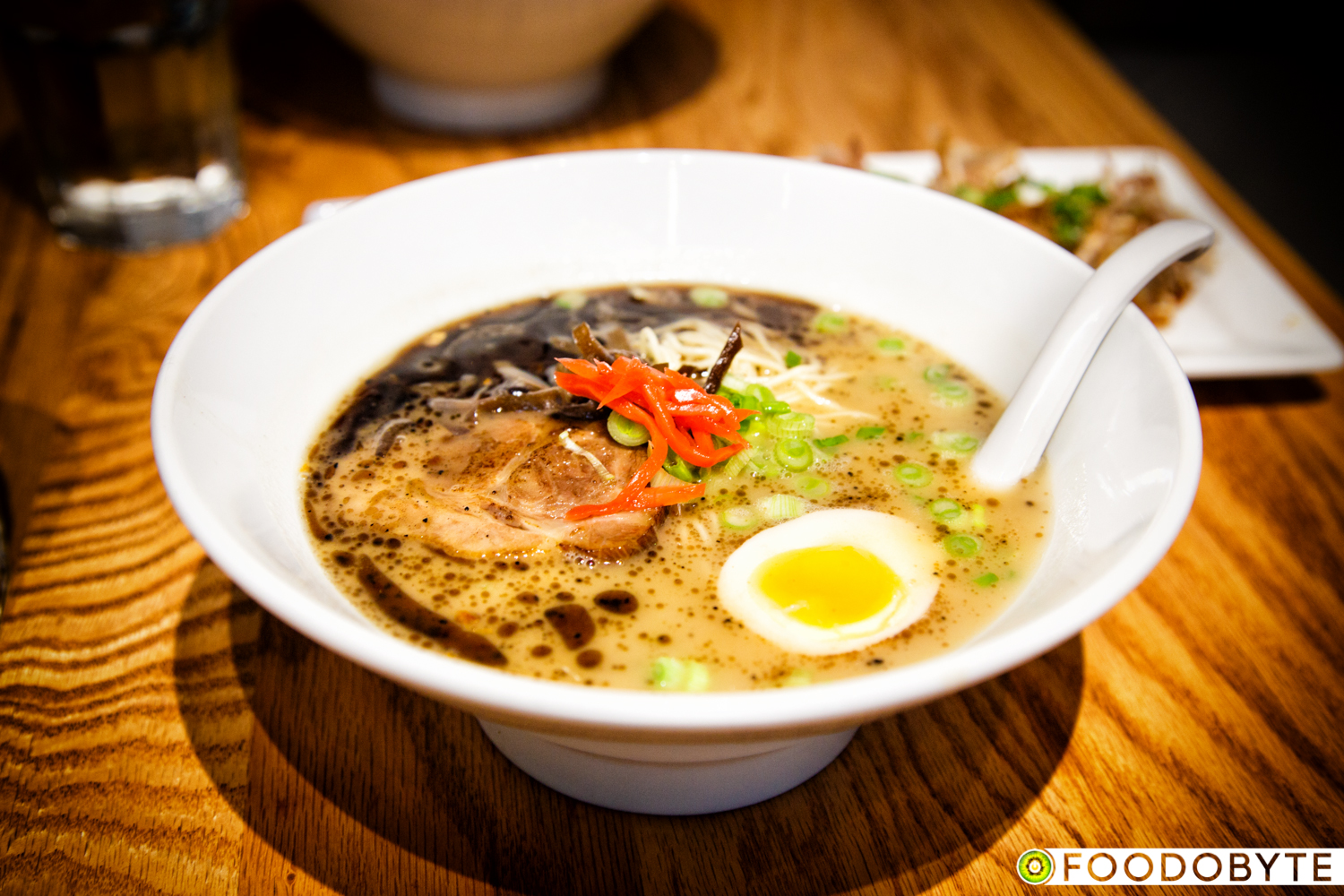 Aside from the Classic flavour, the Tonkotsu Ramens (pork bone broth) were sorted as colours (and shades, if you want to be all technical): Red, Black, Green and Orange. I would say that the colours were quite representative of the predominant flavours.
I ordered the Black ($10.95) that starred roasted garlic oil, as well as aburi pork chashu, a medium boiled marinated egg, wood ear fingers, green onions and freshly made noodles.
The roasted garlic brought about a pleasant smokiness. But for hardcore garlic goodness, I'd still pick Kintaro's Spicy Garlic Ramen. The broth was incredibly creamy… that could be a good or bad thing, depending on your taste. I really liked it because it allowed for the broth to cling onto the thin ramen noodles as I slurped them up. The noodles were soft with very little chew. Its shape and texture were okay changes from the usual thicker ramen, but I still prefer the latter.
The egg was cooked well. I like medium boiled eggs since they're not too runny or solid.
I liked the torching of tender cha shu prior to service. I just wished there was more… There was only one thin slice… Perhaps they should butcher some more pigs. Btw, you get to pick lean or fat pork (guess which one I picked :D).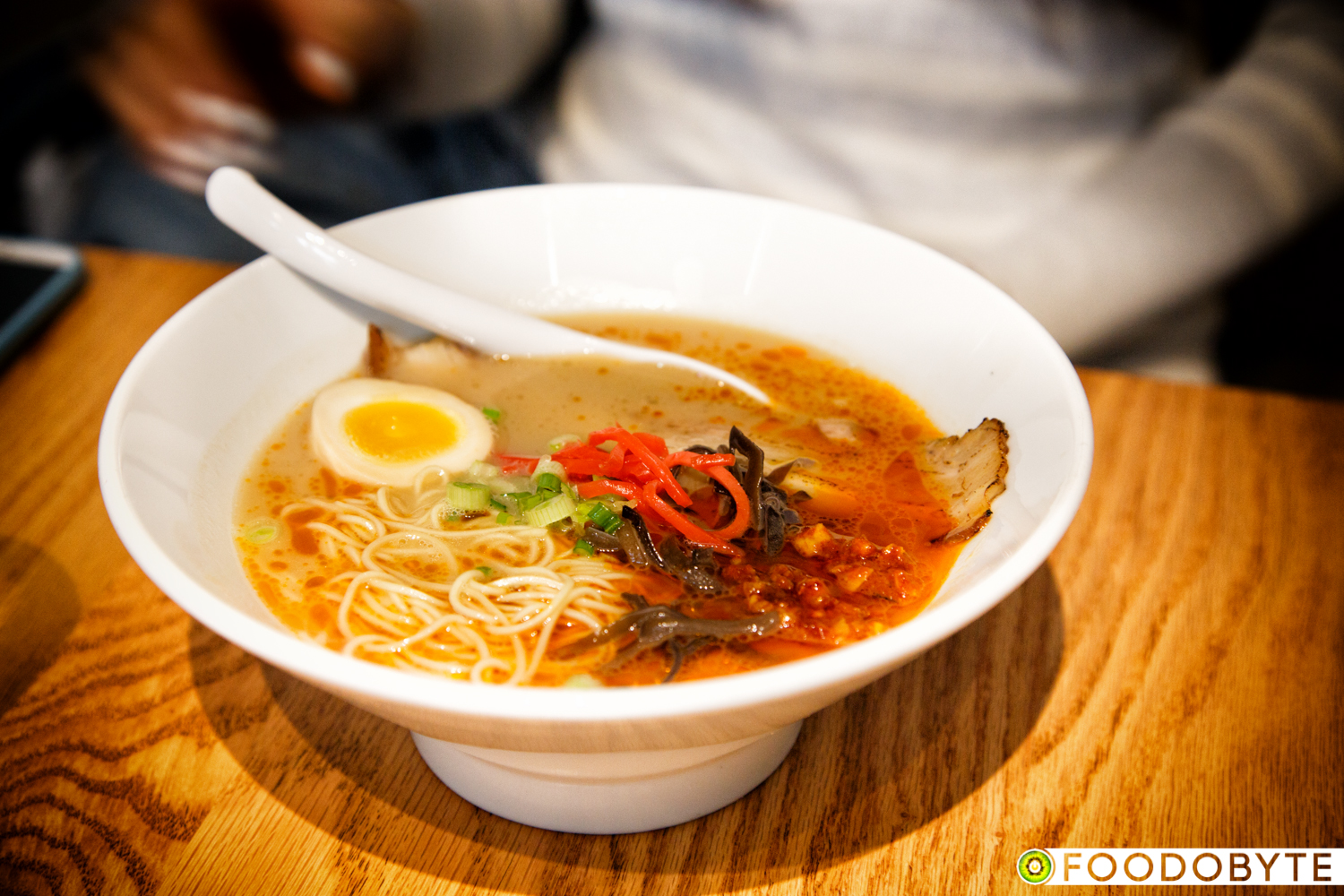 Grape ordered the Red, and you guessed it… it was spicy due to the spicy garlic paste. Aside from that, the rest of the ramen was virtually the same as the Black.
Both bowls of ramen had sticks of pink pickled ginger. They're a nice garnish, but they definitely caught me by surprise when I ate one of them. I would've picked them off if I had known they were ginger.
Grape and I both ordered the Kaedama, which translated to free extra noodles to go with any leftover soup. I wish we had only ordered one because each serving was double the initial amount of ramen. Plus, there wasn't much soup left for the large load of ramen. Why wouldn't they just give more noodles to begin with? I have no idea. With the Kaedama, it was like eating 150% of the ramen required to make me full.
Final Bytes
Solid flavours, but scarce toppings
Friendly service
Closed Monday and 3-5PM other days
Foodobyte's Rating

---