It's that time of the year again: Dine Out Vancouver, where restaurants try to show us what they've got! Special featured menus range from $18 all the way to $38. Be sure to check out all the participating restaurants at dineoutvancouver.com!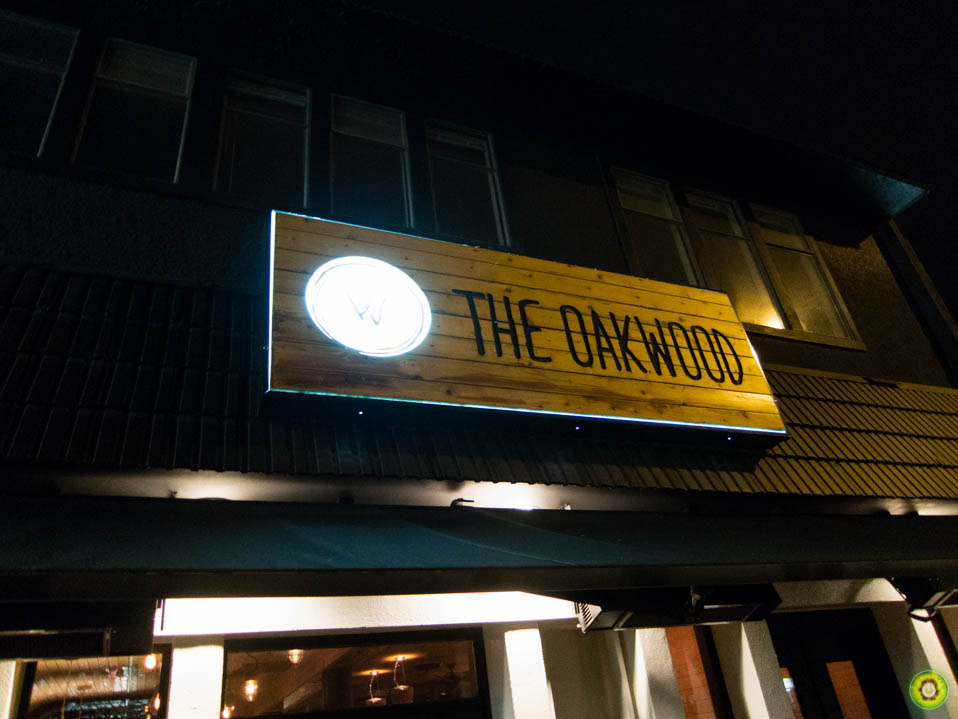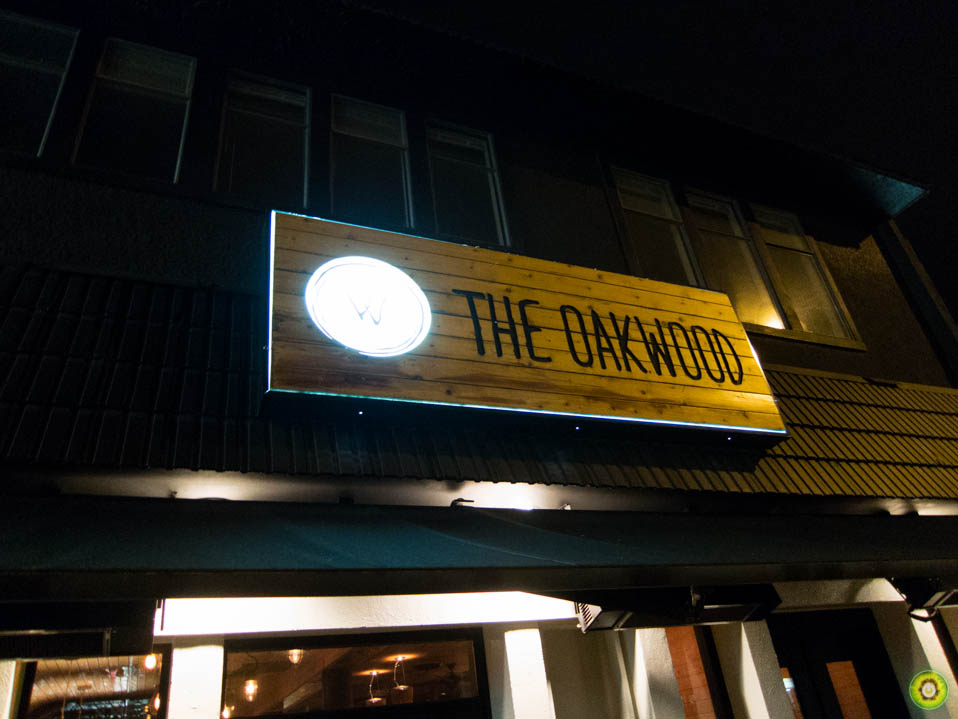 The first pick on our Dine Out agenda was The Oakwood Canadian Bistro, located in Kitsilano. I gazed up at its wooden sign, and wondered why is the logo a "W"? When writing this post up, I figured the surrounding the "O" stands for "oak" while "W" denotes "wood." That's just a wild guess, so could someone let me know if you figure it out :)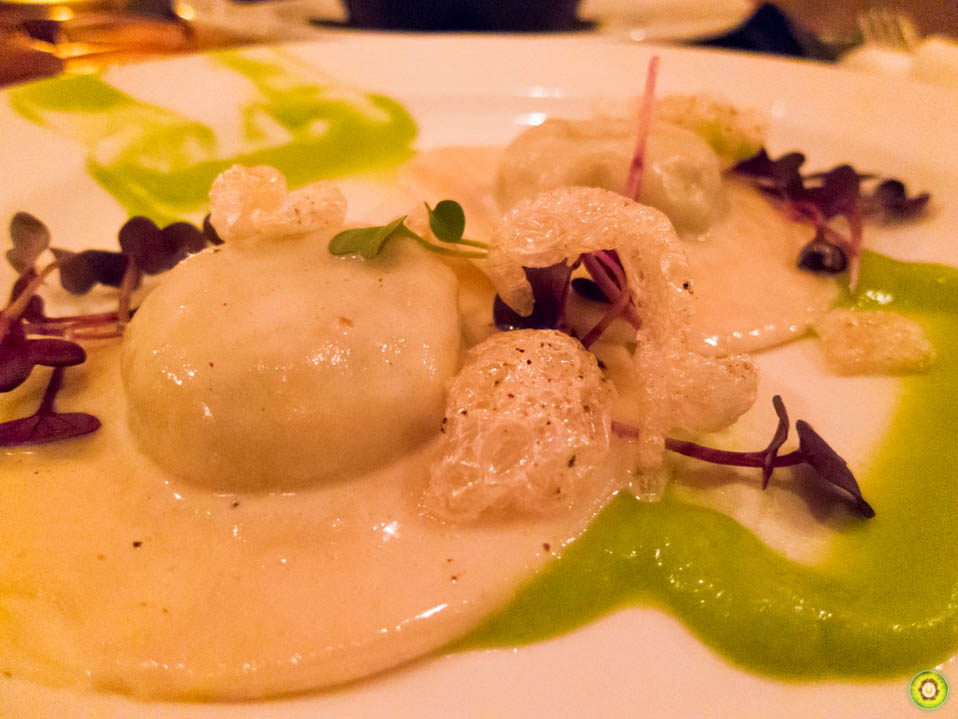 We walked into Oakwood, pretty much already knowing what we would order since hippoCHAN and I spent hours staring and comparing menus. I started off my meal with the Pork Ravioli w/ apple wasabi butter, rind and radish sprout. The pork rind was nice, but I can't say the same for the ravioli though. The dough was dense and hard, like it was completely undercooked. While the flavour of the filling was alright, the pork was quite dry.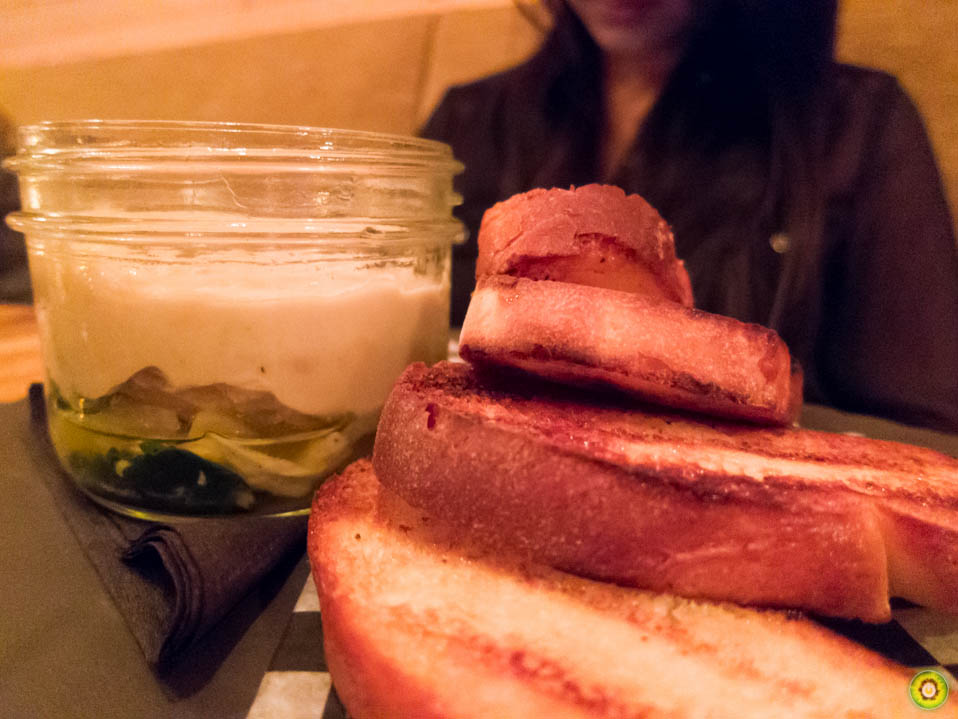 hippoCHAN's appetizer was several paces better than mine. She had the Albacore Tuna w/ white bean puree to spread on some charred crostini.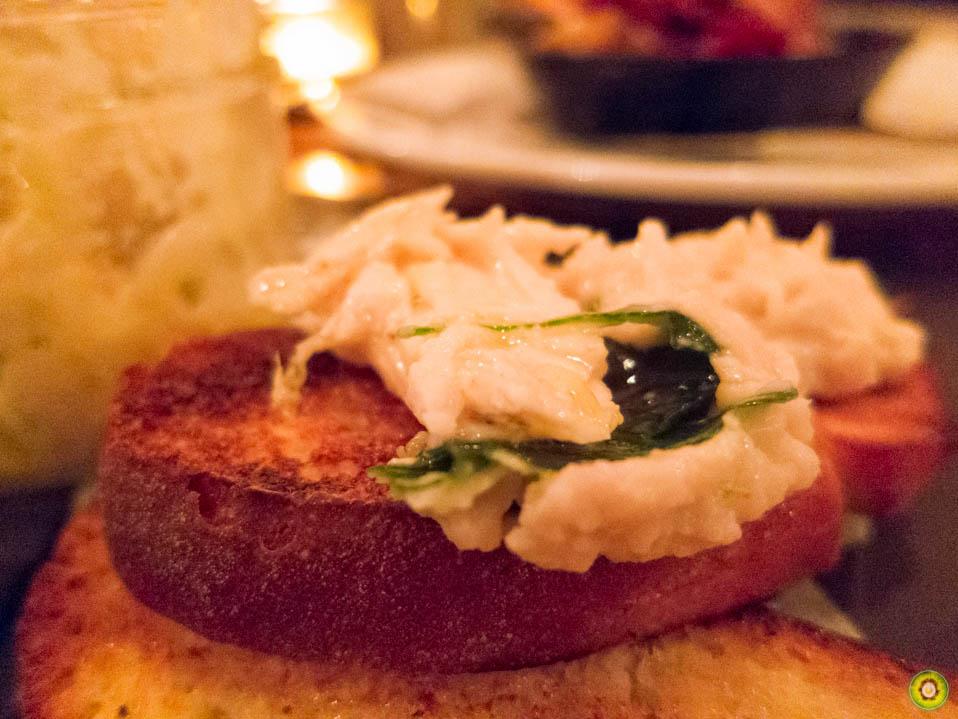 This was pretty good, but lacked a certain WOW factor. It sorta reminded me of eating canned salmon with Premium Plus soda crackers – comfort food!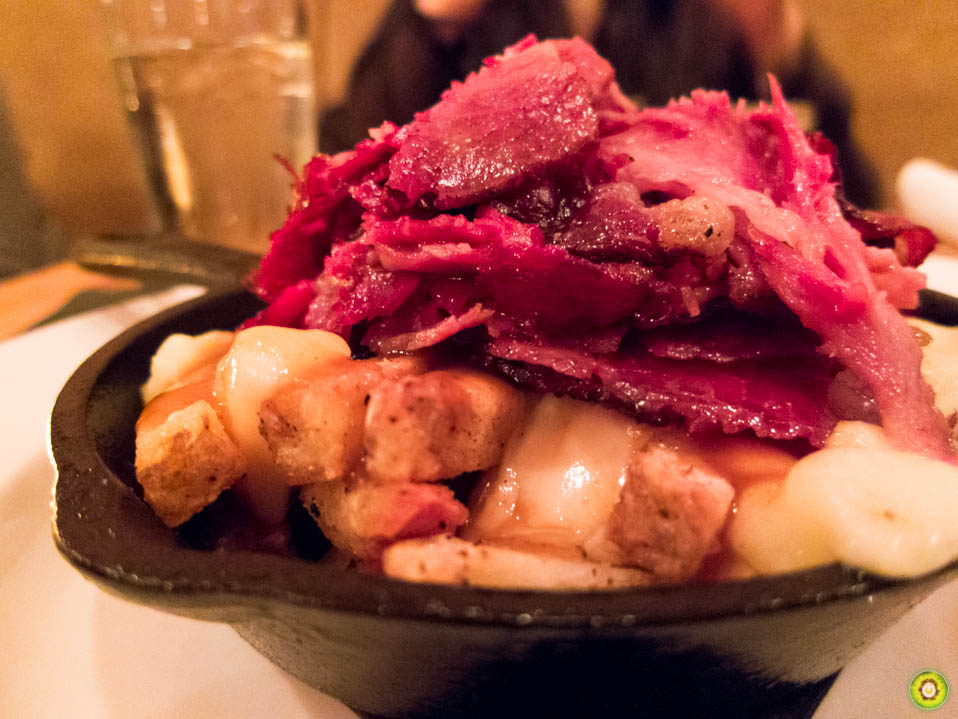 While scanning through the menu, hippoCHAN caught eye of the Poutine w/ House Brisket. It was like this cow sacrificed itself for our sins, because it was so heavenly. The brisket was perfectly savoury and salty, which complemented the mild cheese curds that were modestly gooey. It was a good thing that there wasn't much gravy, otherwise there would've been a salt overload. I would definitely come back just for this poutine! :)
The Lamb shank was prepared sous vide, a method of cooking food in airtight plastic bags to create an overall even doneness while locking in the juice. It had great flavour to begin with, but tasted more gamey as I ate on.
Elevating the lamb above the moat of tomato nage (a broth thickened with butter or cream) was the confit garlic mash. Typically I'm a lover of mash, especially if it's garlic, but this was face-twisting salty! Bleck! I took two bites and I just couldn't handle it. On the bright side, the honey roasted carrots were pretty good.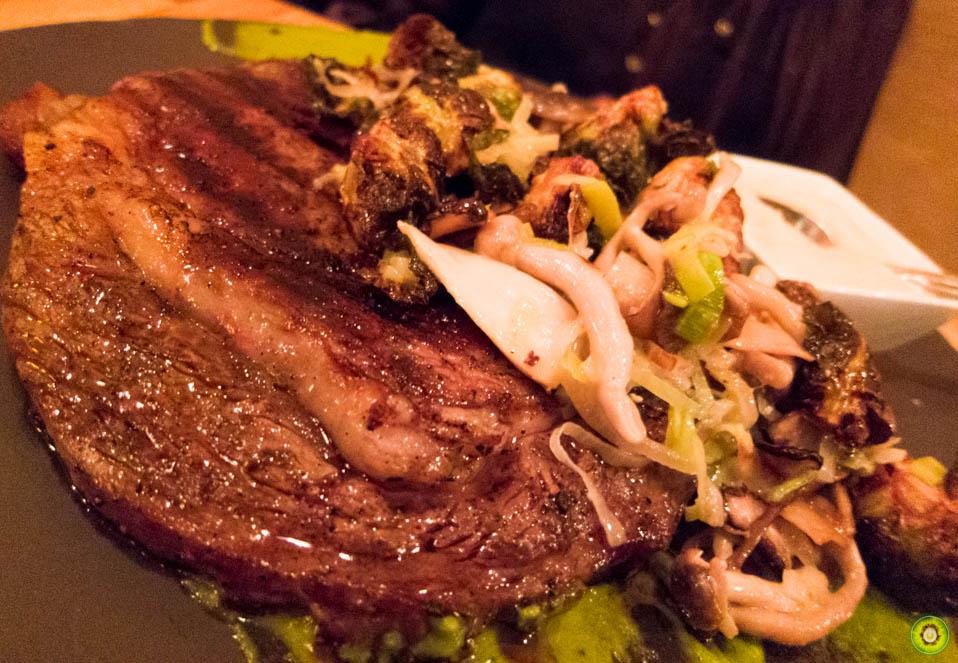 hippoCHAN ordered the 16oz ribeye w/ parsnip puree, fried sprouts, chanterelles and chimichurri. As you can see, this slab of meat was massive! Nevertheless, it's always about quality, not quantity. I felt that the medium-rare steak was a bit chewy, but that didn't bother me the most. Instead, I was irked by the unappetizing burnt flavour that coated every inch of the steak. The same applies to the brussels sprouts. As this only thing not on top of the steak, the parsnip puree had a subtle sweetness.
It should be noted that this entree costs $10 on top of the $28 Dine Out menu! Personally, I'd rather go to the Keg for this price point since the steak tasted more like charcoal than beef.
Finally, the desserts! At this point, our palettes were saturated with savoury flavour so we really craved something sweet. Since there were two dessert options, we each ordered one.
hippoCHAN got the Apple crumple made w/ gala and granny smith apples, crumble and vanilla bavarian cream. Served warm, the apples were soft and melty. However, I thought that the apple flavour was masked by all the sweetness. I would've preferred that it was served with vanilla bean ice cream to tone down the overall sweetness.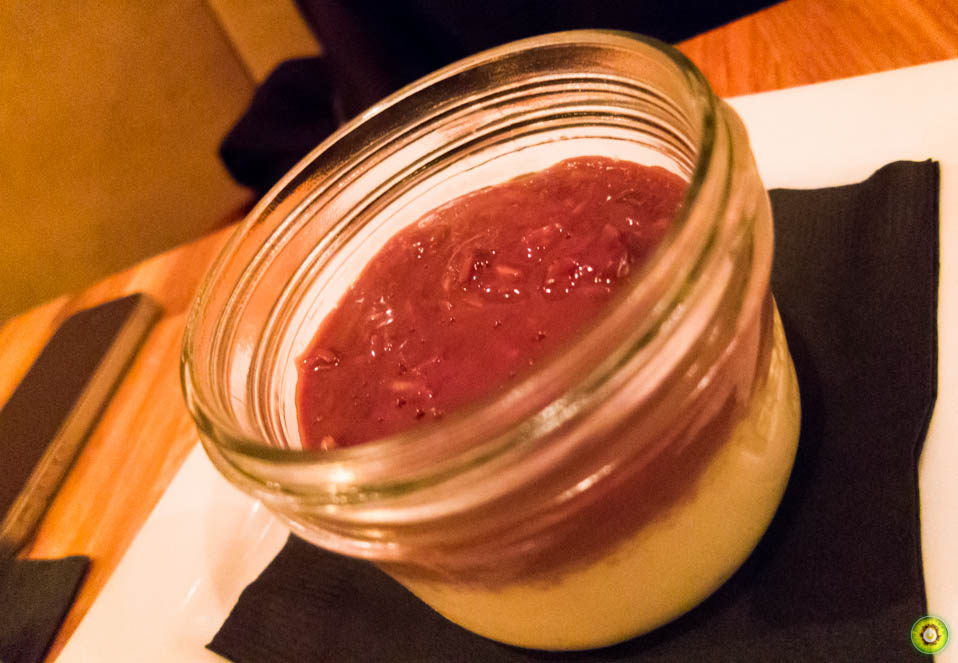 The other dessert was the Nanaimo bar custard layered w/ vanilla custard and coconut walnut ganache. Although it seems relatively simple, this was definitely the better dessert! Perfect level of sweetness. So smooth that it could pick up chicks. I also really liked the nuttiness flavour and texture from the coconut and walnut. This dessert fondly reminded me of Kozy Shack's rice pudding, but so much better!
Yeah, there were some hits and misses. Sadly, I think that Oakwood didn't show off its true talents. The dish that we thought was the tastiest was only featured as a side. For that reason, I think Oakwood's regular menu might have better things to offer.
Final Bytes
Super cozy atmosphere with friendly service!
Free parking along 4th Ave after 6PM!
All the seafood is Ocean Wise certified!
Foodobyte's Rating

---