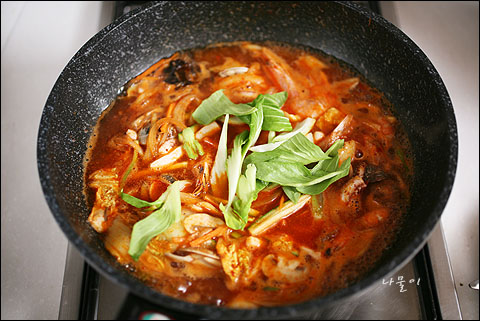 What can I say?…  I feel that my entire life has been a lie.
Today, I went to my absolute favourite Korean restaurant – I was ecstatic!  I've been craving the hot and spicy goodness for days!  But, things quickly turned sour.
When I sat down, I knew immediately what to order:  "Assorted Seafood Noodles in Soup", a bubbling ocean of spiced sea critters that swam with a school of slender noodles.  I usually request it to be extra spicy.
It came.  It tasted awesome.  It was a lie.
I took a quick glance at the shelf next to the cash register.  I took another look.  And another… and another.  I couldn't believe my eyes.  Out in the open, a box of Nong Shim instant noodles was towering over me – a serious eyesore.  My world began to crumble, but I fervently hoped that maybe I was wrong.  Maybe the owners just sell these on the side; they are Korean instant noodles after all.
Sadly, after speaking with the owner, I realised that I was right.  What I thought was a bowl of hearty, homemade noodles crafted by a mother's touch… was actually a machine-manufactured styrofoam cup noodle, saturated with unhealthy fats, sodium, and MSG.  No wonder it tasted so good.
You may be wondering why I'm so upset over a simple bowl of noodles.  Well, my friends know that I have three all-time favourite foods:
Korean
Nando's
and Korean!
I'm sad to say that I will not be returning to this little restaurant.  Now, I must venture off into the scary world that is bursting with hidden lies… searching for my next Korean food spot.
Foodobyte's Rating

---