I've only been to a couple of food tours, but Tasting Plates Vancouver is my favourite by far! Last night, Vanfoodster hosted its latest Tasting Plates event in the Mount Pleasant and False Creek area, featuring 7 awesome restaurants. With my ticket in hand, I followed the printed map (on the ticket) and snapped up sample dishes along the way.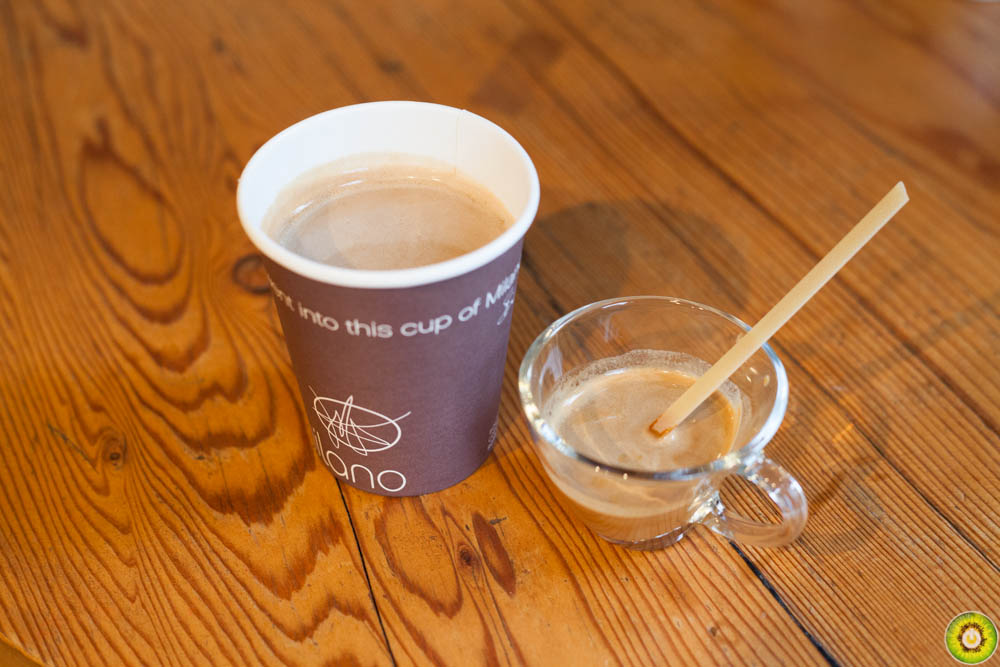 Milano was our first spot, which was also where we picked up our tickets. The initial queue may seem daunting, but times flies if you're chatting with friends.
The tall cup was the Stovetop: long shot of Calabreze espresso finished with Milano's "liquid gold" and cream! Since I normally drink Starbucks espresso, this was an interesting experience for me. Surprisingly, it didn't have an overbearing bitterness that's characteristic of Starbuck's espresso. Instead, this drink was incredibly smooth and its flavour profile reminded me of a Vietnamese coffee with condensed milk. This was my favourite of the two, and I would highly recommend it!
In the itsy bitsy cute cup was the Truffle Shot. It consisted of a single pour of la futura, winner of the Italian Gold Medal – the Medaglia d'oro. This drink was quite similar to the Stovetop, but had a deeper and more robust flavour that tied closely to that of chocolate truffle.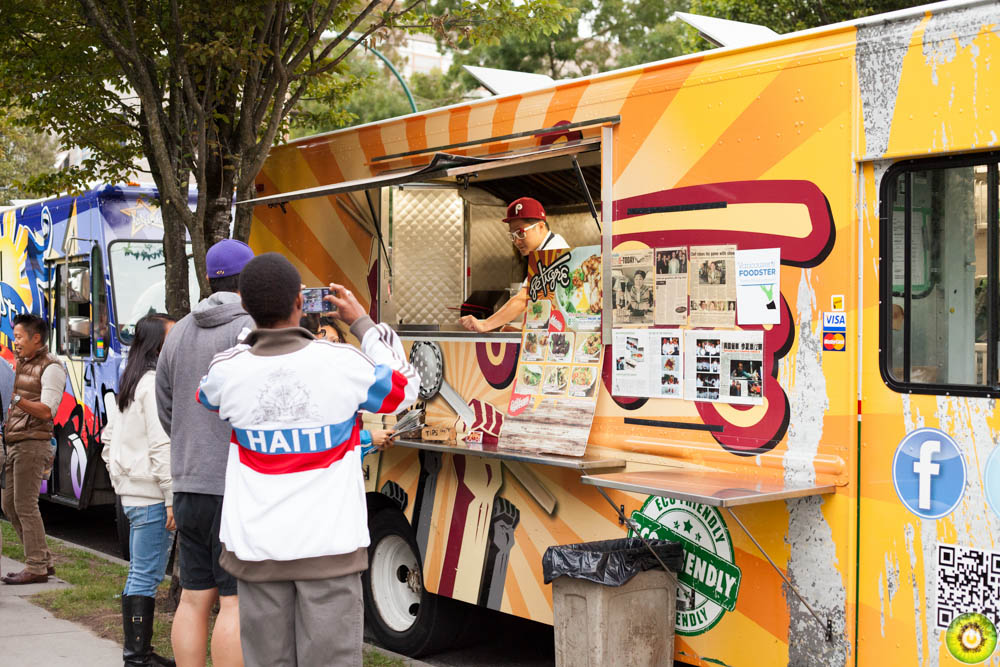 Closest to Milano was Le Tigre food truck! Ever since Clement competed in Canada's Top Chef, I've always wanted to try his modern interpretations of Asian cuisine.
That night, they were serving up a Seafood Miso Chowder – perfect for the upcoming cold weather. It was a smooth and rich broth, filled with salmon, crab and vegetables. It was great that the cornucopia of ingredients provided layers and layers of flavour, as well as textures. I also enjoyed the last minute finish of lemon juice that brightened up the bowl of soup.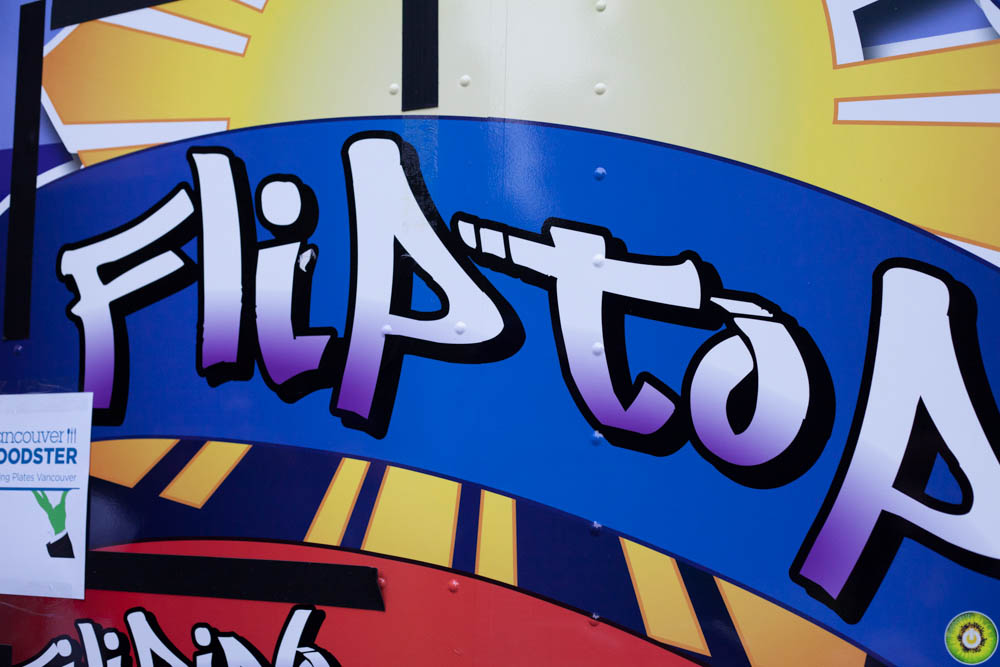 Right next to Le Tigre was Fliptop, a new Filipino Fusion food truck.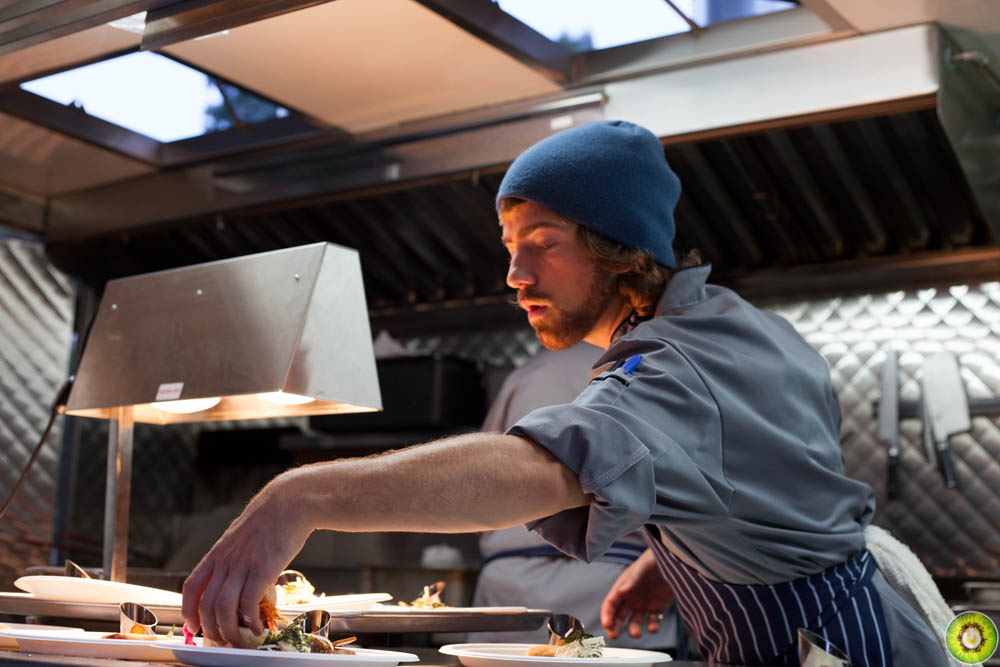 I've only had Filipino food once before at Pinpin, so I was interested to see their idea of "fusion."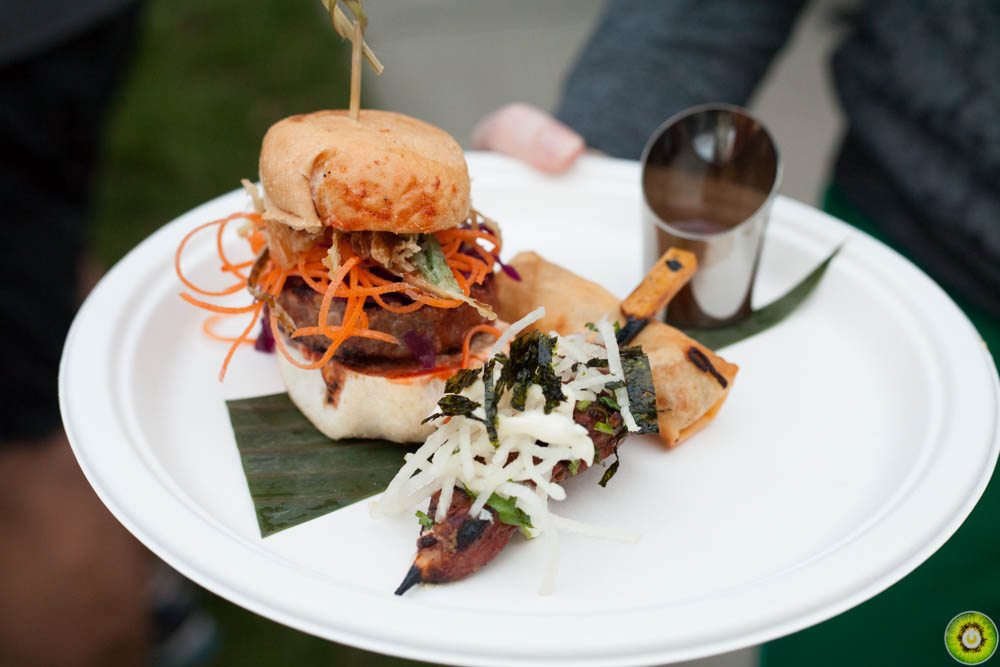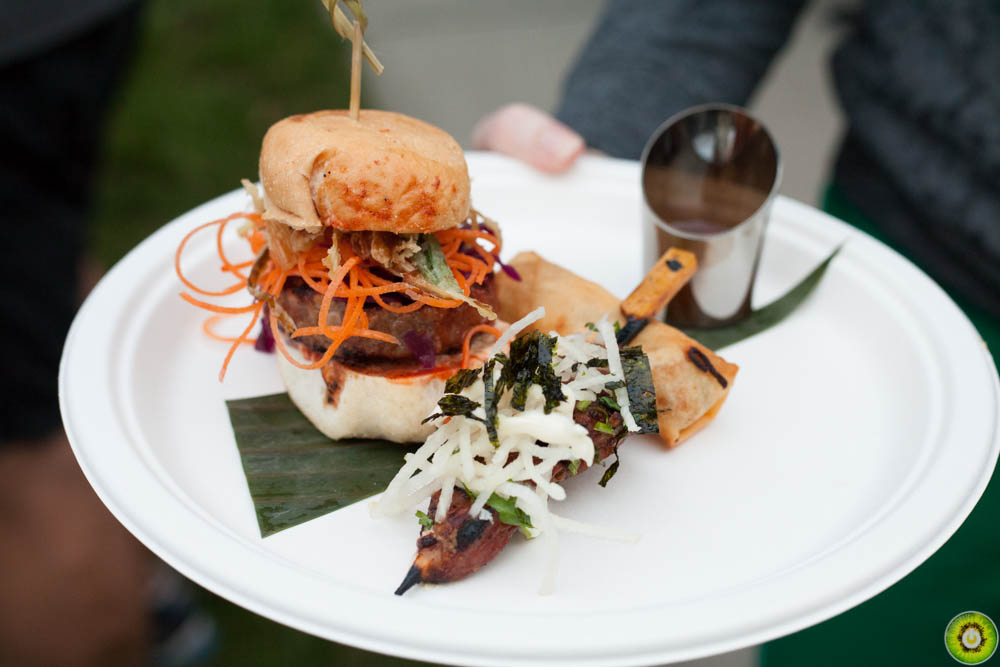 Fliptop's tasting plate had Lumpia (Filipino spring roll), BBQ Pork Skewer and Panman Pandesal Sliders.
The Lumpia was served with a kalamansi sweet chilli sauce. It tasted good, but it was definitely missing some crunch! I'm guessing that they deep-fried them ahead of time for this event to speed up the queue.
My favourite component on this plate was the BBQ Pork Skewer, made with Fliptop's banana ketchup marinade. It was so tender – I wanted more! It's also topped with fresh cilantro, grated radish and garlic aioli. However, I did wish that they added some source of acid to it.
The Panman Pandesal Slider was made with Hawaiian picked red cabbage, carrot strings, hoisin mayo, crispy leeks and roasted garlic aioli. It was just okay for me. It was generous in its portion size, but it tasted like a standard burger with a slight Asian twist. Similar to the pork skewer, I wanted some acid, which I thought the picked cabbage would provide.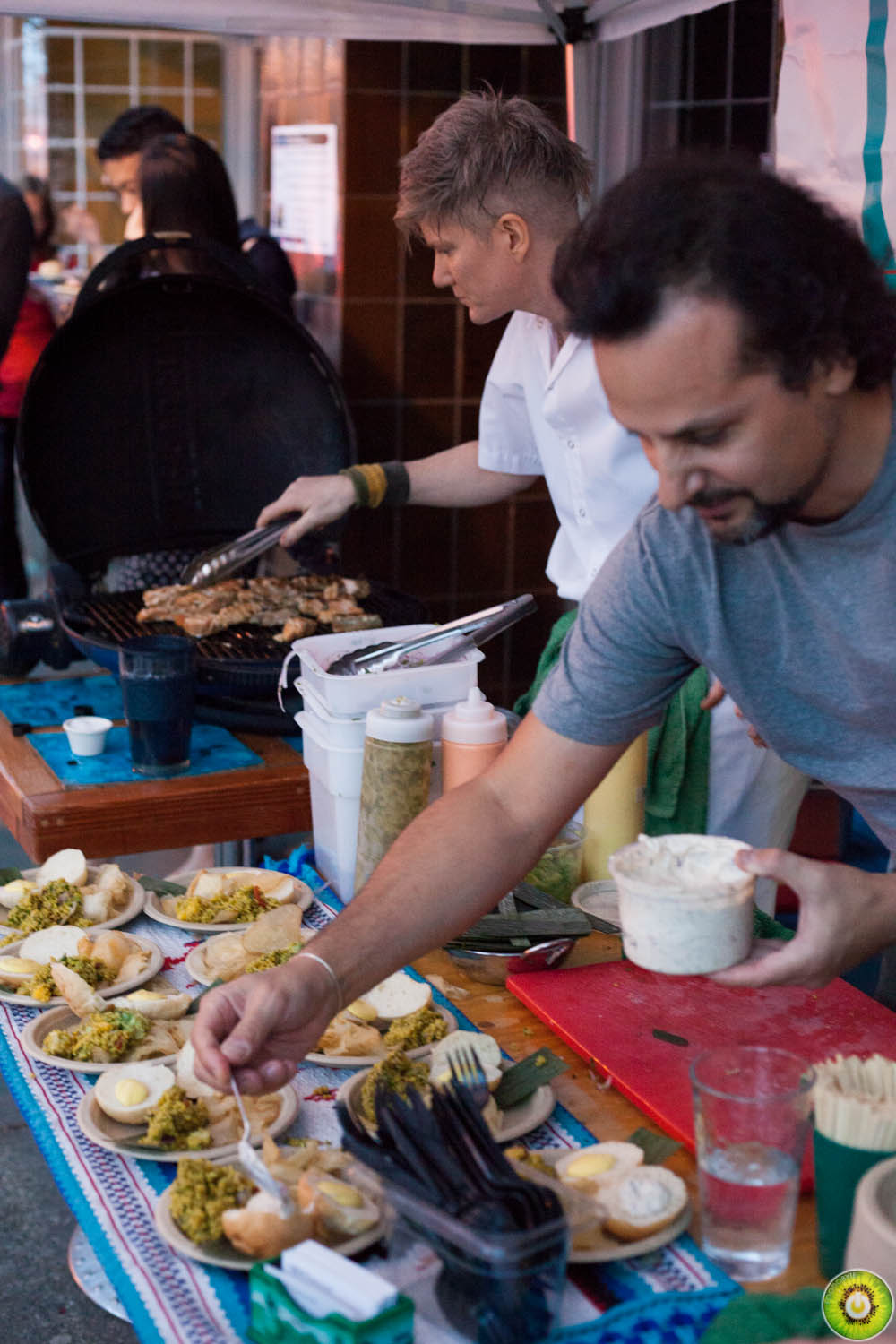 Along Broadway was Chicha, a Latin American restaurant cooking up tapas inspired by Peruvian flavours.
On the plate, there was a local wild salmon slider, quinoa salad & rocoto-dusted house made potato chips.
I was getting quite full, so I only ate the slider without the bun; in other words, just the salmon! The salsa criolla and Aji Amarillo aioli lent a lot of flavour to the salmon. Yet, I wanted more flavour infused into the salmon itself.
I'm usually not one to get all hyped up and excited about a salad, but I would for this one! It's made with mango, avocado, roasted red pepper, red onion and cilantro-huacatay dressing. This was what I needed – something incredibly light and fresh, yet bursting with bright flavours. I can't even articulate the flurry of flavours that entertained my tastebuds – just order this one.
The chips looked pretty regular if you asked me. But! The dusting of rococo made them seriously addictive… I don't think I can go back to Miss Vickies.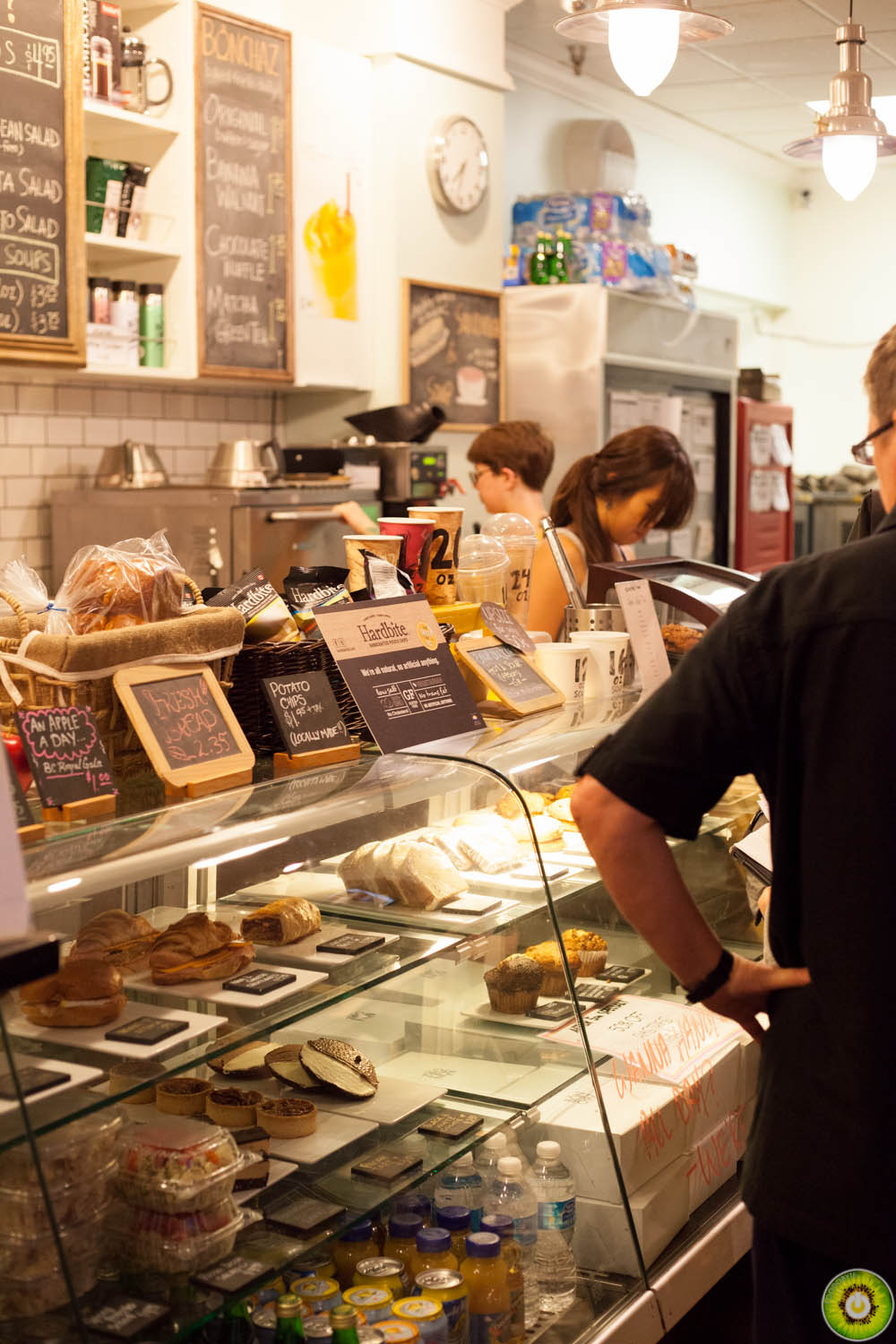 Bonchaz had three options:  Original Bonchaz Bun, Apple Cinnamon Bonchaz Bun or the Mini Vegan Sandwich.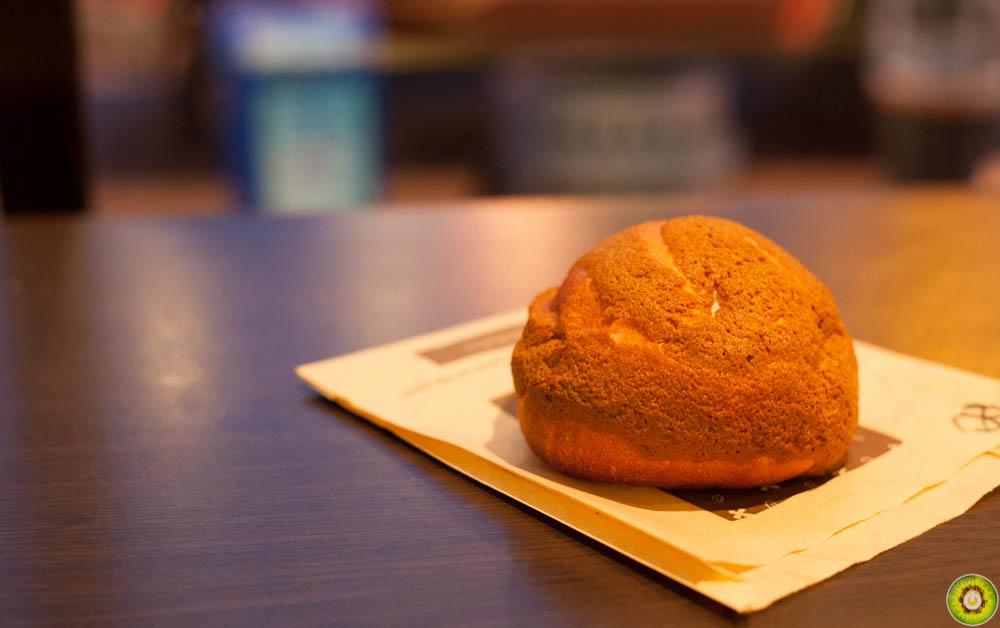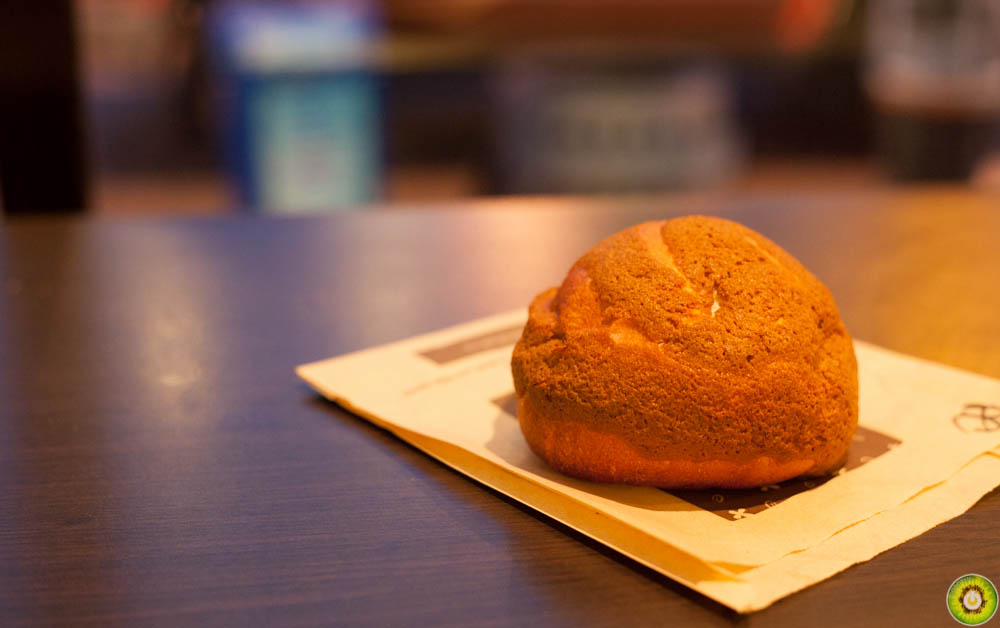 I picked the Apple Cinnamon, but didn't eat it until the next morning because I was getting pretty full.  Even then, it was incredibly soft with a playfully sweet filling.  Another Bonchaz bun that I would seriously recommend would be the Chocolate Truffle – my favourite!
Baylor's Groceteria was probably the most shocking to see featured on Tasting Plates. In this small convenient store/grocery, amazing soups were served! There were two options: Cream of Chicken and Mushroom w/ Sun-dried Tomatoes or Vegan Curried Coconut Pumpkin Bisque w/ Cashews.
Curry. Coconut. Pumpkin. Can it get any better? I was delightfully surprised that this humble cup of soup was packed with deliciousness. I seriously can't wrap my head around how soups like this could be found in a grocery store. Talk about hole-in-the-wall!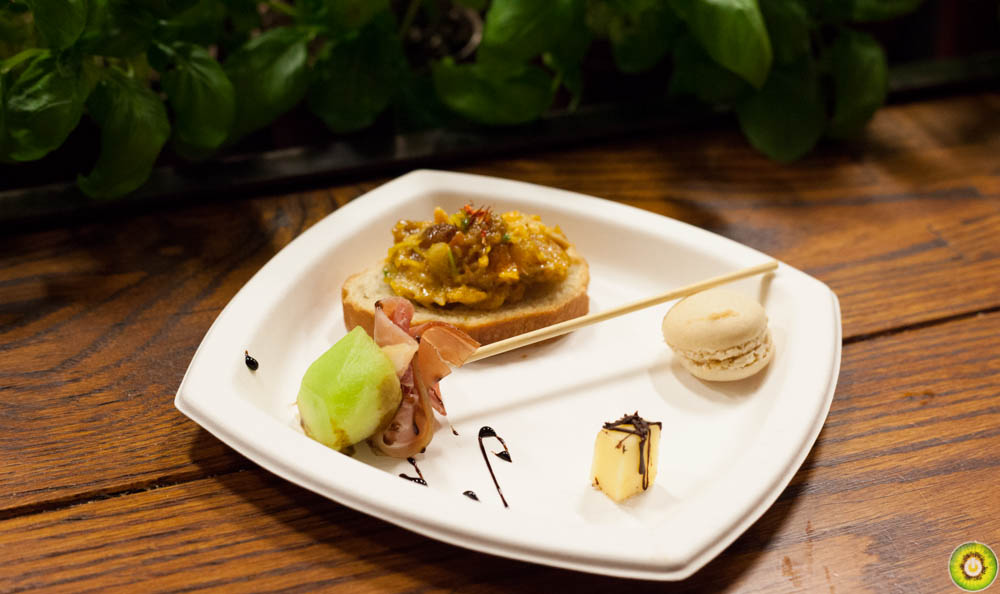 Our last destination was Urban Fare by False Creek. It's a positively gorgeous store! They served a Curry Chicken Crostini, Prosciutto Melon Skewer & Coconut Gouda drizzled w/ Dark Callebaut chocolate… and a bonus Salted Caramel Macaron!
I had just finished the curry from Baylor's so my tastebuds were already satisfied in that department. Nonetheless, the curry chicken crostini was quite good.
Prosciutto and melon seemed like a peculiar pair to me. I tried eating them together, but subsequently thought that I should've ate them separately.
I was taken aback by the gouda because the coconut flavour was quite prominent. I enjoyed the mildness of the cheese with the sweetness from the coconut. It was definitely an interesting combination.
The macaron was my favourite item on the plate. Initially, it tasted like cotton candy. However, as it dissolved, it finished like caramel. Texturally, I thought it was really good, even though I'm not a macaron expert. T'was slightly crunchy on the outside with a soft, chewy interior.
I love having my favourite go-to restaurants, but it's always nice to step outside of my comfort zone. That's why I love Tasting Plates: it offers an opportunity to discover new foods and places! Everything's within walking distance and diners get to go at their own pace. I highly recommend attending the next Tasting Plates in the West 4th Area on October 6th. For more information, check out Vanfoodster!
* Disclaimer: my Tasting Plates ticket was complementary, but all views expressed are my own.
---