Tasting Plates is definitely one of my favourite foodie events because it leads me to discover restaurants that I wouldn't have noticed otherwise. This time around, Vanfoodster was guiding Kirby (from EatingWithKirby) and I around the Fraser area!
Our registration point was Graze Restaurant, which was also part of Noodle Mania a couple months back. It's always a good idea to arrive a bit early to get ahead of the line.
Our tasting plate was beautifully composed of (right to left):
Gluten-free Yam & Eggplant Perogy: it was served with a coconut cheddar sauce, shallot confit, oyster mushroom and picked beet shred. An explosion of flavour, it was. This really surprised me because their Noodle Mania dish was nowhere near as impressive.
Roasted Vegetable Strata w/ cashew cream and tomato sauce: it literally tasted like pizza to me, but healthy. Again, just layers upon layers of great flavour. I also liked how it was slightly heaty.
Chocolate Torte w/ raspberry rose cream: what can I say? It was sweet, smooth and chocolately. The raspberry definitely stood out, even against the darkness of the chocolate. The only issue was the "brittle" on top that wasn't as much brittle as it was chewy and sticky.
The next stop was somewhere that I definitely would not have noticed: Kilimanjaro Snack House, an itty bitty spot serving East African and Indian cuisine.
Our tasting plate –
Barazi: aka East African Pigeon Pea Curry. If you thought there was going to be pigeon, you wouldn't be the only one! Nothing spices up a curry like pigeon… despite the lack of bird, the curry was quite flavourful with a very strong presence of coconut milk. I sprinkled on some of the (what looked like) rice krispies for added texture.
Mandazi: the cardamom doughnut was not good. Because it wasn't freshly fried, it was cold and soaked with grease. I took a nibble just for the sake of trying it. It would've been so much better if they did them fresh.
Fried Beef Kebabs: these were made with extra lean beef. Even though they looked burnt, I really enjoyed them because they were crispy on the outside while being mushy and spice-filled on the inside.
Chicken Samosa: this was my absolute favourite item on the plate. Ultra thin and crispy skin enveloped delicious chicken seasoned with fresh herbs.
Sal Y Limon was obviously whipping out tacos. I ordered the Pulled Pork w/ Avocado & Jalapeño Salsa. The pork was tender and moist. However, I felt that it heavily relied on the sauces for any flavour other than pork. It's not a huge issue, but people need to realize that the sauces are almost considered prerequisites. I wish I had known that when I first visited this place and ate the tacos straight up.
Tigers Drink House was a quaint coffee shop tucked away in a corner.
My tasting was the Rio Chiquito Coffee from Columbia, which was roasted by Elysian coffee here in Vancouver. It was a good cup of joe.
Our tasting plate –
Carrot Walnut Cinnamon Loaf: this loaf was nearly perfect for me! It wasn't sweet at all and had great crunchy texture from the walnuts. It tasted very homemade, but could've used a bit more cinnamon.
Cream Cheese Chocolate Brownie: can't go wrong with a moist brownie, especially one that had chocolate chunks hiding inside of it.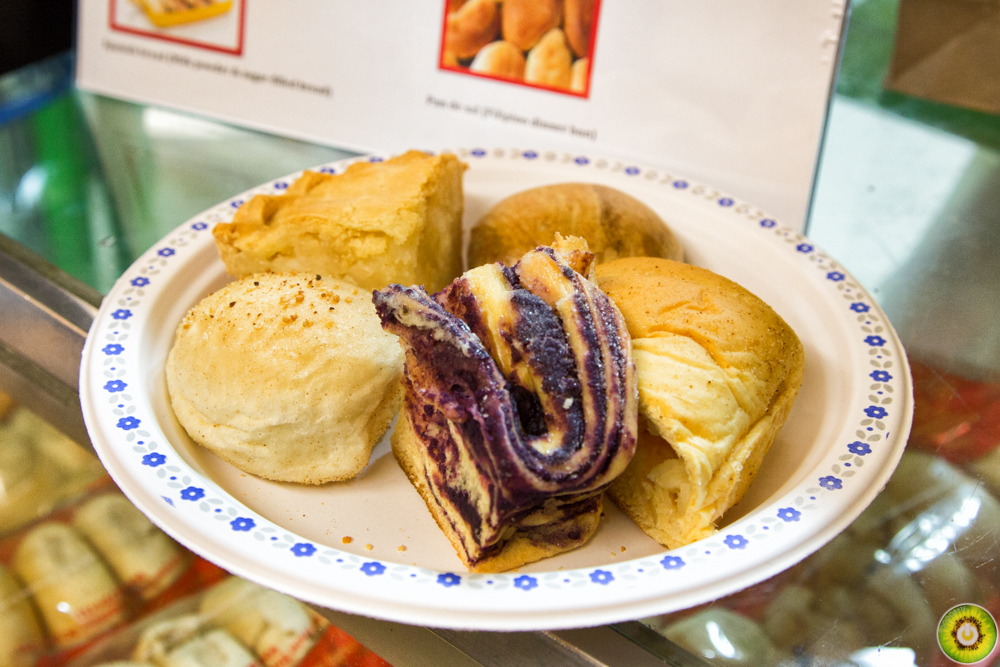 Merienda Bakeshop was served us a bunch of Filipino baked goodies –
Buko Pie: young coconut pie
Monggo Hopia: Mung-bean filled moon cake
Spanish Bread: milk powder and sugar-filled bread
Ube Loaf: purple yam-filled sweet bread
Pan de Sal: Filipino dinner bun
My favourite was the Buko Pie. The gelatinous coconut filling was absolutely delicious. Bonus points for having soft chunks of coconut.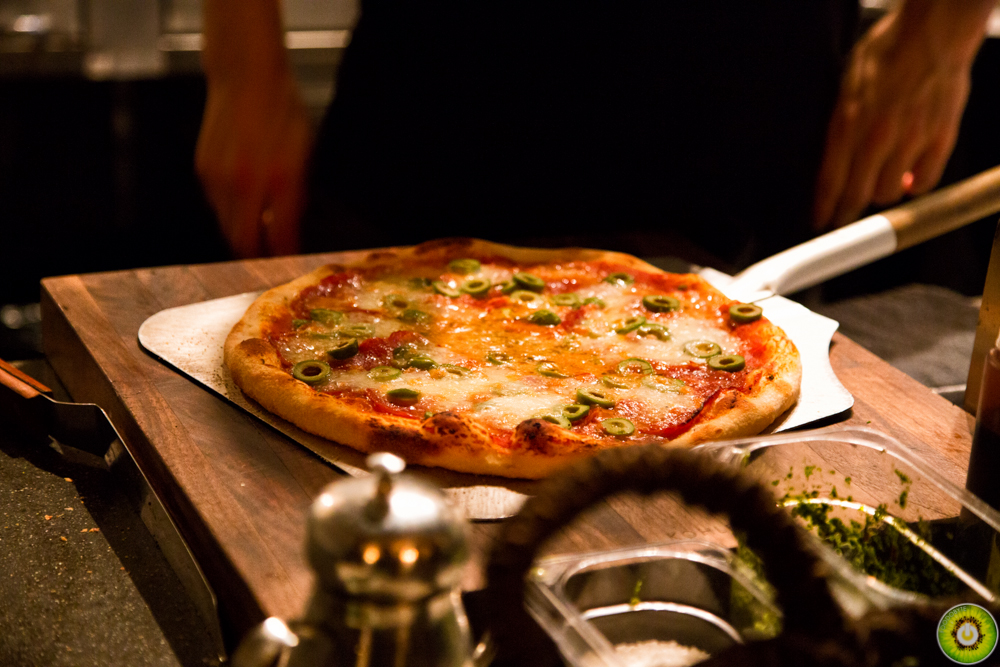 Our second last stop was Pizza Carano. Awwwwww yeah, pizza :D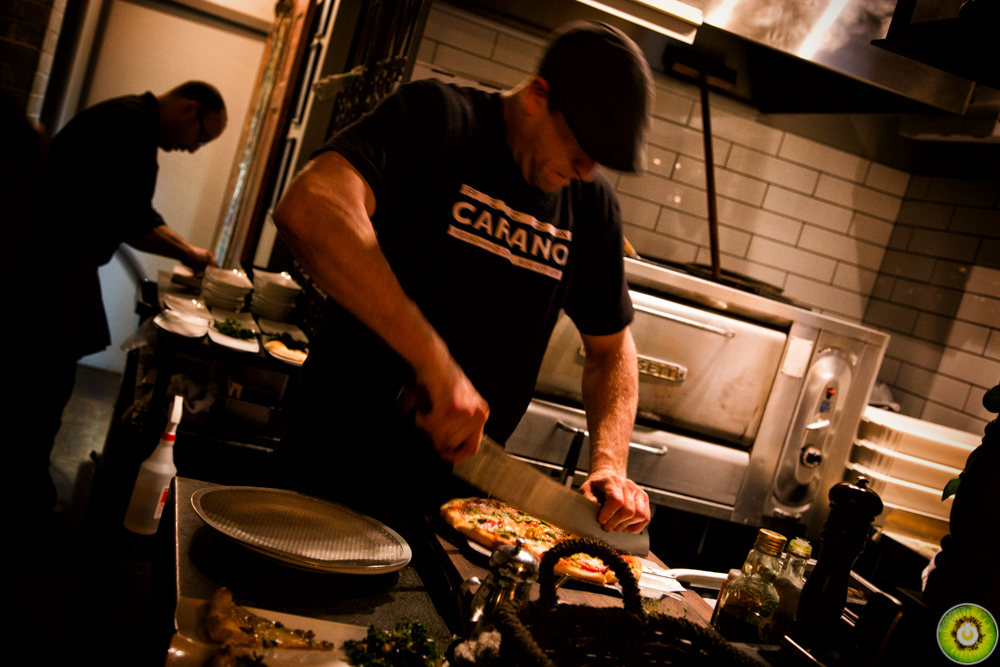 Check out that huge knife!
Our tasting plate –
Kale Caesar salad: lightly dressed, yet pow-powed my tastebuds with classic caesar flavour.
Smoked Sporessatea: it was classic example of meaty and salty pizza, donning tomato sauce, sopressata, fior di latte and smoked green Castelventrano olives.
Fungi: my first white pizza! It had a white sauce, sautéed gourmet mix of mushrooms, fior di latte, chives and truffle oil. Oh wow, this was my first time having truffle oil and it was addictive! As a lover of mushrooms, the truffle oil further highlighted the ones on the pizza.
The pizza was hella thin – in a good way, though. Yet, the bottom wasn't soggy or greasy. In fact, the crust was super crispy.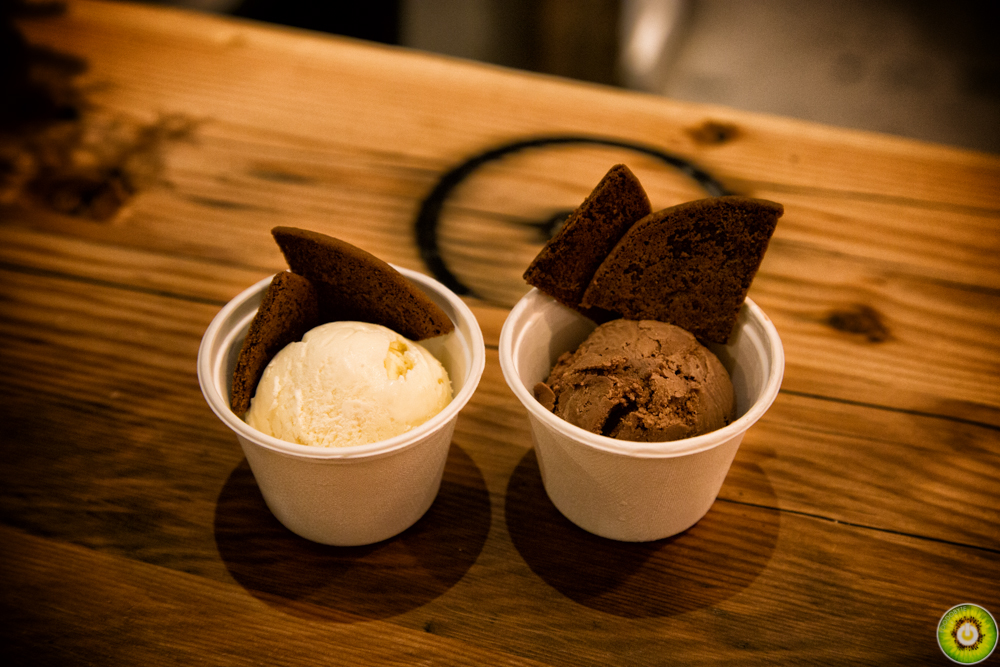 Finally, our last stop! What's a better way to end the night than to chill out at Earnest Ice Cream. Kirby got the Vegan Chocolate (made with coconut milk) while I got the Tahitian Vanilla Ice Cream. Both were served with a house-made gluten-free ginger cookie.
I was positively stuffed by the end of the night. Good thing I had some time to digest while walking from one stop to the next.
The next Tasting Plates is in the Gastown. With so many new restaurants popping up in that area, it's definitely not one to miss! Early bird tickets are on sale for $25 at tastingplatesyvr.com!
Disclaimer: my Tasting Plates ticket was complementary, but all views are my own.
---