A couple of weeks ago, hippoCHAN and I were invited to check out VanFoodster's latest Tasting Plates in the East Village neighbourhood. This roving tour showcased a variety of aromatic teas and coffees, Bolvian foods, lots of alcohol and much more.
Our meeting point was Platform 7, a great coffee shop that gives customers the feeling that they're waiting for the train, as well as their piping hot beverages.
In addition to picking up our tickets, hippoCHAN and I gathered some gluten free goodies: double chocolate salted espresso cookie, salted chocolate chip cookie, Italian cookie… the last one I can't quite remember. The addition of salt definitely made the cookies more interesting, which was why the double chocolate salted espresso was my favourite!
To pair with the cookies, we ordered Cortados – an espresso cut with a little bit of warm milk. Perfect for the evening chill.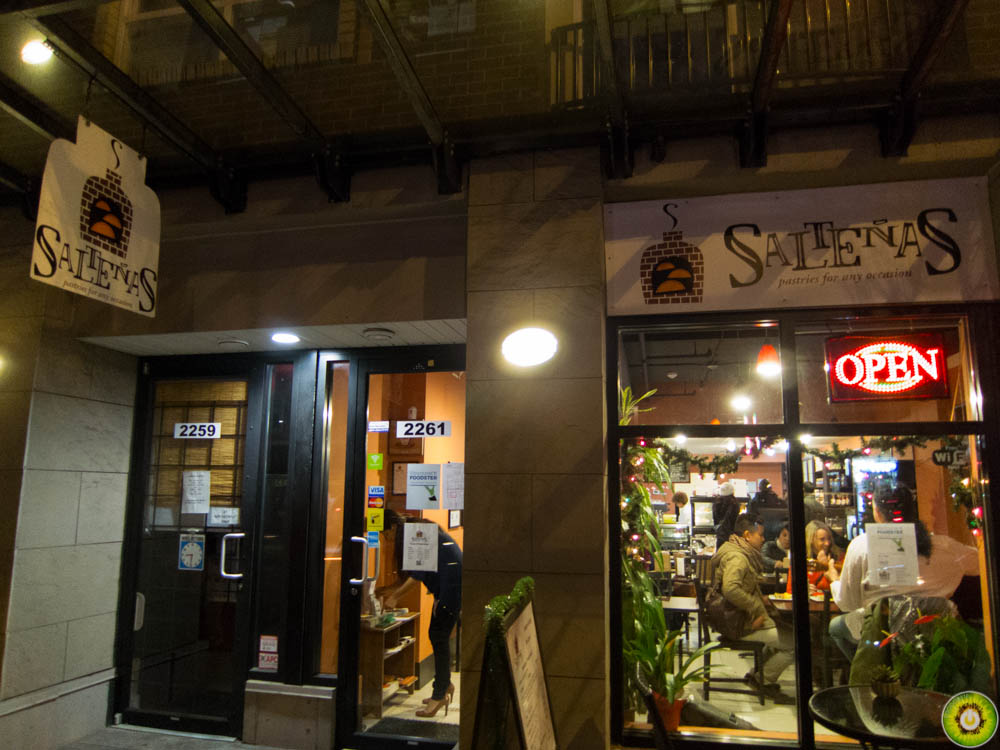 Next up, Saltenas! That's both the name of the place as well as their speciality Bolivian baked empanada.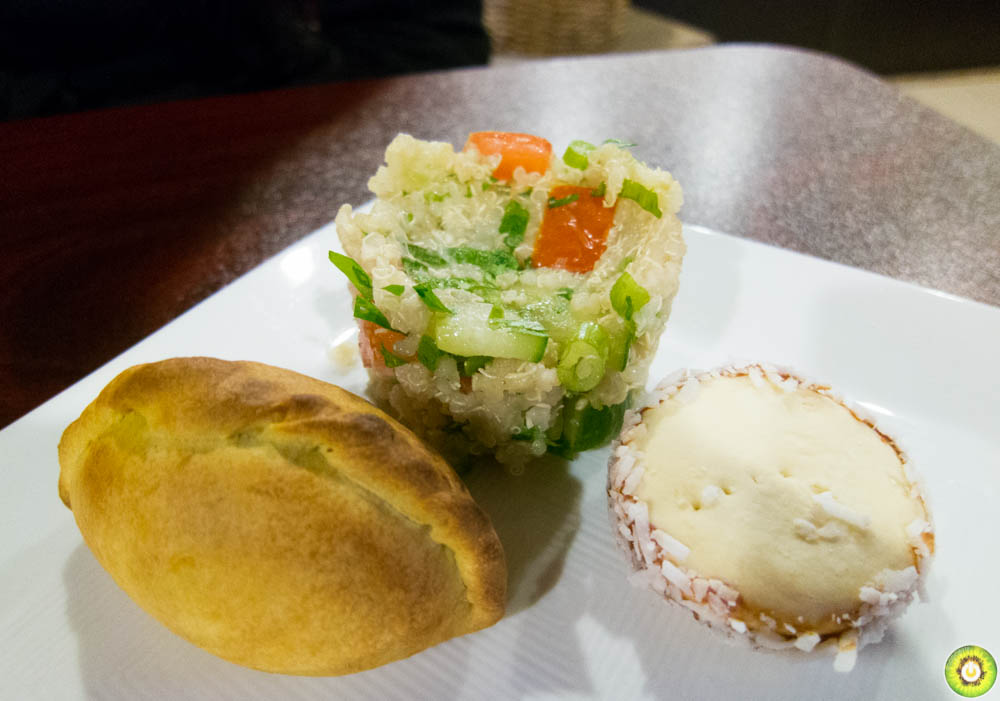 As carnivores, we ordered the beef saltena, filled with vegetables potatoes and raisin. It was a nice intermingle of savoury and sweet. Also on the plate, the quinoa salad was slightly under-seasoned and unfortunately mushy. Nonetheless, the Alfajor was a pleasant wrap-up to this sample dish. It's a light sweet cookie sandwich filled with dulce de leche and bordered with coconut. Who doesn't love dulce de leche?!
Across the street was Windsor Meat, my most anticipated spot of the night. The massive roasted hog just made me salivate…
Windor's offerings were 10hr slow charcoal roasted Heritage Pork, Irish Stout chicken sausage with caramelized onion and an Asado NY stripling kabob. The pork was oh-so tender!
Kessel & March, an eatery and food shop, served us parsnip soup; sardines on toast w/ salad cream, radish & celery salad; and beets & apples w/ bitter greens & goat chesse.
The parsnip soup was definitely a welcomed feature – nothing better than a hot cup of creamy soup! As well, the sardines were very forward in flavour and delicious.
Moving onto the alcohol spots – Odd Society, makers of fine spirits. It's a gorgeous place to socialize and have drinks.
hippoCHAN and I sampled East Van Vodka and Creme de Cassis, a dark red liqueur made from blackcurrants. Both were very very strong!
We shared the Toques of Hazzard, which had a citrus pop. I'd definitely order this one again as it wasn't overly bitter.
Sweet Tooth Cafe was a thai style cafe. Unfortunately, this was our least favourite stop as the cinnamon bun was hard to byte and the brownie was overly sweet. The soups weren't much better; tom yum was really salty and squash just tasted funny.
To finish off the night, we visited the smallest tea shop ever – the Steam Tea House! Housed in 70 square feet, over 70 wonderful teas were waiting to be steeped.
We sampled four different tea: organic yunshancha, organic hathikuli, winter walnut and organic earl grey lavender. Frankly, they were all spectacular teas – so much so that I'm no longer satisfied with regular Lipton teabags.
To keep up with the latest Tasting Plates, check out its website! It's a great way to explore a bunch of unique restaurants in one night. Plus, all that walking really sparks up an appetite!
Disclosure: my Tasting Plates ticket was complementary, but all views expressed are my own.
---