SaladDate is VANEATS' latest dining package, featuring salads (of course) and sandwiches at Yaletown's Saladworks. This place advocates for locality, and it's evident by its menu. Saladworks strives to source from local vendors year-round, as much as possible. Good on them for pushing locality forward.
The $22 VANEATS Package includes any Carvery Salad, Gourmet Sandwich and two glasses of wine / daily soups / drinks (fountain, bottled or canned). Check out VANEATS.ca for the full salad and sandwich offering.
If your stomach still has room after this package (likely not), Saladworks offers many more different salads that you could also tweak to your liking.
The Grilled Napa Steak salad is a hilltop of BC premium lettuce, grapes, marinated tomatoes, red onions and balsamic dijon. At its peak, there are slices of grilled marinated Alberta steak. Finally, the salad is finished with a balsamic dijon dressing.
I really like the sweet addition of grapes to the salad, as well as the complementing balsamic dijon. It was a good balance of savoury and sweet. However, while some slices of steak were grilled okay, some had burnt and bitter coating.
One of their daily soups was the Clam Chowder. It was packed with ingredients like carrots, peas and corn, without overshadowing the clam flavour. But, I was really disappointed with the temperature. It was barely lukewarm… too bad.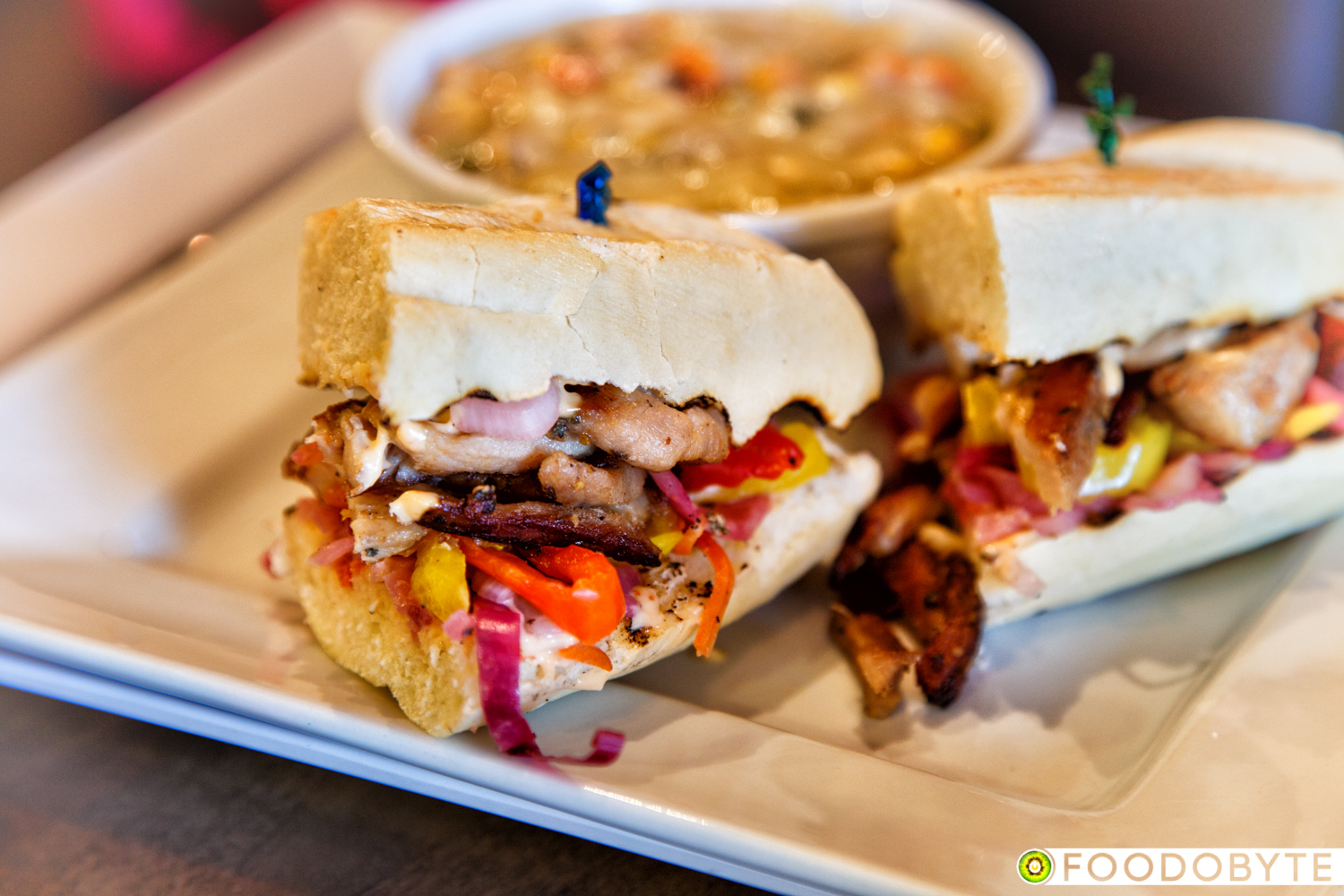 When I think of porchetta, my mind jumps immediately the fatty, juicy logs of roasted meat at Meat & Bread. So I was quite surprised that Saladworks used pork loin, a leaner cut, for its Garlic Roasted Porchetta Sandwich. Nevertheless, the oven roasted bc free range pork loin tasted pretty good (and it is healthier). I enjoyed the sriracha mayo drizzle, hot banana peppers, pickled carrot, red onion and fennel — all of which paved twists and turns of flavour. Although, I had issues with the french baguette; it was dense and inadequately grilled. Also, I was surprised that they would use white bread in a place that seemed health-focussed.
VANEATS' SaladDate dining pass is available on VANEATS.ca for $22, and it runs until January 10th.
Disclaimer: my dining pass was complementary, but all views expressed are my own.
---
[mappress mapid="185″]