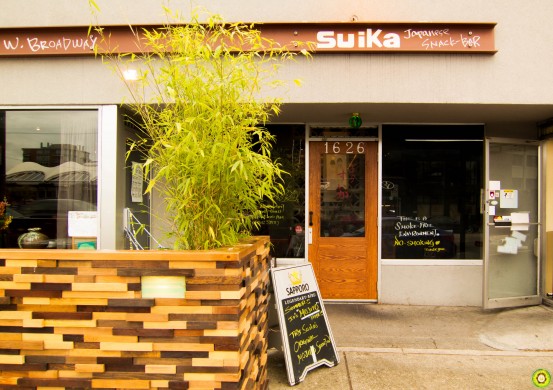 While reading tweets in the Twittersphere, I stumbled across a promotion for Suika Japanese Snackbar hosted by VANEATS.ca, or as they call it, a "Dining Pass." I've always been eager to try Suika after seeing their #foodporn splattered all of my Facebook wall. So, without hesitation, I bought the SUIKA PUNCH Dining Pass ($25) while sitting in my sociology class… front and centre :P
Suika Punch
Lightly Smoked Tuna Tataki, with home made chili oil on a bed of sliced onion topped with scallions
Tomato Kimchi, kimchi marinated tomato with chinese chives & cilantro oil
Yellowtail Carpaccio, thinly sliced yellowtail topped with sesame soy dressing and tobiko
The Hellz Chicken, deep fried and tossed with the hell sauce (jalapeno, hot sauce, lemon, garlic, vinegar & tabasco)
Chinese Poutine, french fries topped with spicy ground pork sauce, mozzarella, chili oil, sansho and minced cilantro
Sapporo, 1 pitcher of Japan's legendary biru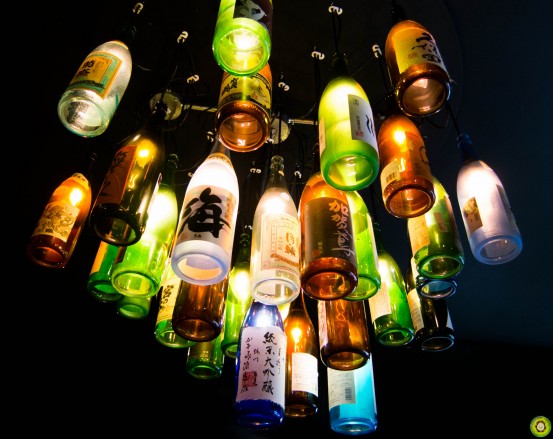 Suika has a really comfortable and interesting interior. Here's a photo of their infamous bottle chandelier!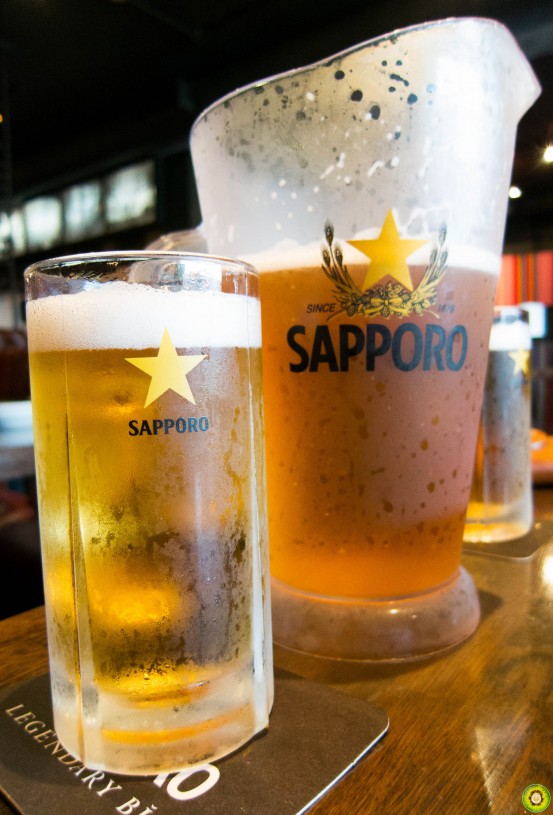 Right off the bat, they brought us an entire pitcher of Sapporo along with some chilled glasses. It was absolutely perfect for the menu ahead of us since there was going to be some deep fried goodness and freakin' hot ass chicken!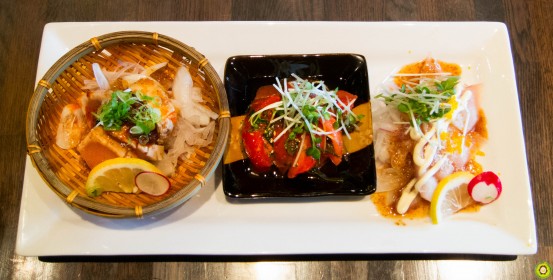 The trio of appetizers definitely had that WOW factor in presentation. From left to right, there's tuna tataki, tomato kimchi and yellowtail carpaccio.
The Lightly Smoked Tuna Tataki was absolutely delicious! It was my ultimate favourite dish of the entire meal! It literally had a melt-in-your-mouth texture and was very tasty :)
I've never seen a Tomato Kimchi before, but I was glad that they included it in the menu! There were big, plump pieces of tomato. It had a nice acidity that opens up your appetite.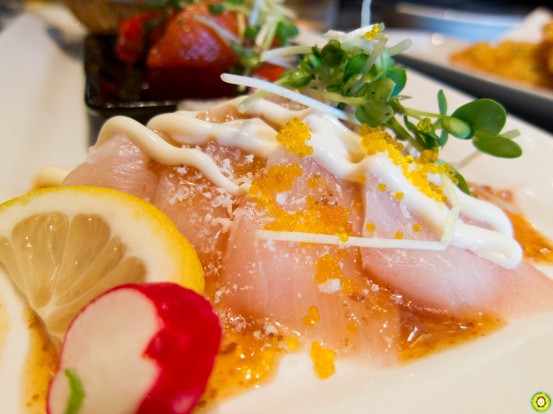 Finally, there's the Yellowtail Carpaccio. The skillfully sliced pieces of fish had a creamy texture that worked really well with the sesame soy dressing. Very simple, but very scrumptious.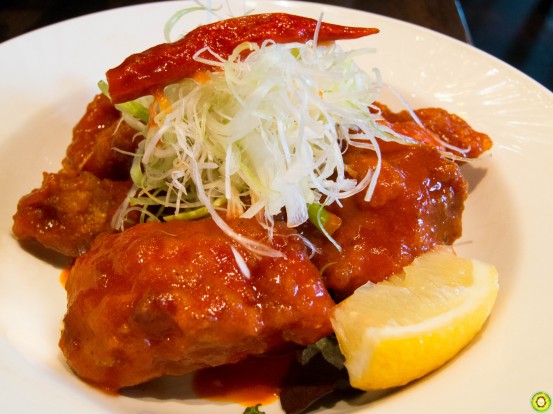 Next up, The Hellz Chicken! (Haha, I kept mispronouncing it as Hells Kitchen… awesome show) At first glance, it sorta looked like sweet and sour pork; but rest assured, it lived up to its name. It was spicy, but not so hot that you'd burst out into tears (unless you ate the red chili like I did). The chicken was very juicy, tender and delicious! However, the tabasco flavour completely dominated my palette, so I highly recommend that you eat this toward the end of your meal!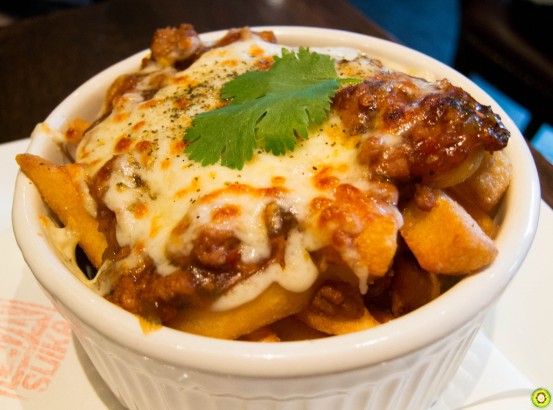 Finally, the Chinese Poutine – something I thought I would never see in a Japanese restaurant. It was everything a poutine was supposed to be: hot and crispy thick-cut fries with a fluffy inside, gorgeous melted cheese, and some saucy meat! I really enjoyed this since it was several steps ahead of a typical poutine. I didn't really pick up on the spiciness of the pork, though. Nevertheless, it all tasted really good!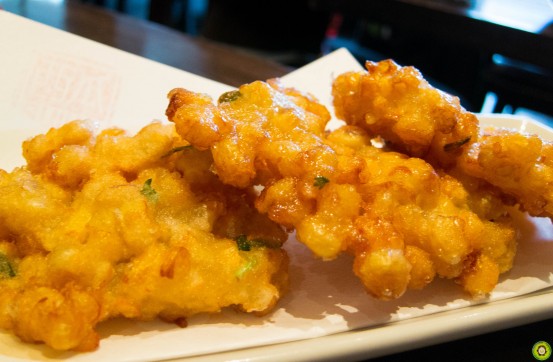 Besides the Suika Punch menu, Joanne and I also ordered the Corn Kakiage ($4.80) because I love corn! It's made of organic corn niblets that were fried w/ cilantro batter, soy sauce and butter. Omg, this was so good! You get the rich flavours of the butter with each corn niblet bursting with sweetness. Highly recommend this!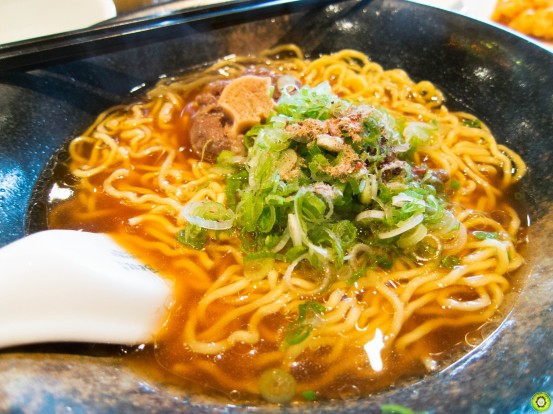 Then, we shared a Tokyo Ramen ($9.80). The soup base was nice and light; but overall, I found it to be really underwhelming, especially after eating the other amazing dishes.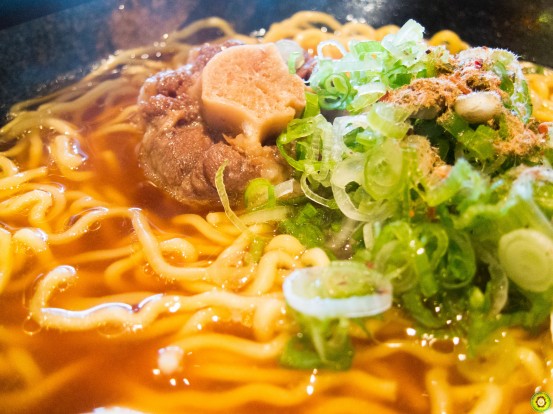 The ramen was simply too undercooked for my liking. Even just by looking at it, I could imagine chewing and grinding those dense noodles. On the other hand, the pork was tender and tasty. Nevertheless, I felt it was overpriced for the given quality and quantity of the food.
Because I ate that red chili on top of the Hellz Chicken, my tongue was on FIRE! I honestly had to go to the washroom and rinse my mouth with Scope three times, but still to no avail. Thus, to neutralize the spiciness, we ordered the Almost Summer Brûlée: a frozen vanilla brûlée served w/ mango gelato, whipped cream, couple pieces of strawberries and blueberry sauce drizzle. Wow! I would order this again and again and again! Who would've thought that a frozen brûlée would taste so good! It gets even better if you eat all the components in one bite. Everything had a subtle sweetness that allowed the mango and vanilla flavours to shine. And the blueberry sauce wasn't only visually pleasing, but also it tasted awesome! I LOVE BLUEBERRIES :D
Yes, it seems like we ate a lot of food. And we did. Everything was very delicious, except for the ramen. I loved the experience so much that I had to Photoshop a new 4.5 Kiwi Rating just because 4 doesn't quite cut it! Did I mention that they also give you frozen grapes instead of lame mints!?
Final Bytes
Blazing fast service! The dishes came faster than we could photograph all of them!
Booking a reservation is a good idea!
Had to bus from the Canadaline, but there's street parking as well.
Foodobyte's Rating

---