UPDATED: Owners have changed… food's not the same :(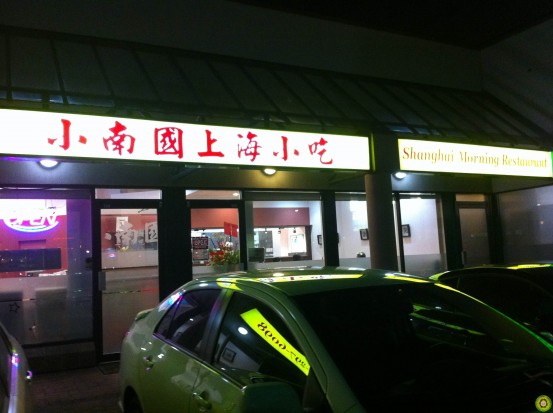 Ever since 白玉蘭餐館 (Chen's Shanghai Kitchen) changed management, I've been deprived of authentic Shanghai food that's actually worth drooling over :(  Tonight, Shanghai food lovers can rejoice as I have found the holy grail and its name is…
小南國上海小吃 (Shanghai Morning Restaurant)
And guess what…  The owners?  They were the ones who sold 白玉蘭餐館; so you know it's gonna be good stuff.
I was super ecstatic to order my ultimate favourite: 四川牛肉麵 (Sichuan beef noodle). What I love most about this dish is that it's HEATY, but not tastelessly spicy.
Besides the heartwarming spice-infused soup base, there was the beef. What can I say? This restaurant is the true origin of the expression, "It melts in your mouth." However, the beef was a bit fatty… so just bite off the meat part and enjoy :)
THE NOODLES: beautifully soaked up the flavour of the soup base like a faithful sponge. They were perfectly cooked and, simply put, very good.
CLASSIC: Steamed Shaolin Dumplings. This is a must-order at any respectable Shanghai restaurant, especially this one. These babies are handmade in-house, and it shows! Despite having an incredibly thin skin (you can almost see through it), none of the dumplings broke, holding the savoury juices inside. When biting into it, there was literally an explosion of pork and juice, flavour coating all corners of your mouth.
Pan-fried Potstickers, also crafted in-house. The skin was not too thick or doughy, unlike many other restaurants. Inside, there was pork and chopped veg, much like the Shaolin dumpling. It would've been even better if the potstickers sat on the pan for bit longer, just to get some extra colour and flavour. Nonetheless, they were very tasty!
If you're looking for a delectable & affordable Shanghai meal, look no further because this is it!  My bill ringed in to be ~$23 for two people.  Definitely check it out if you're in the Richmond area :)
Foodobyte's Rating

---