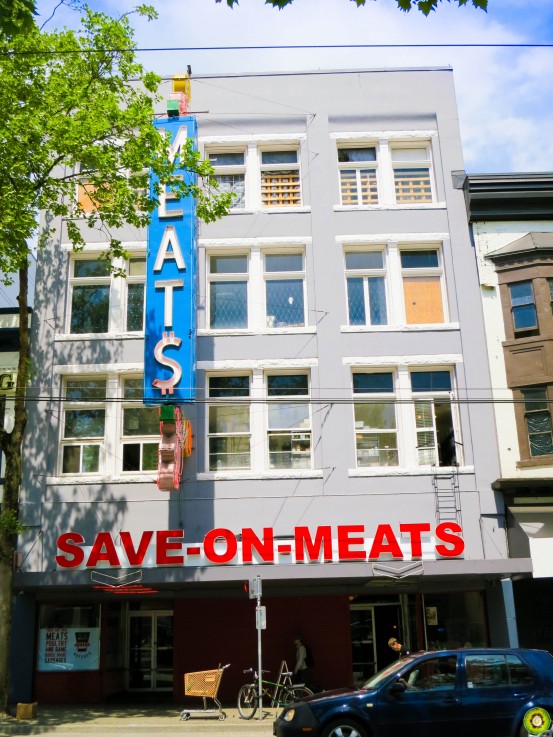 Not far from Meat & Bread, Save-On-Meats stands proudly as it has stood the test of time. In 1957, Al DesLauriers first opened up SOM as a butcher shop until 2009 when Al retired. Then, Mark Brand, a loyal customer and restaurateur, took on the challenge to revive SOM… and here it is today.
When you walk by, you definitely can't miss it:  SOM spelled out in huge red font, sitting beneath an even bigger blue rotating sign.
The inside is very much like a diner with the seating at the bar and plenty of comfy booths. There's also a private-ish room near the front by a big glass window; it sorta feels like you're on display.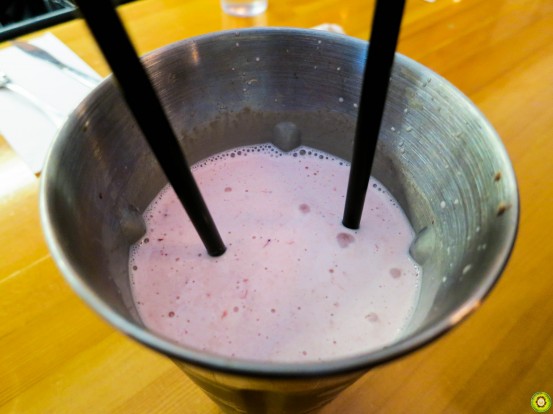 To start, Joanne and I shared a Strawberry Save On Milkshake ($5). I must say, it was super thick, especially with such a slim straw! It's made with real ice cream, milk & strawberry mush. We really enjoyed it and the fact that it came in a sizeable tin can made it that much sweeter. Interesting fact: their ice cream has no nasty trans fat!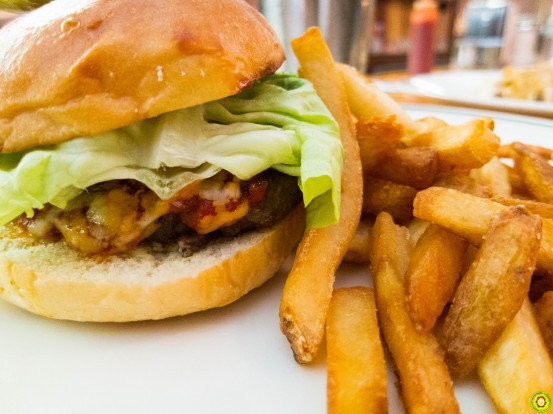 I ordered The Burger ($6), the one that made SOM famous.
[quote]Made with hand ground chuck steak and fresh herbs in house everyday.[/quote]
The burger was surprisingly good! Although small, it packed a whole lot of flavour!
In particular, the bacon, made in their own butcher shop, imparted a real nice smokey flavour. I was totally stuffed by the time I finished this bitty burger. The only issue I had was that it could've been a bit more moist. As for the fries, they were regular… nothing special.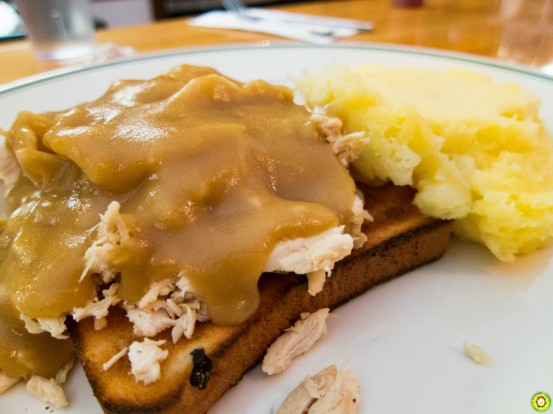 Joanne ordered the Open Face Roast Chicken Sandwich ($8). The description says, "Juicy roast chicken." Unfortunately, all I got was dry, dry and DRY. The chicken was also really bland; only the gravy gave it some flavour (and the gravy wasn't that great either). And the mashed potatoes… it was horrendous: absolutely flavourless. I thought it tasted like instant mix without any hint of butter. Overall, I thought this dish was a dismal failure.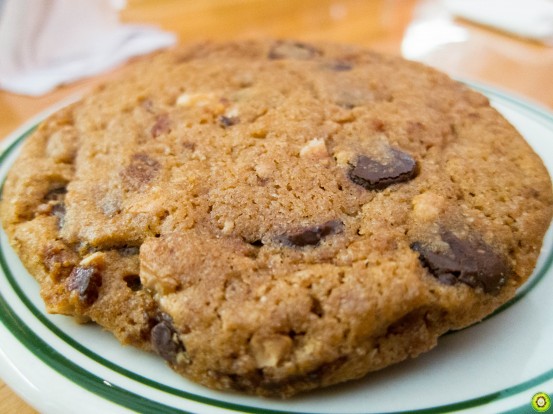 For a lunch-dessert, we ordered SOM's signature Chocolate Bacon Cookie (2 for $2). I don't quite understand why they're considered "signature" because they just tasted like a regular cookies. You couldn't really taste the bacon; I think it's just a gimmick. And they were quite hard… Joanne couldn't even break it in half with her hands :P
Originally, Joanne and I were going to order the entree dishes. Too bad, they're only served at 4pm on weekends and 11am on weekdays! So we're planning to revisit soon and I'll re-review this restaurant! Hopefully things will be better next time :)
Final Bytes
Burger tasted awesome, especially for that price point!
The Fried Chicken Dinner can actually be reconstructed through the sides, which are cheaper!
Be sure to check serving times for breakfast, brunch & other stuff!
Don't forget to sign up your name on the board!
Foodobyte's Rating

---