It's been a really long time since I've updated my blog – 15 days to be exact! That's nearly criminal!
Anyway, I've been ultra busy with school and work. Who knew that juggling both would be so hard? The last time I had a real job was all the way back in grade 12, haha! Oh, how I miss being a waiter in high school… It t'was a simpler time: eight hours per week, no pre-readings for class and exams weren't worth 50% of our final mark.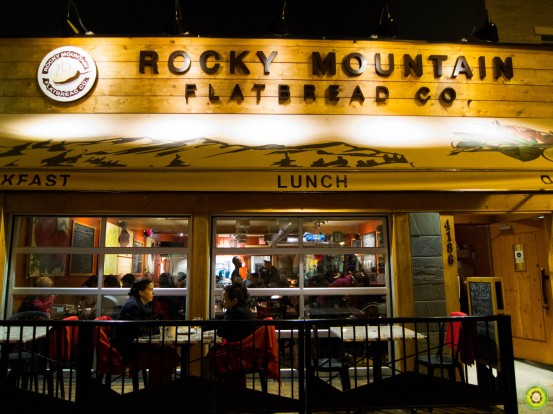 Fortunately, I've finally managed to put aside everything else to write up about my dinner at Rocky Mountain Flatbread Company! This place was always appealing to me because of its beautiful wood-themed store front. Honestly, who doesn't love good wood? What's more is that the restaurant is renowned for serving fresh, local and organic food. They partnered with a number of companies that "keep them stocked up with lots of local raw food" such as Ocean Wise, Biovia, Vancouver Farmers Markets and more. Although I don't really enjoy studying sustainability as a LFS student, I'm 100% onboard with eating sustainably!
By the front door, there's a chalk board of specials. Too bad, Joanne and I went around 7PM, so we didn't get to indulge in pizza and beer for $8.00 :(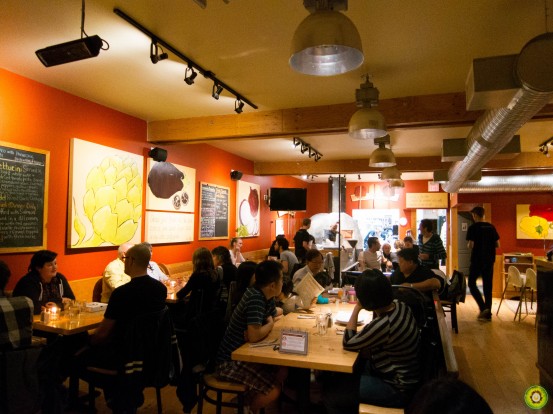 The interior flows seamlessly with the exterior, sporting the very same wooden theme. With vibrant walls and candle lit tables, the restaurant was pleasantly warm and welcoming :)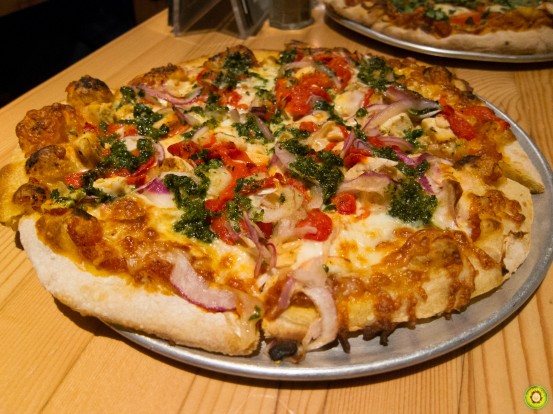 Joanne and I were completely famished, tummy growls and all. Naturally, we decided to order two pizzas! The first one was the Bradner Farm ($13.95): certified organic free-range rosemary lemon chicken from Bradner farm w/ red onions, house made pesto and oven roasted red bell peppers. Coincidently, some of my dietetics friends also came to RMFC and ordered the same pizza! Haha, I was as happy as a clam when Sea, Christina and Evon all raved about the dish!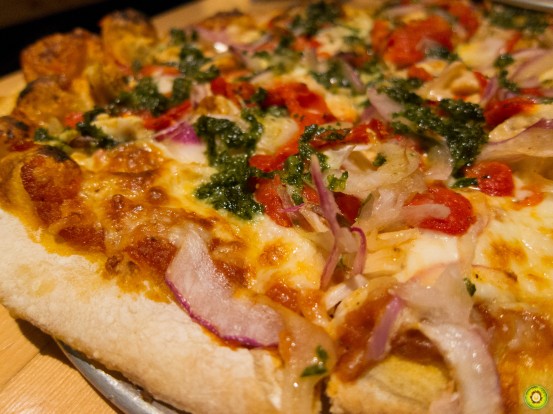 As my teeth drew closer to the pizza, I thought that I could already taste it. Honestly, it was an incredible (and odd) feeling. Anyway, when I finally did take a bite, I was blown away! The pesto was incredibly fresh and the red onion packed a punch. I also liked the subtle smokiness of the crust, thanks to the artisan's clay wood-fired oven. Although, the chicken was kinda lost in the background for me. Nevertheless, you can really taste the quality of the ingredients.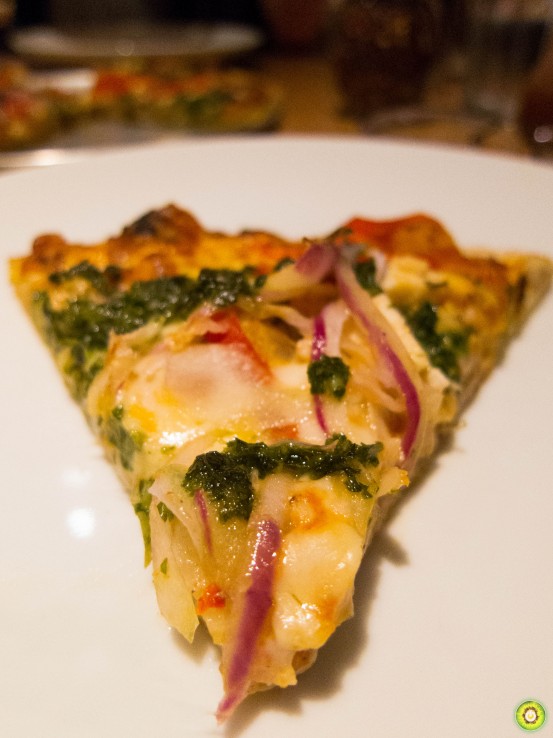 I don't know if you can tell from the picture, but the crust was pretty thin. Yet, it remained robust and crispy throughout the meal. Another benefit to eating a thin crust is that it doesn't fill you up as quickly!
Next up is the Basil Bocconcini ($13.95): slices of organic ripe tomatoes, natural brown mushrooms, freshly cut bocconcini cheese and rough chopped basil leaves.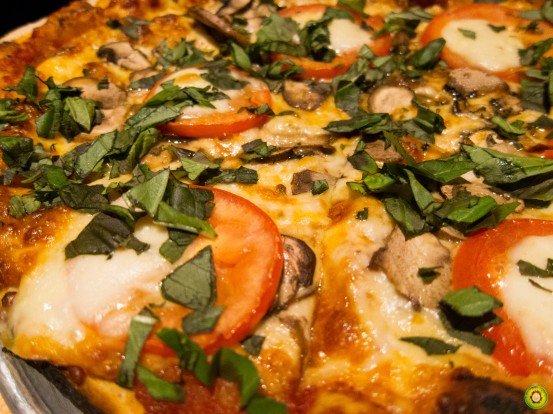 Similar to the Bradner Farm's, the BB was super fresh. Without a doubt, my favourite element of this pizza was the mushrooms. Typically, mushrooms just sit there and provide texture – these ain't typical mushrooms. They had a deep, earthy flavour, and propagated its roots throughout the pizza.
The chef is clearly meticulous as each piece of pizza had a perfect slice of tomato! On top of the tomato was the melted bocconcini cheese! But, to be honest, I don't know how distinguish the unique flavours of different cheese … I just know this one tastes good :P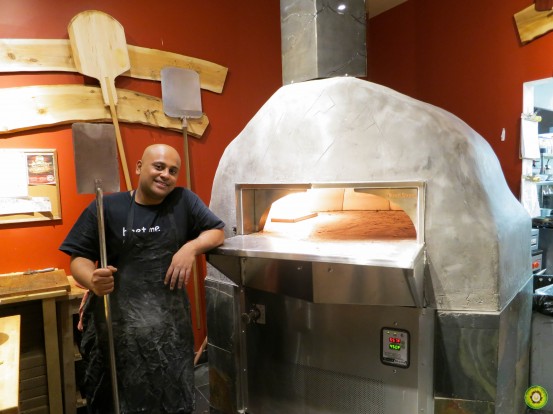 Meet Abhi, the great chef who made our delicious pizzas! Haha, he was really nice to let me take a picture of him and the oven! Thanks again, Abhi!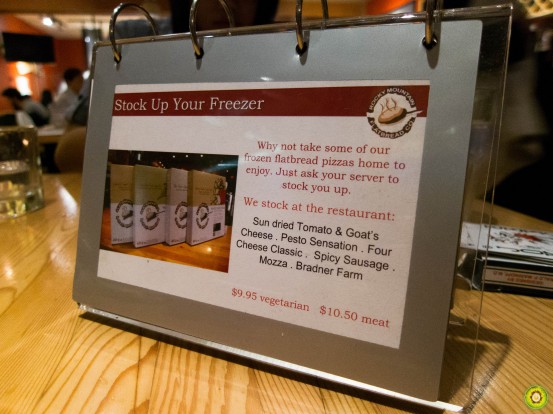 RMFC offers frozen pizzas too, which are sold at reduced prices when compared to the menu. I'm 99.9% sure that I'll grab one of these when I'm craving pizza again!
Indubitably, Joanne and I (and probably Sea, Christina and Evon as well) were on the brink of falling into a glorious food coma after dinner. The food was great to our tastebuds, and great to our Earth and farmers. This unique pursuit of sustainability puts this restaurant above most others that just serve awesome food. Rocky Mountain Flatbread Co. even introduced an optional carbon positive contribution – 1% of your meal – that offsets the environmental impact of cooking your meal.
Final Bytes
Superbly kid-friendly: special bench area for kids and parents to eat and play, and cooking classes!
When eating on the patio on a chilly night, you get a warm blanket to wrap yourself!
Attentive and friendly service!
Foodobyte's Rating

---