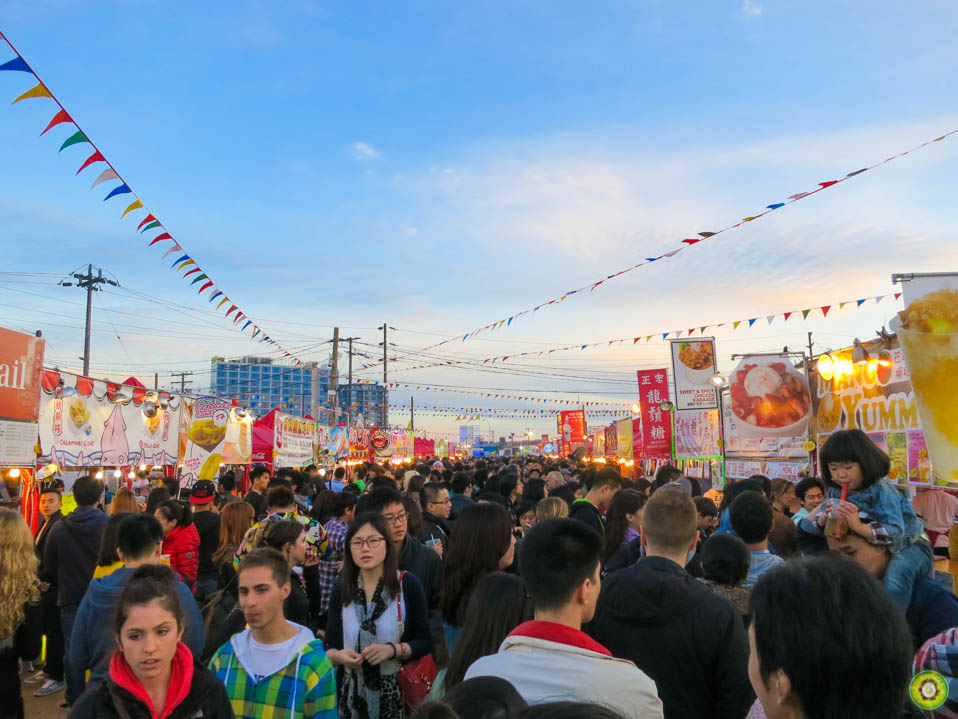 It's June! And the sun is finally showing up to work after months of vacation. So what does this mean for hippoCHAN and I? It means it's time to crowd around food stands (and wondering whether we're in the correct queue) and zigzagging through people without spilling our food.
That's right. It's time for the Richmond Night Market!
For 2013, the Richmond Night Market has transformed itself into a Magical Duck Island that sports an adventure board game. Visit the participating stands and you get a stamp. Each stamp brings you closer to winning prizes like a travel voucher, a custom painted Mini Cooper, iPods, iPads and etc.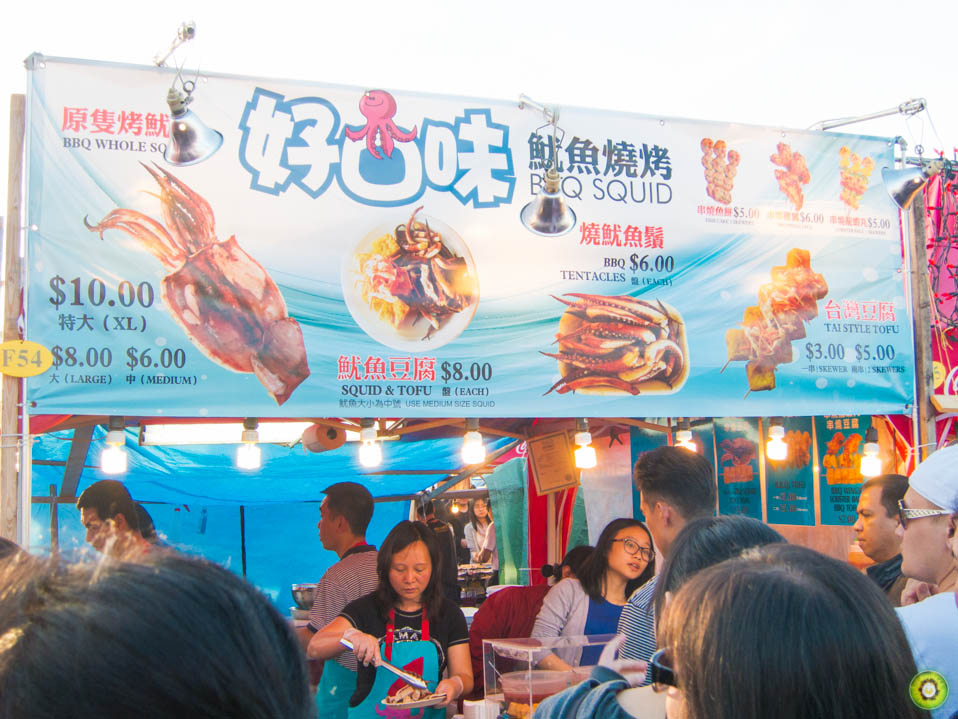 hippoCHAN and I didn't follow the game board because we're just rebellious like that. So our first stand was BBQ Whole Squid since hippoCHAN was craving some tentacles.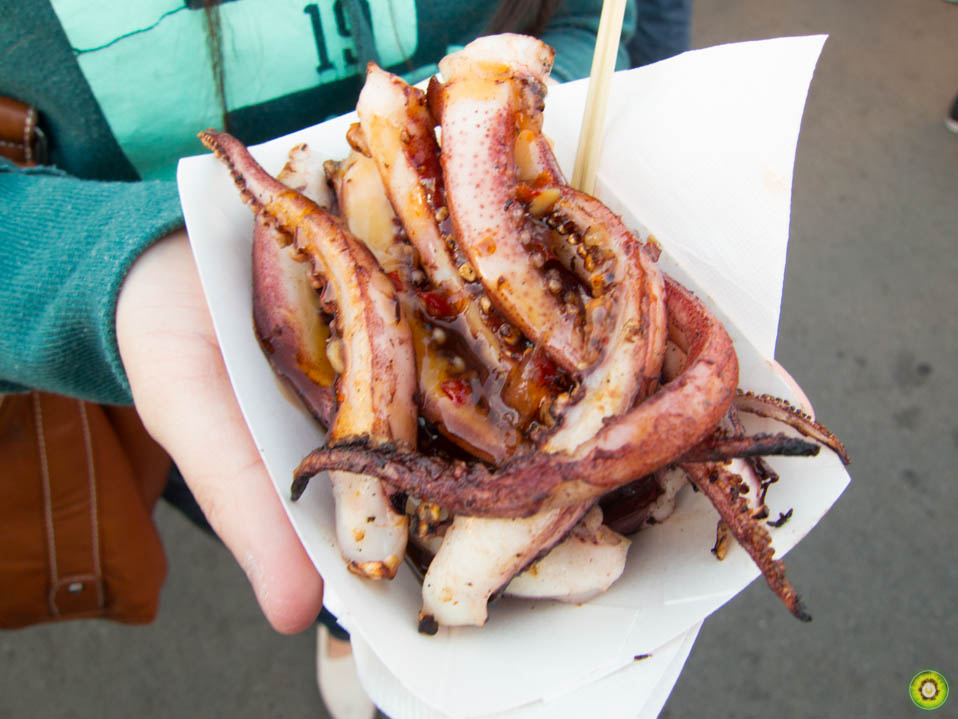 For $6, we got a medium, which was already packed with squid. It was a pretty sweet BBQ sauce, but still delicious. And this stand was the cheapest :)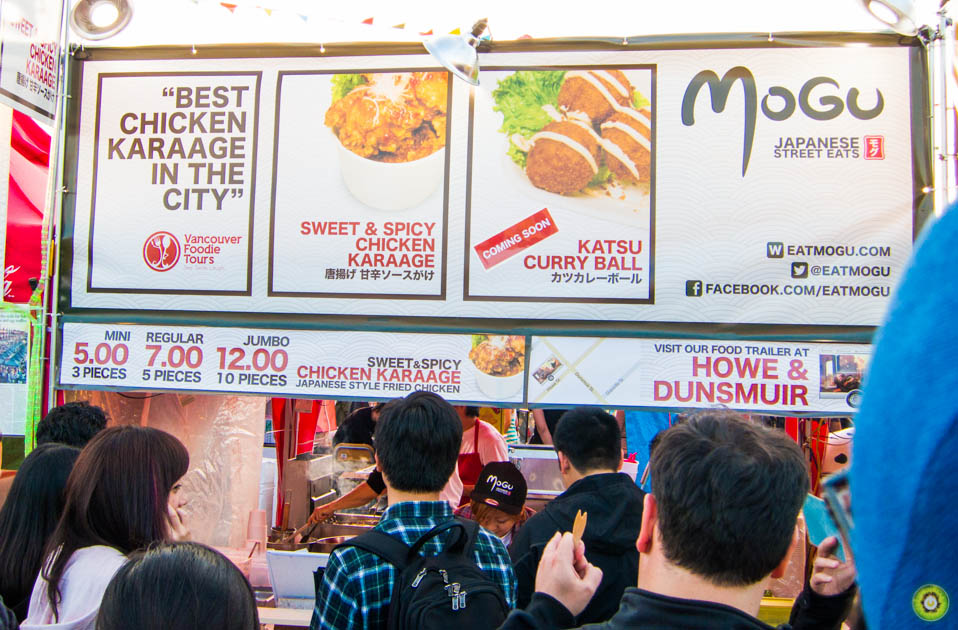 A while back, I saw Mogu at a food cart festival and wanted to try it… except they sold out and shut down early :(
But muahahahaha, Mogu didn't evade my grasp this time! We ordered a regular (5 pieces) Sweet & Spicy Chicken Karaage. This stand was particularly packed with people, so we had to wait ~15 minutes. Until then, we walked around to check out the other stands.
Tadaaa! Even though it's street food, Mogu presents its food so beautifully. And it tasted just like it looked: mouth-tantilizing drool-worthy good! The outside was nicely fried and the inside… OMG, if the chicken were any moister, I would use it as moisturizer (step aside Aveeno). It was also great that the sauce was distributed among all the pieces of chicken, not just the top.
This was a total winner. Plus, if you have ravishing good looks, you might get two extra pieces like us. Or just hope that they counted wrong :)
Even right now, I want some Mogu'd food!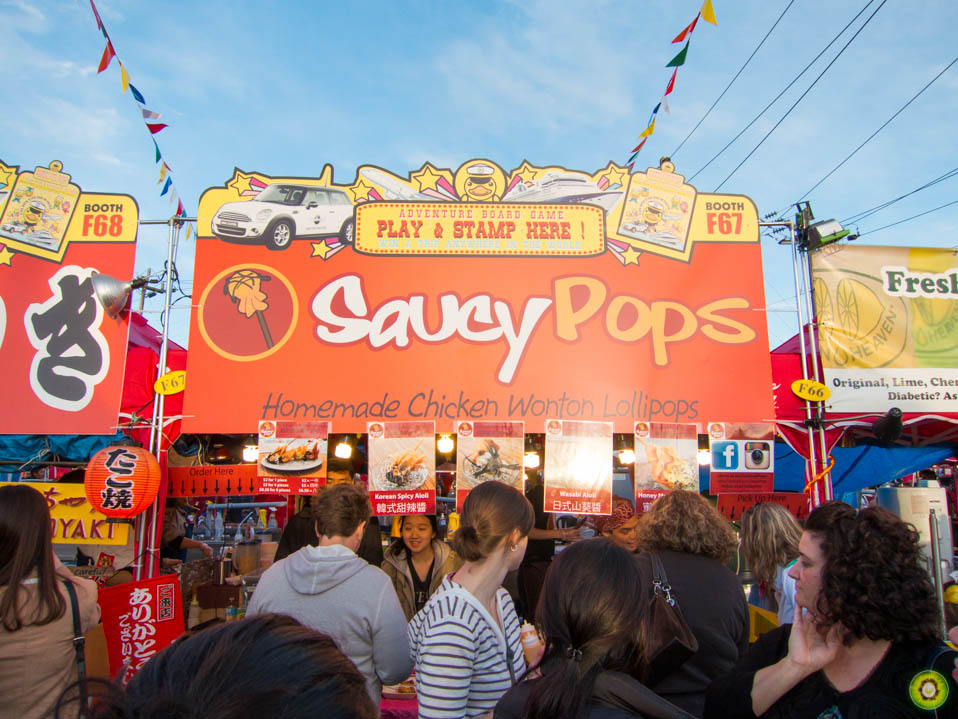 Saucy Pops! This stand serves up homemade chicken wontons that are deep-fried, skewered on a stick and drizzled with specialty aioli sauces… does it get any better than that?!
The four varieties are:
Honey Mustard – true to its characteristic honey mustard flavour
Citrus Chili – subtle flavours, slightly sweet and spicy
Wasabi – a tad salty, but definitely tasted the wasabi
Korean Spicy – spicy and sexy! My absolute favourite!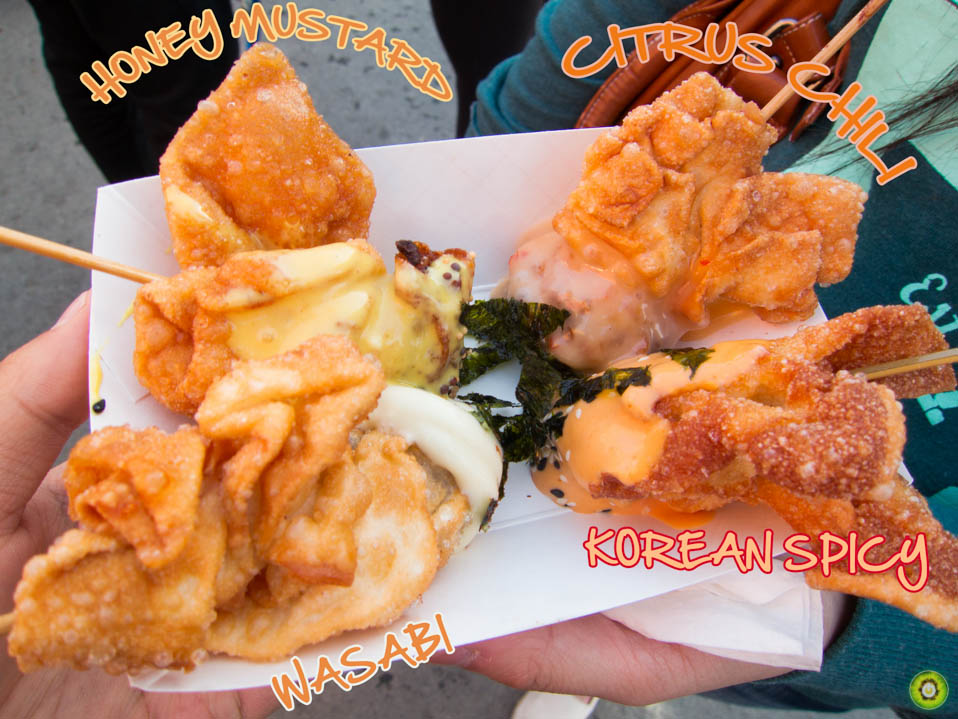 The chicken must have been protected by the wonton wrapper while deep frying 'cos it was incredibly moist! Speaking of the wonton wrappers, I loved how they were super crunchy on the outside, like it was audibly crunchy. And because of how they folded the wrapper, the inside was chewy. There was a jumble of textures when eating these awesome Saucy Pops!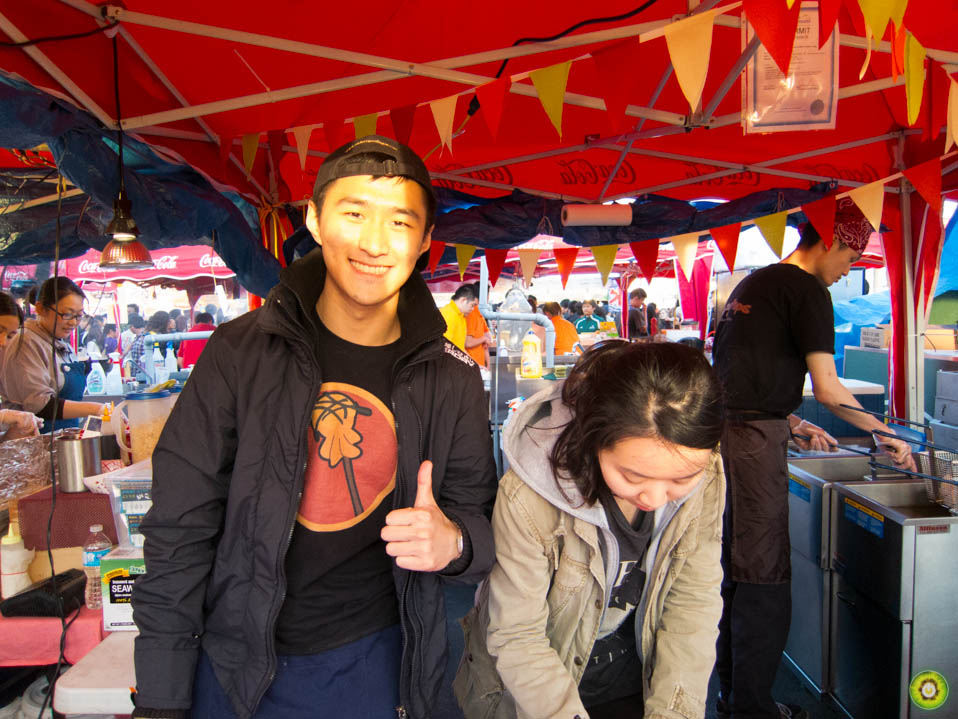 Thanks Nick for hooking me up with some samples! For $4.75, you can get one of each and share them with your friends.
[fve]http://www.youtube.com/watch?v=eRoaBY2Qctw[/fve]
Oh yeah, and these are freshly fried and dressed to order!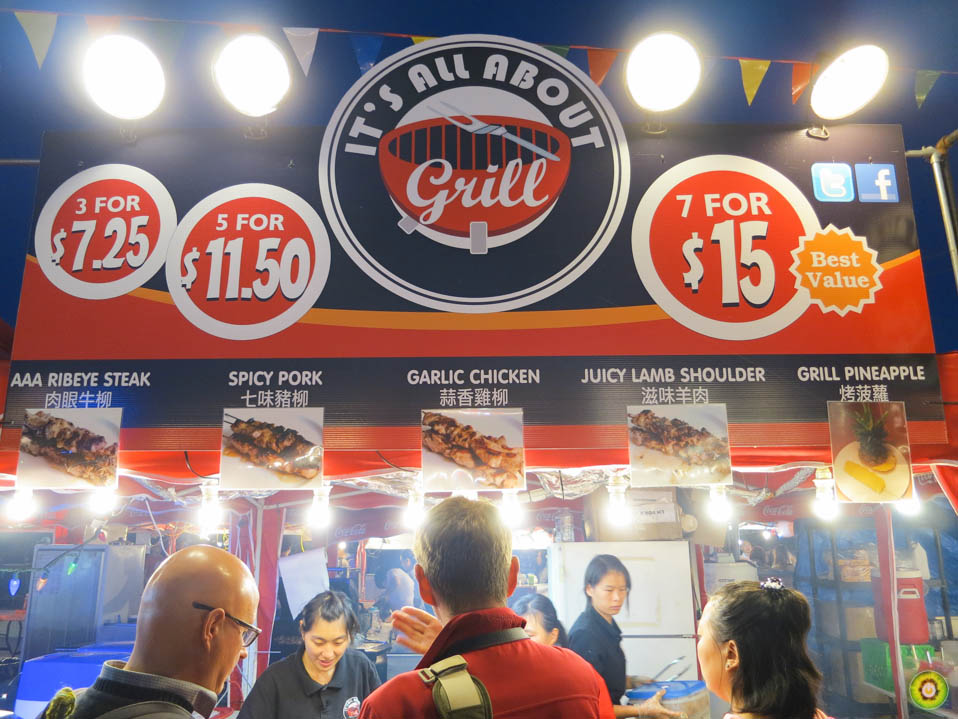 Walking around the Night Market, I just couldn't help but stare at other people's arms filled with food! I'm certain that I wasn't the only one doing that because on two separate occasions, couples came up to me and asked about what I was eating.
Something that kept recurring was skewers in a cup! I managed to see the name on the cup, which guided me to It's All About Grill.
I got three skewers for $7.25, and I was pissed. I know it's expected that food stands don't serve AAA Ribeye, but at least tenderize it! It was dry, super chewy and flavourless. UGH! The Garlic Chicken and Spicy Pork were okay, but still disappointing. And their idea of "spicy" pork was sprinkling cayenne pepper on top.
Don't bother with this stand.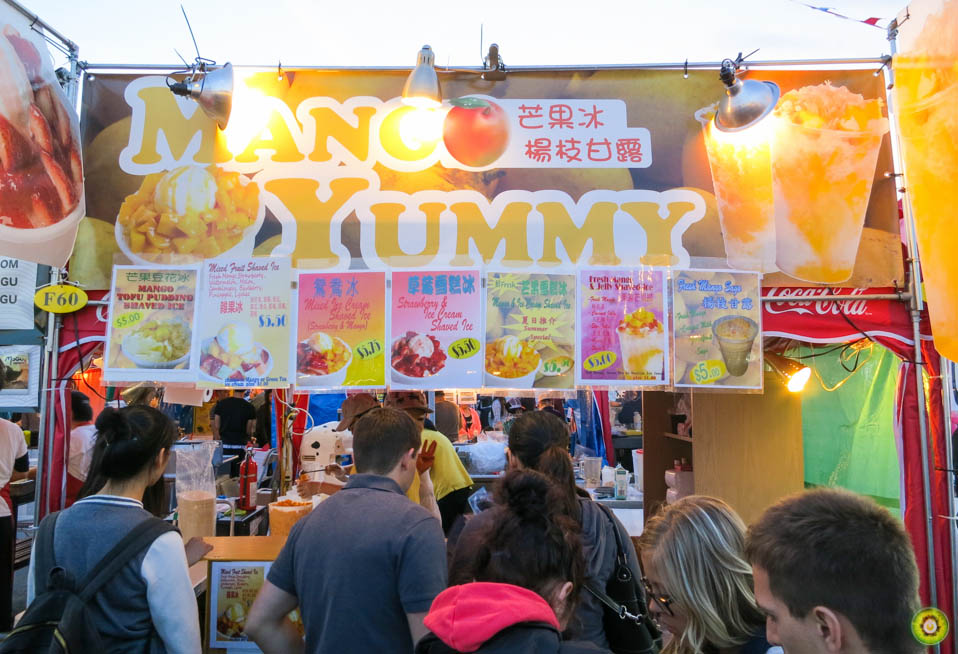 What you should bother doing is trying out Mango Yummy! It didn't take us long to reach the counter – maybe 7 minutes? Anyway, hippoCHAN and I were torn between getting a drink or a shaved ice. We were pretty thirsty, so we went ahead with the shaved ice. The drinks were made with coconut milk, which I didn't expect to be that refreshing.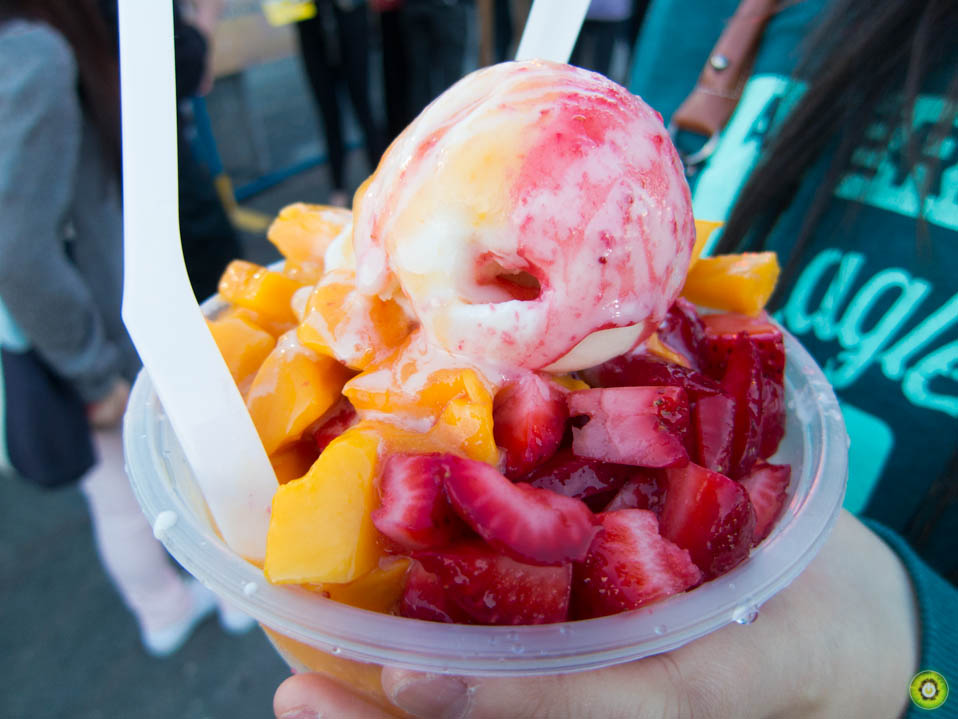 The Mixed Strawberry and Mango Shaved Ice w/ Vanilla Ice Cream ($5.75) was so freakin' good! Mush, mash and mix everything up. Every byte was refreshing and perfectly sweetened. The mango was just ripe, but just some of the strawberry pieces were unripe. Don't leave the night market until you get this!
Final Bytes
Free parking, but $2 entrance fee.
Just take the Canadaline and get off at River Rock! So convenient!
Bring a bottle of water! Trust me, you'll probably need it.
---