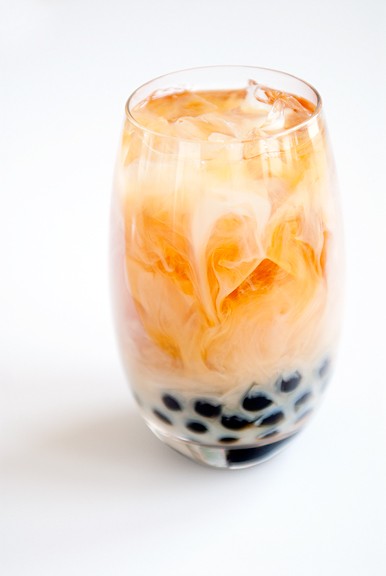 Okay, I realise that bubble tea restaurants like Pearl Castle don't specialise in fine dining. Still, tonight was a complete joke! I originally wasn't going to review this place, but the experience was so unbearably frustrating that I just had to comment on it.
I ordered the "Seafood Hot Pot with Pork" that is accompanied by a bowl of steamed rice. And thank God there was rice as it was the best thing there – by comparison. The hot pot had 2 shrimps, 2 beef balls (what… why?), shreds of oysters, lettuce, bit of soft tofu, and pork.  This dish was so disappointing that I didn't even eat most of it (and trust me, I almost always finish my food).
What was meant to be a delectable hot pot meal that breathed a savoury aroma quickly turned to a dismal bowl of soup mixed with rice.
The worst thing, as you can see by my picture (caution: click at own risk), was the so-called "pork." Let me ask this: If I grilled a slab of cow fat, is it considered a steak? Well, I know how this restaurant would answer…
That's AAA, baby!
This pork was only slivers away from being 100% fat – and that's barely an exaggeration.
Unless I slip on their mammoth mountain of fat and slide my way through those glass doors, I am never setting foot in this restaurant again.
Foodobyte's Rating

---