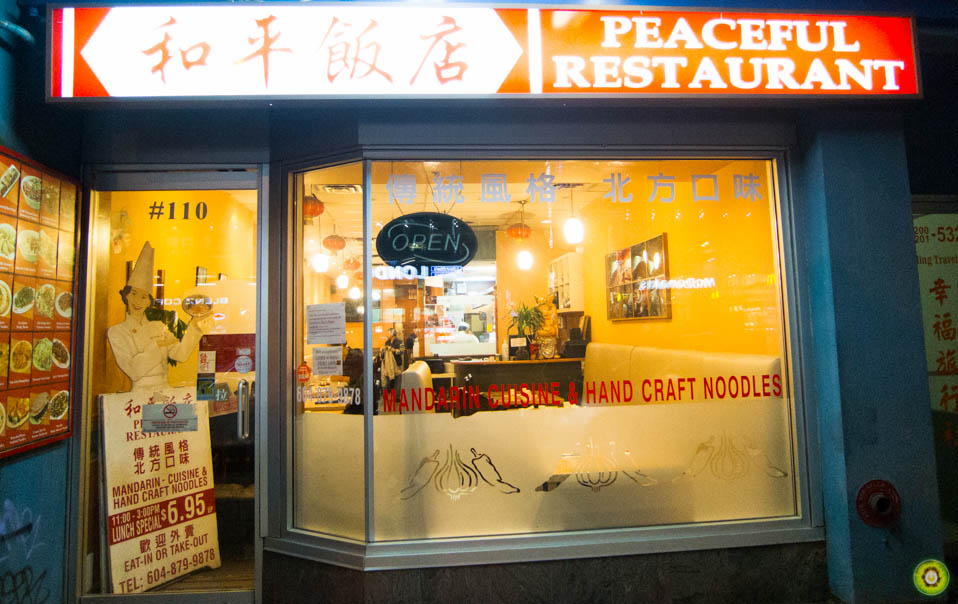 In the midst of finals, hippoCHAN and I decided to take a little break and go out for a nice dinner.  Since she had a meeting around Broadway, we pondered upon where to dine.  We thought and we thought… I wasn't feeling noodles in soup because I wanted something big in flavour.  At last, I remembered there was Peaceful Restaurant!  I have no idea why it took me so long to recall, especially since it's posted on my Wall of Dreams.
Like many diners before us, we headed to Peaceful Restaurant because Guy Fieri had featured it on the awesome Food Network Show – Diners, Drive-ins and Dives!  Looking up at Guy's spray painted face and signature, I wondered… What happens if Peaceful wanted to do some renovation and needed to repaint?!
After 20 minutes of waiting, we were finally seated around 8:30PM.  By that time, the kitchen was out of pan-fried pork dumplings and shaolin dumplings!  So, we settled for Pan-Fried Chicken Dumplings ($7.95).  The dough skin had a perfect thickness and chew.  Although, I did wish that there was more crunch on the dumpling's bottom.  As for the filling, it was well-seasoned and very flavourful, but they could've stuffed more into that doughy envelope.
Next, we ordered the Peaceful House Stir-Fried Noodles ($12.95), which was served with seafood, pork, vegetables and chilli garlic sauce.  Indeed, this dish would keep a house peacefully quiet – not because it'd knock you out into a tasty food coma, rather 'cos it's a bore.  I thought that the dish was one-noted; all I tasted was spiciness.  Also, hippoCHAN was irked by the copious amounts of cilantro… literally, there was so much that she thought it was spinach.  At least, the hand-made noodles were decent.
On the flip side, the Peaceful Beef Roll ($7.25) rocked me back and forth into a warm and comforting slumber.  It was so relieving to enjoy this roll after many bad experiences with other restaurants.  For one, it was actually crispy – not limp and soggy; not cooked so much that the atoms in the dough actually split.  Inside, there's a slightly sweet hoisin sauce with vibrant bursts of green onion, all subletting the same wrap as the delicious beef.  It's no wonder that the Peaceful Beef Roll won GOLD in the Chinese Restaurant Awards 2011!
Final Bytes
Kitchen closes at 9PM!
Only accepts Cash and Debit!
No reservations… so come early!
Foodobyte's Rating

---