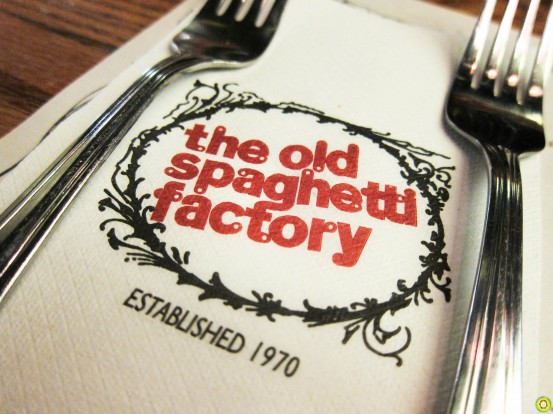 After watching Mission Impossible 4: Ghost Protocol (which was amazing, by the way!) at Riverport Silvercity, Joanne and I headed next door to the Old Spaghetti Factory. We've always been really satisfied with the food at the joint, but things turned for the worse this time around… Why you may ask? We'll get into that later!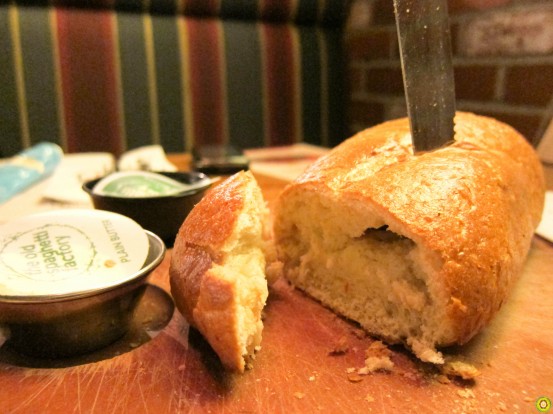 As usual, before you even order, you're presented with a loaf of freshly baked sourdough bread served with regular and garlic butter. A simple appetizer, but so good! Warm, fluffy & yummy. One of the distinct characteristics of the Old Spaghetti Factory is that they get the little things right.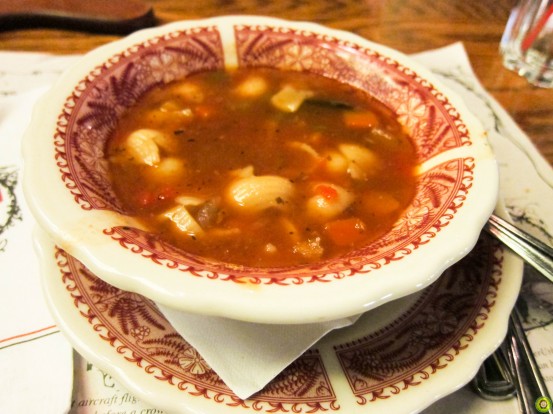 Following the bread comes the Minestrone Soup, which translates to "Big Soup!" It's essentially a vegetable soup (typically beans, onions, celery, carrots and tomatoes) with some pasta. Nicely seasoned – always good :)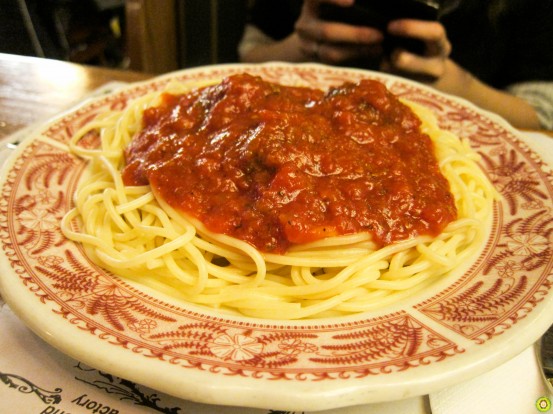 Here's the Spaghetti & Meatballs ($11.65) that Joanne ordered. Although it may not look like it, there are indeed meatballs under blanket of tasty tomato sauce! They were moist and elevated flavour-wise by the sauce. If you're thinking that this dish seems really simple… Well, that's because it's suppose to be! Italy prides itself in it's simplicity.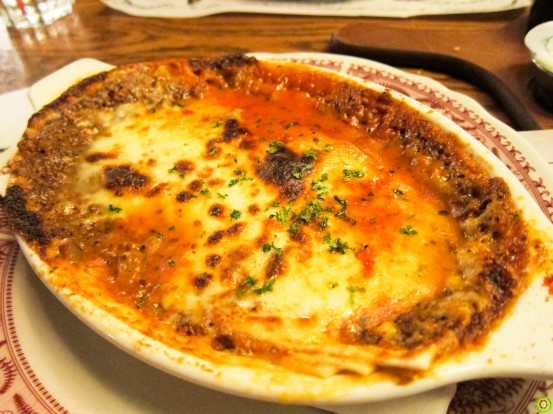 That night, I strayed away from my usual helping of spaghetti with tomato sauce and ordered the Lasagna – Mama Pulosi's secret homemade recipe ($12.75)… Big mistake. From a bird's-eye view, the dish looks already looks unappetizing due to the nearly-burnt cheese and sauce around the rim of the dish. Let's look at another angle!
Dot dot dot… Did someone sit on my lasagna before it was served? Why is it so flat?! Not only was the lasagna as thick as an eraser, but also all the flavours infused in this dish were overpowered by the excessive cheese. Every single bite tasted like just cheese, cheese, CHEESE! The flavour was so overwhelming that I just resorted to scraping off the top cheese layer and eating just the noodles.
Extremely distraught, I filled out a comment card! The waitress must've saw me scrawling letters of fury because the manager came over to our table and asked us,
"How was your meal?"
"It's was okay…"
to which the manager replied,
"But not great?"
Then, I told him about the disappointing lasagna and he promptly removed it off our bill.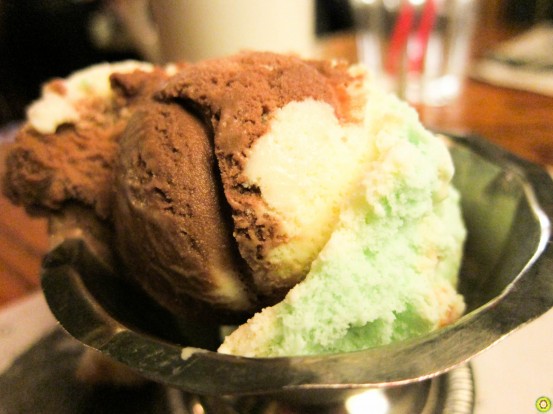 Finally, our Spumoni Ice Cream arrived: a mixture of vanilla, chocolate and pistachio goodness :) Too bad they don't offer pistachio alone… that's my favourite!
All in all, it would've been a good meal (as usual) if I just avoided the lasagna and stuck with my spaghetti & tomato sauce! Looks like Mama Pulosi really should've kept her recipe a secret!  Nonetheless, service is super friendly and the restaurant is comfortable and not too loud.  And the bread, soup and ice cream are all included in the pasta price!
Final Bytes
Ask for another loaf of bread if you have two or more people!
If you're going for a movie after dinner, there's a Meal & Movie deal!
Lots of parking!
Foodobyte's Rating

---