Happy Birthday Sea Wolf! You're now one year old, and already rocking it hard with your offerings of sea n' turf in Brooklyn. hippoCHAN and I thank you guys for inviting us to experience your menu!
Speaking of menus, Sea Wolf has several daily specials, of which we regrettably didn't get to try because we were just too caught up with the regular menu. I did see the Grilled Red Snapper and it looked absolutely amazing. Next time I'm in the neighbourhood, I would definitely order from the specials.
It was a chill and quiet night in streets of Brooklyn. Probably because everyone was packed inside Sea Wolf. It was such a lively buzz!
We settled on some menu choices even before we arrived at the restaurant while checking out Sea Wolf's website. There was "The Sea Wolf," which was the restaurant's take on Surf n Turf: loaded up classic cheeseburger, grilled 1/2 lobster, fries and drawn butter. But we wanted to make our own version!
On the turf level, our first dish was the Steak Frites – a hanger steak grilled over wood fire and served with salsa verde. It was absolutely delicious and cooked to a perfect medium as requested. So much flavour!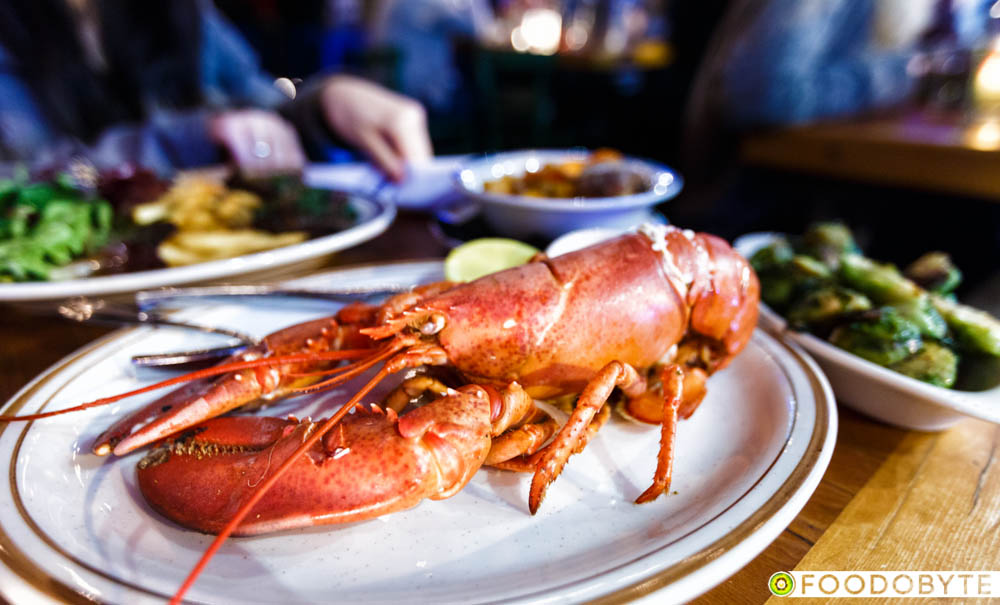 From the sea – a Whole Lobster with drawn butter, lemon and 2 sides. The lobster was simple, but simply well done. It was definitely an interactive dish as we had to crack it open and pull the meat out ourselves. Fresh and fun :)
As for our sides, we picked some Roasted Vegetables (mostly root vegetables) and Brussel Sprouts. We highly recommend the Brussel sprouts – they were absolutely addictive. I have no idea why they're portrayed as yucky on TV shows… those TV writers obviously haven't visited Sea Wolf.
We saw a bunch of tables with small cast iron pans, and we figured out it was the Charred Octopus. It was quite dark in the restaurant, so we couldn't tell how charred the octopus was, but we could definitely taste it… honestly, it was way too charred and bitter for our liking. There were also ribbons of celery and chopped olives. Next time around, I would order the Steam Pot as an appy, which consisted of clams, mussels, shrimp, chorizo, corn and potatoes.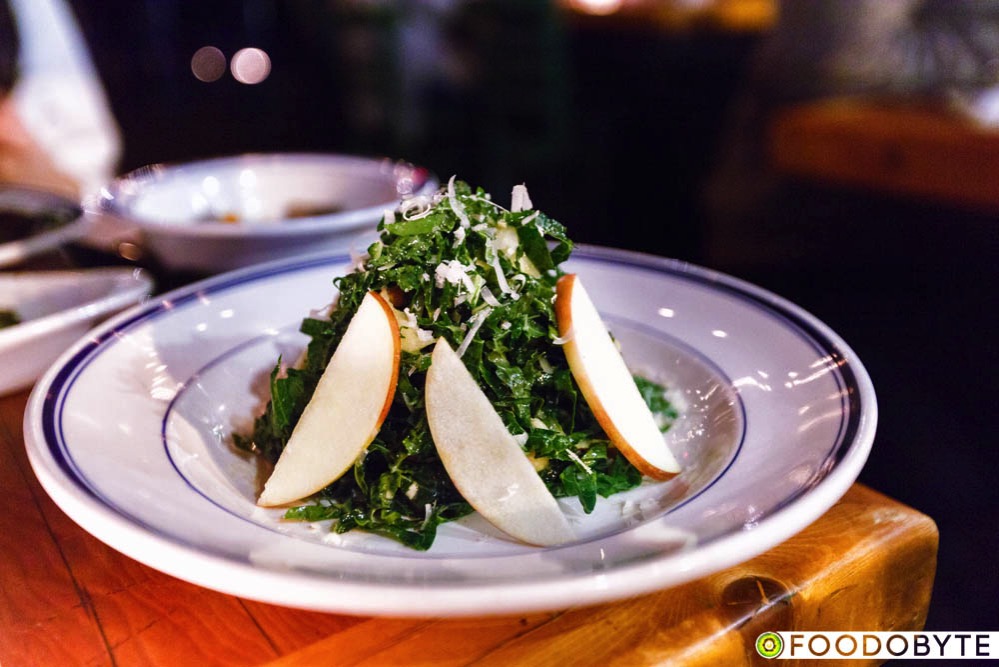 To make the whole meal healthy, we balanced it with an Organic Black Kale Salad. It was soooooooo good! The thin slices of gala apples bursted with sweetness while the white cheddar added some richness. The balsamic vinaigrette had a good level of acidity without being overbearing. I would definitely order this again.
Overall, we had an awesome time at the Sea Wolf! We could tell that all the ingredients were incredibly fresh. I only wish our stomachs were bigger so that we could've tried more of the menu… like the spicy tuna poke, shrimp ceviche and lobster bisque. And if you're an oyster-lover, Happy Hour is 4-7pm daily with $1 oysters!
Disclaimer: our meal was complementary, but all opinions expressed are our own. This post was not reviewed before publication.
---