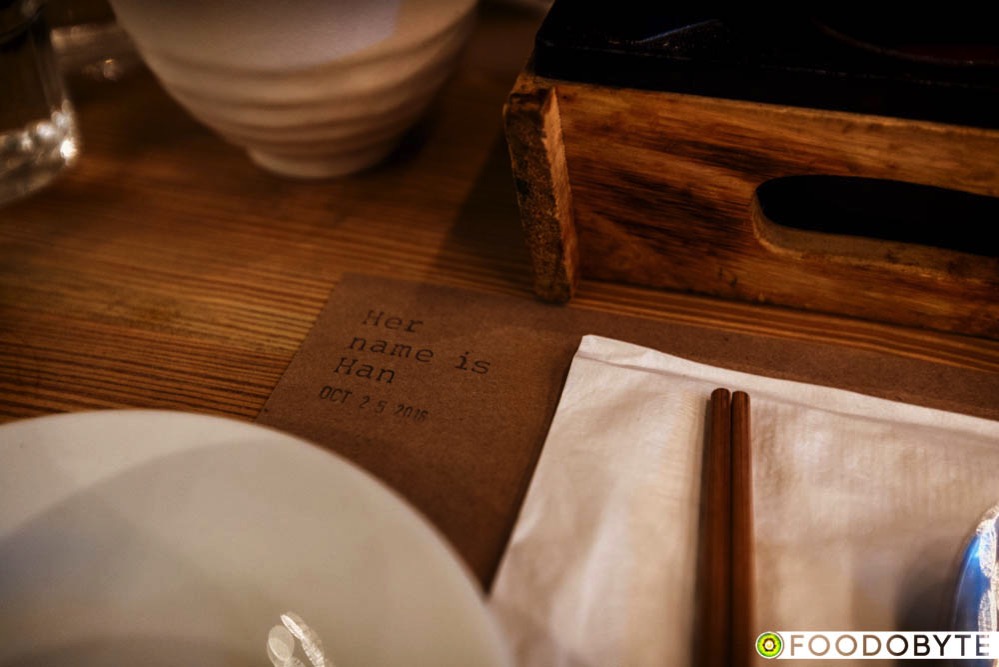 Her Name is Han… it's like Korean meets hipster. It was a decision made on the spur of the moment, except that moment was actually 15 minutes of standing and scrolling through Yelp in the lobby of hippoCHAN's school in NYC. We walked through the gusty winds to Korea town, but found that Han was located a few blocks outside the main street of Korean restaurants. Thankfully, we just beat the dinner rush so we were seated immediately.
As with many Korean restaurants, there was a variety of small side dishes served before the entrees came: Kim chi (duh), quail eggs, mushroom, some pink thing that I thought was sweet potato with beets and something else. I'm not always entirely sure what I'm eating at Korean restaurants :P
The menu was very very very different from what I've seen in Vancouver, so I had to ask for recommendations. One of the most popular dishes was the Fire-grilled Bulgogi ($21). It had nice grilled marks and a smokey-sweet flavour, but nothing too amazing. At $21, I expected more.
Scouting around, we saw a bunch of tables order these impressive-looking pots brimming with meats, veg and more. Again, we asked the waitress for recommendations, and we settled on "C6" ($34) that had rice cake, fish cake, noodles, beef, sausages, assorted seafood and veg in a spicy fish broth.
It was mediocre to say the least.
The broth was in no way spicy. I kinda wondered if this place was actually Korean given the lack of fiery heat. It was more sweet than anything… like soaking meat in a dessert soup. The fish and rice cakes were okay texturally. Sausages were slightly better than the hotdogs served at elementary schools. Noodles were instant. Beef was tough. Seafood aiight… If only the broth was better… the ingredients wouldn't tastes so sickly sweet after the first few bytes.
Overall, I was quite disappointed with this place. I think they invested more money into the decor than its food.
Pro tip: if you yell and overreact when the waitress spills food on you, the entire meal is free, like it was for the table next to us.
Foodobyte's Rating

---