A month ago, I went to Nero Belgian Waffle Bar with Joanne for dessert. My experience, in short, was terrible because… well, you can read all about it here. Anyway, Jan, the owner of Nero emailed me about my review, clarifying some of the issues that arose during my visit and encouraging me to give them another shot. Since the owner was really nice about it, Joanne and I headed down there for dessert again.
This time, however, we steered clear of the Liege waffles and ordered the Brussels variation. More specifically, we picked the Fruity Brussels Waffle w/ Vanilla Ice Cream ($8.25, +$2 ice cream).
On top of a freshly baked waffle, there's a scoop of vanilla ice cream, a sliced banana, several disks of kiwi and a pile of strawberries – all lightly dusted with powdered sugar. Everything was vibrant in colour and beautifully arranged on the large waffle platform, sparking off a wow-response in my brain.
To our delight, the kiwis were pleasantly soft and sweet. Since the banana was just ripe, it had no physical imperfections such as black spots.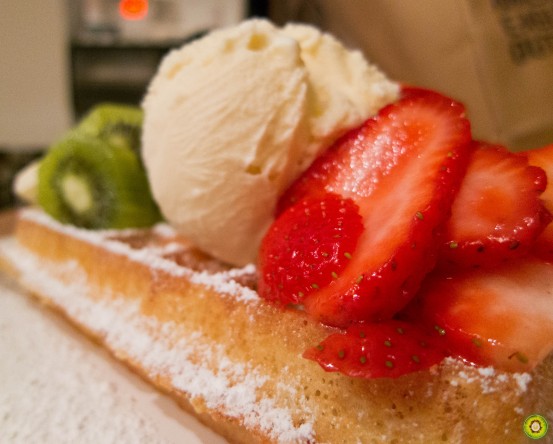 The strawberries were just as delectable as the kiwis. I wonder how they found such nice strawberries, because all the ones that I've seen have ugly bruising.
Settled in the middle of the waffle, the vanilla ice cream was served at the optimal temperature where it was still spreadable. Trust me, you're going to appreciate that little detail when you try to combine all the elements into one flavour-packed byte.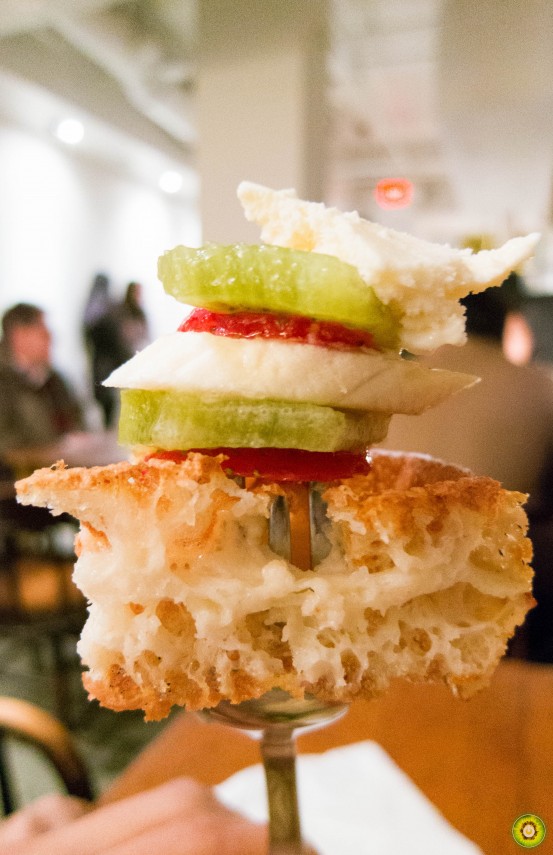 So, what's the verdict on the Brussels waffle? Compared to the Liege, it was like night and day! It was everything a waffle's supposed to be: crispy on the outside, light and fluffy on the inside. Just by looking at pockets in the waffle, you can already anticipate the airy texture it possesses.
To be honest, I would've never returned to this little waffle bar if Jan didn't email me. Without a doubt, it's not easy to tolerate negative criticism… and I'm glad Jan did because that waffle was great :)
Final Bytes
Fruit topping waffles aren't too sweet, so you won't get really thirsty!
Open until 12AM on Fridays and Saturdays!
Quite limited in seating!
Foodobyte's Rating

---