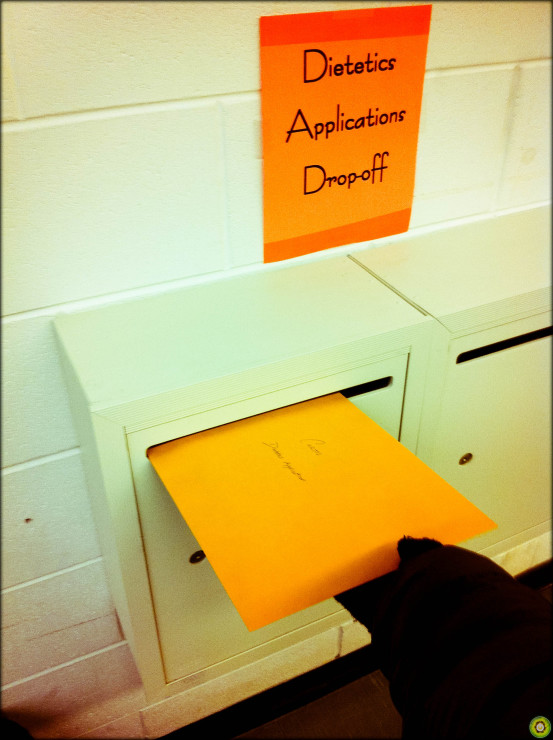 After two months of relentless reviewing and revising, I finally submitted my application to the UBC Dietetics Major.  Competition is fierce in this field:  only ~30 of +100 applicants get accepted.
There are three main components to the application:
Grade average of at least 70% (admission average is always higher)
Resume, cover letter, and reference letters
Interview
Although I don't exactly have the best grades, I think that my volunteer work and references will compensate for that.  I searched unwaveringly for opportunities that would highlight my commitment to dietetics.  The review panel seems to really focus on the applicant's devotion to the profession more than anything else.  Thus, it was crucial to show it in my resume and cover letter; otherwise, I will never get an interview.
I'm so relieved that I'm done with the application.  Now, all I have to do is wait…  Well, of course I have to keep trying hard in school and continuing my volunteer work.  Other than that, though, I can finally live a more normal life.
For the past few nights, I've been waking up randomly because I spontaneously remembered something that I must change on my resume or cover letter.  For example, my cover letter… is supposed to be a letter.  And for the longest time, it looked like an essay on a provincial exam… it didn't even have a date, address, or salutation.  All of these requirements are outlined on the dietetics webpage… Luckily, an epiphany slapped me up the head and I revised it immediately.
So that's that… Although I have finished my application and submitted it, this is only the beginning.  … So I can't wait to see what's in store for me.