Italy was the inspiration of Chef Thomas Heinrich's latest 5 Course Tasting Menu at Mosaic Bar & Grille. While the menu itself was riddled with Italian jargon that left me in a whirlwind of confusion, it succeeded in showcasing the meticulous simplicity of Italian cuisine. Moreover, Chef Thomas obliterated the stereotypical expectations of Italian fare with his contemporary approach. No, I did not have pizza.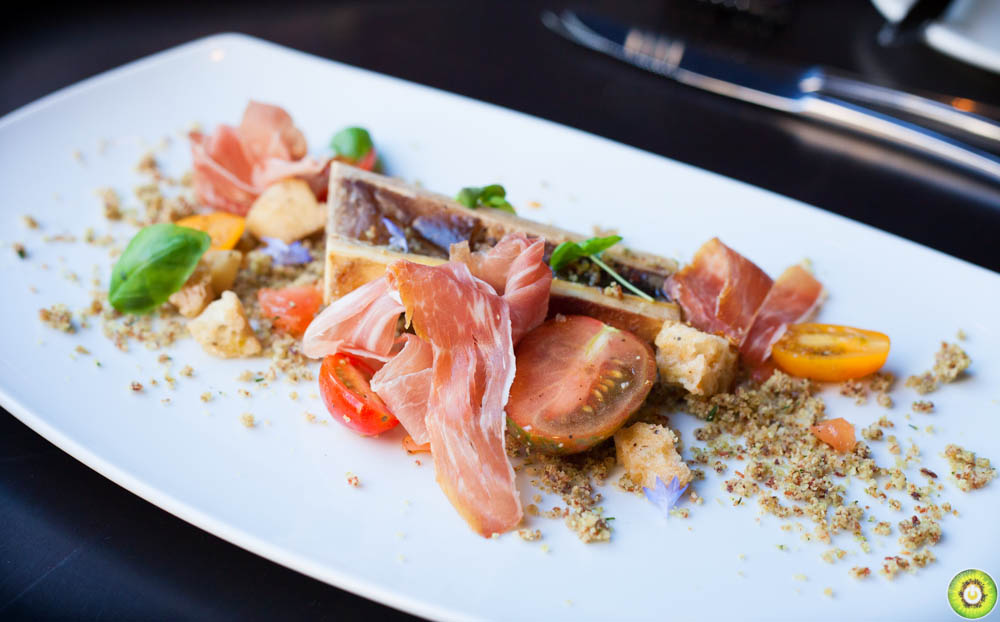 Our first dish was Panzanella Insalata, a classic Italian salad. It was made with prosciutto, bread affair ciabatta, heirloom tomatoes and bone marrow saltimbocca.
This was my first encounter with bone marrow. Actually, it was more like a half-encounter because it looked like my bone was nearly scraped clean. Fortunately, EatingWithKirby was more than willing to share some of her's since she said it was very rich. And rich it was!
Although the bone marrow sat in the centre of dish, my favourite components were surrounding it. Prosciutto was awesome, as expected. Heirloom tomatoes were plump and fresh, contrasting the richness and saltiness of this dish. The crumbled ciabatta was indeed flavourful, but stubbornly stuck to my teeth!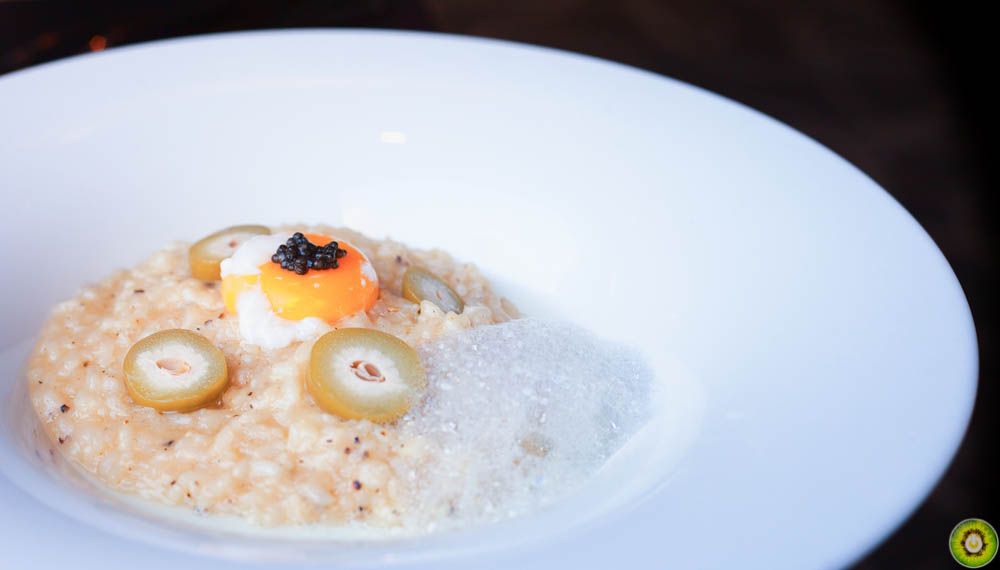 Our next dish was the Violone Nano Truffle Risotto. Once it landed on the table, its intoxicating aroma won me over immediately. Visually, it was beautiful as well. Golden and glistening, the egg yolk added to the dish's presentation as well as its flavour and texture, elevating it to new heights. The parmesan foam, on the other hand, didn't do much for me… no matter, the risotto was already brimming with parmesan flavour.
Initially, I ate all the components separately, but I found that the truffle dwarf peaches were very tart! Thus, I assembled each forkful to include everything, and the result was deliciousness. This was easily my favourite dish.
The Hand Rolled Pasta served with cerignola olive broth and bottarga was really interesting. The pasta was incredibly delicate – I'm still curious as to how they made it so thin without it breaking up into mush.
However, I was most taken aback by the broth: it was like eating an olive. A wave of saltiness hit the palette, then it soothed out into an olive flavour.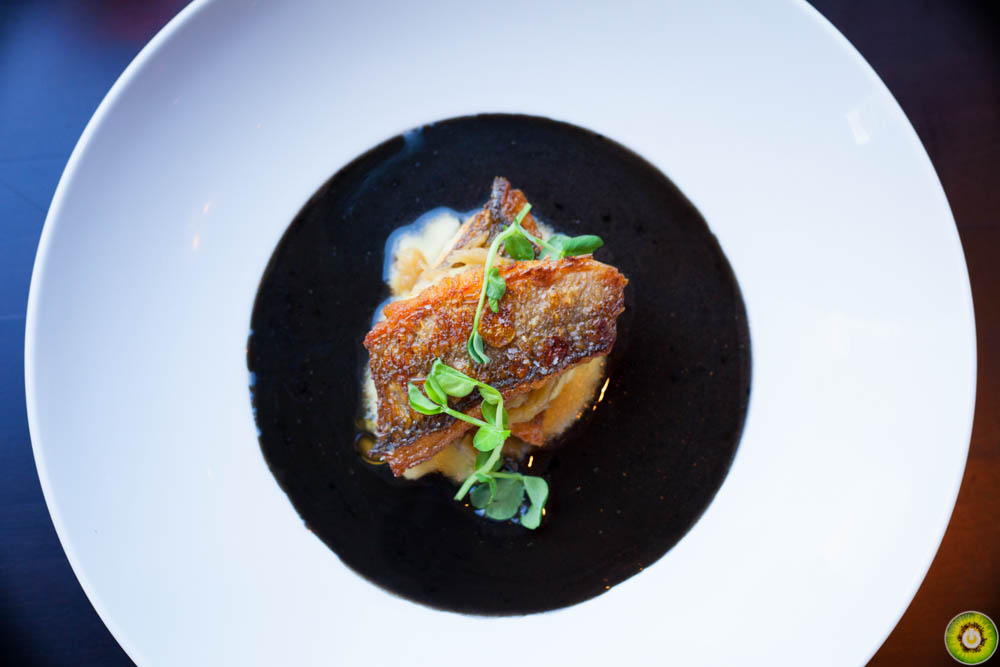 After seeing other bloggers' photos, I was extremely excited to try out the Branzino, an European sea bass. It was served with polenta, fennel and… squid ink! How cool is that?!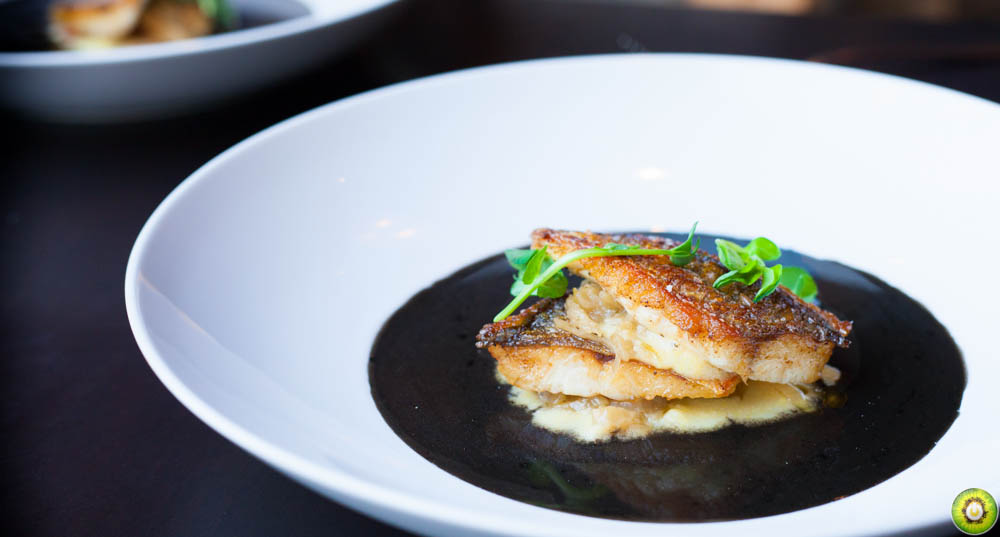 All of the elements in this dish were solid. The fish had a very crispy skin and the polenta had a sweetness from the fennel. As for the squid ink, it was quite reminiscent of olive oil.
Finally, I had Tiramisu for dessert. I've always wanted to try a deconstructed dish after watching Top Chef Canada, and my wish finally came true with this tiramisu. This dessert was the perfect ending to our meal. The red berries were bursting with sweetness while the house-made ladyfingers were evocative of an actual tiramisu cake.
This Italian 5 Course Tasting Menu with wine pairings is available until September 12th for $45.
---
\