I rarely dine at hotel restaurants, but with Chef Thomas Heinrich in the kitchen of Mosaic Bar & Grille, it's hard to stay away from the Hyatt Regency. Thanks to Facebook and Instagram, I knew exactly what to expect when I cashed in my VANEATS' Art of Taste dining pass: unbelievably gorgeous food.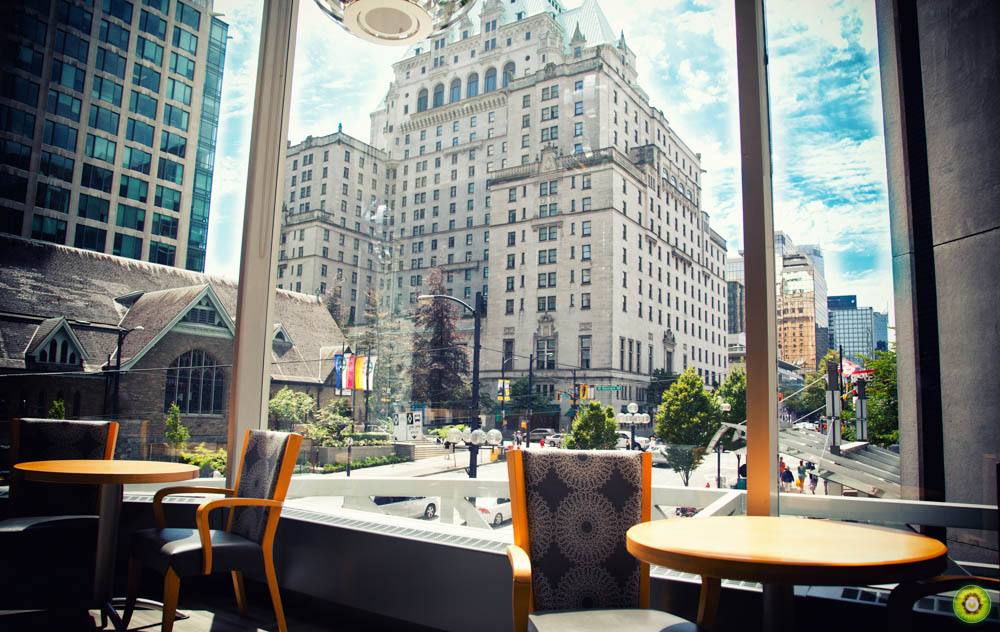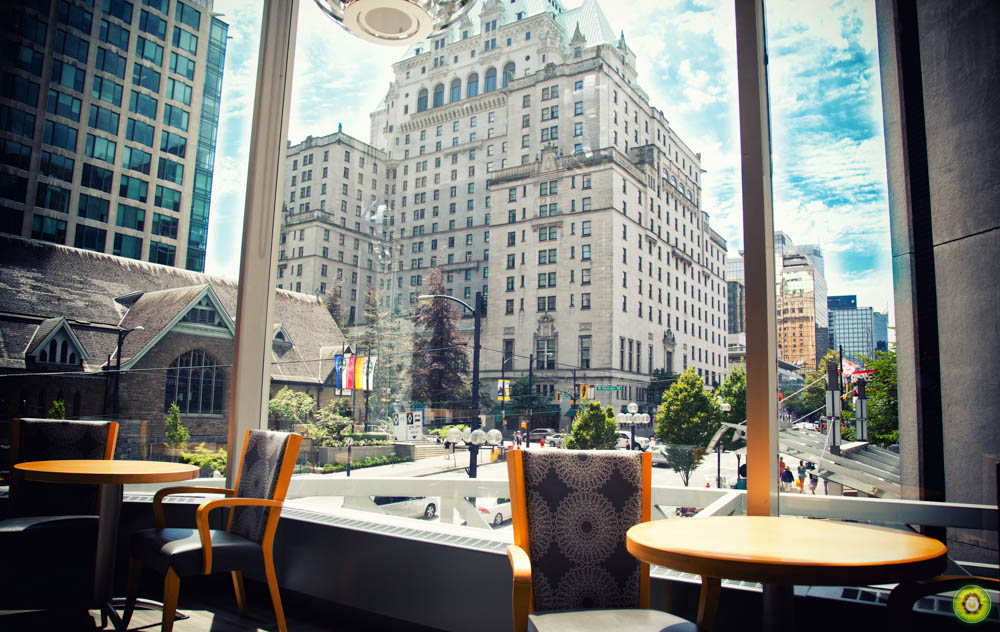 Fasha and I sat near the huge windows, which had a great view of the streets below us. Our table was also nicely lit, making it so much easier to take pictures.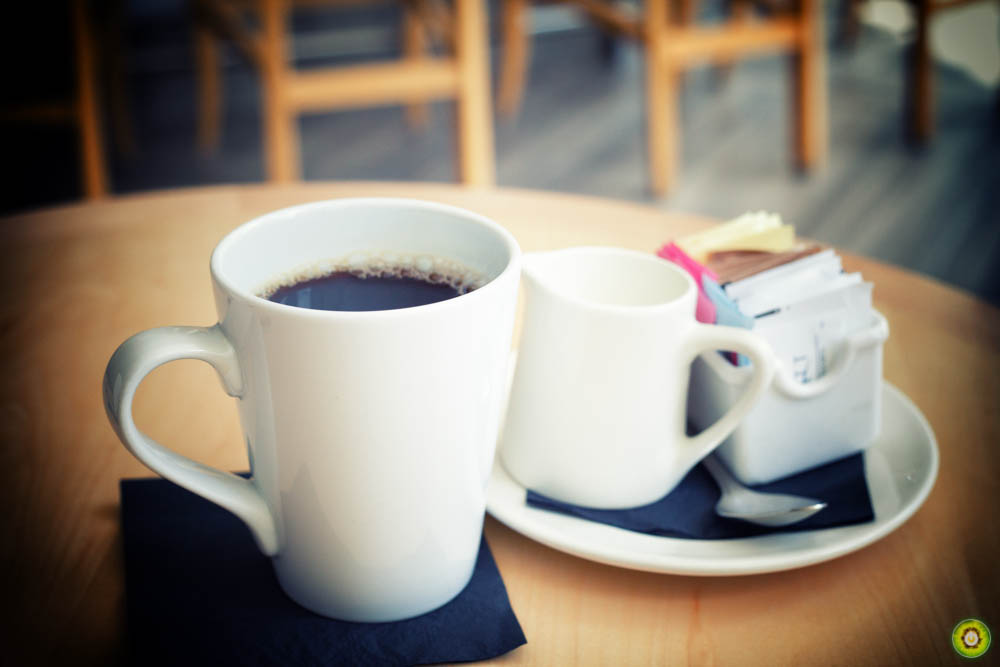 Fasha got a good ol' cup of joe.
To start off our meal, we had a Local Seasonal Spring Salad, and it looked positively beautiful. The great thing was that it tasted just as good as it looked. I think I would pretty much eat anything with that citrus and mustard dressing – it was that good. As well, the house made sheep milk ricotta was smooth and mild.
Next we had the Warm a la Minute Smoked Skuna Bay Salmon, which was initially housed in a dome of smoke before service. It was quite fancy to see the dome be lifted and the smoke diffuse in all directions.
This was probably the dish that I most anticipated, solely based on its looks (I'm shallow like that). Just look at it! Have you ever seen anything like that?
Still, it delivered incredible flavour. The little amber droplets were made of maple matured sherry bourbon oak vinegar. Its tart sweetness and subtle bourbon undertone perfectly complemented the salmon.
Speaking of the salmon, I didn't know that a piece of fish could be cooked that precisely! One second early, it would've been raw – but no, it was just right.
The avocado terrine was also very impressive. The avocado was just so creamy, it coated and happy-fied my entire palette.
Moving onto the entrees, we had the Grilled Long line Caught BC Ling Cod. This dish encapsulated some of the cleanest Asian flavours with its dashi broth. What's more, the vegetables soaked up all of the broth flavour, which made them even more delectable. If I had a spoon, I would have absolutely no problem drinking the broth.
The cod was the moistest piece of fish that I've ever eaten. It was incredibly flaky as well. Seriously, how do they cook fish so precise?! It's seared on the top and sprinkled with sea salt. It's a small detail, but the sea salt really accentuated the fish flavour.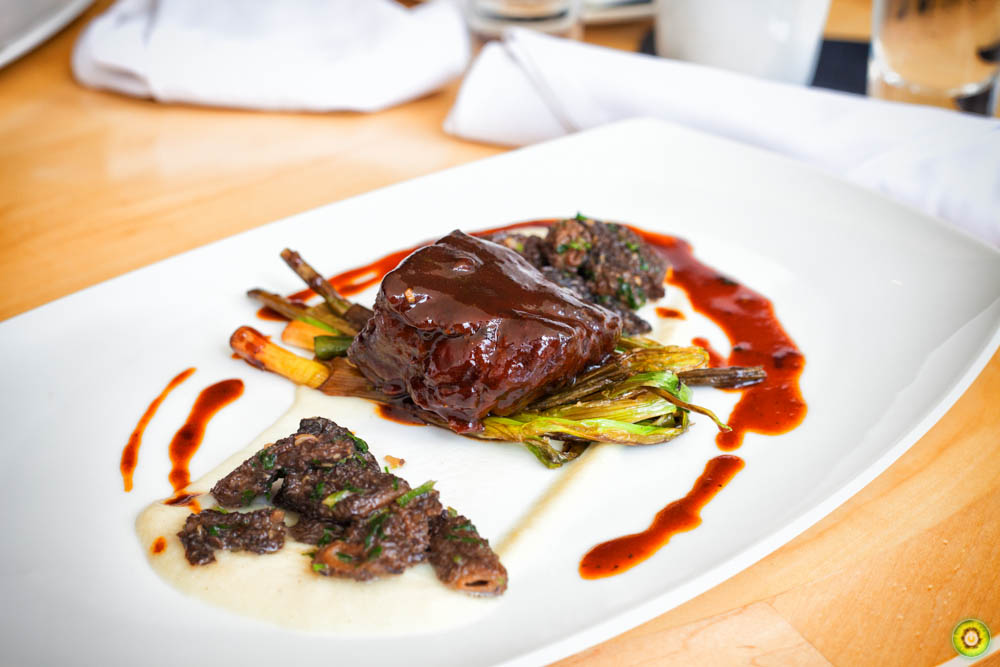 The other entree was the 24 Hour Braised Spring Creek Short Ribs. This was my least favourite because the morel mushrooms were really really salty… I ate them with the beef to mellow out the saltiness, but it only helped a little.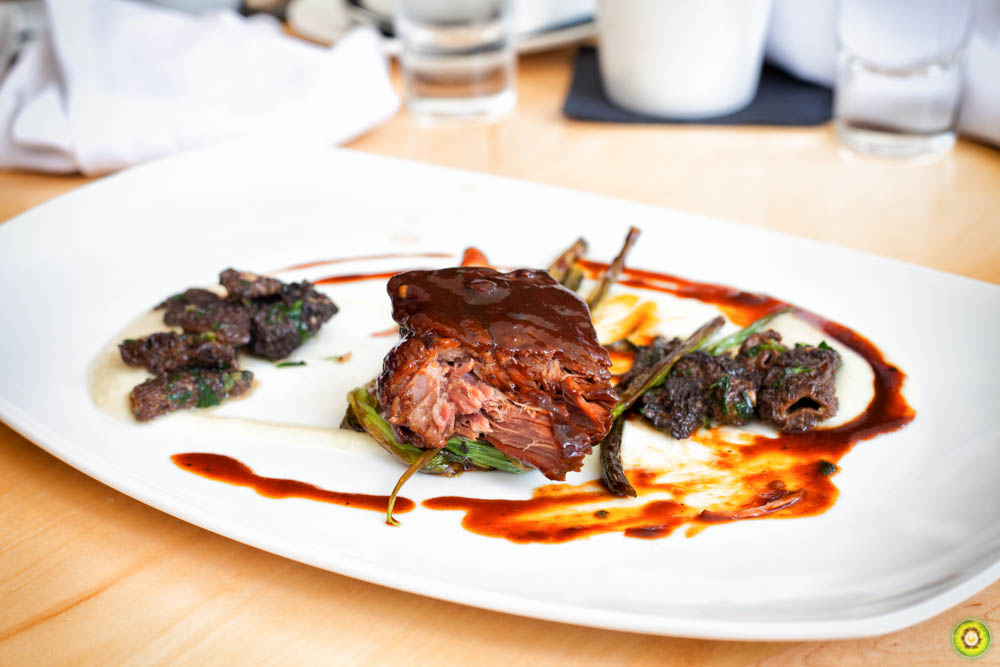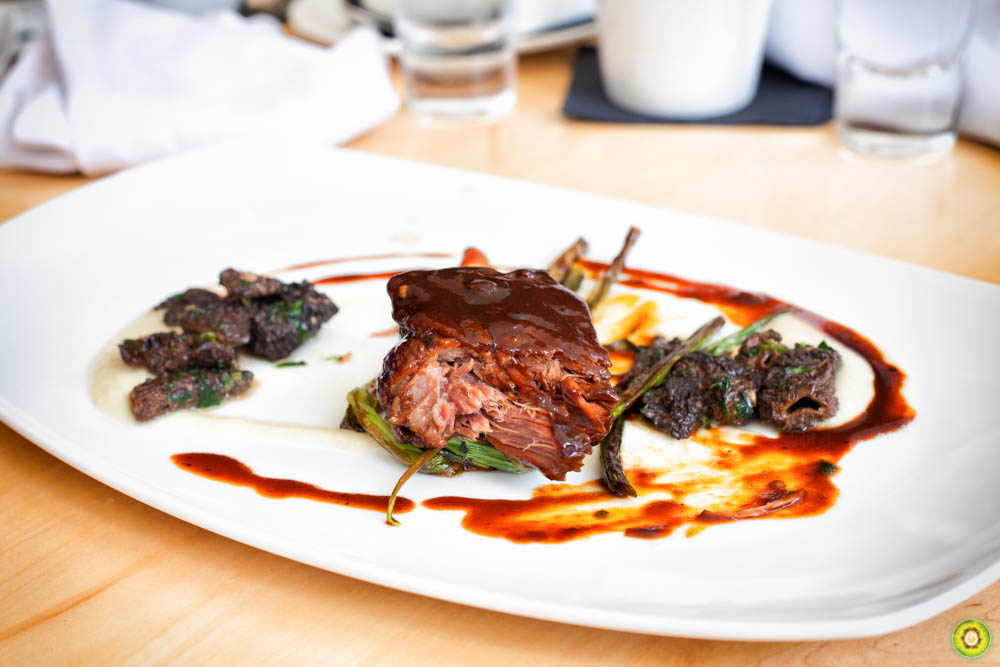 Also, the beef was a little bit dry. By eating it with the mushrooms, there was a little more moisture.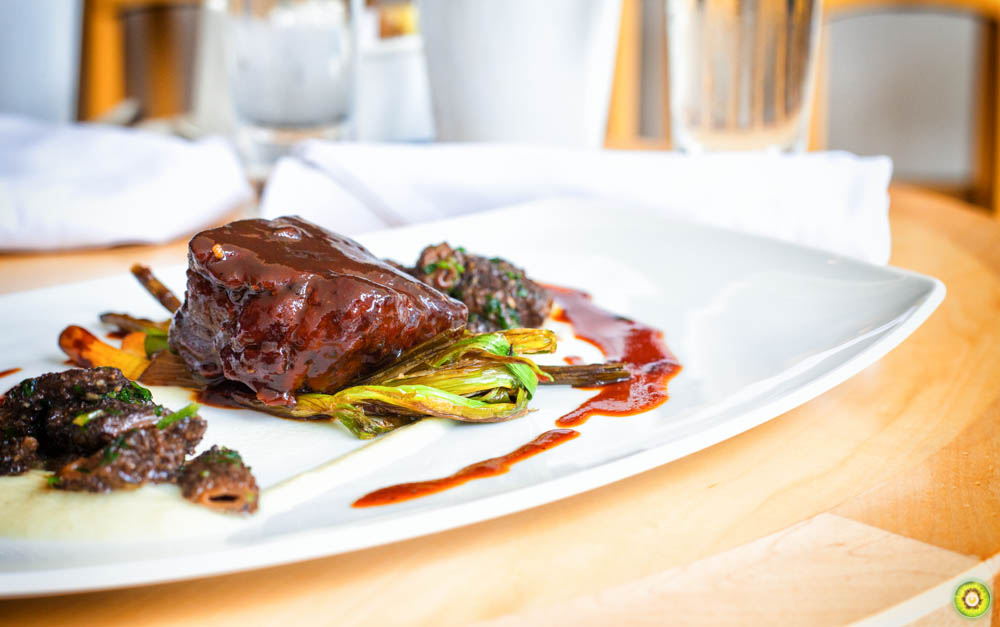 Ironically, my favourite component of the dish was hidden underneath the beef: roasted root vegetables. As I chewed on, the vegetables released an earthy, yet slightly sweet, flavour.
Finally, the dessert: Mosaic's Signature Chocolate Cake! It was MASSIVE, rich, decadent, moist, smooth… pretty much every tasty word in the dictionary. Thankfully, it was not too sweet so I could truly appreciate the chocolate.
Although, I did wish that there were more droplets of mango sauce, which were reminiscent of a creamsicle. They effectively cut the richness of the cake.
To be honest, I couldn't finish the cake before I entered a serious chocolate coma. One day, I will conquer this cake with my stomach.
Final Bytes
Seriously innovative and beautiful food
There's a new summer menu that looks awesome
Guys, impress your dates here :)
Foodobyte's Rating

---