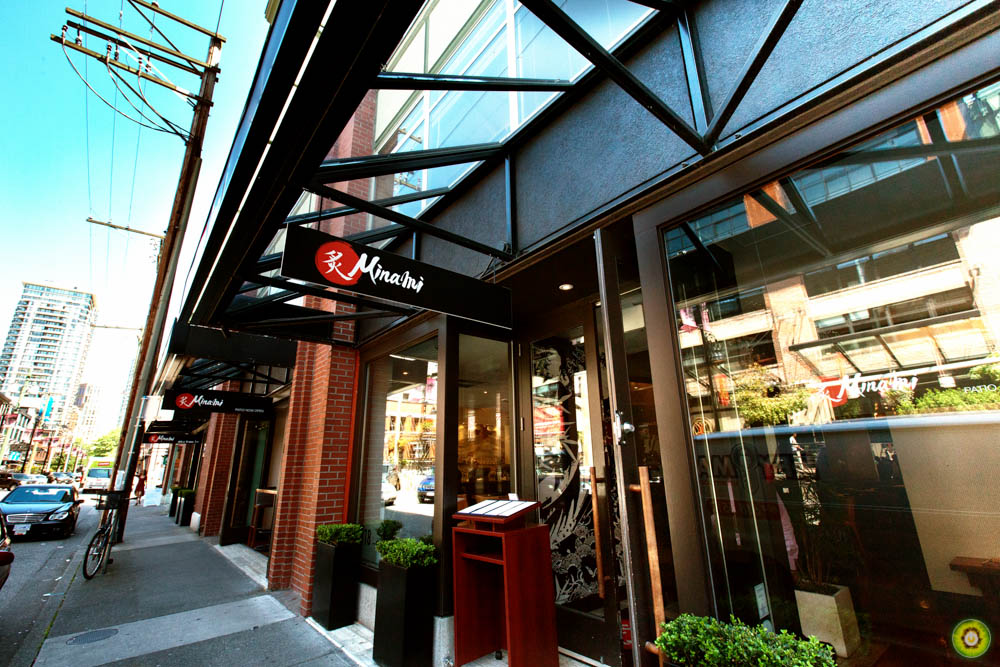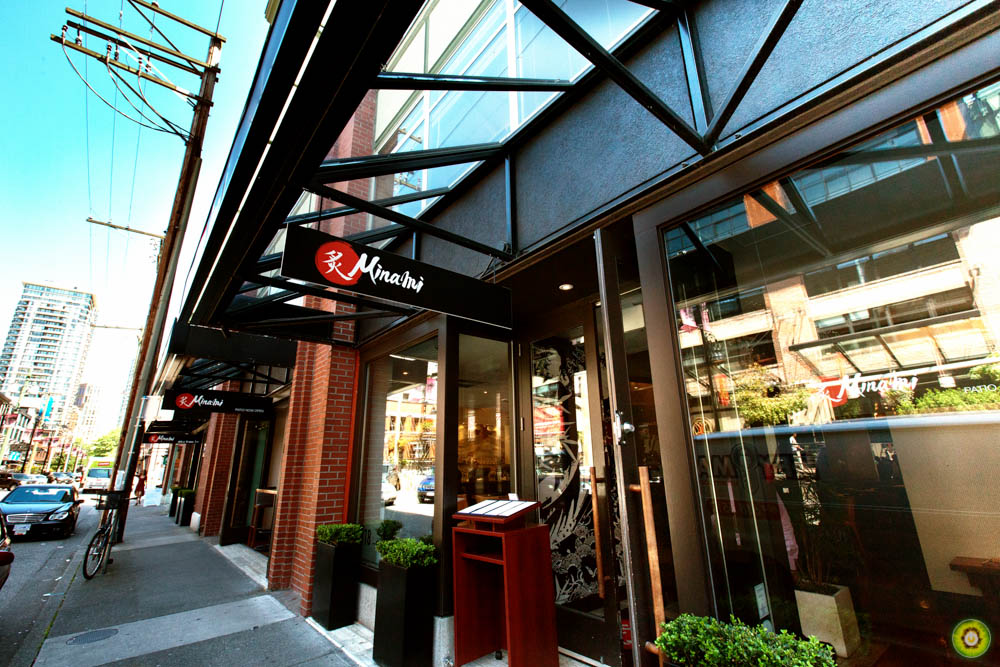 Minami! It literally seems like every food blogger has already dined at this Yaletown Japanese restaurant – everyone except me. Until now.
Much like its sister restaurant Miku, Minami delivers some amazing flame seared delicacies, like its infamous Aburi Salmon Oshi Sushi. Besides that, Minami also features Japan-Euro influenced desserts that look absolutely delicious, but will certainly vacuum up the last few dollars from my wallet.
The restaurant was positively gorgeous! All the seating was relatively spaced out, so diners can enjoy their own table bubble. Despite having lunch by myself for the very first time, I didn't feel any loner-anxiety since the restaurant had a really relaxing vibe.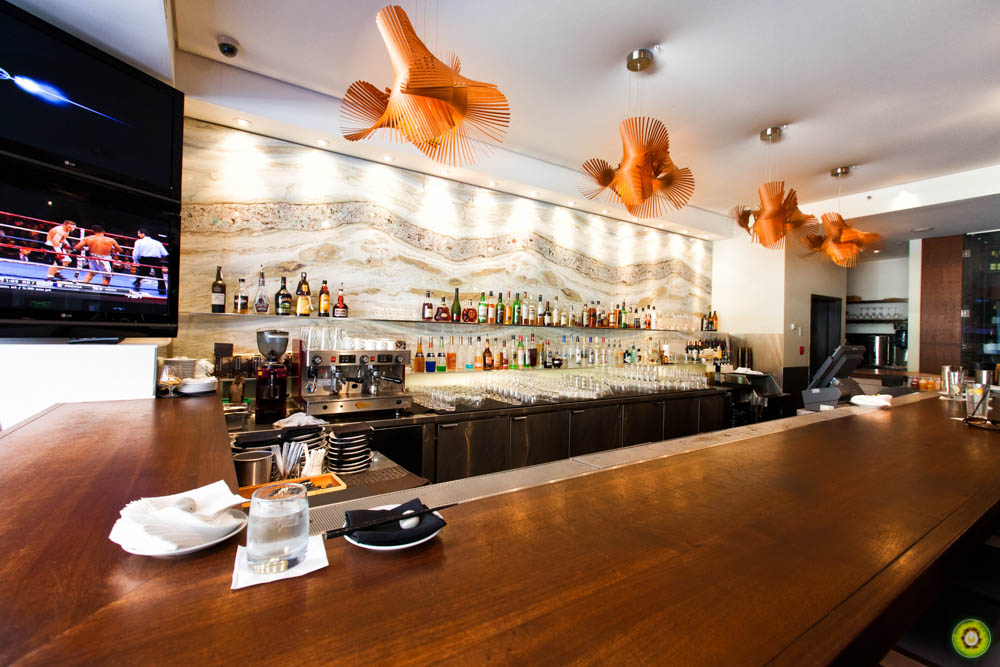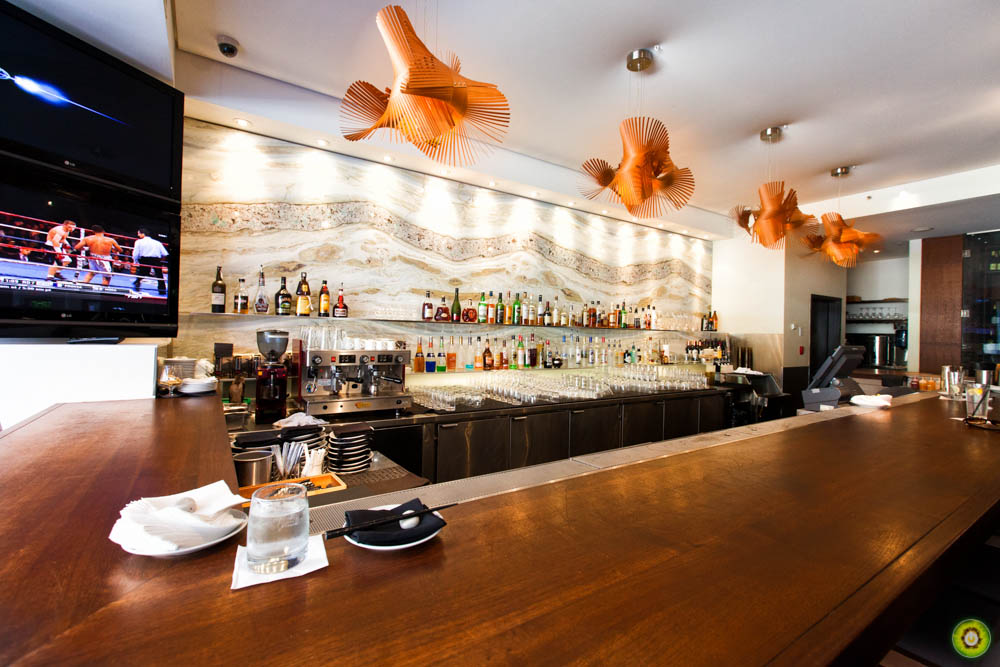 I sat at the corner of the bar because I wanted more natural light for my photos. Although I went around 1PM, it wasn't that busy so I pretty much had the entire counter to myself.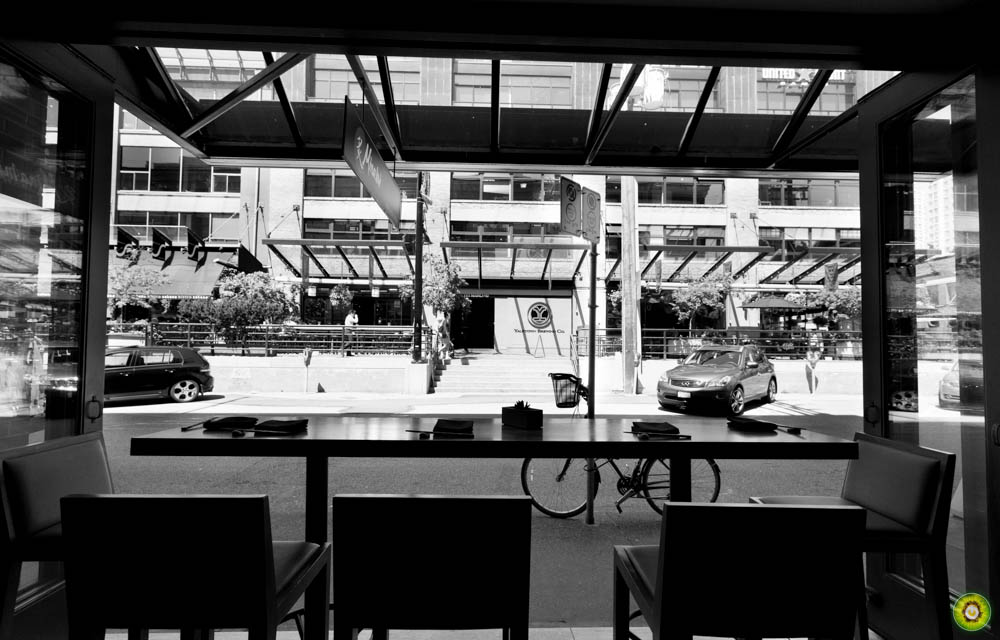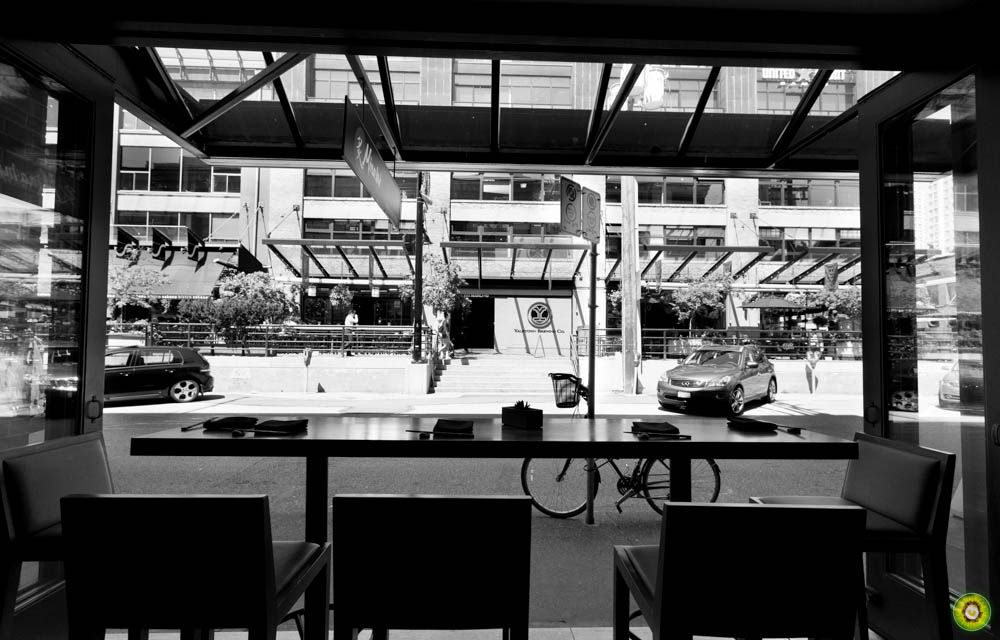 They opened up the sliding doors in the front, and the fresh air flowed in. While it can be nice to gaze outside during lunch, I can't imagine myself eating there with people walking past me and actually able to physically reach me.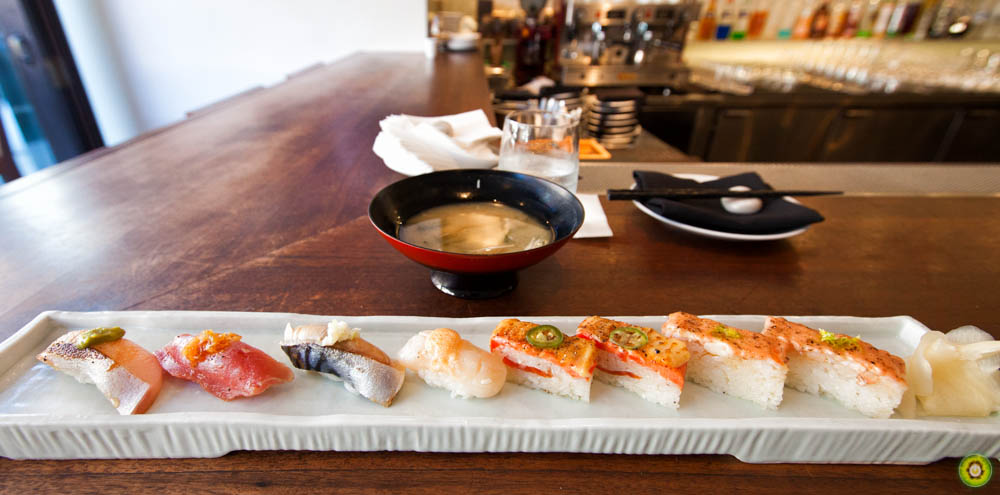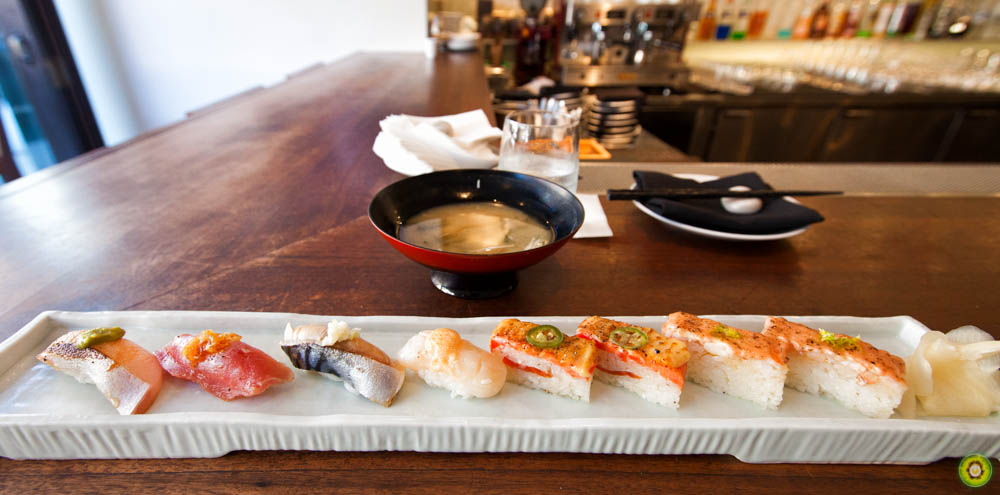 I ordered the Sushi Lunch Aburi ($18), which was a selection of Aburi, roll and oshi sushi. I think that the array of fish switch up every so often, but there are some staples like the Aburi Salmon and Ebi (shrimp).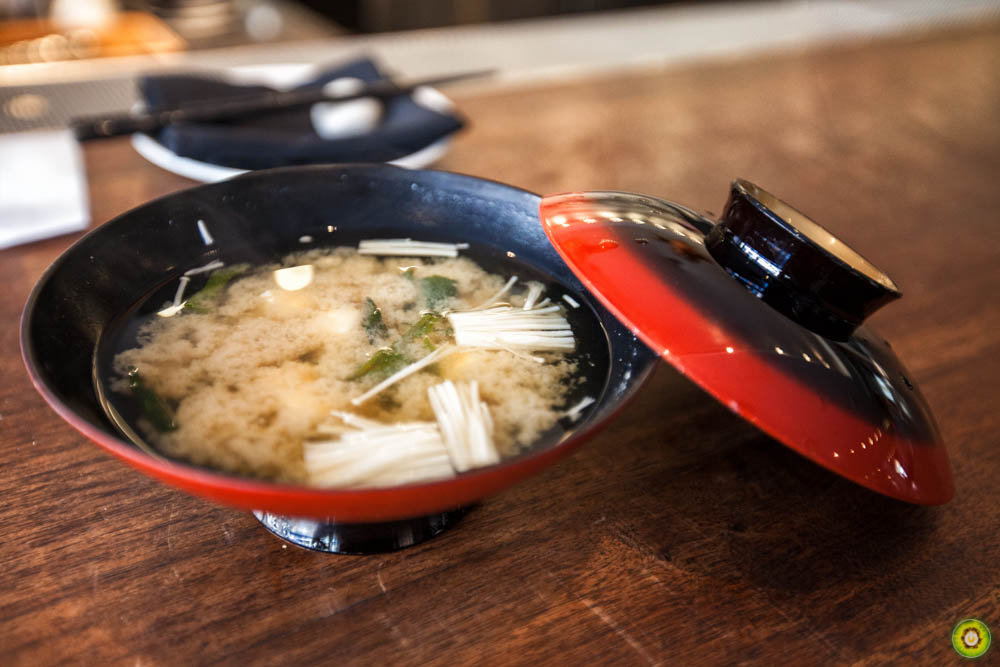 My meal was accompanied by a sizeable bowl of Miso Soup, which I really enjoyed because there were bunches of chewy enoki mushrooms! When you eat enoki, everything's okie dokie! The standard seaweed and tofu were in the flavourful soup as well.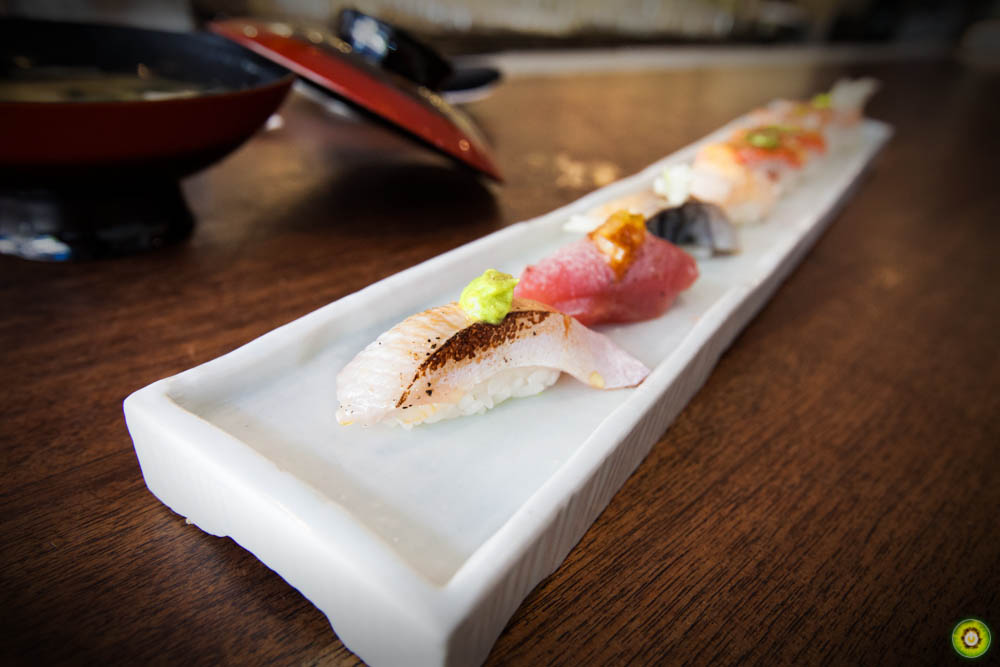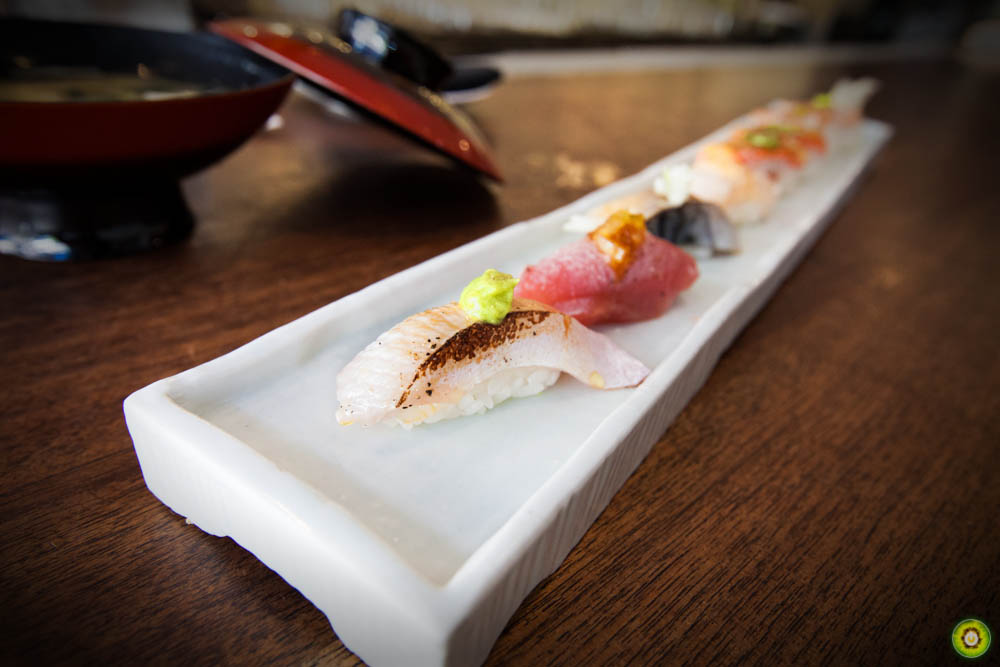 I just installed a new photo-editing program, recommended by Alvin, so I wanted to play with the effects. Let me know if you like 'em or hate 'em :)  All of the photos in this post are edited with that program.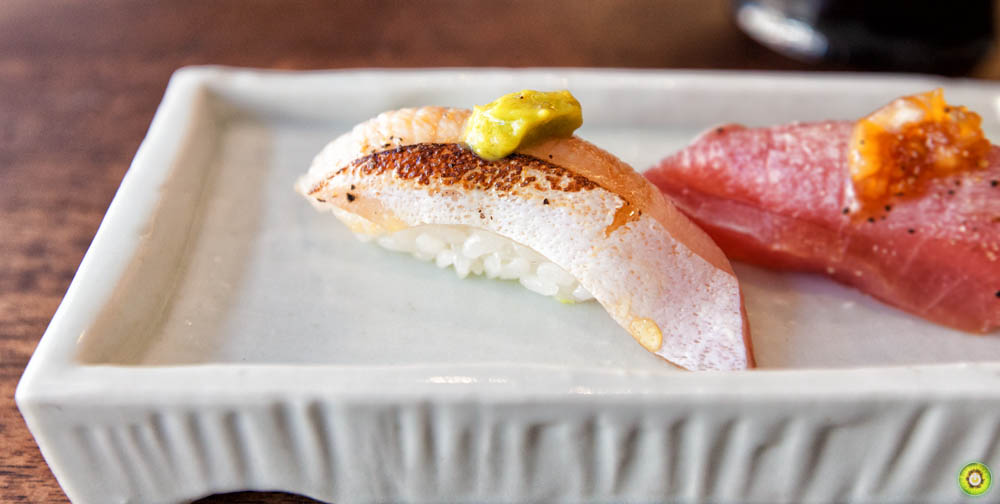 Let's start from left side of the plate to the right, even though I ate in a chaotic zig-zag fashion. The Aburi Hamachi (yellowtail) was topped with avocado sauce. The fish itself was very mild in flavour, yet there were notes of lime that brightened up the sushi.
The server was really knowledgeable about the menu and kindly explained the entire dish to me. Little did he know, I have the memory span of a goldfish… I should've just recorded him talking =.=
Anyway, I only mentioned that because 1) that guy was awesome! 2) I don't remember what the topping for the Red Tuna was :P At the very least, I can confirm that it was slightly sweet.
Like the hamachi, the fish was quite mild, but also incredibly tender! If I had dentures, I could take them out and actually be able to eat this!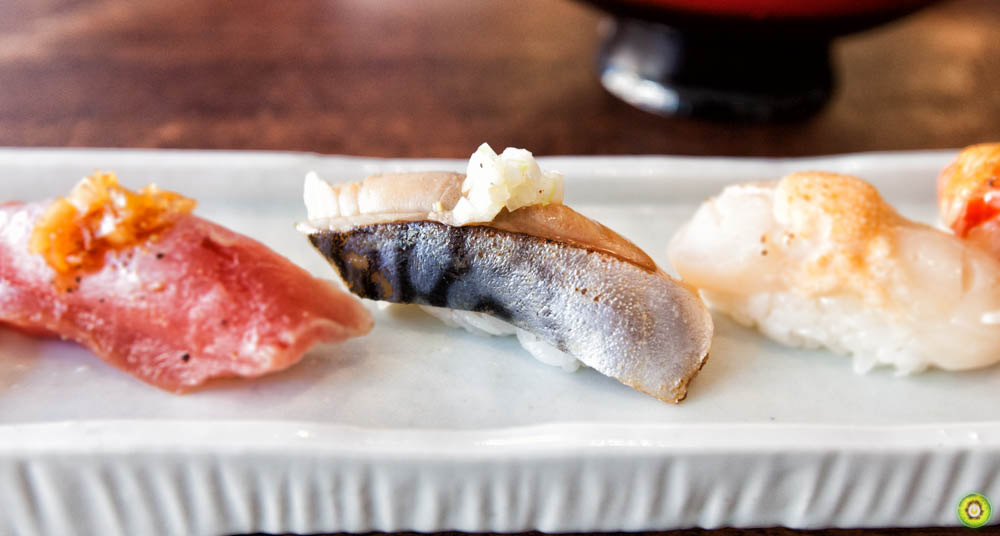 The Aburi Saba (mackerel) was one of my favourites. Topped with an onion sauce, it has a firmer texture and a nice salt level. My favourite characteristic of this fish was its oiliness. It's just so fitting to torch a fattier fish since the oil glazes the palette with great flavour.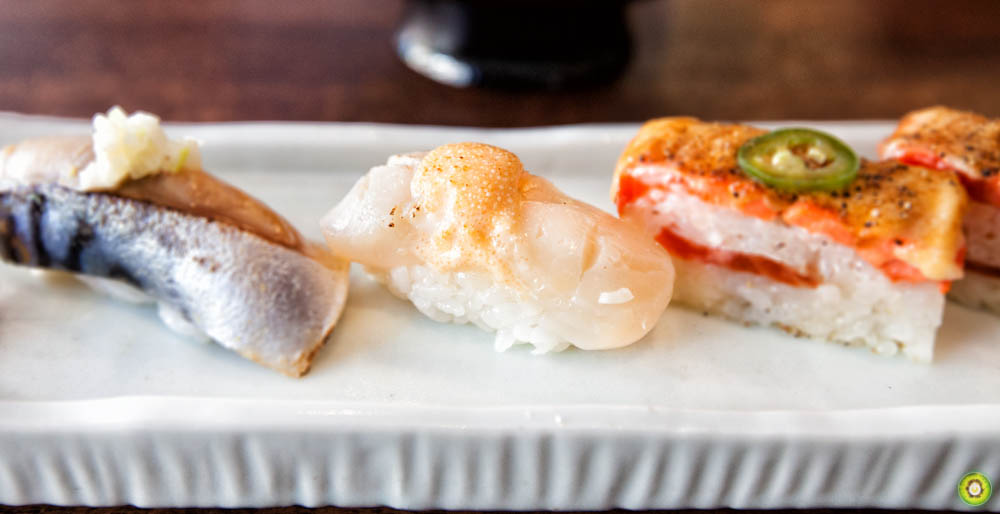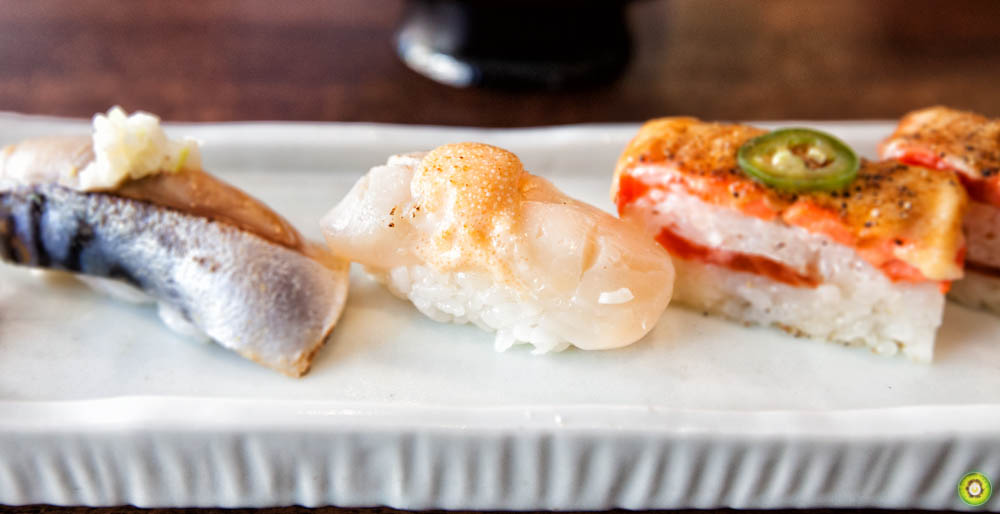 The Aburi Hotate (scallop) was topped with cod-roe mayo. It had a creamy mouthfeel that's punctuated with spikes of wasabi spice.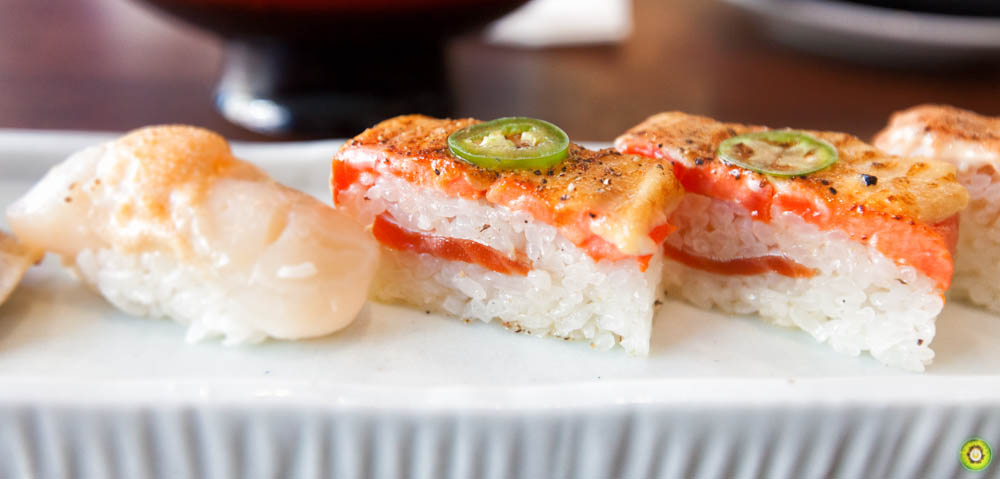 This is probably why you're reading this post to begin with: the Aburi Salmon! I've heard so much about this simple piece of sushi… to realize that it's far from simple.
The creamy Miku sauce just provided layers and layers of flavour! At one point, it sorta reminded me of those cheese-filled oysters that are baked. And the jalapeño? A-mazing! It really does add another dimension of flavour. Naturally, this was another one of my favourites!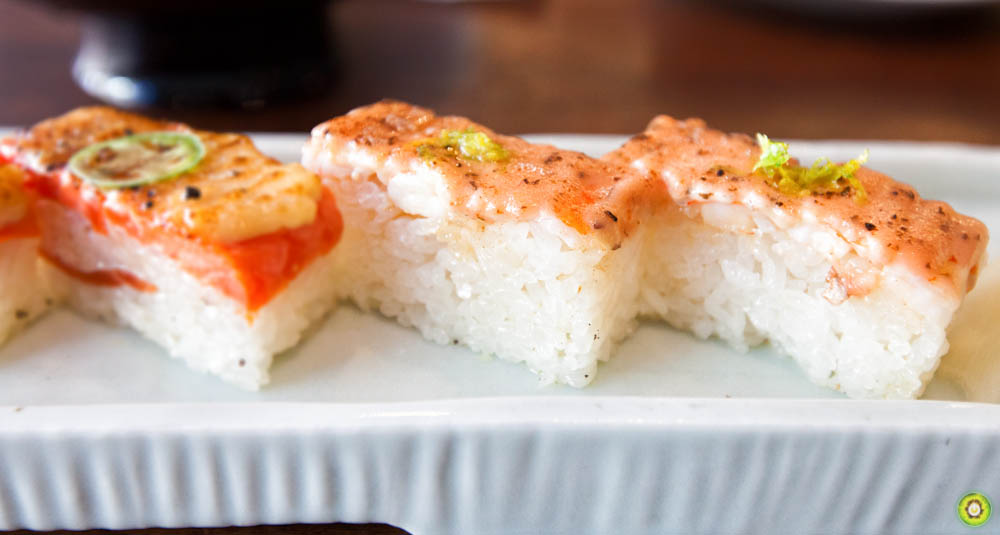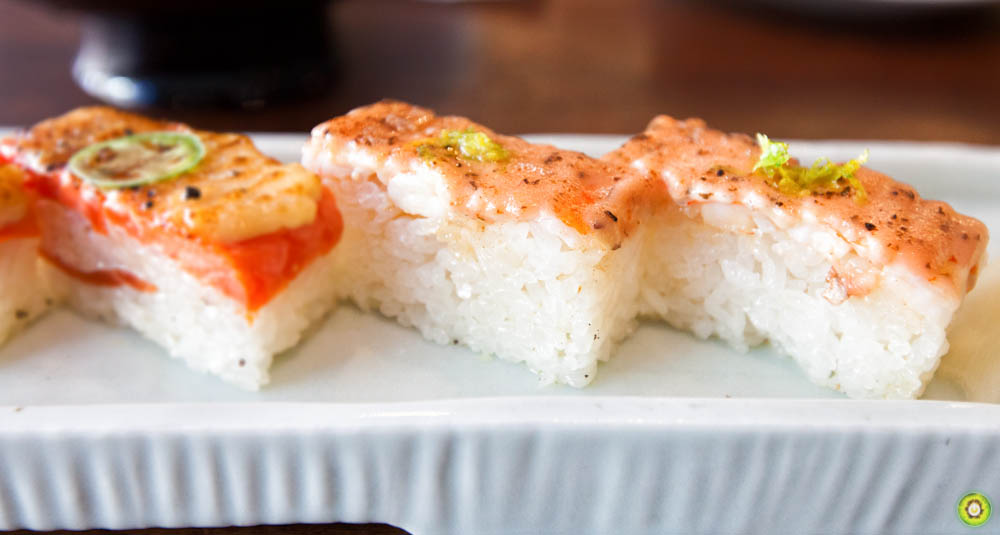 Last but certainly not least, I had the Aburi Ebi, topped with lime zest and ume sauce. Again, lots of intermingling of flavours: amazing contrast between acidity and savouriness with hints of ginger.
This was my definite favourite of all!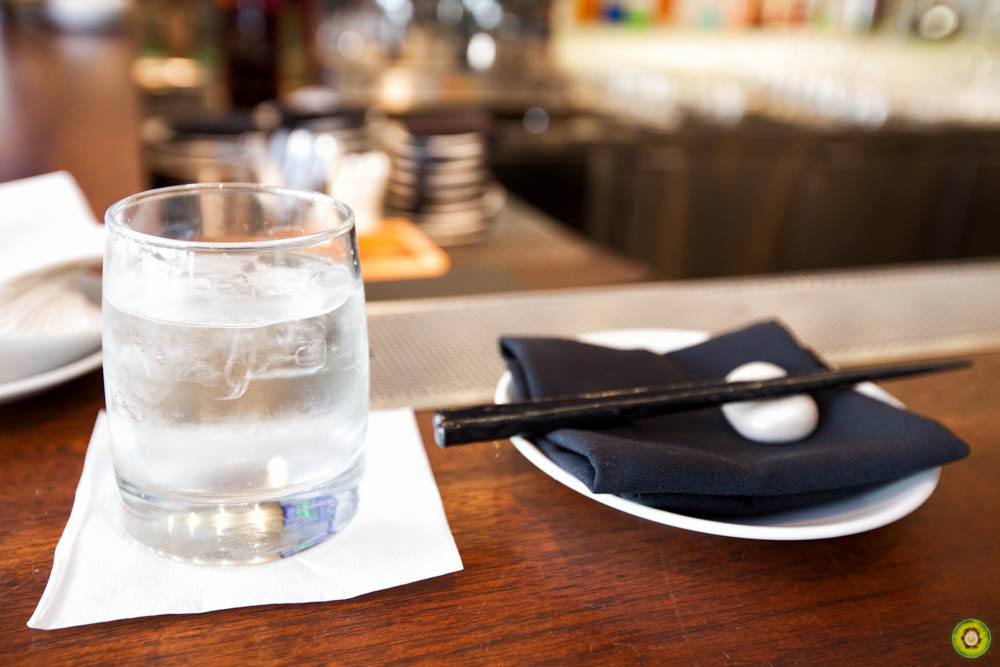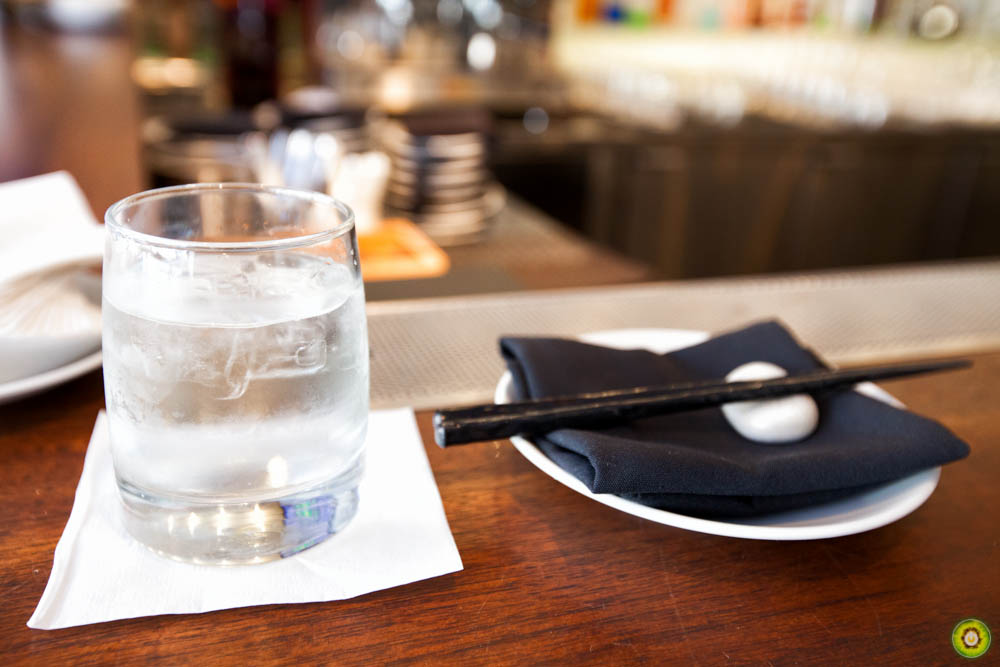 Eating at Minami, I knew that I had to dine slowly to truly appreciate all of the tiny details that made everything outstanding. I went full turtle mode! As I was slowly chewing and salivating, I felt like I was in that Ratatouille scene when Remy experienced food as colours and shapes.
Final Bytes
Let's face it – it's pricey, but worth experiencing!
Patio's now open for the summer
There's a couple of private rooms available for parties
Foodobyte's Rating

---