Today's NATIONAL ICE CREAM DAY! So, Joanne and I headed over to Marble Slab Creamery for some ice cream! Also, in the spirit of celebration, Marble Slab emailed me a "Buy One, Get One for $0.99" coupon that you can download below!
For all of those who aren't familiar with Marble Slab, it's an ice cream parlor where you pick your ice cream as well as "mixins" that they mush into your ice cream on top of a cold marble slab, hence its name. Mixins can vary from Oreos to gummy bears to Kit Kat bars! Every cone includes one mixin and additional mixins are $0.75 each. There's also ice cream milkshakes and ice cream cakes as well :)
Blueberry + Oreo! This is my absolute favourite combination! It's also the same pair that I ordered when I first tried out Marble Slab – I guess it's love at first sight? :)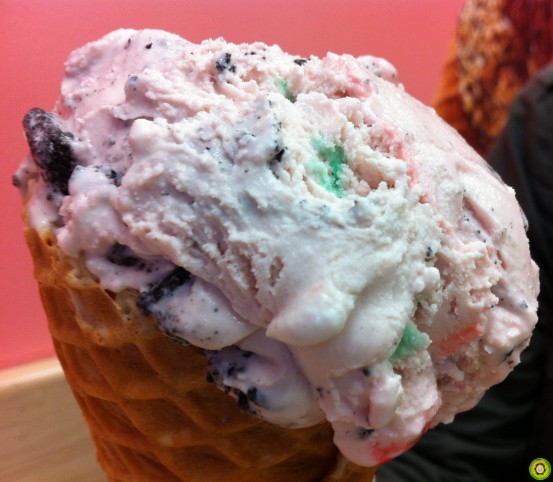 Peppermint + Oreo! Joanne didn't really enjoy this since it was overly pepperminty :P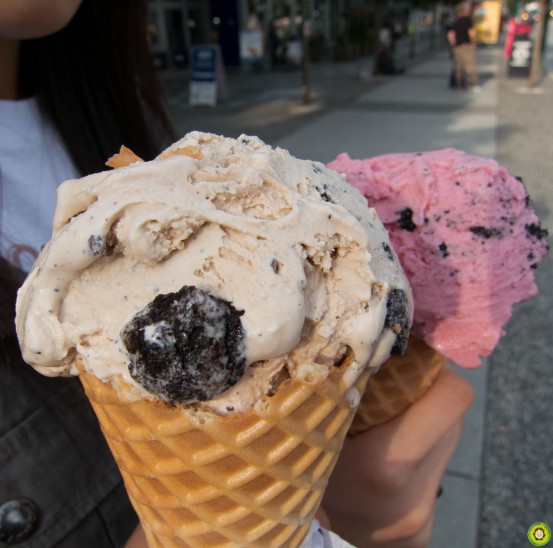 Coffee + Oreo! As you can see, I'm very attached to my Oreos! Coffee ranks second on my list of favourite flavours. It's light, yet still has a strong coffee flavour :)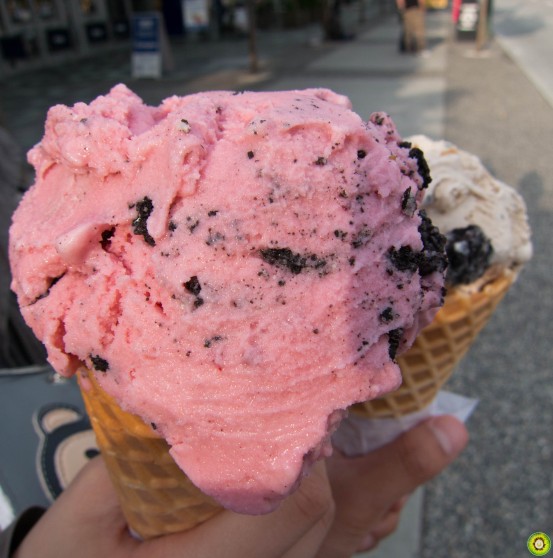 Low-Fat Mixed Berry Yogurt + Oreo! This is good for those who are looking for something less creamy and more acidic. It's not perfect, though, because it's still more like ice cream than yogurt! It was still pretty good flavour-wise :)
Marble Slab opens until 11PM so it's a great late-night place to spoil yourself with ice cream! Happy National Ice Cream Day!
Final Bytes
Ask to sample the flavours!
Convenient location, near the Broadway Canadaline Station!
Great restaurants around that you can have dinner at first!
Foodobyte's Rating

---