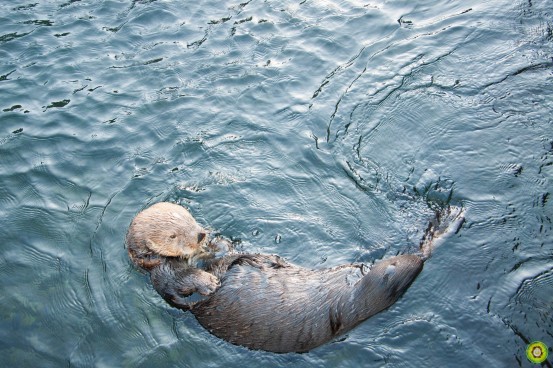 The Vancouver Aquarium had us depleted of all our food reserves since there's just so much to see! We saw lots of fish, ranging from the petite to the gianormous. And there were penguins, sloths, butterflies, stingrays… But, probably the highlight of our day was watching and aww-ing about Joanne's favourite animal, the sea otter! When we finally got around to leaving, it was 6:30 or so… and we were famished! With our empty stomachs, we walked up, down and side to side in the Robson/Denman area to look for some dinner!
After an arduous search, we settled on Ma Dang Goul.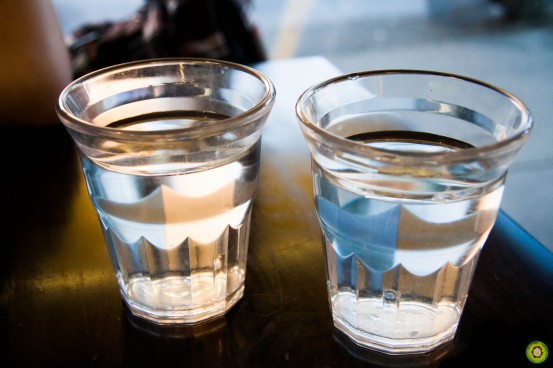 We were seated quickly near the front store windows. I wasn't particularly fond of this region of the restaurant because there were dead flies and bees along the base of the windows. This wasn't the best of first impressions. The entire restaurant seemed dated and dingy, which paralleled with its shabby plastic cups of tap water. At this point, I really hoped that the food would be so amazing that I wouldn't mind the insect carcasses.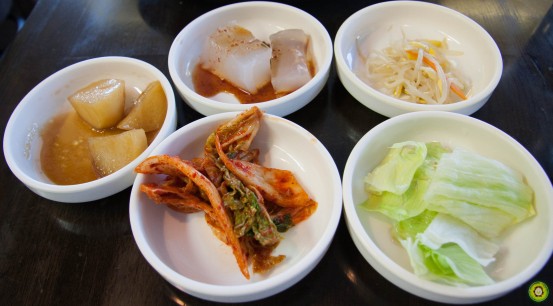 As usual, we were served a set of small appetizers. I really liked the kimchi, potatoes as well as the lettuce, which had a tangy dressing drizzled on top of it. The white, jelly-like dish was new to me; it sorta tasted like a Chinese dim sum rice roll.
However, it really bothered me how the appetizers arrived simultaneously with the entrees. Perhaps, I was especially annoyed because I was starving… Still, appetizers should be the first items to hit the table.
After minutes of deliberation, I ordered the Jehyook Dupbap ($8.95), which was grilled marinated pork served with rice. The presentation was simple, but it didn't really appeal to me. Nevertheless, it was very aromatic… I couldn't wait to dig in!
Bleh. That's the sound of the dish falling flat. I mean, it was okay… but really nothing spectacular. I thought that there was too little pork and too much oil – it felt like I was kissing a bar of Crisco. Flavour-wise, the dish was very one dimensional. Also, as I ate more and more, things became progressively saltier.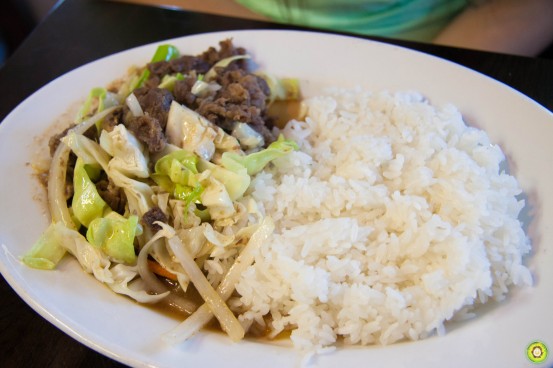 Joanne ordered the Bulgoki Dupbap ($8.95). Again, it didn't really wow either of us. Judging on the one bite that I took, it did much taste better than my dish, though!
I had high hopes for this place, but they crashed and burned as soon as I ate the first spoonful. Perhaps, I ordered the wrong dishes? Initially, I wanted to order the Korean Pancake, which Joanne raved about… but it costed $17, so we imagined it to be way too much food for just the two of us. Still and all, I don't think I'll be returning to try that dish.
Final Bytes
You can ask for free refills on the appies!
Half of the menu seemed to be catered to larger groups.
Joanne says the seafood pancake is good, so give that a try if you have enough people (or a really big appetite)!
Foodobyte's Rating

---