It comes as no surprise that the hit show Diners, Drive-ins & Dives has the ability to set any restaurant on the fast track to success. Jethro's Fine Grub has certainly reaped the benefits of being featured on Triple D's. With line-ups always outside its doors on Dunbar, Jethro's has been able to finally expand. Its new location is located along Fraser Street, near E19th Avenue.
Let's see if Jethro's is as good as Guy Fieri boasts…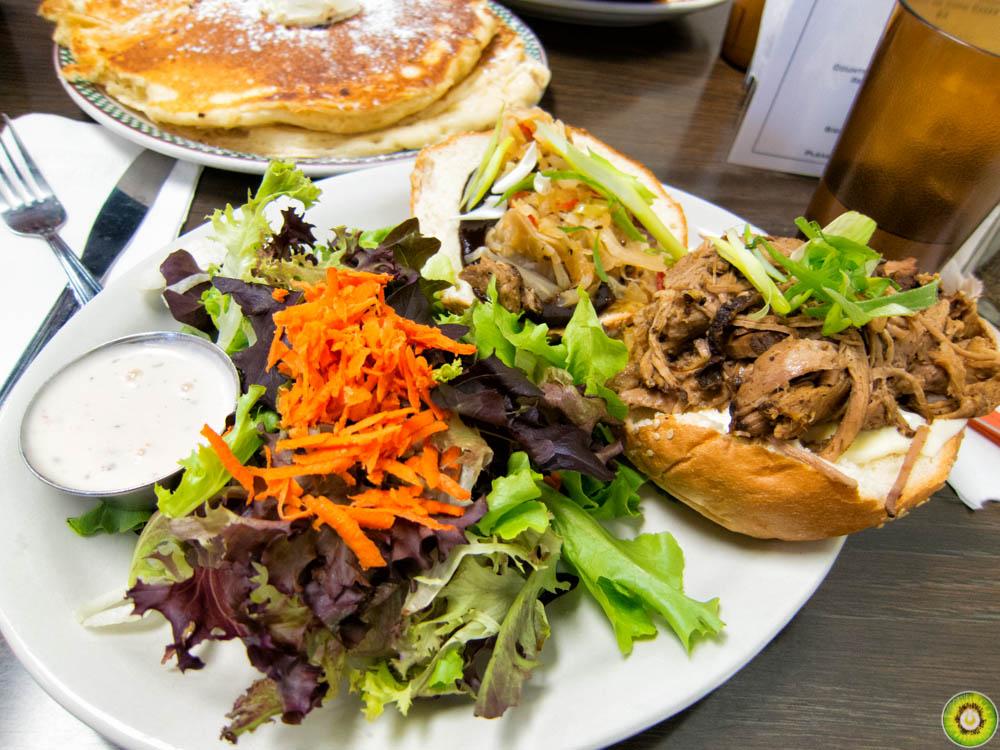 After 20 minutes of waiting (starting at 10:40AM), Shrimpo and I were finally seated. We browsed both the breakfast and lunch menu, and decided divvy up the Cowboy's Breakfast ($12), Pulled Pork Sandwich ($12) and a short stack of Buttermilk Pancakes ($5).
The Pulled Pork was okay-moist; I actually expected way better from Jethro's. Also, the pork heavily relied on the BBQ sauce for flavour as it was void of any itself.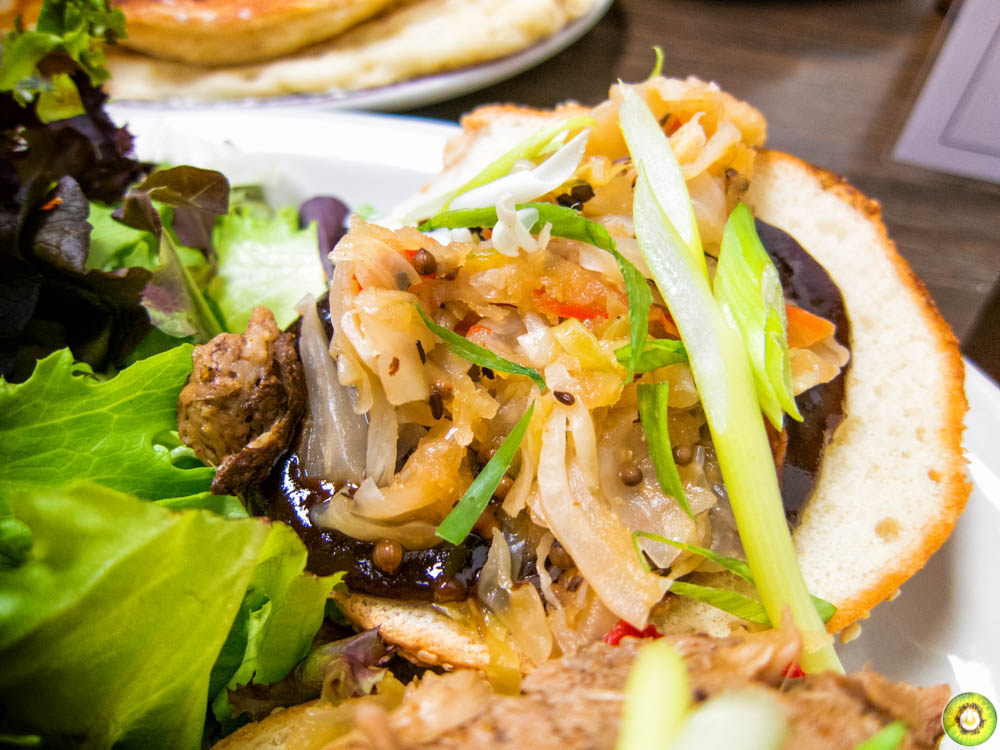 One of the main reasons that I picked this sandwich was the apple slaw topping. Neither Shrimpo or I could detect any… even visually, it's obvious that there was none. Consequently, there wasn't any acidity to cut through the savoury and sweet blanket of flavour that overtook my mouth.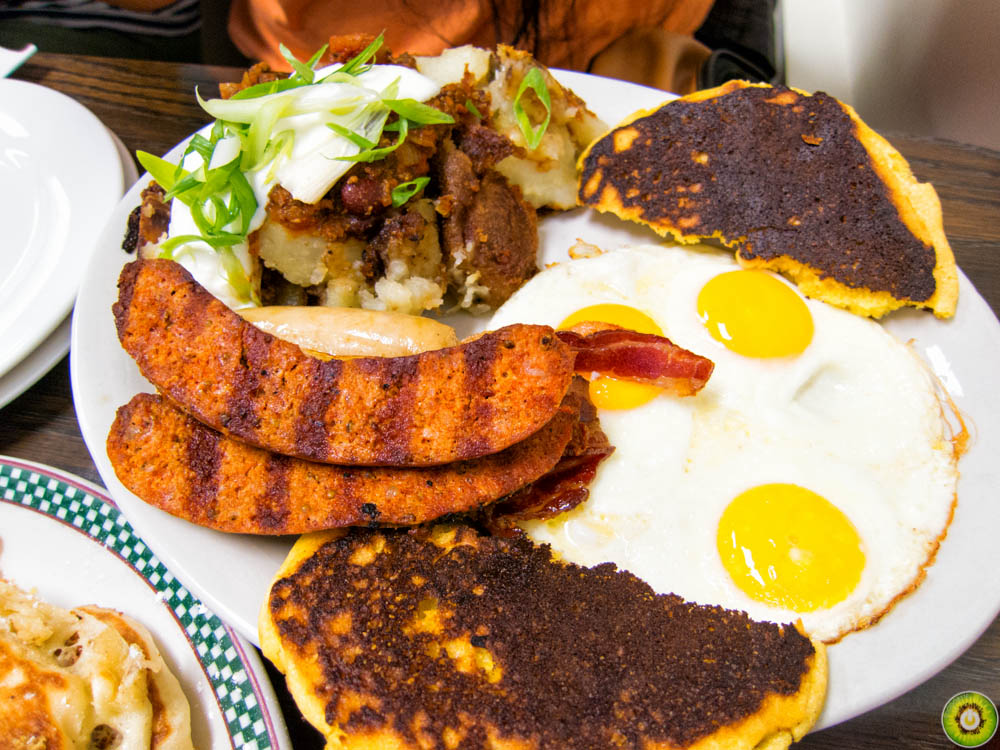 Since I picked the pulled pork, Shrimpo was left to decide on the breakfast dish, that being the Cowboy Breakfast. The dish had three eggs (any style), smoked bacon, sausage, grilled chorizo and chili smothered hash browns. It also comes with a couple of corn cakes.
Let's talk about the good things first. Hashbrowns were decent, thanks to the chili. Eggs were cooked well, except I don't think they'll appeal to everyone. For those who like runnier eggs, be sure to tell your server because ours were nearly cooked through.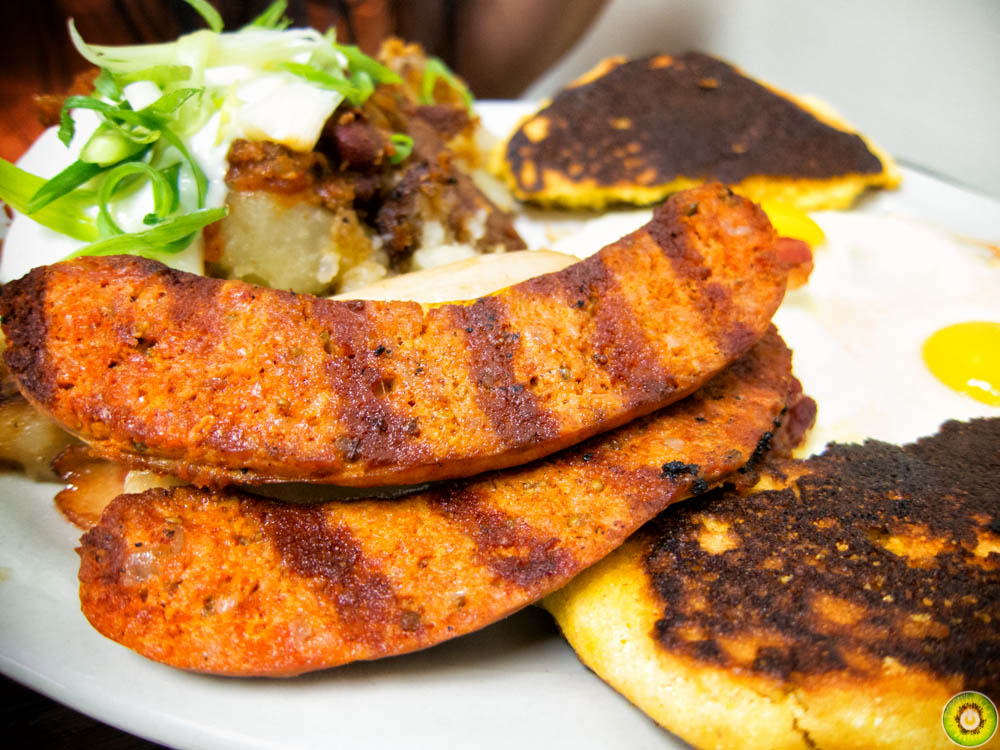 Now onto the bad…
Chorizo: dry like PLAY-DOH that's been left in the sun for five years.
Bacon: complete grease grenade. Not crispy at all. Left me feeling like bacon… fat.
Corn cakes: looked like it just escaped a building on fire. So black that it would've looked like an eclipse if thrown into the sky. Void of corn flavour, as well.
Sausage: hidden below chorizo, and rightfully so because it was a dynamite stick of oil. It's one of those breakfast sausages that you can find at Denny's.
Finally, there's the pancakes. Don't let the name fool you. Even though it's a "short stack," it's still fat stack! These were actually pretty good.
They were warm and fluffy. For $5, this was a killer deal. But is it worth the wait? Hardly.
To reiterate the title of this post, Jethro's is hyper-hyped! Sure, the portions are massive, but the quality just isn't there. Plus, there's always a line-up! Why wait for mediocre food?
Final Bytes
For now, Jethro's is CASH ONLY!
Expect to sit with strangers, unless you have 4 or more people. Not that I mind sitting with random people, I just prefer to have space to move… especially with these massive plates. I didn't have enough room to use my DSLR today.
Food is dropped off, and then you're left alone until you flag down servers.
Foodobyte's Rating

---