So I've been M.I.A. for a month now… and that's because I've been in a sugar-induced coma following my visit to Icy Bar with the ChineseBites crew. I've finally awoken, and ready to share my sweet sweet tale.
Icy Bar is a shaved ice dessert shop, offering customizable canoes of ice and toppings. Some of my favourite toppings are coconut jelly, grass jelly, pudding, strawberry, and chendol (no clue what these are, but they're green jelly wormy thingies that are awesome).
Other toppings include: basil seeds, green bean, barley, taro, black rice, red bean, peanut, beans, mochi (green tea, mango, taro, original), jelly (lemon, mix, almond), tapioca, pudding, watermelon, lychee, cantaloupe, pineapple, honey dew, mango and lychee poppers, coconut milk, mango and strawberry puree.
Yes, there are lots.
The first dish was the Traditional Eight Mix Icy ($10). Like the name indicates, it's a mix of eight different toppings. This one had a whole bunch of fruit, poppers, mochi and ice cream. I like shaved ice desserts because the ice balances out the sweetness of the overall dish.
Never have I seen beans (other than red or green) incorporated into a dessert. High fibre, high protein – this dessert must be healthy right? :D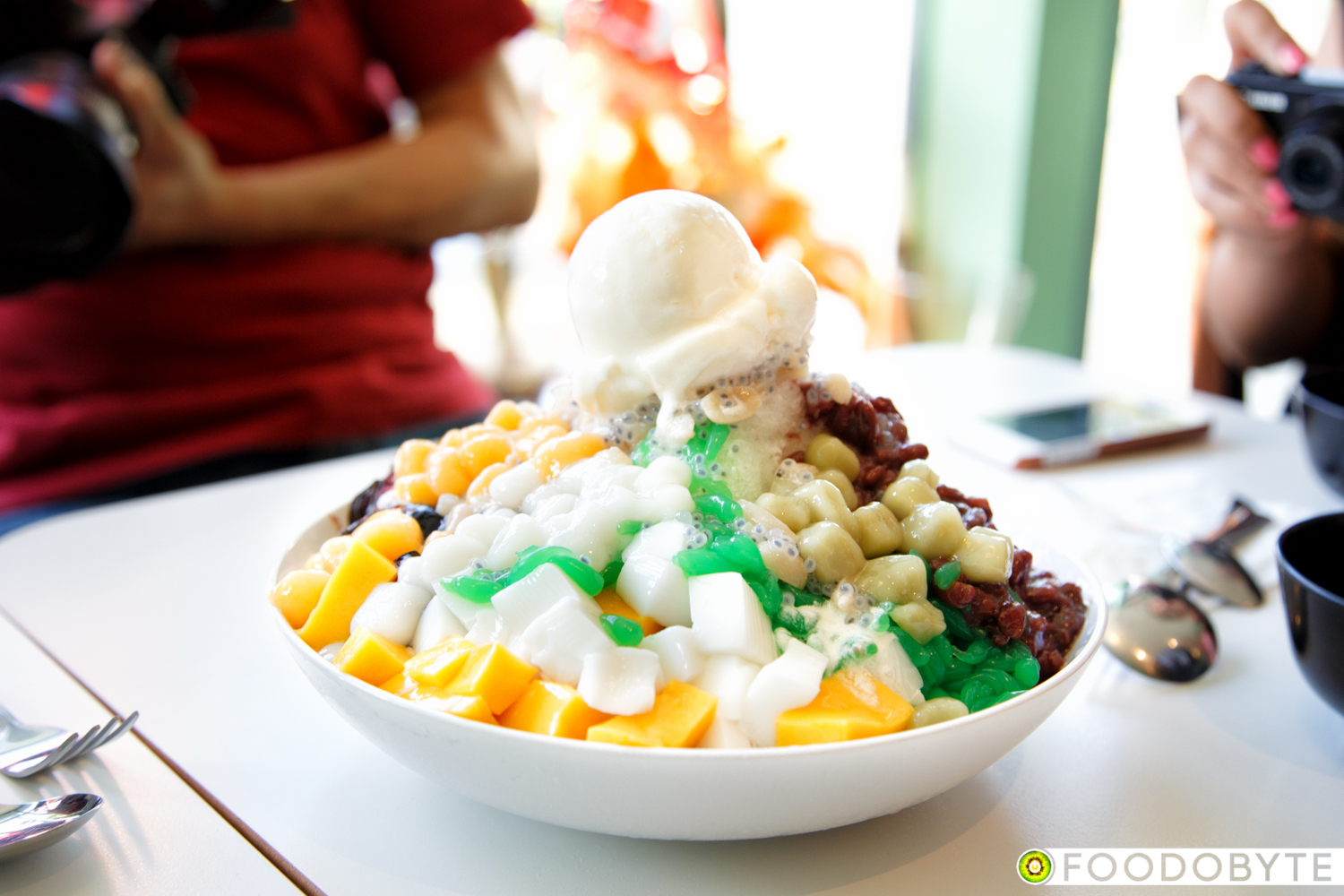 The radioactive green wormy things are the chendol I was referring to earlier! Yummahhhhhh :)
The Mango Ice Cream Mochi Ice Cream ($10) looked like a mango volcano erupted with puree and chunks of mango and mochi flying everywhere, crushing civilians with its deliciousness.
Imagine the mango volcano, but with shooting strawberries crashing into earth after busting through the atmosphere. That would be the Strawberry Mango Ice Cream Icy ($10).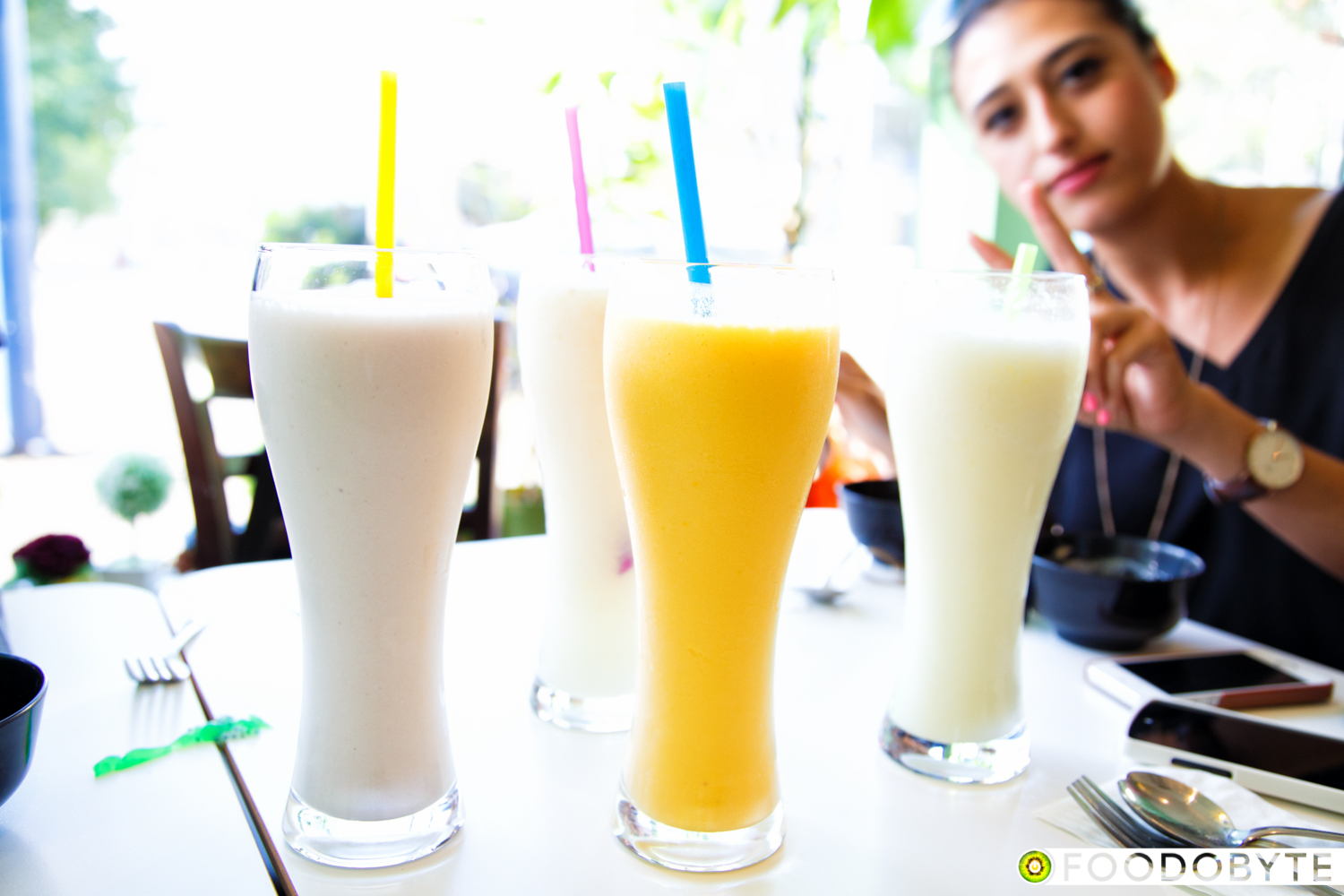 What's an asian dessert shop without bubble tea and slushies?! Notably, they have a fresh durian bubble tea. Survey your friends if they love durian – if there's a conflict of interest, don't bring them LOL.
These apparently were called the Pancake Series. Seemed more like a crepe wrapping up whipping cream and a filling of strawberry, mango, DURIAN, or taro. Fun to look at, but I'd stick to the shaved ice.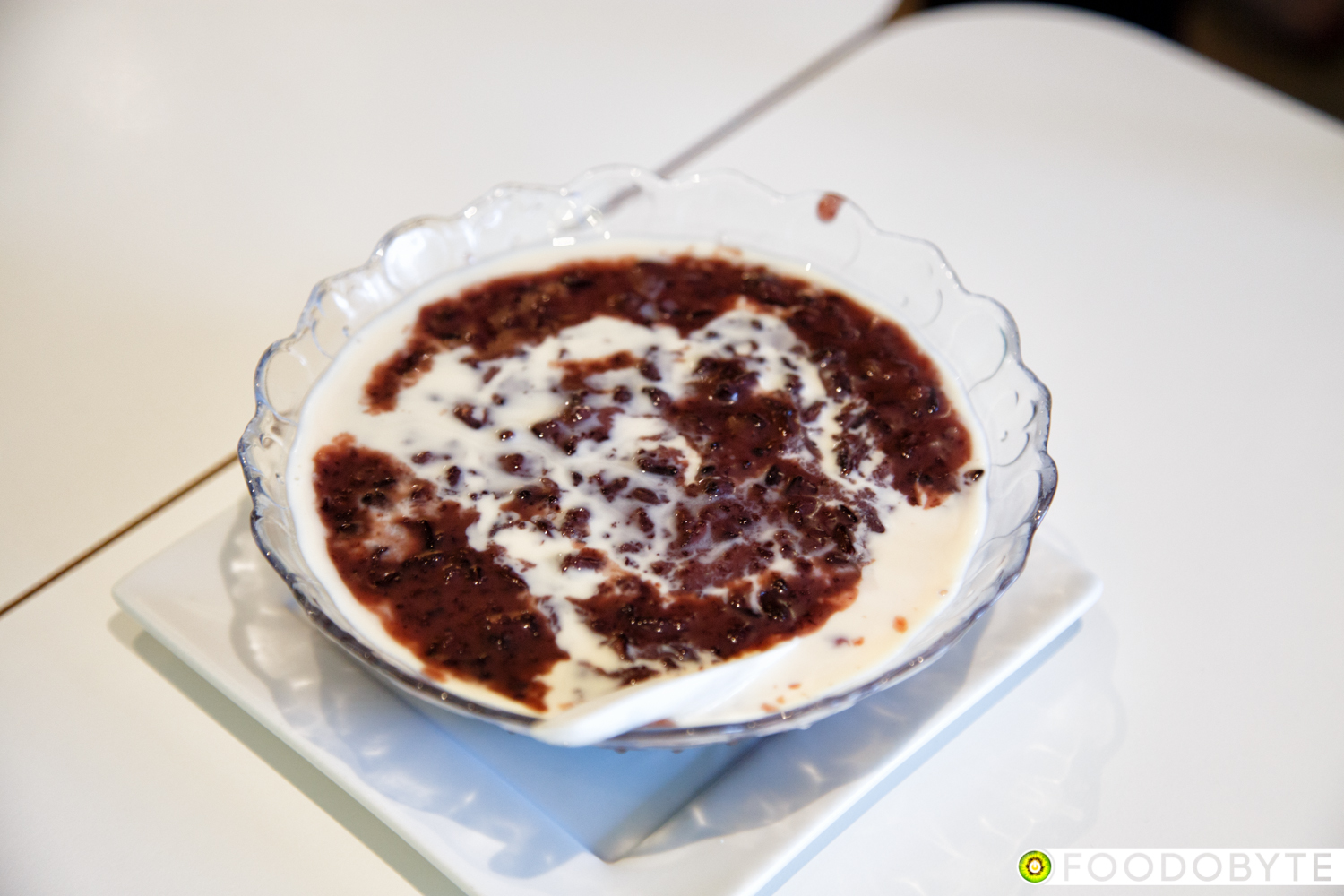 The Black Rice and Coconut Milk was served hot. Despite its presentation, it actually tasted pretty good.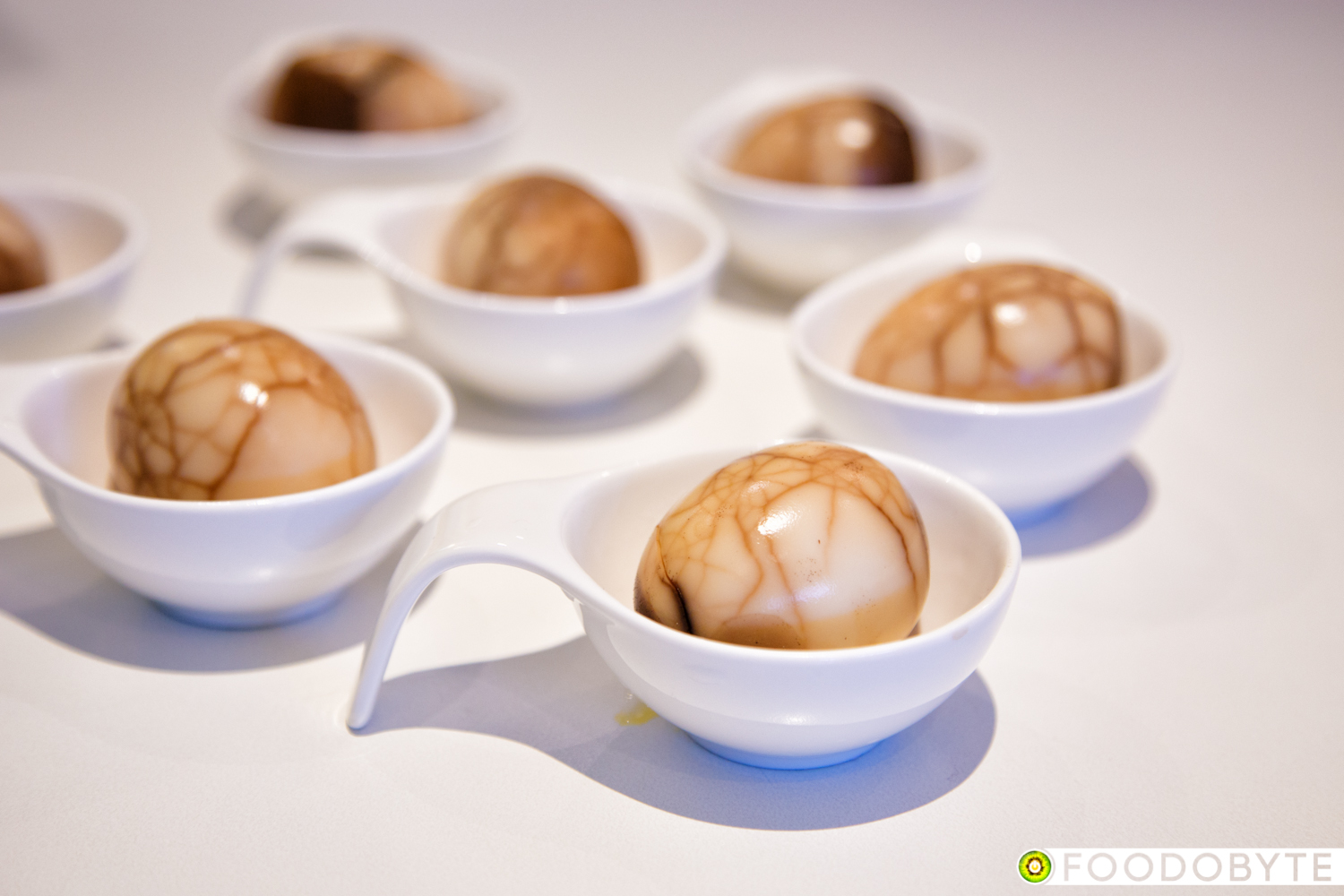 The Tea Egg was a marinated egg. It tasted more salty than tea-y.
Chocolate Honey Toast, aka Carb City. Ice cream melting its way down the sides of the crisp toast, melding with drizzles of chocolate and honey.
Never did pots of plants look so tasty. The Plant Pudding features five different flavours: original, durian, mango, oreo and tiramisu. I tried four out of the five (guess which one I left out). They were all quite good.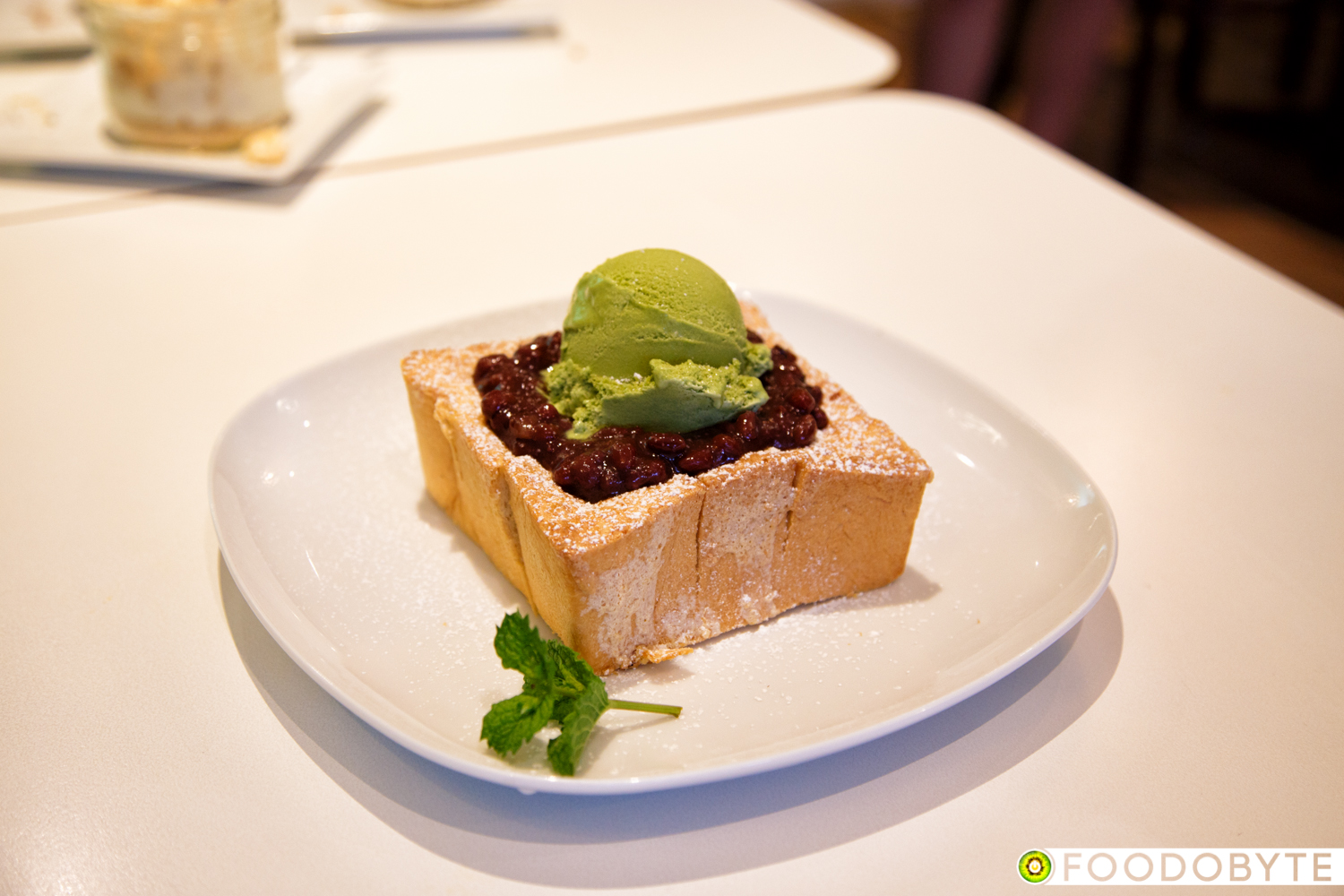 Thick toast just boggles my mind. For all my life, I've known toast to be 1-2 centrimetres thick. Now all the laws of physics have been broken, given the 2 inch-thick toast box filled with red bean and green tea ice cream.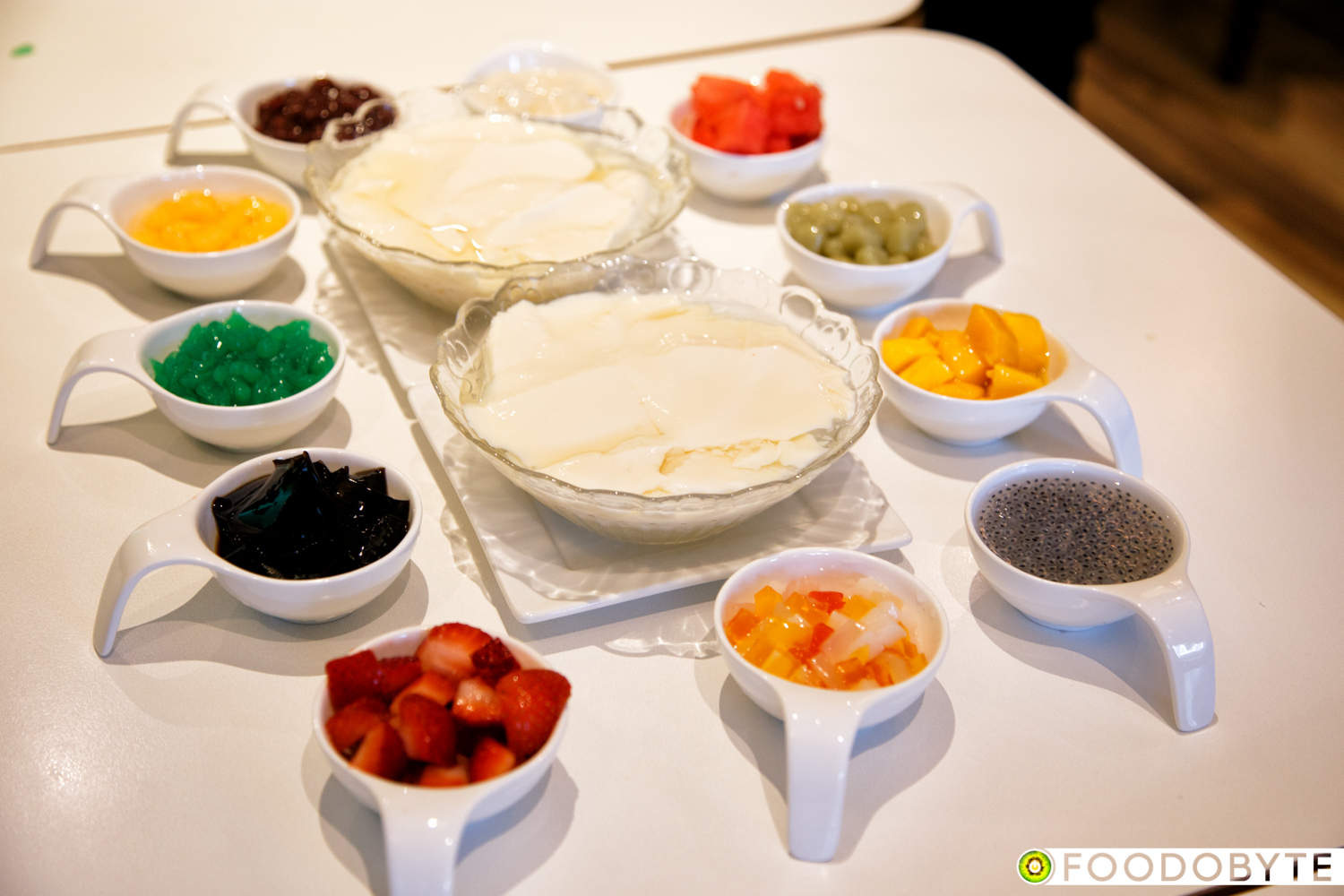 Similar to the shaved ice, the Tofu Pudding can be topped with whatever toppings you'd like.
DONE. So thankful for insulin.
Disclaimer: my meal was complementary, but all opinions are my own.
Foodobyte's Rating

---