Miku, Minami… and now there's Gyoza Bar + Ramen joining the restaurant family, conveniently located nearby the Waterfront Canadaline on West Pender. Food Queen and I decided hit up this newcomer on its second day of business. Not surprisingly, it was packed with people around 6PM, but I was a wee bit earlier than the rush that followed me. That's the difference between a 10-minute wait and a 30-minute one.
The restaurant extended far far into the back where the noodles and gyoza were made in-house. Its walls were a combination of wood and exposed brick – really beautiful set up.
Food Queen and I kicked off the dinner with some Fraser Valley Pork Teppan Gyoza. Gotta order gyoza if you're at a gyoza bar! They were textbook-awesome gyozes – crisp bottom, soft top and juicy filling. Having them served in an imono cast-iron pan was a badass bonus.
The gyoza also came with two delicious sauces: spicy rayu and emami garlic soy sauce. My favourite was definitely the spicy rayu as I am a spice fanatic. Nonetheless, both sauces definitely bumped the dish up a notch.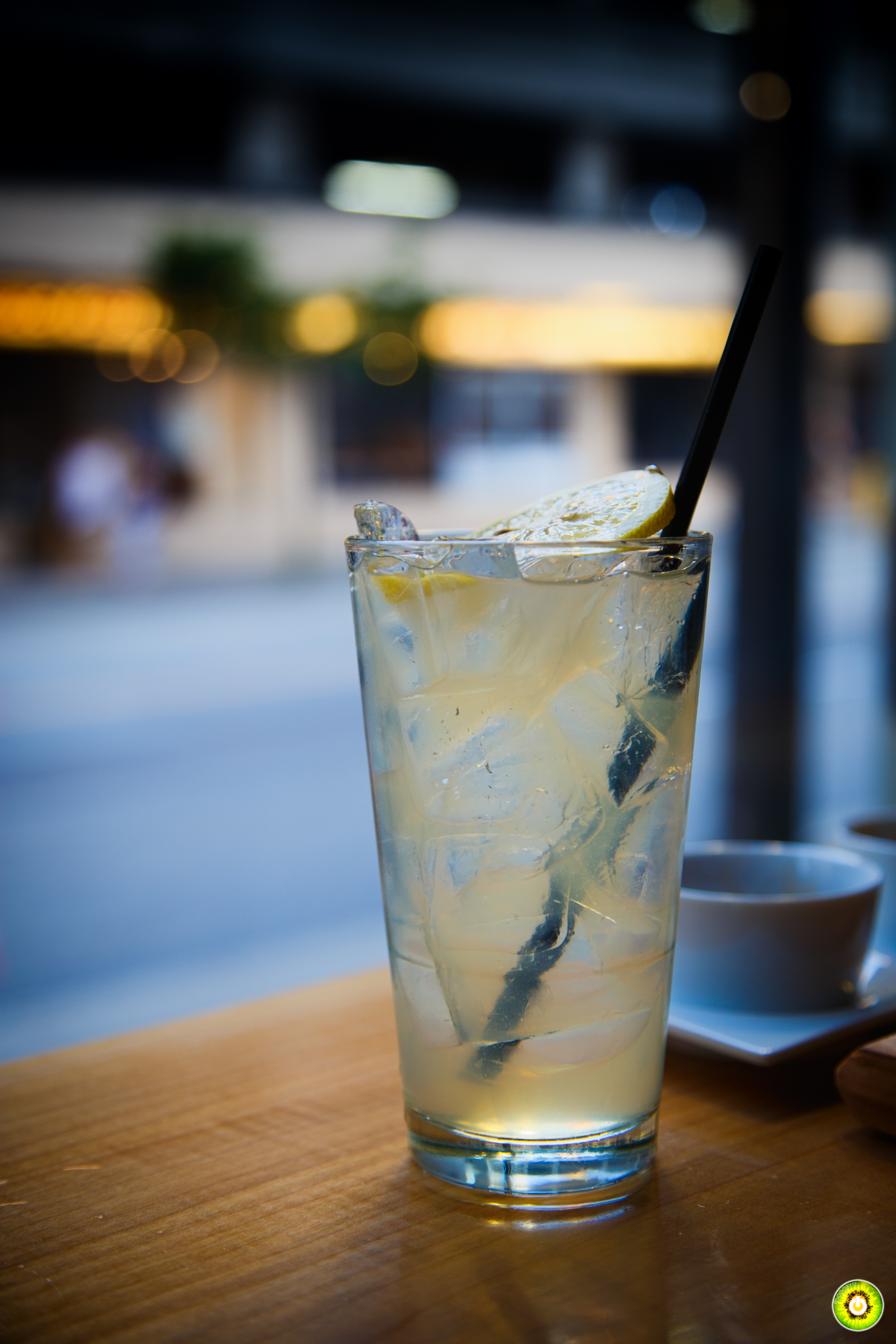 My friend Leon happened to work that night, so he fixed me up a specialty drink – the Gyoza Bar Mule. It's a alcoholic concoction of oyster-infused vodka, ginger beer, lime juice, house-made mango bitters and house-made pine nut syrup. I know what you're thinking… oyster. infused. vodka. whaaaat? Thankfully, the drink wasn't actually fishy; it tasted more of ginger and lime with strong punches of vodka.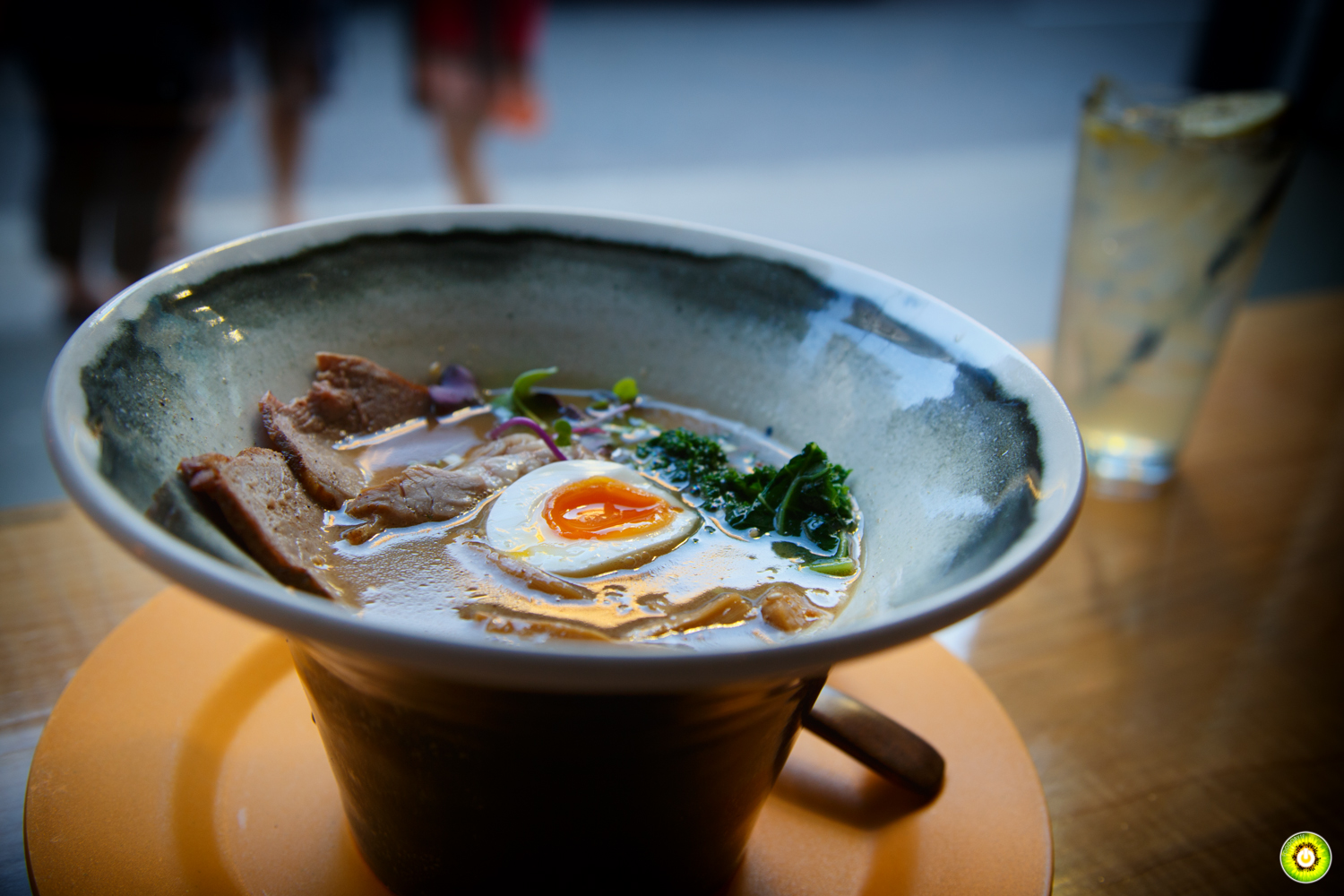 The gyoza was good and all, but I thought that the ramen was the real star. I ordered the Tamari-shoyu Tonkotsu and it was an instant hit. The first thing that I noticed was the incredible smoki- and aromaticness of the broth. Wow.
Tasting it was even better. Despite not using any MSG, the broth was so dang clean and flavourful. Gyoza Bar actually developed its own mixture of multiple soys, creating an incredible Soy Tare that brought out sweet, salty and earthy flavours. Unlike some other ramen joints, Gyoza Bar doesn't use pork knuckles and trotters to extract more flavour, as such ingredients tend make the broth murky.
The ramen was topped with a perfectly soft-boiled egg. As well, they added their own oil flavoured oils that served two purposes – insulate the soup and carry its flavour with the noodle.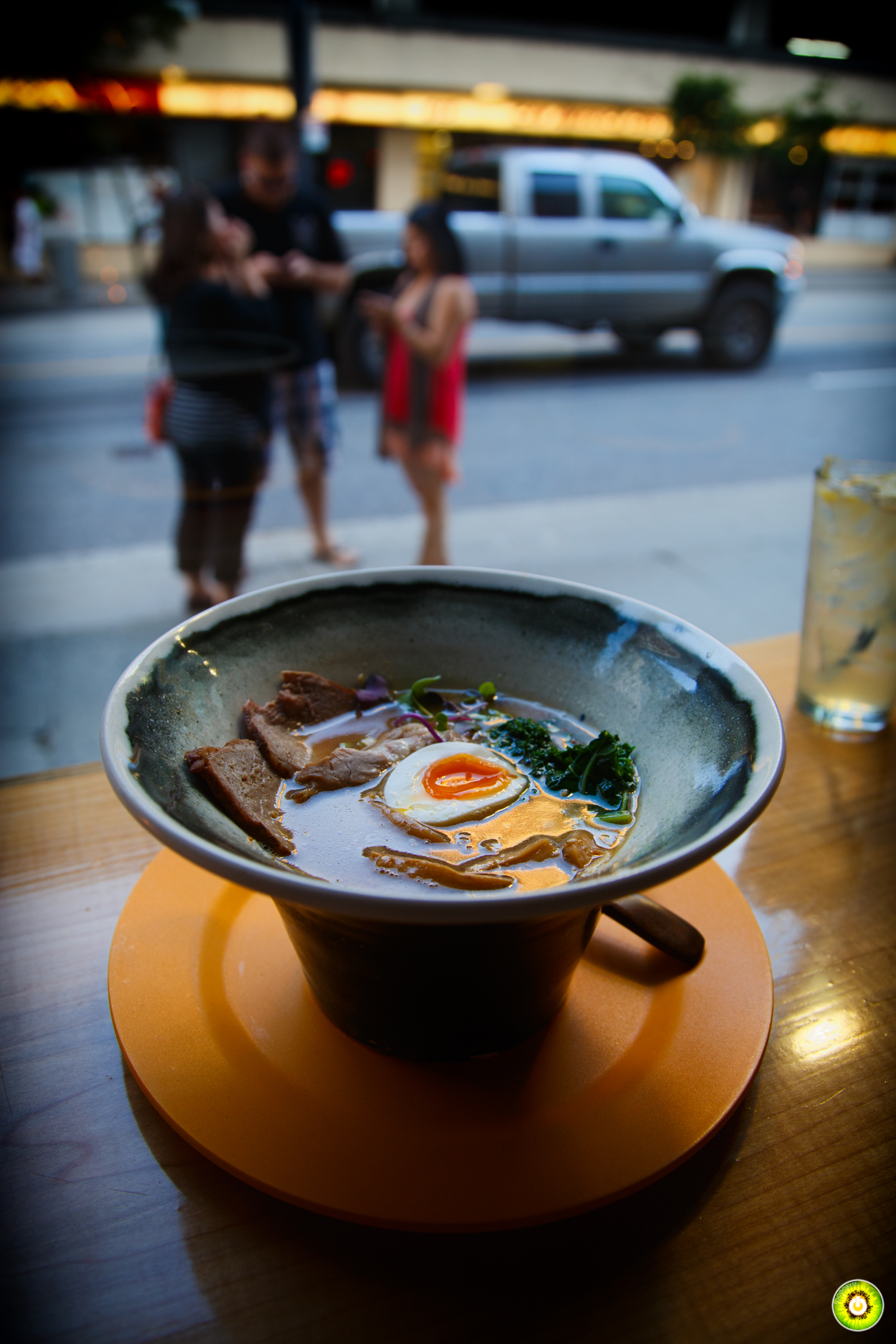 The ramen came in a cool upside-down-hat-looking bowl, which was custom-made in Vancouver. So it may look like very little food at first glance, but it was packed with noodles.
As mentioned before, the noodles were made in-house. They had a certain bite to it and tasted great with the broth.
However, the pork fell a little short as it was a little dry at times. As a result, my favourite pork is still Kintaro's.
The Food Queen ordered the Awase Triple Miso (vintage miso), which featured a free-range chicken broth. Instead of pork cha shu, it had chicken cha shu (but it was more like simple sliced chicken). It had a very prominent fermented flavour due to the miso.
Final Bytes
Probably the best ramen broth I've had so far
Reservations limited to parties of 7 or more
Open for both lunch and dinner
Foodobyte's Rating

---