It's a constant struggle to find good sushi that won't make my wallet implode due to the swirling money-blackhole in it. That's why I was really glad to stumble upon Green Leaf Sushi on the internet. Oh internet, how would we live without thee? Like cave people, that's how…
Getting ready for a hot night with your hot date? Better order the Hot Night Roll to set the mood! It's cucumber, avocado, crab meat and prawn tempura topped with spicy tuna and tobiko. Is that hot or what?! It tasted like a more interesting spicy tuna roll.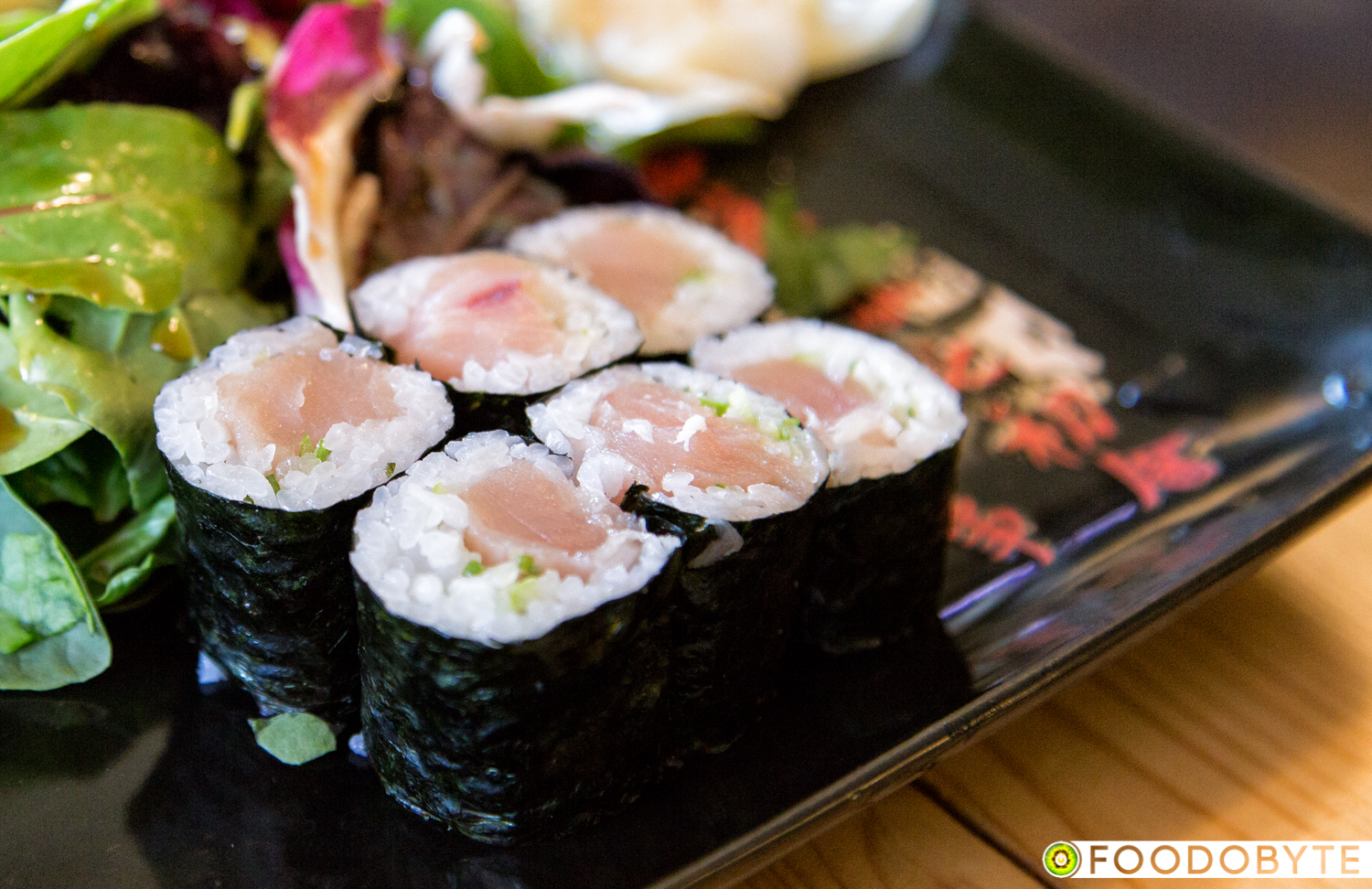 Sadly, the Negitoro Roll was very disappointing. It wasn't chopped up with green onion. Instead, it was left as a whole chunk with some green onion bits sprinkled with it. Therefore, it completely lacked vibrance and flavour.
Their sashimi made up for it though. Fresh and tastefully thick!
I completely forgot the name of this roll… but it has mango, so it'll be quite recognizable when you read the menu. Mango has always been a question mark to me. Does it really go with sushi? Yes. Yes, it does (in this case, anyway). It's a simple combination of mango and avocado, but it merged into some very interesting flavours. I would suggest trying it if you want a break from the usual riff raff. What's riff raff, you ask? I don't know… I just felt like saying it. I meant "typical sushi combinations" if you haven't already realized.
Green Leaf, despite having a very green-y healthy facade, deep fried their gyoza. Surprisingly, they were crunchy yet non-greasy! Although, I still prefer the pan-fried kind because deep frying makes it hard to eat more. And I like to eat more.
Beside the gyoza was the dynamite roll. Just the usual riff raff.
Final Bytes
Daily discounted combos
Brown rice for $1
Good sushi for good price
Foodobyte's Rating

---