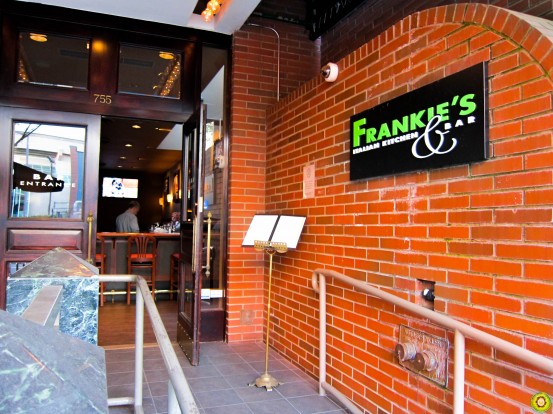 Joanne and I are always on the lookout for great Groupon deals for local restaurants, and we found one for Frankie's Italian Kitchen & Bar. They proudly serve the classic flavours of southern Italy, as well as some new dishes that draw its inspiration from modern Italian cuisine. As with every other Italian restaurant, Frankie aims to magnify the flavours of the simplest and freshest ingredients. Unfortunately, it seems that Frankie may have to refocus his lens because some dishes were a disaster.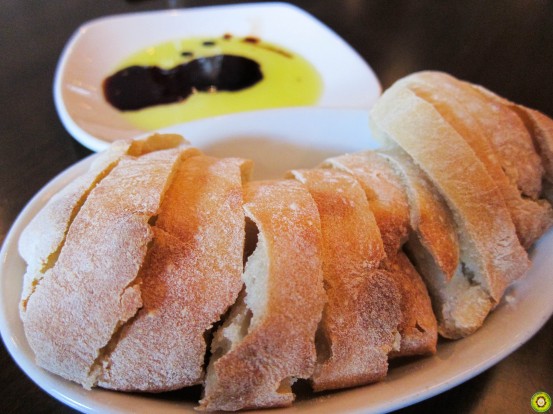 After placing our order, we received a plate of sliced bread w/ olive oil & balsamic vinegar. This was a first for me, and it tasted pretty good. Because of the balsamic vinegar, the olive oil didn't impart an unpleasant heavy flavour. Although, I didn't like the fact that the bread wasn't even a degree warmer than the room.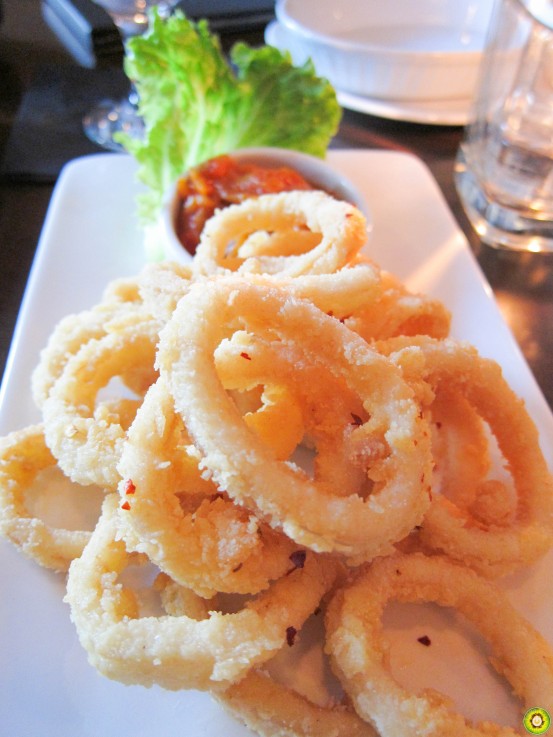 As an appetizer, we ordered Flash-fried Calamari ($12). As I just learned now, calamari is a Latin word that translates to "ink pot," referring to the black ink that squids shoots out. Anyway, flash-fried means that the calamari was dipped in extremely hot oil for a very short time. It's a great cooking method so that the calamari will not be soggy from soaking up all that oil.
I didn't particularly enjoy this dish because it was quite bland. The marinara sauce on the side made it a bit better, but it was still dismal at best.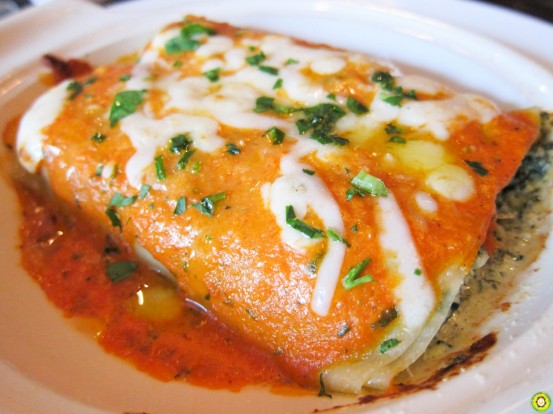 For one of our entrees, we ordered Chicken & Ricotta Cannelloni ($16): stuffed pasta with sliced chicken, ricotta cheese and sun-dried tomatoes topped with rosé sauce and asiago cheese. Oh my, where do I start with this excuse of an Italian dish. At first sight, it looks pretty delicious… there's nice vibrant colour and some melted cheese.
But let me ask you, have you ever tried the breast meat of Safeway's roasted chicken? Well, if you haven't, let me tell you that it's as dry as the hay the chicken slept on! And it was like Frankie stuffed their house-made cannelloni with Safeway's chicken breast. Also, it was unbelievably bland, even with all that cheese and sauce. This was the absolute worst dish of the night, without a doubt!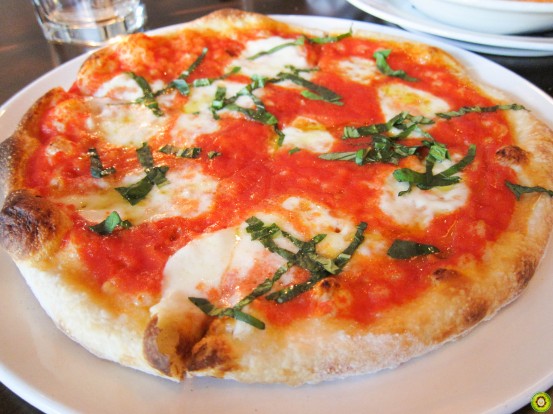 Frankie's isn't all bad though. This pizza was the shining beacon that would resurrect him from the cardboard food he served us. Ladies and gentlemen, I present to you the Margherita Pizza ($12).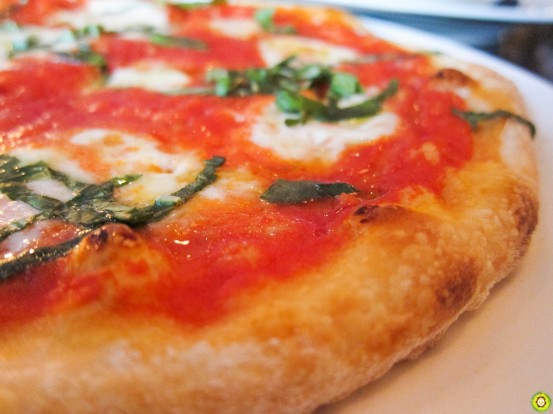 This pizza truly epitomizes Italian cooking: simple, fresh and flavourful. Many carnivores may be deterred by this meatless pizza, but they shant be fearful. It is only when a pizza is in its purest form, without the excessive clutter pepperoni and such, that a person can experience each and every flavour that the pizza transports to his tastebuds. The crust was phenomenal as well: thin and super crunchy without being overbearingly dry. This pizza was definitely the highlight of the meal!
Final Bytes
Great place for fresh and affordable pizza
Kinda on the pricey side for the food quality (except for the pizza)
Do you know what "Rigatoni Salccia" is? If not, I suggest you look up Frankie's menu online and Wikipedia it because there's plenty of Italian names besides spaghetti and lasagna!
Foodobyte's Rating

---