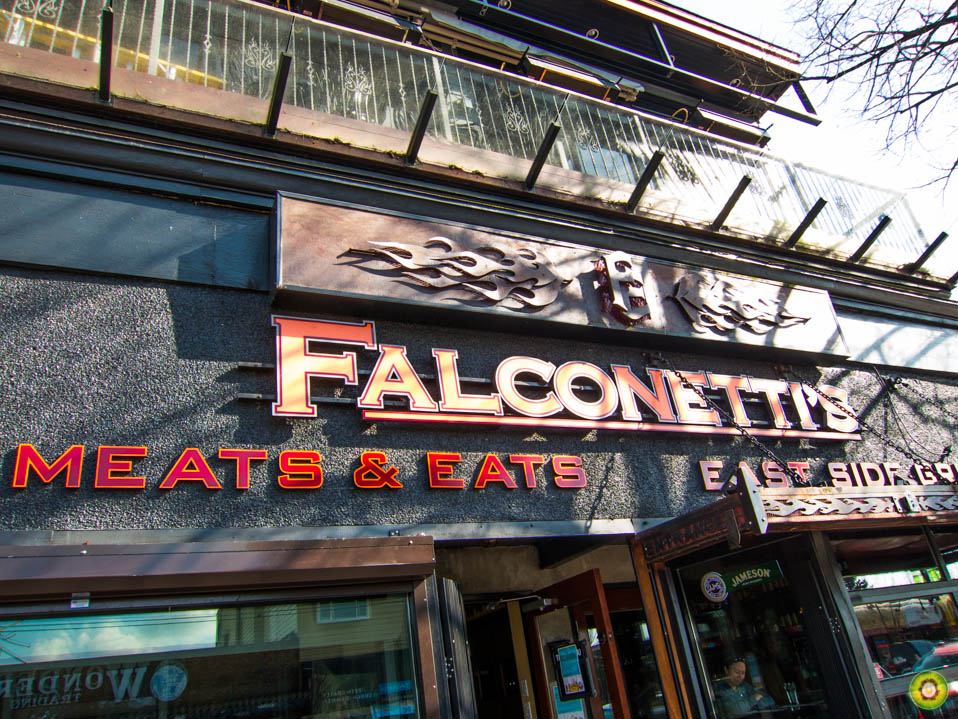 Sausages. I can't remember the last time when I actually ate one that wasn't made of miscellaneous grind meat! Thankfully, there's Falconetti's East Side Grill, which has teamed up with VANEATS to create the #FalconettisFix dining pass!
For $16, diners get:
A. Mini Poutine
B. Slow Smoked Pork Ribs
C. One of Falconetti's Famous Sausuages
D. Two 4oz glasses of Phillips Beer's Blue Buck
Since it's attached its own butchershop, Meats & Eats, Falconetti's proudly grills up gourmet sausages that are free of preservatives or fillers.  I accidentally walked into this shop, instead of the restaurant :P
Unlike other poutines, this Mini Poutine was made with thinly cut shoestring fries. Really crispy fries and great cheese curds. However, I found that the gravy got progressively too salty for me. The flavour sorta reminded me of hickory sticks.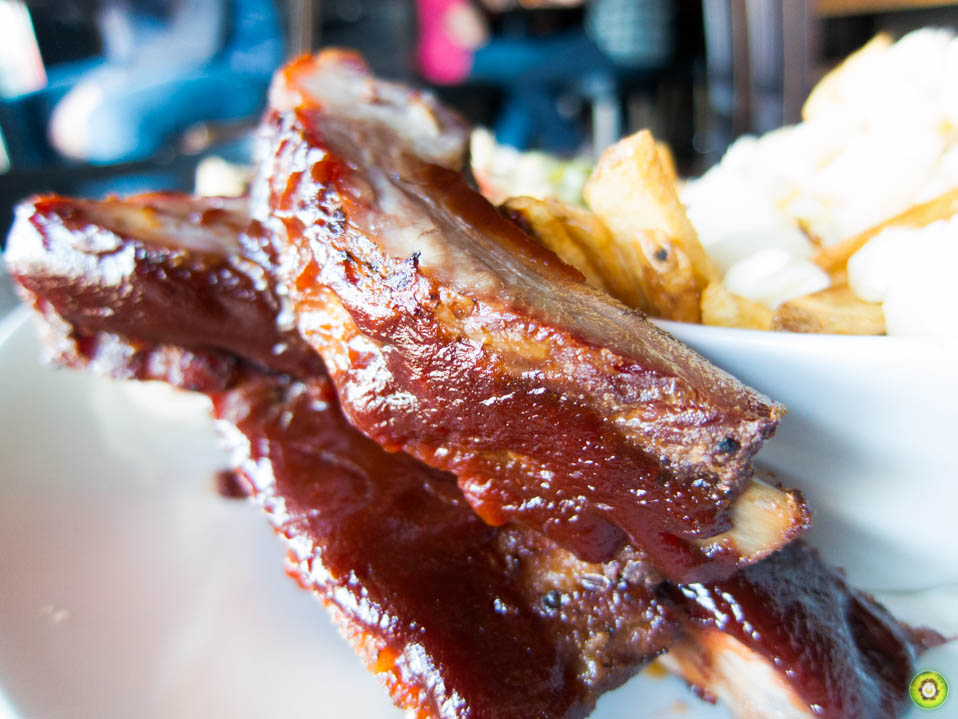 Slow Smoke Pork RIBSSS! Being slow smoked, they were tremendously tender. Better yet, as I chewed on, it didn't become complete mush. The simple tequila BBQ sauce had the perfect sweetness and tasted great.
Besides Japadog, I've never really had a specialty sausage. So I asked the waiter for his recommendation, and he suggested the Sweet Italian. It's made with hints of basil and fennel, dressed with artichoke dip and peppers.
The fennel was very prominent; just look at those seeds! And it was grilled perfectly: crisp casing, moist and NOT GREASY. The artichoke dip was very new to me… I've literally never ate artichoke before. I'm so glad Falconetti's provided my first encounter :) It was creamy & delicious, though slightly messy!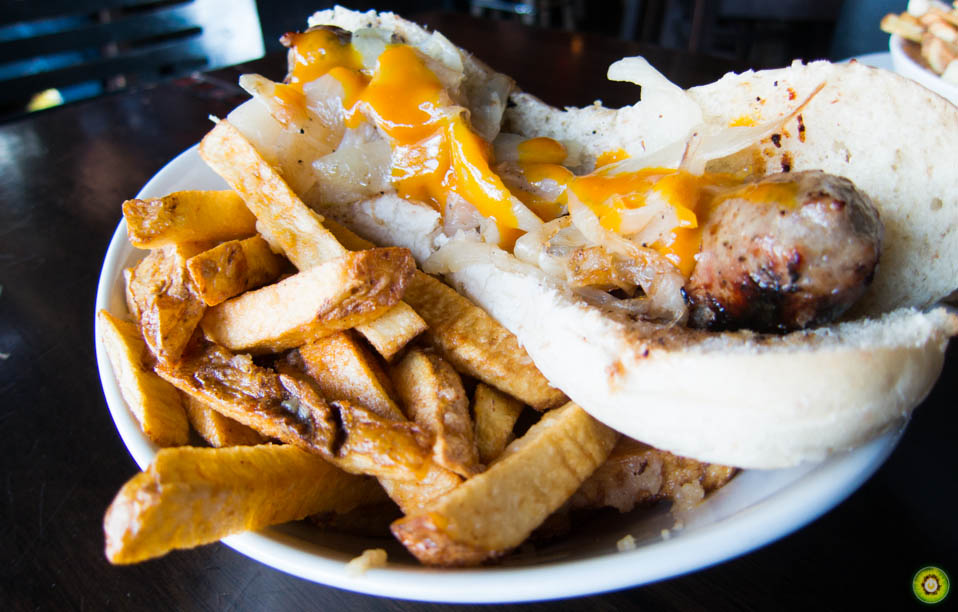 As with VANEATS' #SalivEIGHT dining pass, Fasha tagged along for this foodie adventure. He ordered the Honey Bratwurst ($11) served with Famous Fries.
The flavours of this sausage were much more subtle than mine. I actually thought that the honey mustard and caramelized onions were too dominant, thereby overshadowing the sausage. But as a whole, still very very tasty.
To top off the package, there's the Phillips Beer's Blue Buck. My apologies for the photo of the nearly empty glass… the beer came after all the food, so I forgot to snap a photo of it. On the other hand, this photo does show that I really enjoyed it! It was quite light and not very bitter.
[fve]http://www.youtube.com/watch?v=_SThmTpC2T8[/fve]
For sausages, this is definitely a go-to place. Be sure to check out the #FalconettisFix on VANEATS.ca! I think I'll try the Hot Italian next time… :)
Final Bytes
There's a roof top patio with much more space!
Live performances every night! Schedule is available on their website!
Busy after 6PM on Tuesday, Friday & Saturday!
Foodobyte's Rating

---