A couple weeks ago, I was invited by VANEATS to review their latest dining pass, "salivEIGHT" featuring the culinary works of Eight 1/2 Restaurant Lounge. Since it's reading week (finally), I called out Fasha to have lunch with me! It was the first time I ever brought out my dad on my foodie adventures, so I was extra excited to see what he thought of the food.
Even if I didn't go to Eight 1/2, I would still love them for their values. Eight 1/2 sources its fresh ingredients from local farmer markets and organic grocers. To further reduce its eco-footprint, it also started a recycling and compost program.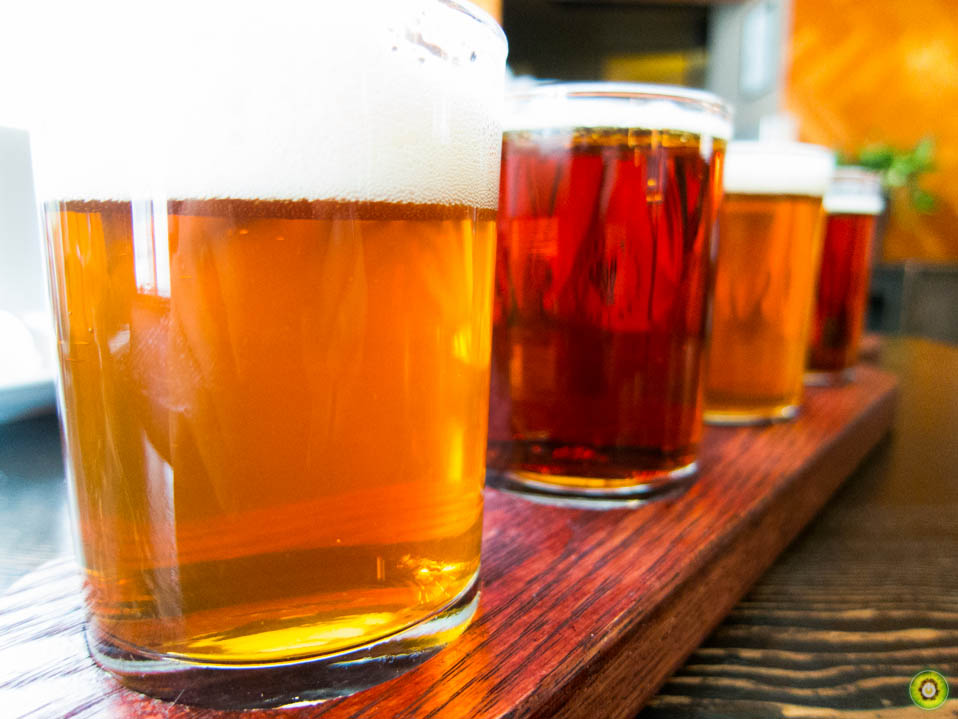 A flight of beers flew onto the table, shortly after we ordered. Both the Amber (lighter) and Brun (darker) are Belgian-style beers from the Stanley Park Brewery.
My favourite of the two was the Brun. Surprisingly, it wasn't bitter… yeah, I usually think darker = bitterer. This wasn't the case! Instead, there were pleasant notes of citrus that trailed with slightly sweet aftertaste.
The first sip of the Amber was quite bitter. However, as I drank on, I started to enjoy more. It tasted of the zest of a fruit – citrusy, fresh and slightly bitter.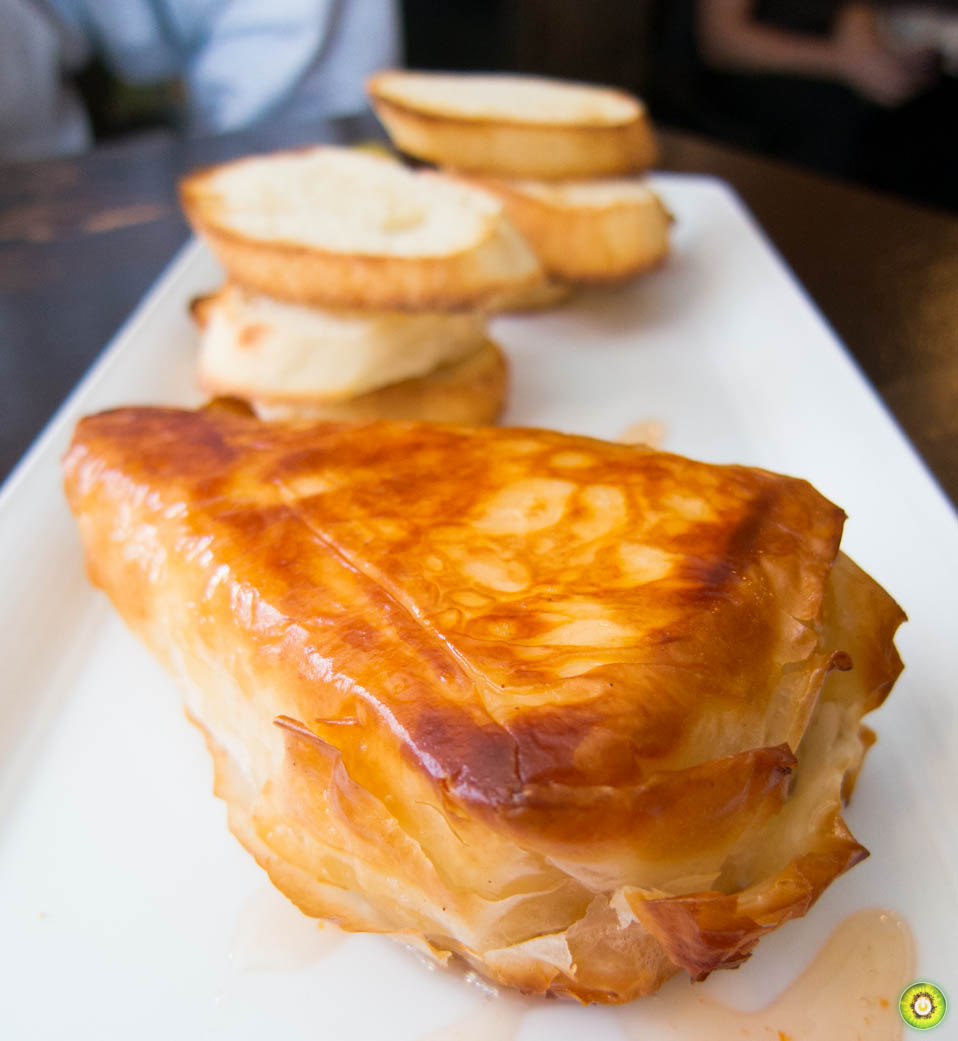 Next up, the BAKED BRIE. Did you just drool?
This hunk of cheese is wrapped and baked in a flaky filo. Served with six crostinis, every byte is packed with delicious brie.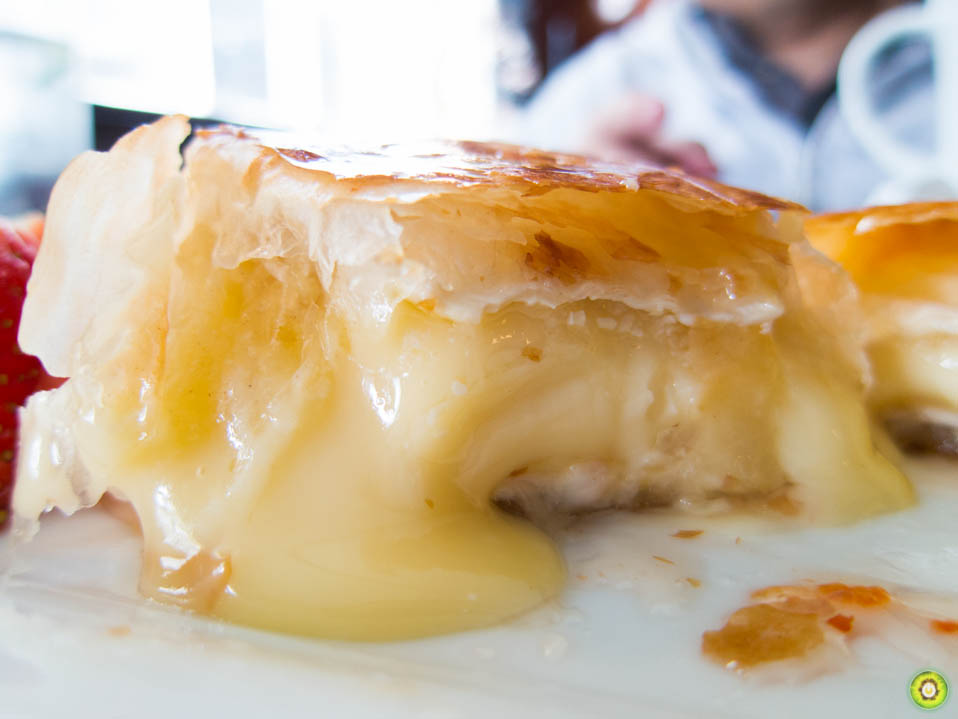 Cutting into it… omg… ooey gooey goodness! Plus, the filo and crostinis added great contrast in texture.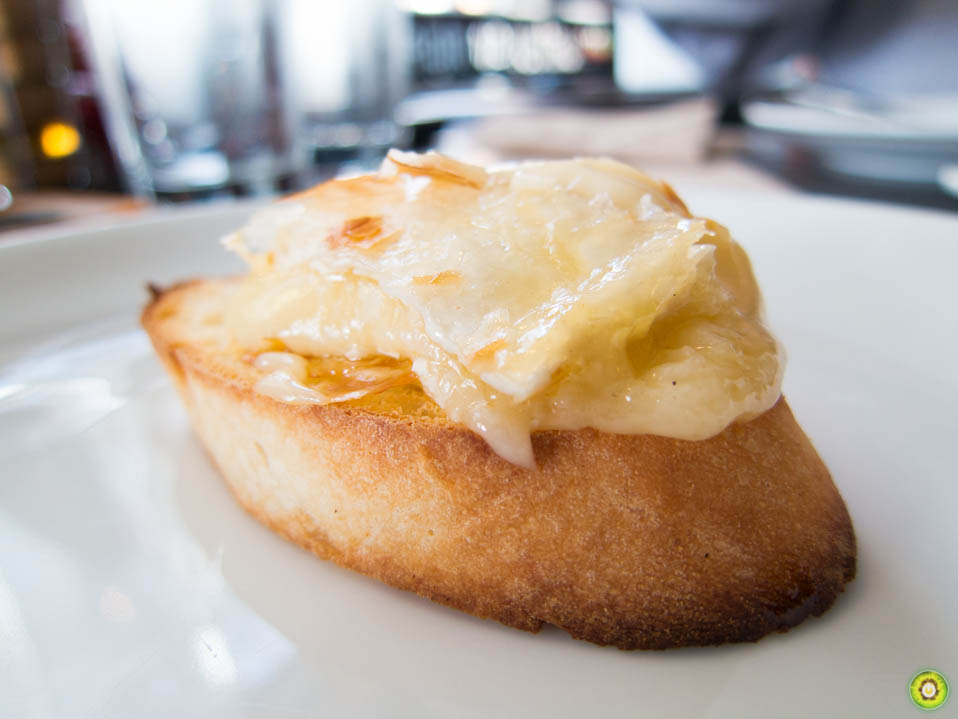 I want this. Now. And you know what made this appetizer a total home run? The honey. It paired so well with the brie, it should just marry it.
After polishing off the brie, we had the 8th Avenue Pizza! It's a thin crust topped with hot calabres (salami), chorizo, and banana peppers and sautéed mushrooms. Despite all the heaty ingredients, this pizza wasn't overly spicy. I bet hippoCHAN could've ate it without sweating.
What I loved most were the giant chunks of chorizo! They satisfied the carnivore in me. Also, the mushrooms and tomato sauce were delicious. However, I would suggest eating with both hands, as the toppings might slip off when pulling away a piece.
These Pacific Bacon Sliders weren't part of the dining pass, but Fasha wanted to try them. On top of 3 local beef patties, there's Pacific pepper cheddar, alder smoked bacon and fresh corn salsa. Drizzled on the plate was the Dijon aioli.
My first thought when I saw these burger was, "awwww, how cute!" But, that doesn't mean that they don't pack awesome flavour. My favourite parts were the aioli and corn salsa! Although, both Fasha and I found that the patties were overcooked and slightly dry.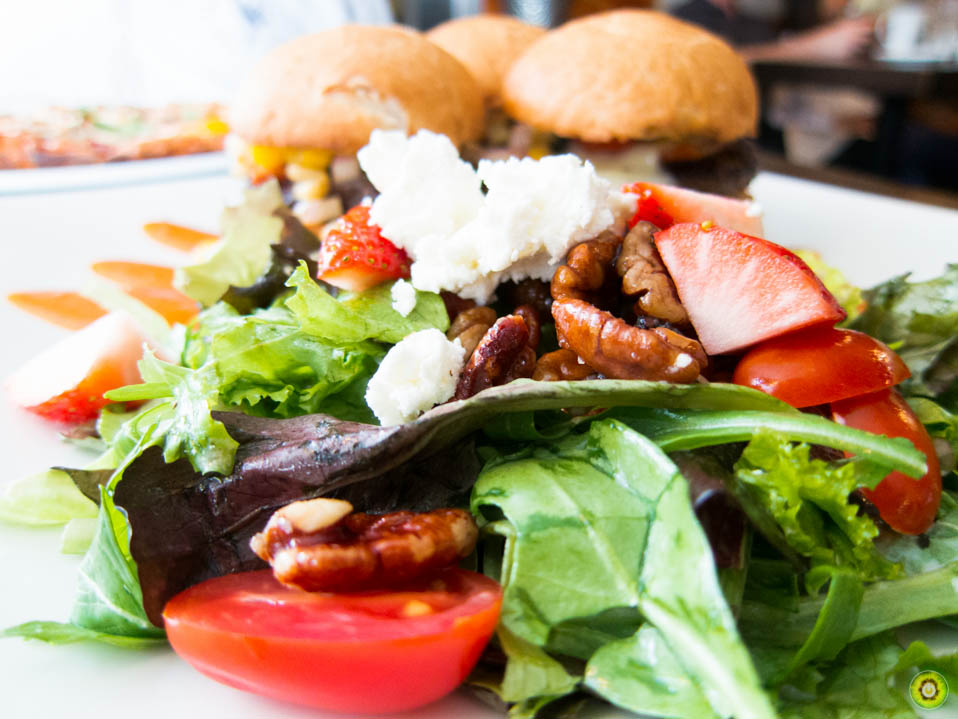 The salad was very fresh. And the walnuts tasted of honey and were really good.
[fve]http://www.youtube.com/watch?v=o8MVewD7jXQ[/fve]
Undeniably, VANEATS has done it again… putting quality food back on the table. The $15 dining pass is for sale on their website right now!
Final Bytes
Super quick and friendly service!
Clean cooking styles – no deep frying or microwaving!
Open late nights!
Foodobyte's Rating

---