"Eat Chicken Wraps" – it's both sound advice and a food truck operated by Dan and Sammy, a husband and wife team. Located down by Robson Square, this food truck offers a multicultural menu featuring… you guessed it, chicken! Every night after closing, they stay later to debone fresh and local chicken to prepare for the morning.
The first wrap that hippoCHAN and I sampled was the Kung Pao Chicken Lettuce Wrap ($7 for 2), which was made with chicken breast, corn, water chestnuts, peanuts, Kung Pao sauce and sesame chilli oil.
It was quite difficult to eat it as a normal lettuce wrap, but only because there was so much chicken. We ended up forking the chunks of chicken into our mouths and finishing off the lettuce at the end. The chilli oil was definitely prominent, giving off a heaty woof. What I found interesting were the cracked up Mamee Blue Monster noodles that really invoked childhood memories.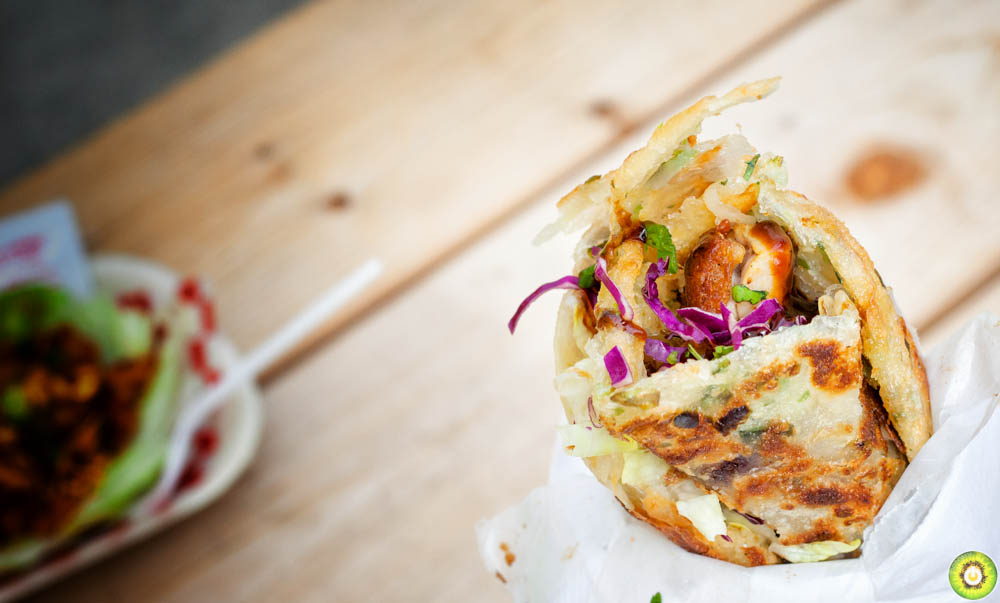 Our other wrap was the Hoisin Chicken Roll: Chinese five-spiced chicken, Asian salad, pickled radish, green onion and hoisin sauce. All of this flavourful goodness was wrapped in a crispy Chinese pancake.
The chicken was tender and moist inside that crispy, flaky pancake. I also enjoyed all of the fresh crunchy veggies that cut through the richness of the wrap. Flavour-wise, it was quite similar to a beef roll that you would get at Peaceful. My only issue with this wrap was that it was slightly too salty due to the Hoison sauce.
Final Bytes
Open from 11AM – 9PM everyday
Do not fret veggie lovers, as there are vegetarian options available
Everything is under $10
Foodobyte's Rating

* Disclaimer: my meal was complementary, but all views expressed in this post are my own.
---