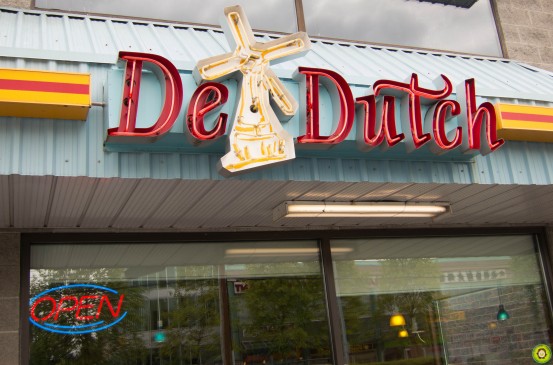 I was always curious as to what De Dutch served versus the Old Dutch, the potato chip company that sports a very similar logo. As it turns out, De Dutch specializes in Dutch pancakes called "Pannekoek," which are much larger and thinner than typical American pancakes that we see at places like Denny's. Since Joanne and I had finally deciphered the difference between the De Dutch and Old Dutch, we headed to Richmond's De Dutch branch for some breakfast!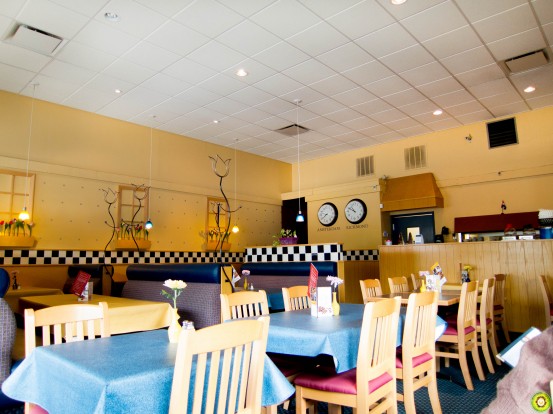 The interior is simple, clean and comfortable. When we arrived, there weren't many diners for a weekday breakfast. We probably saw two other tables from when we sat down until we left.
I ordered the Boer's Pannekoek ($16). It had hash browns, ham, DeBakon, Bratwurst, eggs and hollandaise sauce.
Right away, I tasted the hollandaise on its own. It was absolutely flavourless! The texture wasn't creamy at all. In fact, it looks like big particles that were visibly suspended in liquid. Horrid.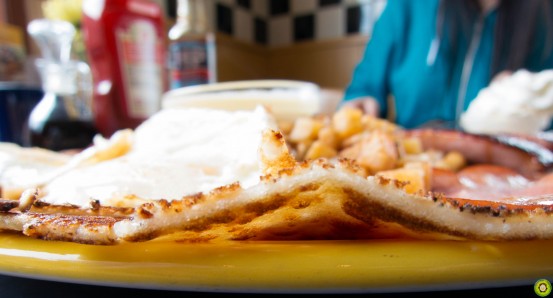 The pancake was really thin! Yet, it was surprisingly doughy in texture… I wasn't quite fond of it.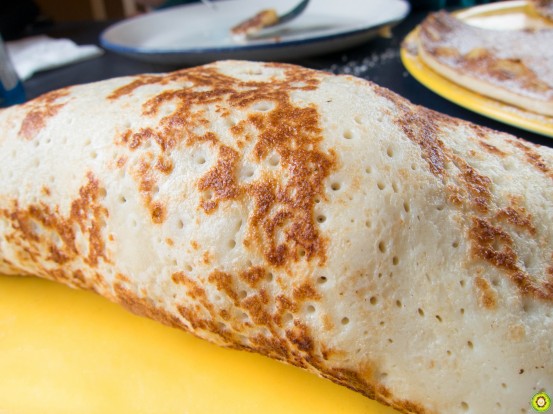 So, I decided to roll up the pancake so it looked like an anaconda that just devoured a pig. This sort of made it easier to eat; it sure beats cutting everything into bite-sized pieces.
When rolled up, every bite gave a good mix of every ingredient. The sausage was my favourite part of the dish, being flavourful yet not overly salty. On the other hand, the hash browns tasted like those bought from the frozen aisle. They were also lukewarm. Everything else was regular.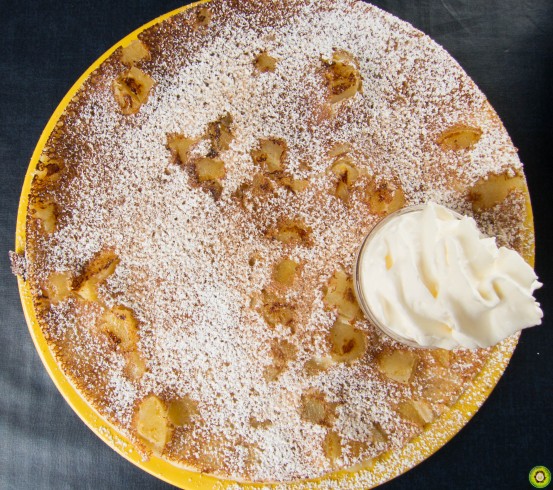 To experience both the savoury and sweet side of the Pannekoek, Joanne ordered the Apple & Cinnamon w/ Whipped Cream ($11). Similar to the hollandaise sauce, the whipped cream gave no flavour other than fat – not even a hint of sweetness. In short, this dish was really underwhelming, especially since it barely lukewarm like the hash browns. It was not bursting with bright apple flavours nor was it texturally pleasing. The only way to make this pancake edible was to douse it with maple syrup!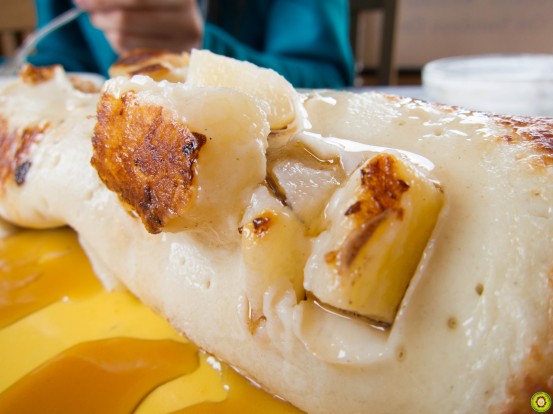 Also, I wouldn't recommend rolling this one up because the apple pieces just pop out everywhere!
This dining experience was an utter disappointment. The overpriced pannekoek gimmick has definitely deterred me from returning ever again. Sigh…
Final Bytes
Just don't eat here…
Just don't eat here…
Just don't eat here…
Foodobyte's Rating

---