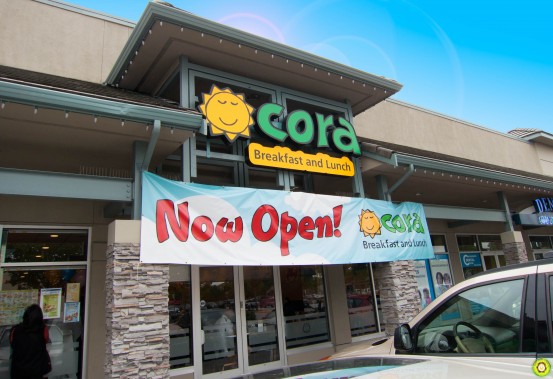 Cora's a bright and vibrant restaurant that specializes in breakfast and lunch. The dazzling interior matches its food as Cora's dishes are home to a grand assortment of fresh and colourful fruit. Heading to Cora's is like dining under sun, especially with the super friendly staff – even the chefs say hello!
I ordered the Eggs Ben et Dictine w/ Roasted Potatoes & Fresh Fruit. There's 4 different variations, and I chose the third one:
Ham
Asparagus & Swiss Cheese
Brie Cheese & Mushrooms
Smoked Salmon
The bright and varied fruits were really pleasing to the eye – 10 points for presentation! However, some of the fruit just weren't as good as they looked, particularly the orange. The kiwi and strawberry were awesome, though!
As for the roasted potatoes, I felt that they weren't hot enough nor seasoned properly. I'd much rather have hash browns, which would have been easier to serve hot.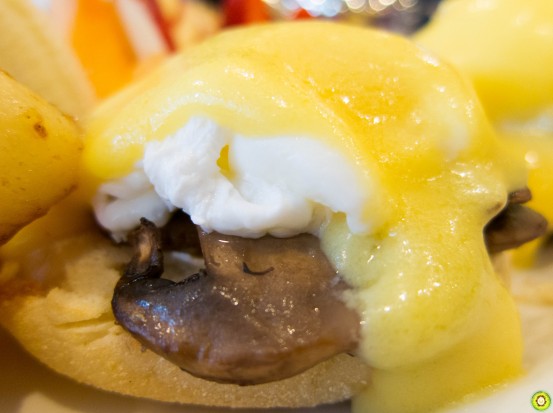 The eggs benny itself looked amazing. A golden, creamy hollandaise sauce blanketed the poached egg sitting on a bed of mushrooms and cheese. All this was supported by a nice English muffin.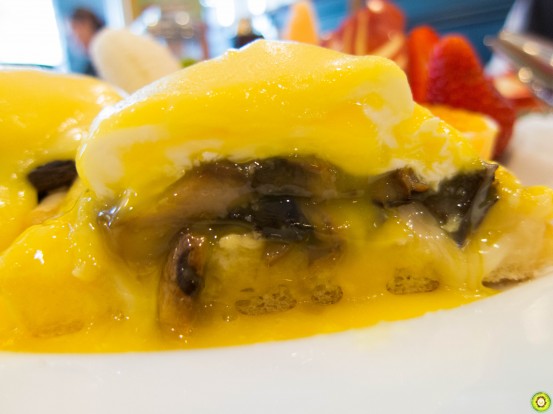 The poached egg was cooked perfectly! Its yoke drooled over all the ingredients. Still, the egg white part was cooked thoroughly so it didn't look unappetizingly raw. Super yummy benny! :)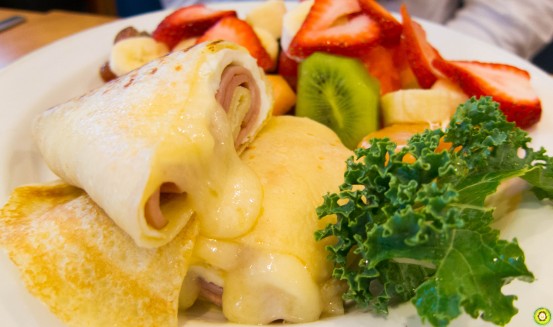 Another dish I got to try was the Ham & Swiss Cheese Crepes. Right off the bat, I liked the fruit variety on this dish better! There was an abundance of strawberries, bananas, kiwis and grapes – all my favourites!
Anyway, the crepe had a pleasant chew to it. The swiss cheese really stood out and tasted really good :) I don't know if you can tell from the photo, but you'll get three of these delicious crepes that will definitely satisfy your cheese-tooth!
Cora's a great breakfast joint if you're looking for a balance in savoury, sweet and acidic flavours. The fresh fruit really does make the meal much more enjoyable as it cleanses your platte in between your savoury bites! The restaurant is comfortable and you're never rushed outta the door when you're done your meal.
Final Bytes
Try to specify what kind of fruits you'd like!
Loads of parking!
Great breakfast place for family and friends!
Foodobyte's Rating

---