Christina had just returned from her Europe trip (lucky girl), so our little trio decided to have dinner together! We started off at the corner of Broadway & MacDonald, waiting for Leon to get off work. Then, we drove down Broadway to look for a place to grab some food! It took us so long to decide on Red Robins… but it was closed down. Finally, we settled with Copa Cafe on Cambie St.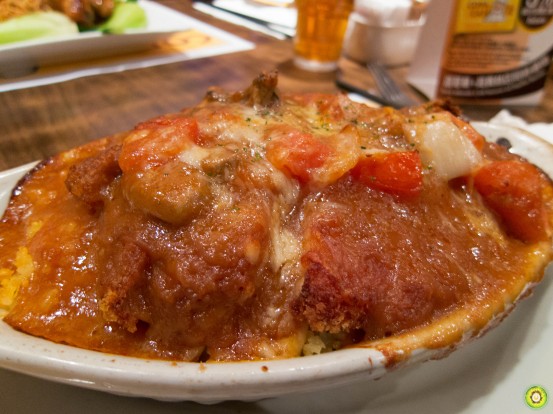 I was craving something super satisfying and fully flavour-packed. That being so, I ordered the House Special Baked Pork Chop on Rice ($9.95).
This dish was massive! On a substratum of fried rice, a juicy pork chop laid, blanketed by a sizzling tomato-based sauce. With every bite, great flavour and texture compounded each other. As you might have assumed, I saved the dishwasher a lot of work 'cos I cleaned the plate. I promise that you'll fall into a deep, serene food coma after scarfing it all down!
Christina ordered the Chicken Chow Mein, which was so mountainous that Christina had half of it packed up in a to-go box!  Because I already had a huge meal to finish myself, I decided not to try any of Christina's food. Although, just by looking at it, the noodles look crunchy and nicely fried without being greasy.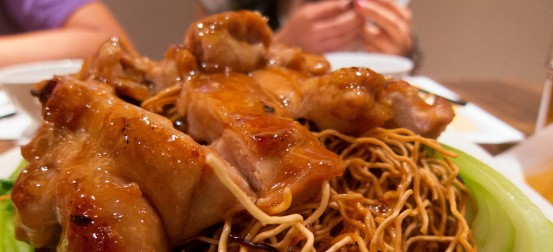 The only thing is that I wish there was more variety in vegetables. With that being said, this dish was very simplistic.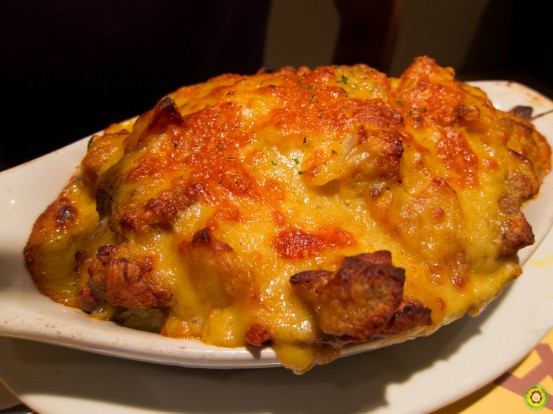 Before settling on the pork chop, I was actually contemplating about ordering the Portuguese Baked Chicken Steak on Rice ($8.95). Well, Leon ended up ordering this, so one of us got to enjoy it. It's one of my absolute favourites at HK-style cafes!
Final Bytes
Tasty food at affordable prices!
Limited parking behind the restaurant!
Open late for dinner, especially on Fridays and Saturdays!
Foodobyte's Rating

---