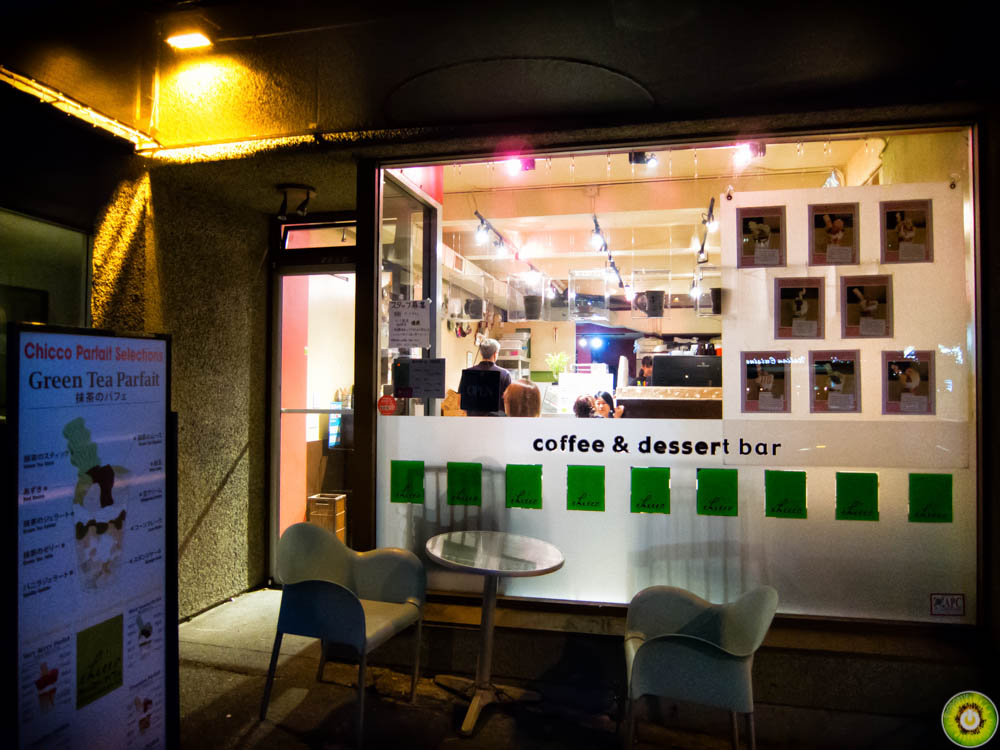 After hippoCHAN and I finished our meal at Simba's Grill, we decided to walk around and look for a dessert place. In search of something moderately light, I decided to check out Chicco Coffee & Dessert Bar. I've passed by this little dessert shop many times, but never had the chance to visit until now. Why didn't I just keep walking?
Right off the bat, this dessert shop looked more like a cardboard recycling depot. Boxes everywhere, stacked up against the wall. And was that a box of sugar on the floor? That's totally sanitary.
Besides the other visitors, we also got to sit next to this very attractive, but authoritative, cardboard box. What could've been in there? Probably their secret stash of whipped cream aerosol cans.
By now, you can probably tell that I didn't like this place. Well, you're right! But, it wasn't the atmosphere that irked me, as much as it was the so-called dessert we received. We ordered the Very Berry Parfait ($7.95), which was dissected by this diagram.
Gazing from above, our dessert looked pretty decent. Vibrant colours… but let's take a closer look.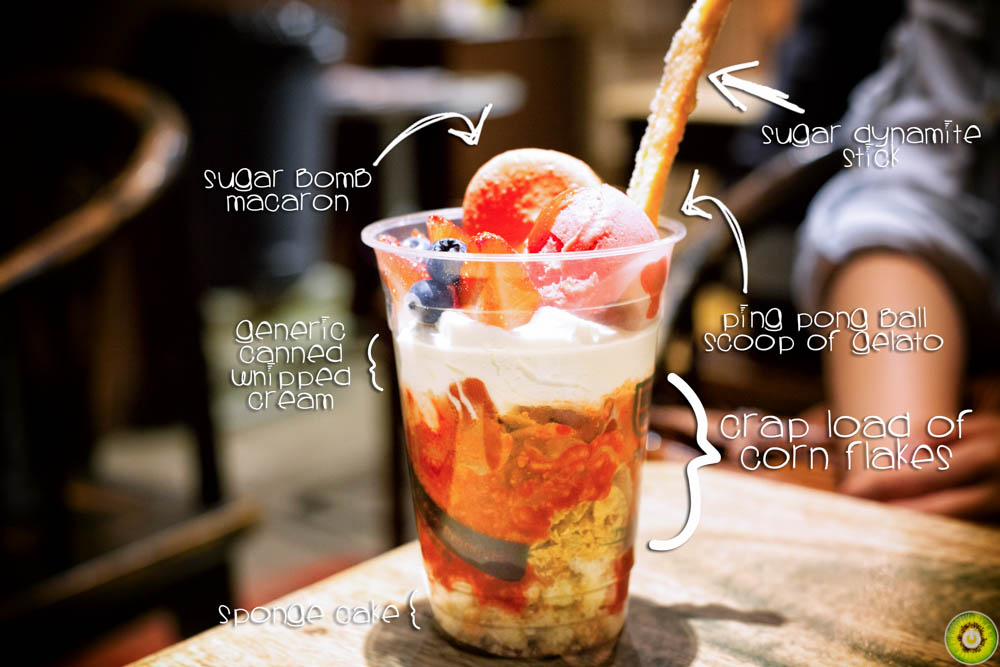 BAM! This would be a more accurate representation of this dessert:
Macaron and sugar stick – so sickeningly sweet that it could've given us hyperglycaemia
Raspberry sorbet – its size would qualify it as a regulation ping pong ball for tournaments
Whipped cream – tasted like it was dispensed from a can as it left an oily aftertaste in my mouth
Corn flakes – this is what pissed me off most. I came here for DESSERT, not BREAKFAST. There was a ridiculous amount of cereal.
Sponge cake – we were so disappointed near the end that we didn't even bother scraping the sponge cake off the bottom
Looking back at the diagram, we couldn't even tell that there was strawberry marble gelato! Although, there were a couple cubes of strawberry jello, but did that cheer us up after eating this utterly disappointing dessert? Not in a million years.
This was the worst dessert I've ever had. Ever.
Final Bytes
If you want to sit inside, each person has to order something. But why would you want to sit in a recycling depot anyway?
Worst $7.95+tax spent on breakfast
Check out Mimibuloveme for a REAL dessert parfait!
Foodobyte's Rating

---