I've eaten at Charcoal Sushi & BBQ years ago when it first opened in Richmond.  And I must say, it hasn't changed much:  it still has awesome food!  Although I've never tried the BBQ, Charcoal's sushi and other unique dishes are superb enough to reel me back through those doors.

The first roll that arrived was one of the chef's specialties:  Charcoal Roll.  Inside, there's prawn tempura, spicy tuna, and avocado.  And it's topped with salmon and black tobiko.  Another thing worth mentioning is that the drizzled sauces aren't just for decoration.  In fact, the combination of teriyaki and wasabi sauces bring the roll to a new and heaty level.  So, be sure to wipe the plate clean!
Next dish:  Chicken Karaage!  The freshly fried chicken is accompanied with a lemon wedge and regular mayo.  Before you indulge in this crispy and savoury goodness, I suggest that you make use of the lemon as it battles off the nasty greasy flavour typically left in your mouth by many fried foods.
Although relatively simple, both the chopped scallop roll (above) and the avocado roll (below) showcase the high quality ingredients used by the sushi chefs.  In particular, the avocado was perfectly ripened, without any off-putting brown spots, and was very creamy!  These two are good choices if you have trouble deciding what to order :)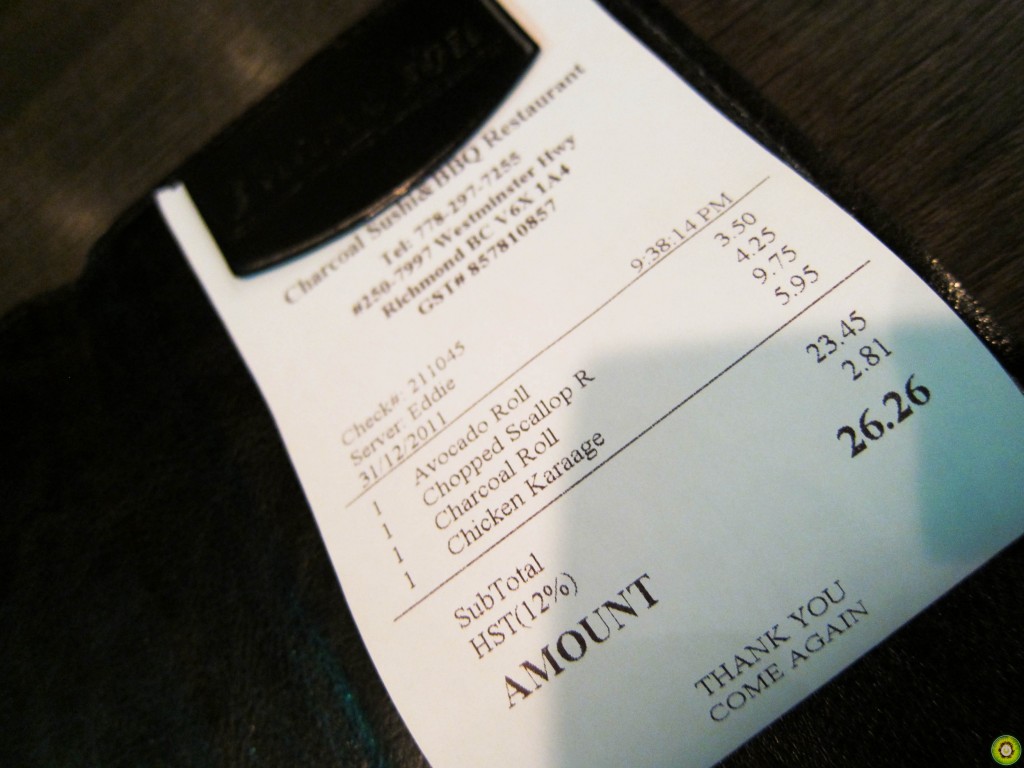 The bill rang up to be $26.26, which is pretty cheap considering it's quality sushi (versus AYCE).  The service was fast and friendly; the guy owner was especially affable.  Charcoal also accepts credits cards, unlike many cash-only restaurants in Richmond.  This place is definitely worth checking out!
Foodobyte's Rating

---