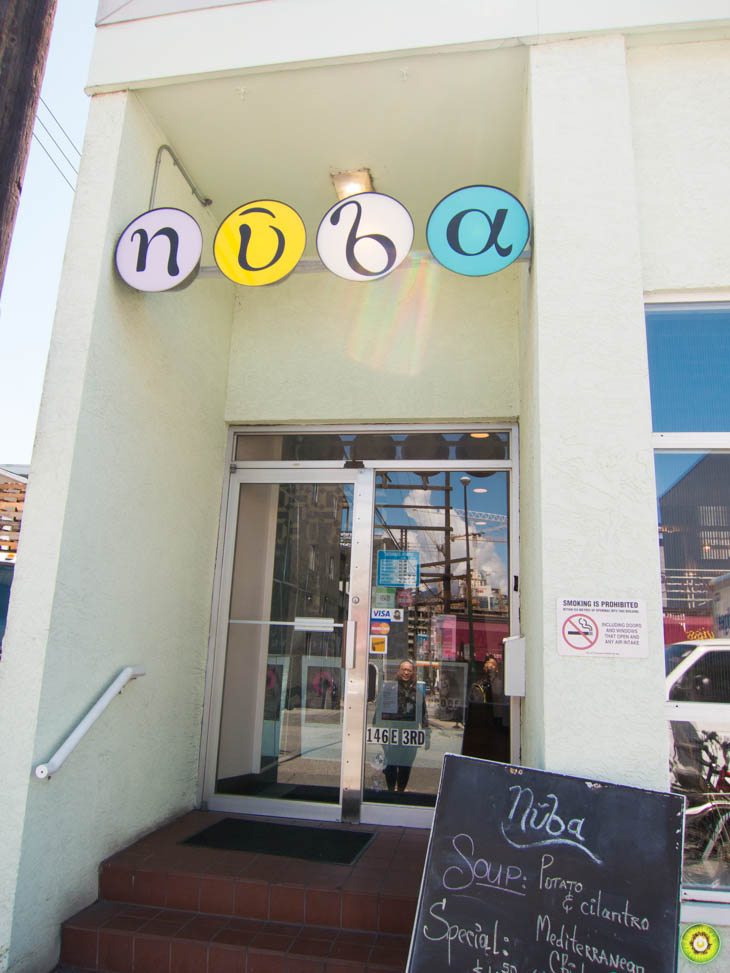 If Celine Dion was singing about me in her Titanic song, I would definitely be "near" rather than "far." That's my reason for picking Nuba's Mount Pleasant location since it's just a short, straight drive from my place. Also, I wanted something light and healthy for lunch and Nuba seemed to fit the bill with its Lebanese food!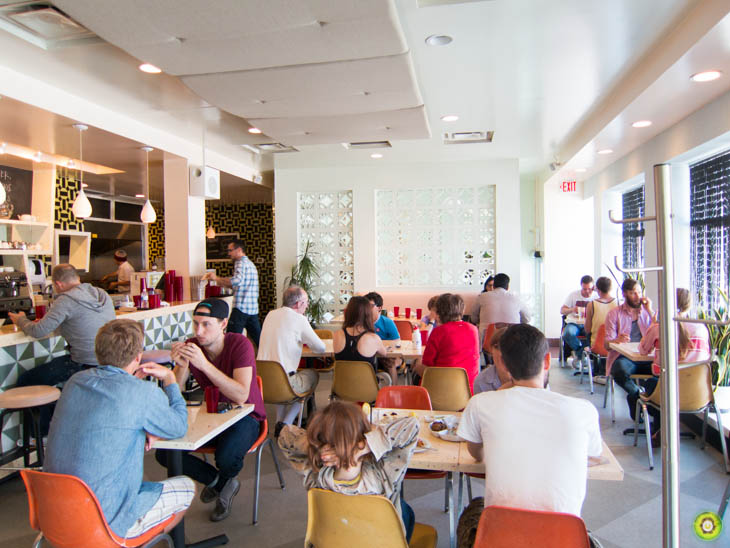 The style of this Nuba location is inspired by Third World cafés in the 1970's. There's an explosion of geometric patterns on the walls. The front of the restaurant is quite spacious and bright. Unfortunately, Fasha and I were tucked behind that back wall, which often left me feeling forgotten. It's kinda hard to signal waitresses that don't have x-ray vision.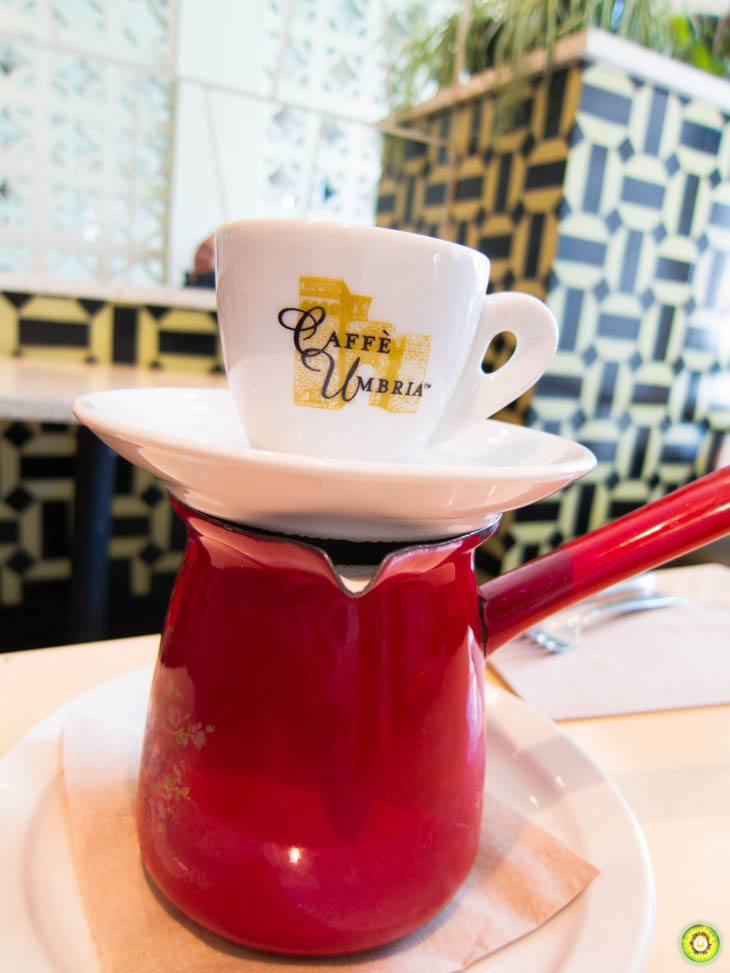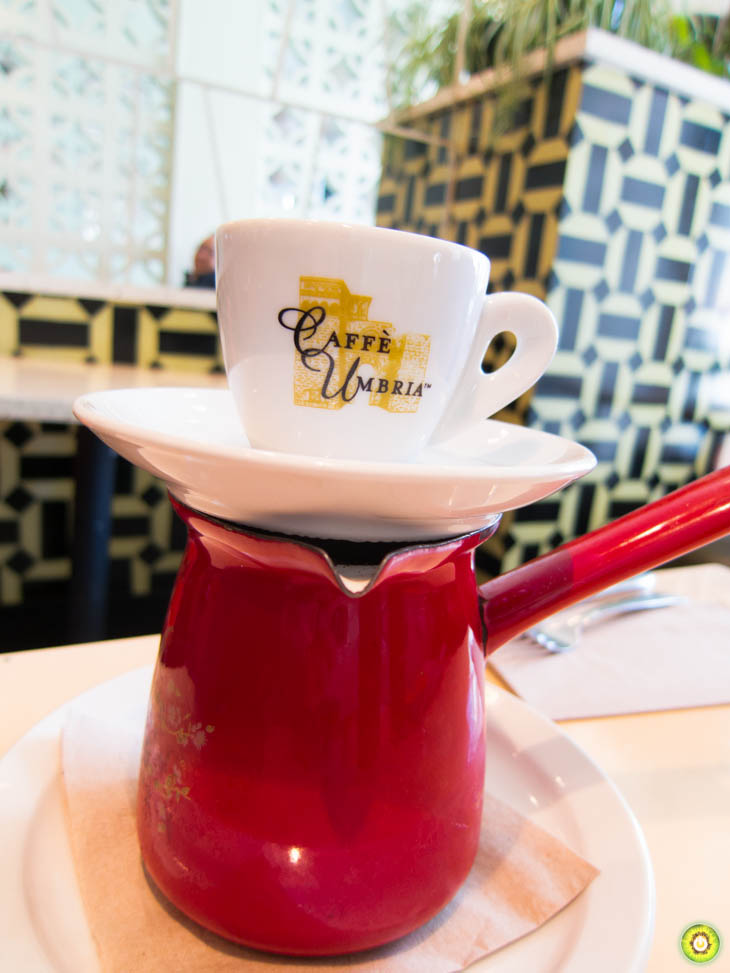 We started off our late afternoon lunch with some Turkish Coffee!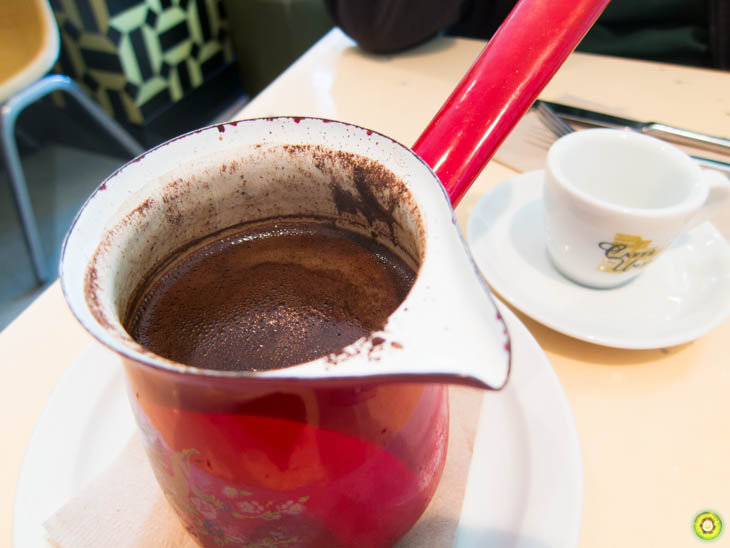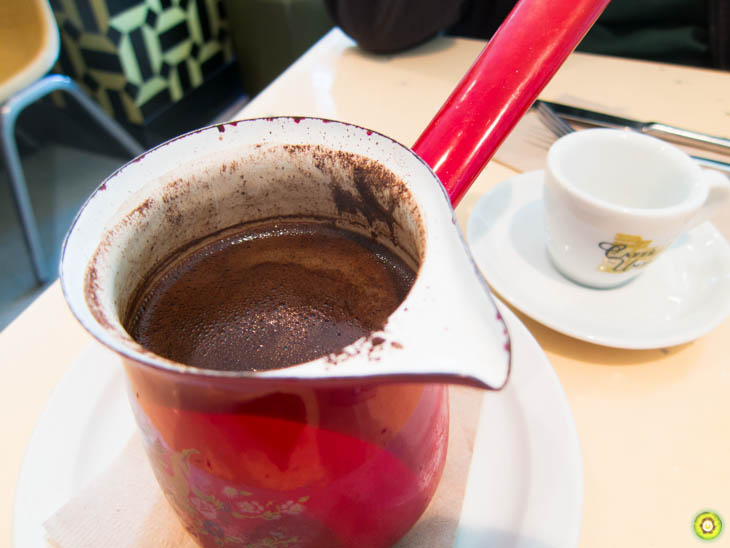 It was our first time ever trying Turkish coffee, which was served in an interesting red pot called a "cezve." Without the need to wave my hand and waft, the aromatic scent of roasted goodness stimulated the olfactory system in my nose.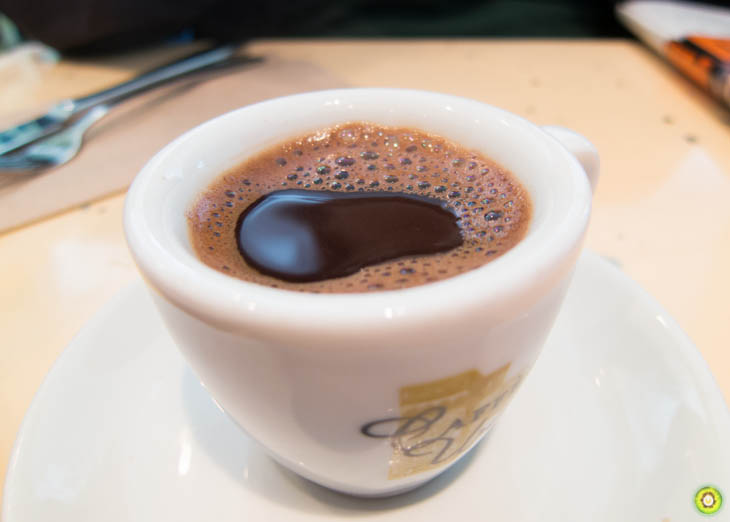 Turkish coffee is usually boiled with sugar, hence why our waitress only asked if we wanted cream. Perhaps that's also why there was a slight granular texture to the coffee. Adding some cream definitely smoothed that out, though.
The coffee was robust, yet not bitter. We really enjoyed the first couple of cups, but it soon got too sweet as we neared the bottom of the pot (where all the sugar probably settled).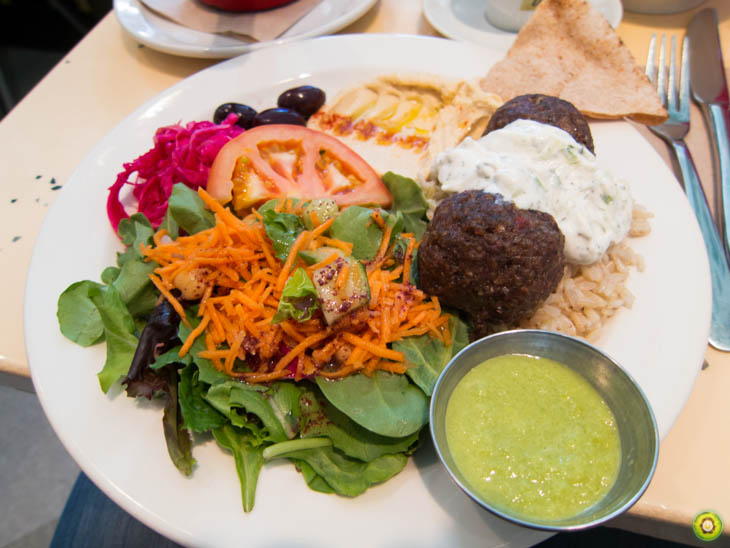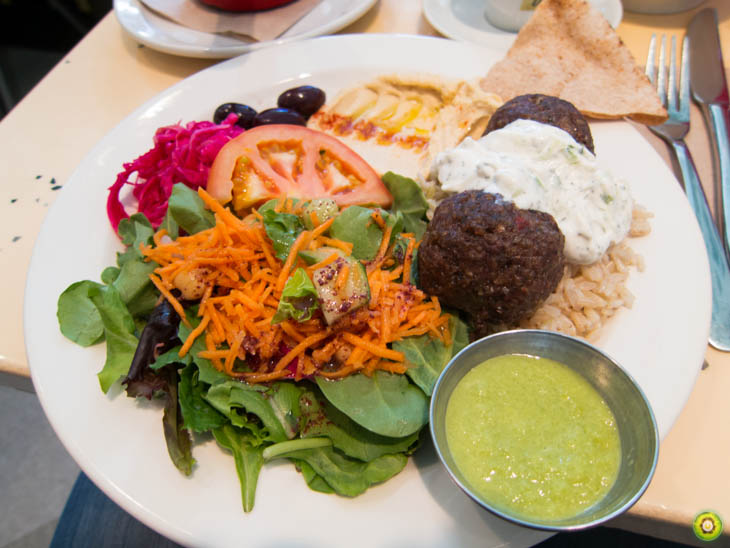 For my lunch, I picked the Lamb Kibbeh: grilled grain-fed halal lamb patties made with vegetables, pine nuts, burghul and aromatic spices. It was also served with hummus, salad, pickled cabbage, olives, pita and organic brown rice (other option: roasted potatoes).
The green hot sauce was optional, but it should be mandatory. It was wicked awesome! It didn't have the ugh-sour taste like other hot sauces.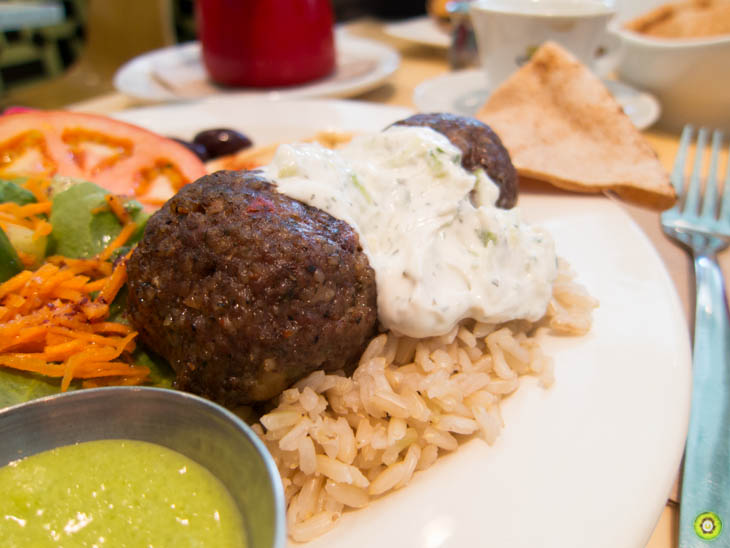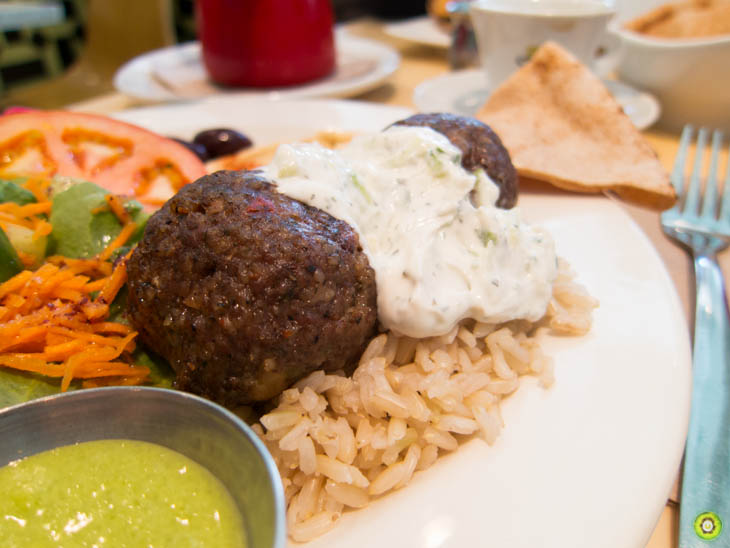 The lamb didn't have that typical gamey flavour that usually deters diners. Rather, it was indeed tongue-smacking with spices. However, I found the patties to be overly salty on a whole. It wouldn't have been that big of a deal if the tzatiki wasn't salty either, but it was… I would suggest just spreading the tzatiki on the pita instead.
I was glad to see organic brown rice as an option; it definitely made me feel healthier. I definitely wanted more… MOARRRRR.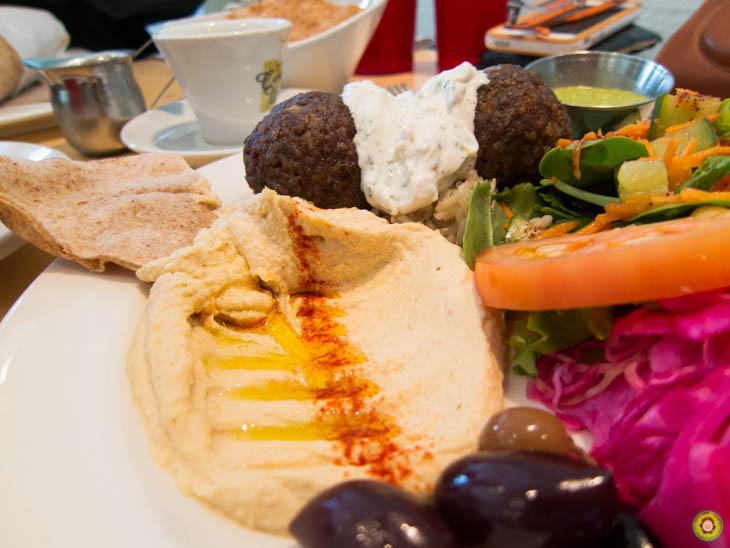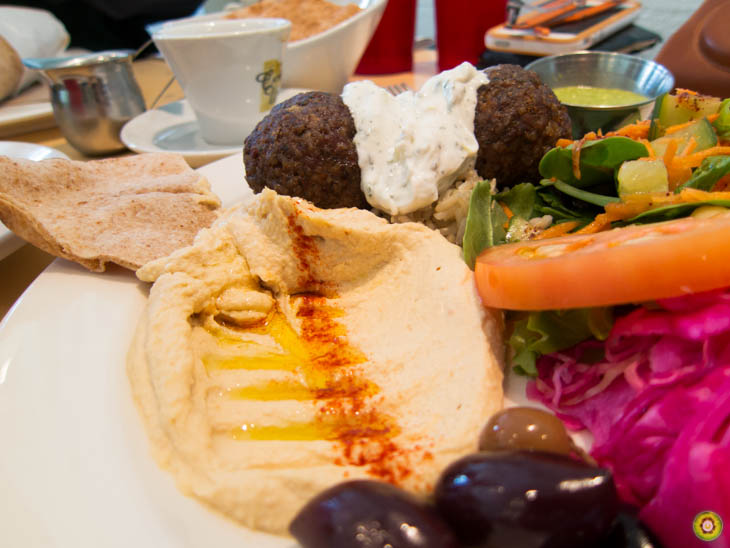 The hummus was just okay. I've tasted better.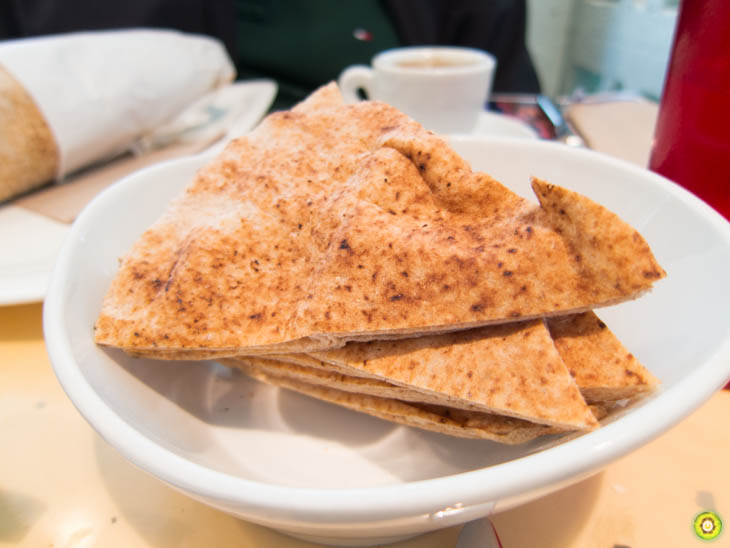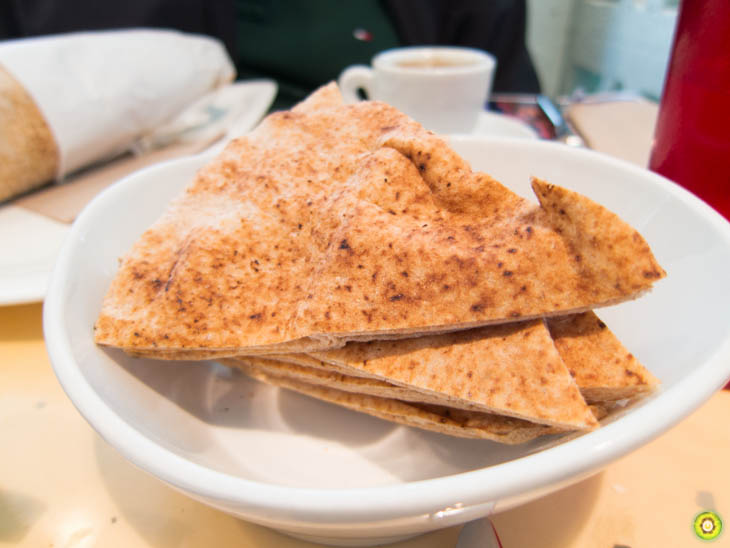 There was a lot of pita given for just one meal. Although, I wished that they were toasted or warmed. Eating them cold was taxing on my jaw as they were very chewy.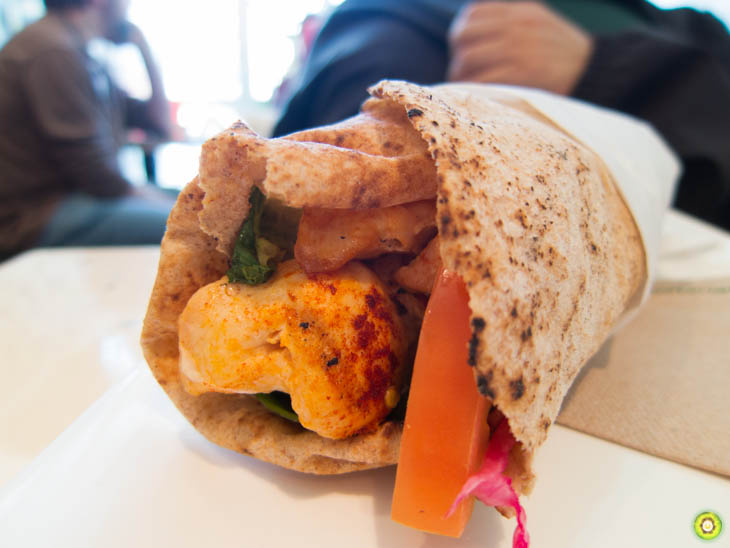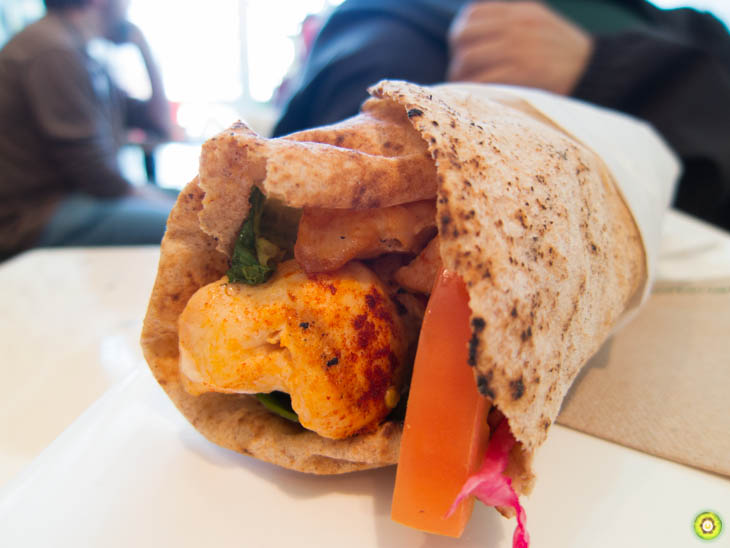 Fasha had a hand-held lunch - the Deluxe Toasted w/ Chicken (other choice: lamb). In addition to organic greens, tomato, homemade pickle and tahini, it's made with Macedonian feta, taboulleh, caramelized onions and baba (rich sponge cake typically soaked in rum-flavoured syrup).
In a nutshell, Fasha thought it was bland. I guess, besides the tahini, there wasn't any sauce for extra flavour.
Final Bytes
Free street parking
Large portion of the menu items are vegan
All meats are halal, non-medicated and hormone-free
Foodobyte's Rating

---