After making an enormous omelette that couldn't even envelope its fillings, Joanne and I headed downtown for mid-day dessert at Capstone Tea & Fondue! The meal was even sweeter because we had a Groupon: "For $12, you get fondue for two (up to a $24.95 value)."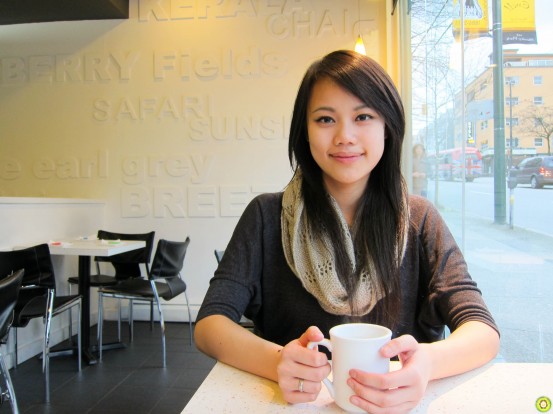 The restaurant had a relaxing atmosphere as it was very open and bright. Also, I really liked their letter-textured wall, hence why I snapped a picture of it :)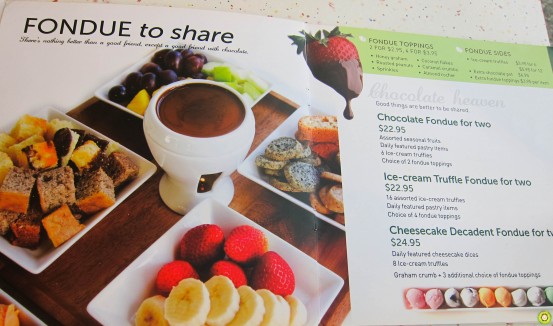 After flipping through the menu several times, we ended up ordering the
Chocolate Fondue for Two
Assorted seasonal fruits
Daily featured pastry items
6 ice-cream truffles
Choice of 2 fondue toppings
Personally, I think this is the best option because if you're like me (a fondue virgin), it's nice to try some of everything :)
When the tray of dishes was set on the table, I turned googly-eyed… it looked amazing! There were:
FRUITS: Pineapples, strawberries, grapes, green apples, bananas
PASTRIES: Lemon pound cake, banana cake, and some cookies
ICE-CREAM TRUFFLES: Mango, matcha, and strawberry
TOPPINGS:  Almonds and crushed graham crackers
And of course, 56% semi-sweet Belgian chocolate kept warm and melty by candlelight.
What I really liked about this selection of dunkees was that the flavours were really balanced; the richness of the banana was counteracted with the tartness of the pineapple, for instance. Also, I was very pleased with the ice-cream truffles because they weren't overly sweet at all, even when dripping with chocolate (my favourite was the mango!). As for the pastries, I was much more fond of the cakes than the cookies that didn't exhibit any distinct flavours.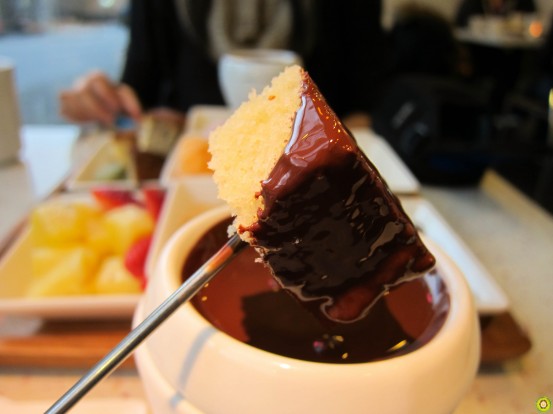 Snapshot of all that chocolately goodness coating a lemon pound cake :) YUMMMM!
Overall, this place is great for dates or even group gatherings! It wasn't loud at all when we went. Service was prompt and friendly as well.
Final Bytes
Don't order the almonds, they're too big to stay on the chocolate
Seriously drown your dunkees because you have plenty of chocolate
Order some hot water or tea to clean your palette throughout the meal
Foodobyte's Rating

---